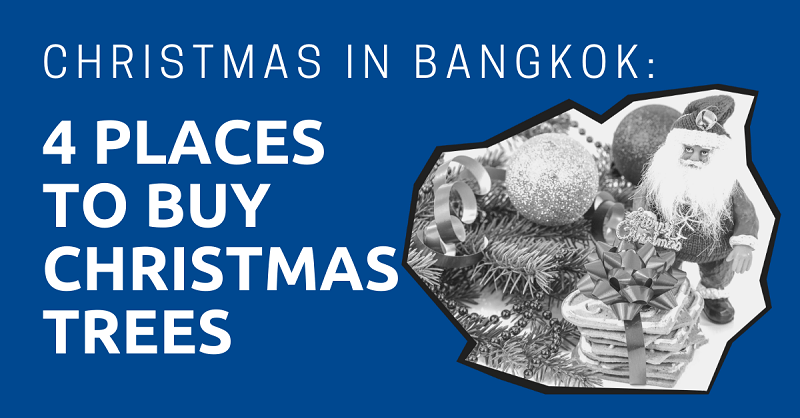 The first Christmas we spent in Thailand, my wife and I only had one daughter and she was a year old. We didn't feel the need to go all out with decorations and gifts. And plus our condo was small. So small that having a big tree would've taken up valuable floor space. So we bought a three-foot tree from Big C, hung a few homemade ornaments on it, and then capped it off with a yellow star. Charlie Brown had nothing on us.
Fast forward three years, add a house and a new addition to the family, and my wife and I now feel like we have to do Christmas right—if not for us, then for our daughters. That might sound like a paradox living in Thailand, where the weather reminds us everyday that even as Christmas nears, the heat barely changes. And Central could put up as many Peanut characters as they like. It still won't give off that feeling of Christmas.
Unless, of course, you start on the inside—the inside of your home. And the first thing any family who celebrates Christmas needs—even in Bangkok—is a tree. But where could you buy a Christmas tree in Bangkok? How much do they cost? How will you get it home? As The Ghost of Christmas Present once said, "Close your eyes! And think of snowflakes and moonbeams and whiskers on kittens." Because this Christmas, I've got you covered.
Where to Buy a Christmas Tree
Below are three convenient places where you could buy Christmas trees around Bangkok. And one not so convenient, but well-worth checking out, Christmas tree factory in Bangpu, Samut Prakan.
IKEA
In America, IKEA was my family's last resort for home goods. But in Thailand, it has become our first choice. And living so close to IKEA, we find ourselves there a few times a month. On one of my last visits to IKEA, I noticed they were building a Christmas display. So a few days later I went back to have a peak.
Looking over their setup, IKEA's strong point seemed to be in their Christmas decorations. They had a lot of lights and ornaments and even advent calendars. But they only had one tree to choose from, their Fejka artificial pine. The tree comes in three sizes and prices: 200cm at 3,990 baht, 180cm at 1,990 baht, and 155 cm at 1,170 baht.
If you're interested in having a look, IKEA is located right off Bangna Trad, in the Mega Bangna super mall.
Thai Watsadu
Thai Watsadu is one of Thailand's largest home improvement centers. It's so big, you could get lost among the maze of isles. I've been there a few times and have yet to see everything they have to offer. But I have seen their Christmas trees.
Thai Watsadu has four different sizes of Christmas trees available: five-to-six foot, six-to-seven foot, seven-to-eight foot, and eight-to-nine foot. The trees, though, are only available in one style, what they call Kassa Home. I've seen the trees up close and to be honest, for the price of the trees, I thought they'd be built a bit better.
But if you want to give Thai Watsadu a shot, take a look at their selection of trees online. And if you're keen on visiting one of their stores, check out their center off Bangna Trad.
Big C
Big C is a department store in Thailand similar to Walmart or Target back in the states. Although they cater to a mostly Thai crowd, every November and December they sell Christmas trees and lights and other holiday supplies.
They don't usually run out of trees during Christmas, so if you need a tree and in you're in a hurry, going to any Big C does the trick. They have an assortment of sizes and styles to pick from. The smallest and cheapest tree is a one-foot artificial pine for 179 baht. The tallest and most expensive tree they have is a seven-foot artificial pine for 2,790 baht.
Big C's are strewn throughout Bangkok. To find the nearest Big C, just type their name into Google Maps.
Triumph Tree
Triumph Tree is one of the world's leading makers of artificial Christmas tress. They make and ship tress all over the world and supply many of Thailand's department stores with trees around the holidays. In addition to trees, they sell lights, wreaths, and other ornaments, all at factory prices.
But you need to act quick if you're going to buy a tree from Triumph Tree. Whatever they have on their lot is all that's available. The best trees will be the first to go. They don't list the prices online. So have a look at their trees to see which one you like, and then get down there right away. Each of their trees replicate European, Russian, Australian, and North American Christmas trees.
Triumph Tree is in Bangpu, Samut Prakan, about an hour drive from the heart of Bangkok. Click here for their Google Map location.
Price Comparison
Here's a quick overview of how much a Christmas tree will cost you depending on size. Remember, the price for size is just one thing to consider. The quality is also important to note.
| | | | | |
| --- | --- | --- | --- | --- |
| Christmas Trees | 5 to 6 feet | 6 to 7 feet | 7 to 8 feet | 8 to 9 feet |
| IKEA | 1,170 baht to 1,990 baht | 3,990 baht | 3,990 baht | — |
| Thai Watsadu | 3,990 baht | 4,990 baht | 5,990 baht | 6,990 baht |
| Big C | 1,990 baht | 1,290 baht | 1,290 baht to 2,790 baht | — |
| Triumph Tree | on site | on site | on site | on site |
How to Get Home Delivery
If you don't have a car to take your Christmas tree home in, then consider hiring a delivery service. Kerry Express can pick up and deliver your tree to anywhere in Thailand. If you live in Bangkok, they'll probably be able to deliver the tree the same day. To get a quote, call 1217 and tell them where the tree is and where it's going.
If you buy your Christmas tree from IKEA, you can use their home delivery service to have it sent to your house or condo. There's a fee for this service depending on distance. If you're interested in the service, after you pay for your tree, walk to the left and go all the way down until you can't go anymore. You'll see the home delivery service there.
Final Thoughts
I've seen all there is to see at IKEA, Big C, and Thai Watsadu when it comes to Christmas trees. This year I'm going to check out Triumph Tree in Bangpu. Out of the four places mentioned above, they have the largest selection. The only drawback is they don't list their prices online. But at "factory set" prices, we're sure to get a good deal.