I'm always worried whenever I have to do something for the first time in Thailand, especially if it involves immigration. Nothing is ever the same across the board. Things change depending on which officer you talk to and on which day you see them.
So when it was time to do my first 90-day reporting at Samut Prakan Immigration Office, I had to prepare myself for anything. I'd been doing my 90-day check ins at Bangkok Immigration for almost four years. Could it really be that different between the two places?
Yes. At Bangkok Immigration you walk in with your passport, TM.6 departure card, last receipt of 90-day notification, and completed TM.47 form and you're done. But at Samut Prakan Immigration they want a few more things from you.
Documents
At Samut Prakan Immigration Office, immigration officers want originals and copies of all your important documents. Here's a list of them.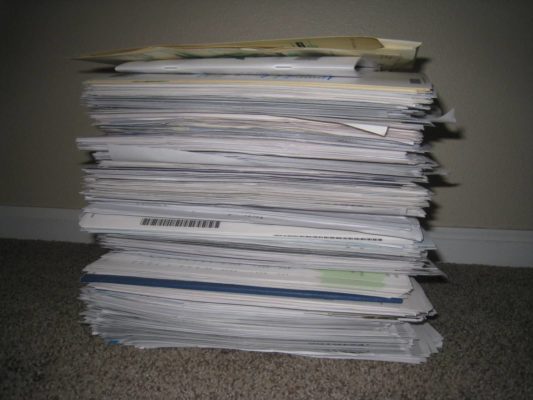 passport
completed TM.47 form (downloadable form)
TM.6 departure card
last receipt of 90-day notification
copy of your passport photo page
copy of your visa
copy of your TM.6 departure card
When to Go
If your 90-day check-in date is approaching, make sure to go to immigration as close to your reporting date as possible. You'll have seven days grace period from your report date to check in, so as long as you go within those seven days, you won't be fined. If you show up a day after that seventh day, you'll be fined 2,000 baht. There are no exceptions.
One time I showed up one day late to Bangkok Immigration with paperwork showing that I was in the hospital under the doctor's care. But the immigration officer said I still had to pay. If I couldn't make it, she noted, I could've had someone else check in for me.
Process
The 90-day reporting process is fairly easy if you know what to do ahead of time. Here's what you can expect from start to finish.
Address
Once you've gathered all your documents, you'll need to go to the Samut Prakan Immigration Office (Google Maps link). I would go right after lunch, at 1:00 PM. This way the morning rush has cleared out.
English address:
Sutthi Phirom Alley, Tambon Paknam, Amphoe Mueang Samut Prakan, Chang Wat Samut Prakan 10270
Thai address:
ซอย สุทธิภิรมย์ ตำบล ปากน้ำ อำเภอเมืองสมุทรปราการ สมุทรปราการ 10270
Hours:
8:30 AM to 12:00 PM and 1:00 PM to 4:30 PM (closed from 12:00 PM to 1:00 Pm and on public Thai holidays and weekends)
Getting There
Samut Prakan Immigration is easily accessible by BTS, Taxi, motorbike, or car.
BTS/Taxi
If you want to take the BTS, the nearest station is BTS Samrong. When you get off at Samrong you can then take a taxi down the road for about 45 baht. Show your taxi driver the address above in Thai and they will know where to go.
At the time of the this writing, Samrong is the closest BTS station to Samut Prakan Immigration. But if you're reading this and BTS Pak Nam has been opened, then you can take the BTS to Pak Nam, which will drop you off right in front of the immigration office.
Driving
If you want to drive to Samut Prakan Immigration, there is plenty of parking on site. Although at certain times of the day it gets crowded. So be prepared to park your car in neutral, and possibly do some pushing and pulling of other cars.
Reporting/Checking In
Compared to 90-day reporting in Bangkok, the process at Samut Prakan is a little slower. But the people are a lot more friendlier and helpful.
Finding the Immigration Building
When you turn into the immigration complex and drive down the small, winding road, the immigration building will be nestled in the far right corner of the property.
There aren't many signs to point you in the right direction, but you'll know you've found it when you see immigrants, mostly Cambodian and Burmese, sitting in plastic chairs under the giant tent in front of a building. That's the building you want to go in.
Getting Your Queue Number
You'll want to enter that building through the two sliding doors. Once inside, go straight to the help desk, which is more like a podium. The girl will check your documents and copies and tell you to get a queue number from the machine to your right. Just press your thumb on the "90 Days" button. You should get a queue number starting with letter "B."
If you don't have your documents and copies, you'll have to go upstairs to get copies made. I've been to this immigration office twice, and both times the girl only said "copy your passport."
The first time she did this was when I went to get a Thai residence certificate. And she had me running back and forth between her and the copy machine because she wasn't specific about which copies I should make.
So this time I knew to ask her "Which pages?"
The copy room is upstairs, through the doors just to the left of the help desk. Copies are 3 baht per page.
If you need it, you can get a TM.47 form inside the office.
Seeing the Immigration Officer
Some people call it "reporting," others call it "checking in." Either way, once you get your queue number you'll have to walk through the doors to your left, which will take you to a room with a long desk and insufficient seating.
You'll wait there for your queue number to be called on the digital display overhead. Most likely, you'll be waiting for your number to be called at Counter 3.
If your number is close, don't leave your seat. Don't go to the bathroom. Don't mosey outside for coconut ice cream. Just wait. If a number is called and no one shows up at the counter, the immigration officer will move on to the next number after about twenty to thirty seconds. Depending on how much mercy the immigration officer has toward you, you might have to get a new queue number.
When you're number is called go to Counter 3 and hand over your paperwork. The immigration officer might ask you a few questions depending on your visa type, which I've never had happen to me at Bangkok Immigration. For example, she asked me if my wife came with me, because I have a marriage visa. I thought that was odd.
The immigration officer will approve your 90-day reporting, and should staple your new 90-day receipt of notification in your passport. If she doesn't, staple it in your passport when you get home. If you lose it, you'll have to report the loss to your local police station.
If your visa is going to expire soon, the officer will also stamp and write the date of expiration.
How Long Does 90-Day Reporting Take?
Keep in mind there is only one officer who handles 90-day reporting at the Samut Prakan Immigration Office. If your queue number is fifty numbers way from the current number, you might be waiting a long time. If it takes each person two to three minutes to check in, on average, you might be waiting for two hours. So I would plan on spending at least two hours on the process, or at the most four hours.
I'm not sure how often this little trick might work, but if you want to cut your waiting time, wait in the far back of the room, near the desk with all the immigration forms. There may or may not be a man standing there. He's hired to do 90-day reports in bulk. He'll usually have a few dozen passports, but he'll also have multiple queue numbers for all those different passports. He might give you a closer queue number since he has to wait around for the rest of his queue numbers to be called. That's what happened to me last time, and it cut about an hour off my wait.
Leaving Thailand
If you have to leave Thailand and you're on a multi-entry visa or applied for a re-entry permit, when you return to Thailand your 90-day reporting date starts from the date you returned to Thailand. So that means you'll have to check in ninety days from your return to Thailand.
And if you have to leave Thailand and your 90-day check in is approaching, go check in first. If you stay past your 90 days and then leave Thailand, you will be fined 2,000 baht.
Final Thoughts
Although 90-day reporting at Samut Prakan Immigration Office is a bit chaotic compared to Bangkok Immigration, the smallness of the place makes people a lot more friendly. And aside from the girl working at the help desk, everyone I've dealt with inside the building has been kind and helpful.
Feature photo by George Grinsted and Dvortygirl.

Advertisement