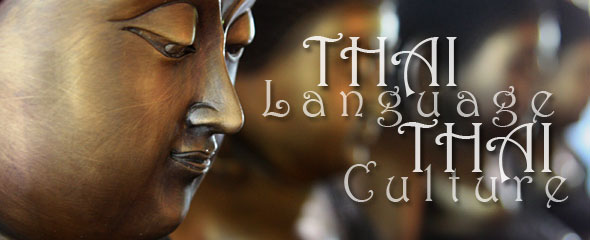 Breathing in Chiang Mai…
If you live anywhere in or near northern Thailand you probably can't get the smog out of your head – both physically and figuratively. I live about ½ kilometer from the base of Doi Pui – Doi Suthep National park. Today I can't see the mountains less than 500 meters away. This week four airplanes were diverted from Chiang Mai International Airport because of limited visibility.
And now I've had my first head cold here in almost 10 years. Is it a co-inky-dink that it has happened just as the smog rolled in?
I don't go into town much unless I have some business to take care of. Yesterday we did the paperwork to get our tax refund for the last three years. That's the good news. The bad news is I was thinking too much about the bad visibility as I was driving that I missed my turn to the bank.
The air pollution is as bad as I have seen it in many years (three times beyond the safety limits in nearby Chiang rai). It has me almost thinking about a move to Beijing.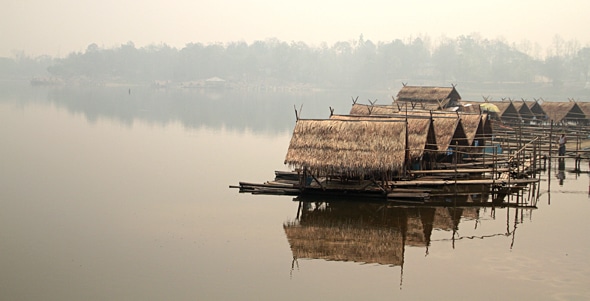 With all this going on we thought it might be a good time to work on Thai vocabulary to describe the current situation. After, we'll construct Thai dialogs using the vocabulary, just in case you want to talk with a Thai friend and you are like me and it is the main topic on your mind.
Thai vocabulary for breathing (or not) in Chiang mai…
Pollution
มลพิษ /mon-​lá-​pít/ (พิษ = poison)
or
มลภาวะเป็นพิษ /mon-​paa-​wá-​bpen-​pít/ (ภาวะ = a condition of being poisoned)

Air pollution
มลพิษทางอากาศ /mon-​pít taang aa-gàat/ (อากาศ = air)

Water pollution
มลพิษทางน้ำ /mon-​pít taang náam/ (น้ำ = water)

Smog
หมอกควัน /mòk-​kwan/ (หมอก = fog, mist; ควัน = smoke)
also
ควันพิษ /kwan-​pít/ (poison smoke)

The English word "smog" is a combination of "smoke" and "fog". Thai does something similar.
Mask (nowadays ubiquitous)
หน้ากาก /nâa-​gàak/
also
หน้ากากอนามัย /nâa-​gàak à-​naa-​mai/ (อนามัย = hygiene)

Lung
ปอด /bpòt/

Lung disease
โรคปอด /rôhk bpòt/

Asthma
โรคหอบหืด /rôhk-​hòp-​hèut/
or
หืด /hèut/

Allergy
โรคภูมิแพ้ /rôhk-​poom-​páe/ (to have an allergy)
or
แพ้ /​páe/ (to be allergic to something)

Cough
ไอ /ai/

Phlegm
เสลด /sà-​lèet/
or
เสมหะ /săym-hà/

Burn
เผาผลาญ /păo-plăan/
or
เผา /păo/

Garbage
ขยะ /kà-​yà/

To burn garbage
เผาขยะ /păo kà-​yà/

Fields (rice)
ทุ่งนา /tûng-​naa/

To burn the rice fields.
เผาทุ่งนา /păo tûng-​naa/

Forests
ป่า /bpàa/

To burn the forest.
เผาป่า /păo bpàa/
And here's some phrases for burning in Chiang mai…
Let's use what we have learned. At least it will be somewhat cathartic.
A: How's the weather today in Chiang Mai?
วันนี้อากาศเชียงใหม่เป็นยังไง
wan née aa-gàat chiang-mài bpen yang ngai

B: The smog is really bad.
หมอกควันไม่ดีจริงๆ
mòk kwan mâi dee jing jing

A: What causes all that smog?
หมอกควันมีสาเหตุอะไรบ้าง
mòk kwan mee săa-hàyt a-rai bâang

B: They are burning the fields, and garbage, and the forests.
พวกเขาเผาทุ่งนา เผาขยะ และ เผาป่า
pûak-kăo-păo-tûng-naa păo-kà-yà láe păo bpàa

A: Are people getting sick from the pollution?
มลพิษทำให้คนไม่สบายหรือ
mon-pít tam hâi kon mâi sà-baai rĕu

B: Yes, especially people with lung disease, asthma, and allergies.
ครับ โดยเฉพาะคนที่เป็น โรคปอด โรคหอบหืด และ โรคภูมิแพ้
kráp doi chà-pór kon têe bpen rôhk-bpòt rôhk hòp hèut láe rôhk poom páe

They will cough and have phlegm in their lungs. It's best to wear a mask.
เขาจะไอ และ มี เสมหะ ในปอด ใส่หน้ากากดีกว่า
kăo jà ai láe mee săym-hà nai bpòt sài nâa gàak dee gwàa
There's too much burning in Chiang mai!…
So here is my plan. I'm thinking of taking that tax return that we just got and buying two tickets to Bali and then taking one really, really deep breath. And pray for rain.
But before I go, here's an iOS app by Thailand's Pollution Control Department: Air4Thai. And if you are like me and don't use apps, here's a useful website: City Hall, Chiangmai Air Pollution: Real-time Air Quality Index (AQI).
Breathing in Chiang mai audo download: 1.2mg zip
Note: The audio files are for personal use only.
Hugh Leong
Retire 2 Thailand
Retire 2 Thailand: Blog
eBooks in Thailand
Thai Vocabulary in the News