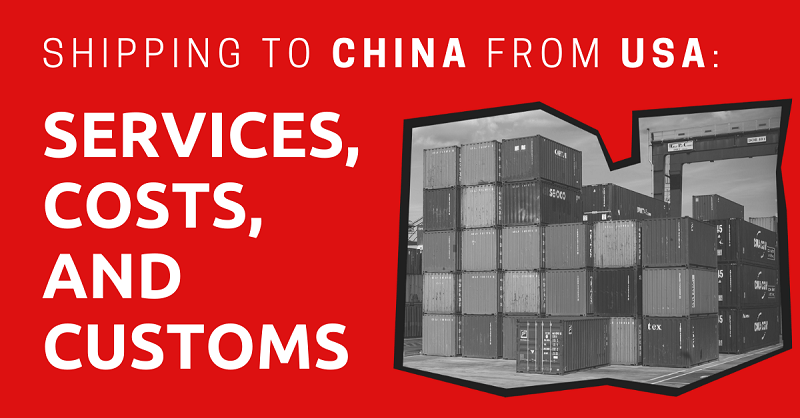 Moving to a new country is daunting enough, and there are certain things that we just can't replace or live without. In some cases it might be more economical to ship things to China than to keep them in long-term storage. Maybe you have a family heirloom piece of furniture, or a precious vintage vehicle.
There is no way you could leave your cat or dog with friends without worrying every day. And what about your exact color of hair dye? Just because you are flying half way across the world, it doesn't mean you have to leave EVERYTHING behind.
We want to help you understand China's shipping requirements, associated costs, pitfalls, restrictions, and logistics options so that you can properly evaluate what you must take with you and how to get things to your new home safely.
This article will take approximately 20 minutes to read. Don't have the time right now? No worries. You can email the ad-free version of the article to yourself and read it later!
Pack Light
It is important to state that you really can get everything in China these days. Their online shopping is the best in the world. You will not miss Amazon, I promise. Specific items which you might have had to ship to China 10 years ago are now all available here.
I remember a time when my mom used to bring me tea bags, cheese, conditioner, and books. Those days ended when Taobao became the user-friendly, shopper's fantasyland that it is today.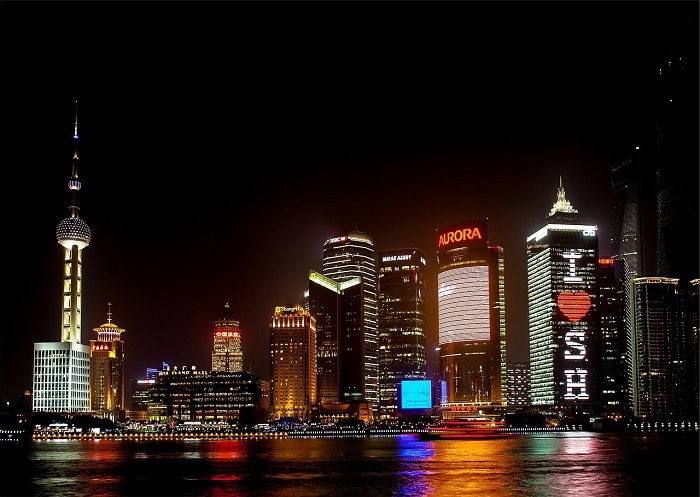 Everything is made in China, and recently, online platforms have given people multiple ways to access those factories directly. Men's US size 14 shoes? No problem. 4XL shirts? Yep. Foundation for dark skin? They got it. Your favorite brand of hygiene products? No worries. Niche ingredients for cooking comfort food? EASY!
So, if you are overpacking like a doomsday prepper, relax. Take those packs of mac 'n' cheese out of your suitcase, halve the number of hair products you planned to take, and reassess your priorities.
Preparation
To ensure your belongings make it to China in one piece, check the packaging requirements of your chosen carrier and pack appropriately. You should buy a high-quality, new, and sturdy box and make sure everything fits correctly, and is compliant with regulations.
Packages can show up at their destination beaten up. Use bubble wrap and pack fragile items separate from other items. Use extra tape on the outside of the box to reinforce it, especially on seams and corners.
Writing an Address
Be very careful to address your shipment correctly.
If you don't know Chinese, it is still okay to write the address in a combination of English and Pinyin — the standardized system for transliterating Chinese characters into the Roman alphabet — but the best way to be certain things won't get lost is to have the address in Chinese characters.
Not everyone in China can read Pinyin, and even fewer can read English. The biggest problem with Pinyin is that one Chinese word like "ma" can represent dozens (sometimes hundreds) of Chinese characters and this opens you up to easy misunderstandings. Chinese characters are essential for communication that cannot be misconstrued.
If you can, find the address in Chinese characters online — or ask your future employer or your landlord for an address — print it out and stick in on your shipment.
Chinese addresses can be complex or fairly simple.
For example, the famous China World Hotel has the address:
"No 1 Jianguomenwai Avenue, Beijing, 100004, China".
Building number / street name / city / postcode / country.
In Chinese: "中国北京建国门外大街1号 邮政编码 100004"
The Chinese address is written differently and without any spaces or punctuation. It's going to look like this: ChinaBeijingJianguomenwaiAvenueNumber1 Postcode 100004.
This however, is a famous location on a famous street with no complications.
Residential addresses can include a lot more detail: "Room 23/54, 2 Dan Yuan, 2nd Floor, Building 19, Qingyouyuan, Beiyuanjiayuan, Chunhua Road, Chaoyang District, Beijing, 101300 China.
Room number / entrance number / floor / building / compound name / residential area / road / district / city / postcode / country.
Be very careful to write the address correctly and have a contact phone number for a Chinese speaker in the destination city.
Forbidden Goods
China classifies imports into three categories: prohibited, restricted, and permitted. Check with the Chinese Customs website to get a better idea of all the guidelines. China has some unusual rules which you might not think about. If you are unsure, make a specific enquiry with your postal carrier.
As well as knowing what can get into China, you need to check your country's unique regulations. USPS has helpful information for the USA on their website.
Some banned items include:
Anything in powder form
Fur, ivory, or other animal products
Electronic cigarettes and refills, real cigarettes and tobacco
Jewellery, gems, and precious metals, even costume jewellery
Works of art or antiques
Alcohol
Dairy and fresh food
Aerosols
Cash
Seeds and plants
Perfume and nail varnish
Note: With the COVID-19 pandemic gripping the world, most countries are now restricting the export of face masks, hand sanitizer, and antibacterial wipes.
If you are shipping from other countries, Australia Post has a comprehensive list on their website. My Parcel Delivery has a list for the UK.
Items of Concern for China
China is especially concerned about "Elements that attack the Constitution of the People's Republic of China." This means that they are super cautious of any kind of media. Printed magazines, newspapers, books, and brochures are looked at with great scrutiny. Anything that records audio or video is pretty much not going to get through.
This is also the similar reason why China block many websites.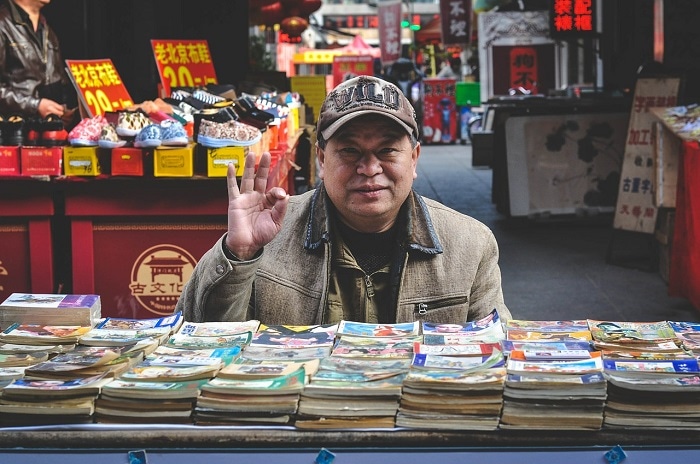 According to the official China Customs Page, this even includes gramophone records. Don't try to send hard drives, flash drives, or any other electronic media storage device. As well as anti-government or religious propaganda, they are also looking for any kind of pornography or morally questionable material.
Some books and printed materials can be sent to China if deemed "reasonable quantity for personal use", so you can send some novels or books for teaching, but your shipment might get inspected. Make sure you label it correctly.
Anything labelled 'Made in China'.
You might have a supply of adorable koala souvenirs you want to hand out to Chinese kids, but check the tags first. Even if you bought them in Melbourne, if they say "Made in China" on them, there is a chance they won't get through customs.
Can I send any food?
Yes, you can send food products, as long as they are in their original, unopened packaging with accurate food labels with ingredients lists, and they have a shelf life longer than 6 months.
Types of Shipment
There are various types of shipment available depending on how much items you want to ship to China.
Parcel
The easiest way to post letters, documents, parcels, or small packages is just regular airmail at your local post office. There are also the usual suspects as far as registered and express post – these guys can usually get your item to China in about 2 days: USPS, UPS, DHL, FedEx.
FedEx have 10kg and 25kg boxes, and are convenient, fast, and reliable, but are a pricey option. You can get precise quotes on all of their websites.
Your mom might want to send you lovely treats from home on special occasions. This should not be too complicated, as long as she follows the guidelines on forbidden items and keeps the value under 800 RMB (US$120). Keeping the value low will ensure they are exempt from duties and taxes. Make sure she marks the package as 'gift shipment' and sends it herself (not from a business or company account).
For small items, you will likely need to present your passport when you collect the goods in China. It might be delivered to your home, but there is a chance you will get a slip in your mailbox or on your apartment door and, in that case, you will need to collect it at the postal depot noted on the slip.
Extra Luggage
What if you just have a couple of extra suitcases full of clothes and shoes? Things get a little tricky talking about second-hand items, personal effects, and luggage.
This type of shipment of personal belongings is restricted for import into China. You will need to do some extra paperwork for China customs. Be very clear, detailed, and accurate when filling out the customs invoice and shipping list and write 'Personal Effects' in the 'Goods Description' section.
You need to ensure the total value of your personal effects does not exceed 800 RMB (US$120). If your goods are inspected and suspected to be of a higher value than you have declared, they can be withheld pending heavy fines. You must be in China when the goods arrive. You will be given a 'Personal Effects Import Declaration Form' to fill out at the collection location. It is in Chinese, so you will likely need assistance.
It is recommended you always take a Chinese friend, colleague, or assistant to help you with these tasks. You must have a detailed inventory of your items and their value. You might also be required to submit an 'Explanation Letter of Import Purpose', which you must write yourself, but English is okay. You will need to show your passport, visa stamps, work permit, and residence certificate.
There are companies which specialize in luggage courier services. They are perfect for your extra bags, sporting equipment, instruments, or other oversized things you can't fit on the plane. Using a professional service will reduce your risks and ensure you have a transparent idea of costs, timeframe, and potential problems.
Have a look at My Baggage, Send My Bag, Seven Seas Worldwide, and World Baggage Network.
Bulk Shipping
If you are moving to China with a lot of items from your home, then bulk shipping is your option. Your belongings will be sent via container ship.
FLC and LCL
When it comes to bulk shipping, you have two choices between FCL and LCL.
FCL stands for "Full Container Load" and LCL is "Less (than full) Container Load", also referred to as "groupage". FCL means that the entire container will be packed with your items alone, while you need to share container space with others though LCL.
FCL is more expensive but faster since you don't need to wait until the container is full.
When choosing container freight, the amount of things you are shipping is measured in cubic meters or cubic feet.
If you have between 2 and 13m3, you will likely share a container with other shippers in an LCL shipment. If you have more than 14 m3 (or more than 10 standard pallets), you will need to choose the FCL option for your own container.
Freight Forwarders
A forwarder is an agent and expert in the logistics chain. They can organize the entire process, deal with paperwork, insurance, regulations, and communicate on your behalf with multiple carriers across different modes of transportation to get your goods from point A to point B.
You may or may not require the help of a forwarder depending on how complex your needs are. In many cases, forwarders can also save shippers money by understanding the most affordable solutions.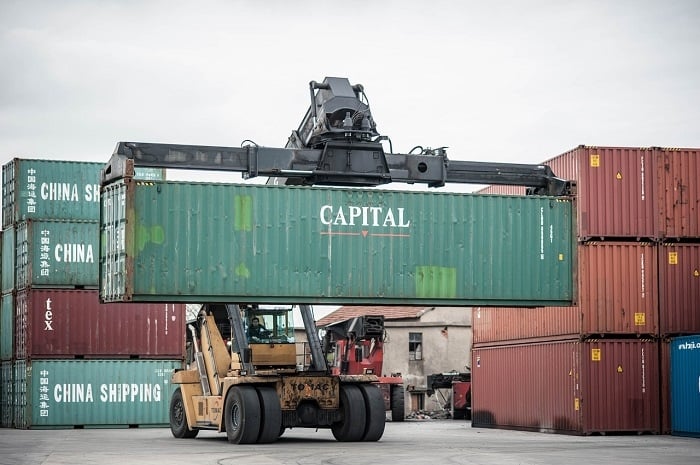 A quick online search will give you dozens of options for shipping companies and freight forwarders from your country to China. We strongly suggest shopping around and comparing quotes.
A 20-foot container on a ship can start at around $2,000 USD and go up to maybe $5,000 USD depending on states, customs fees, and "cartage" (road transport).
ExpatDen has an easy tool for receiving quotes from various shipping companies and freight forwarders. Just fill out this form to receive up to five free quotes. Then you can do some more research, speak to them, and decide if any of them is the right option for you.
Some examples of Freight Forwarders include Trans Global in Singapore, QUBE in Australia, DSV in the USA, Freightera in Canada, and Maurice Ward for the UK and Europe.
Pet Transport
Sorry, but your bird, turtle, or guinea pig can't get into China. Not through the regular channels anyway. Most animals are considered livestock and importing them to China is complicated, requiring special certificates. They are closely monitored under the Convention on International Trade in Endangered Species of Wild Fauna and Flora (CITES).
Only dogs and cats can easily go with your on your new adventure, with each passport holder allowed to take one pet only. Check with airlines for the best option for flying with your pet. Some airlines allow in-cabin travel, some do not, and these rules are subject to change frequently.
Within 10 days of the pet traveling, make sure they have a recent rabies vaccination, rabies titer test, and a health certificate from an accredited veterinarian. They must have a microchip and all of their vaccinations complete to make the process as easy as possible and to avoid government quarantine. If their "Pet Passport" booklet documenting their medical records is not to the liking of customs officials, your pet could be stuck in quarantine for 30 days in China.
Once you are in China with your pet, it should be as simple as filling out some paperwork before you can take you fur baby home with you. Pets must complete an in-house quarantine period of 30 – 45 days, and dogs must be registered at your local police station within 30 days of arrival.
If you cannot travel with your pet, you can have them sent to you once you are in China. For this, it is recommended to use a trusted pet relocation company like China Pet Transport. In this case, you will need the additional paperwork of an import permit.
Shipping Time
Note that in these COVID-19 times, international shipping and postage has been delayed and the situation is changing daily. The shipping information below only reflects average times under normal shipping circumstances. Speak to your chosen carrier to understand how long your shipment will take at the time of sending.
The fastest things can get to China from pretty much anywhere in the world is overnight with one of the express delivery companies like DHL, FedEx, UPS, or DPD. They all provide easy quotes from their websites and they have next-day guaranteed delivery. This is a premium service which comes at premium prices.
For a regular airmail package, you are usually going to wait at least one week, and possibly longer, up to about three weeks. For a regular surface mail package, you can expect to wait between one and three months. Shipping containers usually take between 20 and 40 days to arrive in China.
Bad Times to Post
There are certain times of the year that your shipment might get extremely delayed.
Chinese New Year
This national holiday in January or February, which falls on different dates and lasts for 16 days, is China's biggest holiday of they year.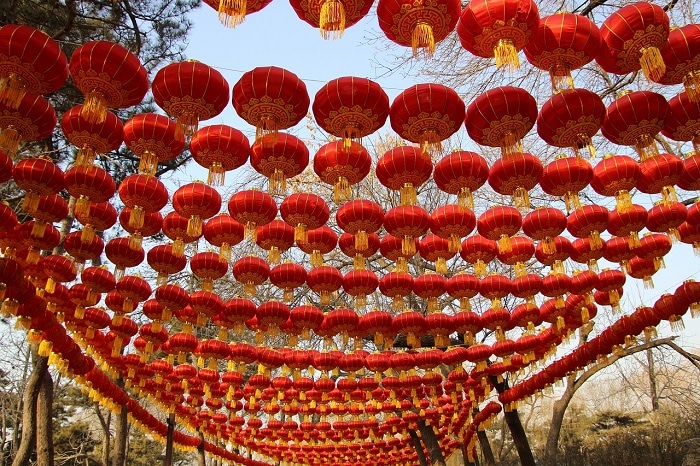 Essential workers are still doing their jobs, but the majority of the country will travel to their hometown to spend the festival with family. Places are operating on limited staff and everyone is trying to post packages to loved ones. Your shipment could be delayed.
Singles Day
November 11th is Singles Day, and over the last few years, it has become the world's busiest online shopping day. Huge in China, the postal systems are absolutely swamped. Avoid November for posting anything to China or expect delays up to a month long.
Shipping Costs
It is hard to tell you how much things will cost because there are just too many variables. The best way to know is to get an accurate quote from your carrier or forwarder and to shop around multiple options to see who will serve you best.
These factors will determine the price of postage:
Which carrier you choose
The dimensions of your parcel (length, width, height)
The weight of your parcel
Type of shipping you choose (non-priority surface mail or expedited air mail are just a couple of the dozens of choices)
Insurance level and company
Extra services needed (signature on delivery, tracking etc.)
Many carriers have online postage cost calculators, like FedEx. With their website, you can see that a 40lbs parcel from New York to China will cost between $862 and $943 depending on whether you choose economy or international priority.
China Customs
The good news is that since China's accession to the World Trade Organization, the duties and taxes have all been reduced significantly.
The three types of fees you might be subject to include:
Value Added Tax (VAT)
Consumption Tax (CT)
Customs Duties
If you are sending documents, gifts, or goods with a value of less than 500 RMB, you do not need to worry about duties or taxes. Everything else can be taxed. These taxes are usually applied in China and decided by the customs officers based on the customs invoice and shipping list. Tax & duties are calculated based on the price of the products and shipping costs at a rate of 9-13% (from April 1, 2019) for Import VAT.
In 2013, a new VAT was issued affecting freight to and from China. The tax is officially called "Circular 37" (Cai Shui No. 37) and it levies an additional 7% on all air, ocean, warehouse, and trucking services. This cost is applied to the carriers by Chinese authorities and is passed down onto the shipper. You might see this as an additional cost on your shipping proposal.
Depending on the products being imported to China, you might be liable for a Consumption Tax (CT) which varies widely depending on the type of product from 1 to 40%. General Customs Duties usually add another 2 to 12% on top of other taxes.
All items being sent to China require a tariff code, "Harmonization Code", or "China Customs Commodity HS Classification Code". Most carriers and forwarders will generate this information for you based on the description of your goods. The 13-digit code will identify the goods for inspection and quarantine.
Paperwork Terminology
As we explain a number of different postage and shipping options, you will see reference to specific paperwork, which varies depending on what service you choose, the type and quantity of goods you're shipping, the carrier you use, and which country you are in.
This is an overview of all the possible documentation you MIGHT need in order to send goods to, and receive goods in, China. Your chosen shipping company should provide you with all of the necessary paperwork.
Bill of Lading or B/L or BOL – The document issued by a carrier to acknowledge receipt of cargo for shipment.
Shipping List or Packing List (the original if possible) – Specifies the volume, types of products, and quantity of each type of product.
Commercial Invoice (usually duplicate) – Specifies the value, types of products, and the consignee (the person financially responsible for the goods). Customs use this to determine the value of goods for customs duties.
Customs Declaration or Quarantine Packing Delcaration – Paperwork provided by China customs to declare the goods you are receiving. The form differs depending on the type of goods.
Insurance Policy – Insurance should be provided by your carrier. Evidence of this might be required to ship.
Certificate of Origin or C/O or CO – Certifies that the products being shipped were obtained, produced, or manufactured in a particular Country
Import License – Approval required if you are sending large quantities of one thing to China or more than one shipment of similar things.
Inspection Certificate – Required for importers who are shipping restricted goods which require inspection.
Personal Effects Import Declaration Form – A Chinese form used to collect your excess baggage or other second-hand personal items.
Common Mistakes
Here are some reasons your shipment can be delayed, withheld, or have additional tariffs applied:
Customs Declaration and Inventory List are not identical.
Receiver's name on address label is not exactly the same as the name on the receiver's passport.
Receiver tries to receive goods before obtaining work permit and residence certificate in China.
Sender has written the inventory carelessly and used vague terms like "miscellaneous items".
Shipment includes potentially suspicious items like powders or other items from the forbidden list.
The sender has obviously undervalued expensive items.
Now, on to You
As with all big moves in life, research is the key to facilitating an easy and stress-free move to China. Please use all the tools linked in this article, get lots of quotes, talk to specialists and agents, and find the solution which is best for you.
Always weigh the cost/reward ratio when thinking about shipping. Assess what you really need to take and ask yourself if it is worth it. If you are only going to China for one year, is it worth waiting two months for your container of stuff to arrive? Probably not.
Do not underestimate costs. After you calculate the value of the goods you want to ship, figure out what 40% of the value is and ask yourself if you would be happy to pay that in duties and taxes once you arrive in China to release your goods. While carriers can advise you about these costs, it really is up to the agents on duty at customs in China the day your belongings are due to be released. You could be hit with some hefty tariffs.
Good luck on your exciting journey!