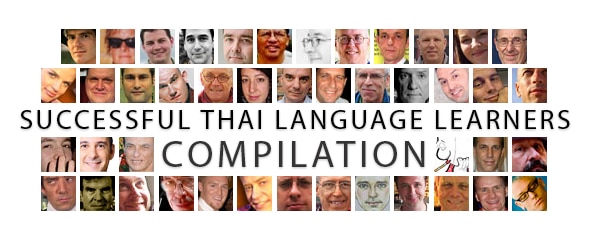 Do you speak more street Thai, Issan Thai, or professional Thai?…
Out of the 50 interviewed, 26 speak professional Thai, 14 speak street Thai, five speak Bangkok Thai (close to Central Thai), four speak Central Thai, and one speaks Tourist Thai. In addition, 11 speak street Thai as well.
Glenn Slayden: Tourist Thai, Chris Pirazzi: Street Thai, Daniel B Fraser: Street Thai, David Long: Street and Professional, Justin Travis Mair: Mostly street Thai with a bit of professional mixed in, Marcel Barang: Both street and professional. Isarn, bor pen, Stuart (Stu) Jay Raj: Professional when I'm working, street Thai on the street and Isaan when I'm in Isaan, David Smyth: Bangkok Thai, Gareth Marshall: Most of my Thai learned has been in Bangkok, Don Sena: Standard Thai (Central Plains dialect), Doug: Semi-pro, Marc Spiegel: Professional Thai, Christy Gibson: I use them all, depending on the situation, venue, and audience, Terry Fredrickson: Professional Thai, street Thai, Issan Thai and southern Thai (I enjoy dialects).
And now on to the rest of the interview…
If you are looking for a good resource to learn Thai online, check out Learn Thai from a White Guy. Upon entering your email, you'll get five free lessons to help you start learning to read Thai.
Aaron Handel

Aaron Le Boutillier

Adam Bradshaw

Andrew Biggs

Celia Chessin-Yudin

Colin Cotterill

Fabian Blandford

Grace Robinson

Hamish Chalmers

Hardie Karges
I mostly use modern standard central Thai, but also understand northern Thai–my wife's native tongue–and can speak and read Lao (Isaan) at probably the intermediate level.
Herb Purnell
Why specify just Issan? There are a lot of other regional people, such as Northern Thai or Southern Thai, in Bangkok too. I do speak Northern Thai, perhaps not as well as Thai, but it's a lot of fun to speak it. My Northern Thai is much more informal than my Thai because I learned it in a farming village and use it primarily in informal contexts.
Hugh Leong

Ian Fereday

James (Jim) Higbie

Joe Cummings

John Boegehold

Jonas Anderson

Jonathan Thames

Larry Daks

Luke Cassady-Dorion

Mark Hollow

Martin Clutterbuck
Street Thai, well colloquial Thai, even as spoken by the upper echelons, is a huge challenge, but I will not curse, and there are many elephant traps for the unwary, so yeah, I avoid it, unless I'm feeling confident I won't cause controversy.
Nils Bastedo

Paul Garrigan

Peter Montalbano

Rick Bradford

Rikker Dockum

Ryan Zander

Scott Earle

Stephen Thomas
I do use some Isaan language. I have several Isaan friends and a lot of the vendors I go to regularly are Isaan or Lao. It's also a good way to show that I'm not just a tourist who learned a few phrases, especially when going into touristy areas. It's a fun and friendly dialect, and whenever people call me "Farang" I tell them I'm "Bak Seeda."
Stickman
I speak proper Thai or professional Thai as you call it, can understand a fair chunk of Isaan as well as some street Thai although my street Thai is actually not that good – but with that said, it is not something I am particularly concerned about.

My desire has always been to be able to speak proper Thai although there from time to time it might be advantageous to speak street Thai, or at the very least, understand it. Isaan Thai is probably more useful to me than street Thai per se as I have a lot of interaction with people from that region, especially those from less privileged, rural backgrounds for whom Isaan Thai is what they speak at home and with their friends.
Tod Daniels
Nope, I can't speak more than a couple phrases in Issan Thai. Having spent time touring Issan it was my experience EVERYONE under about 50 y/o can understand and speak Bangkokian (Central) Thai just fine. I've got more than enough trouble keeping the Central Thai vocab stuck inside my head. I don't need to throw a wrench in the gears of progress, no matter how slowly they're turning.
Tom Parker

Vern Lovic

The Series: Successful Thai Language Learners Compilation…