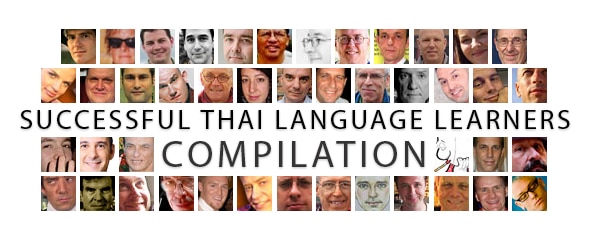 "*" indicates required fields
Do you speak more street Thai, Issan Thai, or professional Thai?…
Out of the 50 interviewed, 26 speak professional Thai, 14 speak street Thai, five speak Bangkok Thai (close to Central Thai), four speak Central Thai, and one speaks Tourist Thai. In addition, 11 speak street Thai as well.
Glenn Slayden: Tourist Thai, Chris Pirazzi: Street Thai, Daniel B Fraser: Street Thai, David Long: Street and Professional, Justin Travis Mair: Mostly street Thai with a bit of professional mixed in, Marcel Barang: Both street and professional. Isarn, bor pen, Stuart (Stu) Jay Raj: Professional when I'm working, street Thai on the street and Isaan when I'm in Isaan, David Smyth: Bangkok Thai, Gareth Marshall: Most of my Thai learned has been in Bangkok, Don Sena: Standard Thai (Central Plains dialect), Doug: Semi-pro, Marc Spiegel: Professional Thai, Christy Gibson: I use them all, depending on the situation, venue, and audience, Terry Fredrickson: Professional Thai, street Thai, Issan Thai and southern Thai (I enjoy dialects).
And now on to the rest of the interview…
Aaron Handel
Aaron: The answer to this depends on which street you are referring to, as there are many Thai dialects and local nuances. I speak Central Thai. I'm quite comfortable with Bangkok Thai. My Thai is colloquial, but a bit more formal than 'market Thai.'
Aaron Le Boutillier
Aaron: I spend most of my time learning from Thai books at the Police Station so I need to spend more time on the street. Sometimes I feel like I can read about the Thai Criminal Code but struggle ordering some sticky rice and chicken! Too much reading and not enough speaking.
Adam Bradshaw
Adam: I can speak Bangkok Thai the best, but I enjoy learning Isaan Thai as well. There's something about Isaan Thai that's just fun and charming.
Andrew Biggs
Andrew: In a bad mood I'm excellent at street Thai, but I think I veer towards professional (for the first time in my life).
Celia Chessin-Yudin
Celia: I speak professional Thai as I have been working at a Thai NGO and translating for the past year.
Colin Cotterill
Colin: Although I'm living in the south, I stick to central Thai. I get the feeling the southerners don't necessarily appreciate our efforts to speak like them. Of course they all have TVs so they understand everything. But they answer in southern dialect so my ear's getting better.
Fabian Blandford
Fabian: Street Thai, but since I have spent nearly all the time in the north of Thailand I probably mix both Lanna Thai and Central Thai in my conversation.
Grace Robinson
Grace: Professional and informal Thai. I was taught Thai in an academic way so I have studied texts on Buddhism and politics in Thai and I do feel very comfortable speaking general conversational Thai, however street Thai or slang is still at times a mystery to me, so I am learning all the time!
Hamish Chalmers
Hamish: It's 'day to day' Thai, I guess. The influences on my Thai range from Karen villagers in Sangklaburi to cosmopolitan socialites in Bangkok, but most of the consolidation of my learning has happened in Bangkok, at work and at home.
Hardie Karges
Hardie: I don't acknowledge the 'street' version of any language, merely correct or corrupt versions, though evolution and change is obvious and essential.

I mostly use modern standard central Thai, but also understand northern Thai–my wife's native tongue–and can speak and read Lao (Isaan) at probably the intermediate level.
Herb Purnell
Herb: I speak relatively more professional Thai since that's been most of my experience. I'm comfortable speaking informally, but I don't know much street slang.

Why specify just Issan? There are a lot of other regional people, such as Northern Thai or Southern Thai, in Bangkok too. I do speak Northern Thai, perhaps not as well as Thai, but it's a lot of fun to speak it. My Northern Thai is much more informal than my Thai because I learned it in a farming village and use it primarily in informal contexts.
Hugh Leong
Hugh: I speak polite Thai. I can understand a lot of "Khum Muang" or Chiang Mai (Lanna) Thai but usually respond in Central Thai. Thailand is a very stratified country. If all you spoke were street Thai then it would be very difficult to communicate with professionals, academics, HiSos, politicos, monks, etc. You may or may not be interested in hanging out with any of these types but why limit yourself? Polite Thai works in all situations and with people at all levels of society whether they be the girl serving me noodles, the abbot of my local temple, or the governor of my province. Recently I had a nice conversation with the mayor of Chiang Mai. She spoke to me in Khum Muang and I spoke to her in Thai. That could not have happened if I had been speaking street Thai.
Ian Fereday
Ian: Professional Thai and a bit of street Thai. I live in Phuket and we don't get much Isaan Thai down here.
James (Jim) Higbie
Jim: I try to speak both street and professional Thai depending on the situation. I lived in Laos for eight years and also speak Lao which is basically the same as Issan. At this point, though, I've been working in Africa for seven years so I'm not as fluent as I was when I lived in Thailand and Laos. I can still speak both languages when I go back but it would take some time to be as fluent in Thai as when I was writing Thai Reference Grammar.
Joe Cummings
Joe: Professional Thai at work, street Thai with my friends, and Lao/Isan (Vientiane/Udon Thani dialect) when travelling in Isan or Laos.
John Boegehold
John: Probably somewhere in the middle of professional and street. I know a bit of Isaan, but not enough to throw in more than an occasional word or phrase.
Jonas Anderson
Jonas: In my line of work I have to use all of these. I am often in professional situations that call for the appropriate communications, with Issan fans with whom I always love to embarrass yourself and give them a good laugh with attempts at that dialect; and dressed down or "market Thai" is often called for with our audiences too.
Jonathan Thames
Jonathan: I speak a mix, I'm sure. I have had a great deal of formal training for Professional Thai and I speak with relative ease in informal environments, as well. I also have picked up a smattering of Northern Thai from my time in Chiang Mai.
Larry Daks
Larry: Professional Thai, but since I also speak a fair amount of Lao, I can converse in Issan and, to a lesser extent, Northern Thai dialect.
Luke Cassady-Dorion
Luke: Hmmm, what streets are you referring to? I can talk to my professors using full polite forms, I know way more gay-slang than is really appropriate and I feel at-ease working with the rural population when filming my show. The challenging thing with Thai is that it has all these layers of politeness; each sentence has to be a carefully crafted using verbs, pronouns and particles. Sure it's fine as a foreigner to just use general Thai, but being able to use Thai that is situationally-appropriate will do a lot to impress on your listener that you understand his language.
Mark Hollow
Mark: Professional/textbook Thai, I guess. I probably sound a bit "stiff" to locals as I'm likely missing some of the idioms and common sayings that a native speaker uses to make their speech sound truly natural.
Martin Clutterbuck
Martin: Early on, I realised that the central dialect of Thai, as used by professionals, was well understood in all parts of the country, in every remote village with a TV. North, Northeast (Isan – why 2 "s"?) and South are the main dialects, I understand them mostly, South the best, having spent some time in Phuket, and each jangwat has its distinctive twang. I have a smattering of Lao, having learned some of the shifts and the Lao alphabet, which is how the Thai alphabet could be reformed in many ways.

Street Thai, well colloquial Thai, even as spoken by the upper echelons, is a huge challenge, but I will not curse, and there are many elephant traps for the unwary, so yeah, I avoid it, unless I'm feeling confident I won't cause controversy.
Nils Bastedo
Nils: I have been lucky in that the Thais I have met have chosen to teach me nice language, and Thais often say that I phrase myself nicely. I do not speak Isan, but since the people I taught at Bumrungrad International represented very many different backgrounds and people from all over Thailand, I probably have a blend of 'street talk' and professional language.
Paul Garrigan
Paul: I previously worked as an ESL teacher so would pick up a lot of Thai from the students as well as the Thai teachers. I also lived in a Thai village for almost 4 years where they spoke Issan. Now I live in Lopburi and as this is an army town you get a lot of people from all parts of Thailand with many accents. A lot of my Thai vocabulary has come from reading so it is a mixture of all of these influences. I suppose it is a mixture between professional and street Thai.
Peter Montalbano
Peter: I do them all with equal abandon. I spent two years in Isaan, and can get around in generic Lao, or northeastern dialect. I suppose "professional Thai" means "really good standard Thai," and that's what I work hardest on, although I like knowing and appropriately using slang as much as possible.
Rick Bradford
Rick: Professional. The further things get from formal Thai, the worse I perform. I can pretty much understand a TV address by Abhisit, but not that of a cassava farmer complaining about the drought.
Rikker Dockum
Rikker: I'd characterize what I speak as Bangkok Thai. I don't try to be overly "correct" in ways that native Thais wouldn't be — I don't roll my r's, and I generally simplify clusters and let my r's become l's. I do use Thai in more formal situations, which requires 'polite Thai'. My wife is Bangkok born and raised, so I speak a lot of Bangkok Thai at home, and with her relatives. I can understand some but speak virtually no Issan or other regional flavor of Thai.
Ryan Zander
Ryan: I guess I speak more regular everyday Thai, but I keep it polite. I never learned much Isaan dialect, but I've picked up a little bit of the Thai-yai, or Shan, dialect because my wife is from Mae Hong Son, and that's what her family uses at home.
Scott Earle
Scott: More 'street' Thai, although I also tend to speak Thai almost exclusively in the office. Partially to try to speak more politely! I also speak some Isaan, but it's pretty much the same as regular Thai with the tones shifted and a few basic words changed.
Stephen Thomas
Stephen: Probably more street Thai. Professional Thai has a lot more complicated and redundant grammar, though it can be useful if I am having trouble getting my point across. It's important to know the proper rules of any language I think. I see and hear grammatical catastrophes in English all the time which people have just come to accept and don't even know they are wrong. I don't really want to sound like that in Thai but of course I'm late out of the gate and racing to catch up.

I do use some Isaan language. I have several Isaan friends and a lot of the vendors I go to regularly are Isaan or Lao. It's also a good way to show that I'm not just a tourist who learned a few phrases, especially when going into touristy areas. It's a fun and friendly dialect, and whenever people call me "Farang" I tell them I'm "Bak Seeda."
Stickman
Stickman: I consider myself lucky to have learned Thai "properly", having learned to read and write right from the start in a very supportive classroom environment. This means that today my Thai is more formal than what you would hear from those who have learned in other "environments".

I speak proper Thai or professional Thai as you call it, can understand a fair chunk of Isaan as well as some street Thai although my street Thai is actually not that good – but with that said, it is not something I am particularly concerned about.

My desire has always been to be able to speak proper Thai although there from time to time it might be advantageous to speak street Thai, or at the very least, understand it. Isaan Thai is probably more useful to me than street Thai per se as I have a lot of interaction with people from that region, especially those from less privileged, rural backgrounds for whom Isaan Thai is what they speak at home and with their friends.
Tod Daniels
Tod: I try to gauge how I speak Thai to the people I'm speaking Thai to. Dealing with officials in the Police, governmental agencies, businesses I cone in contact with, etc, I try to speak ultra polite semi-professional Thai. With run-of-the-mill Thais, street sellers, my Thai friends, etc, I adjust how I speak to match what ever level they're speaking. I found early on if you try to speak a higher level of Thai than is being spoken by everyone else, you can come across as pretentious.

Nope, I can't speak more than a couple phrases in Issan Thai. Having spent time touring Issan it was my experience EVERYONE under about 50 y/o can understand and speak Bangkokian (Central) Thai just fine. I've got more than enough trouble keeping the Central Thai vocab stuck inside my head. I don't need to throw a wrench in the gears of progress, no matter how slowly they're turning.
Tom Parker
Tom: I studied Thai at university so I learnt mainly 'Central Thai'. I also studied some 'Royal Thai' as my Thai language instructor was a descendent of a royal court family. I have forgotten most of that and since I now learn a lot of Thai from everyday conversation and pop-culture 'street Thai' is probably my forte.
Vern Lovic
Vern: I learned Thai in Isaan but told everyone that helped me pronounce that I want to learn Bangkok Thai, not Isaan flavor. The result was that I don't do all that well in Isaan or Patong Beach, but overall I think it was the right way to go since I wasn't going to spend my whole life in Isaan.
The Series: Successful Thai Language Learners Compilation…