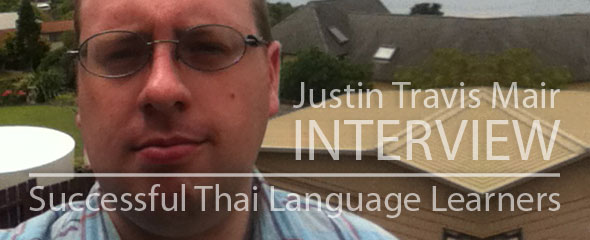 Interviewing Successful Thai Language Learners…
Name: Justin Travis Mair
Nationality: American
Age range: 30
Sex: Male
Location: New Zealand
Profession: Student/Father/Receptionist
Website/blog: I Want To Speak Thai
What is your Thai level?
I say I am fluent, but I let my vocabulary fall to an intermediate level. I am currently bringing my Thai back up to an advanced level.
Do you speak more street Thai, Issan Thai, or professional Thai?
Mostly street Thai with a bit of professional mixed in.
What were your reasons for learning Thai?
I was a missionary for my Church, The Church of Jesus Christ of Latter-day Saints (the Mormons). I didn't choose where I was sent, but I am lucky I got called to where I did. We were expected to talk and teach about our church to those who were interested. We also taught English classes for free at our local churches. To do this we had to learn Thai.
Do you live in Thailand? If so, when did you arrive?
I don't currently live in Thailand, but I lived there from February of 2001 to December 2002. While I was there the Sept 11 attacked occurred in New York. Coming home was such a drastic change in Airport security it felt like a different country.
How long have you been a student of the Thai language?
During the 2 years of living in Thailand I was studying all the time. Any 5 mins I found available I would be doing something to improve my Thai. When I came home, I tried to keep that intensity. Unfortunately, life happens and I eventually stopped.

Recently I started a blog to help me learn Spanish and I couldn't help but feel guilty that I had let my Thai deteriorate so much. So I am now looking to bring my Thai, not just back to its former glory, but also to a higher level than I ever had it before.
Did you learn Thai right away, or was it a many-pronged approach?
I learned Thai right away. We had no other choice as missionaries other than to just jump in and embrace this new language and culture.
Did you stick to a regular study schedule?
As a missionary I had a 2 months intensive course(8 hours or more a day) all in Thai. After that I would would study Thai 30 mins every morning. Then I would spend the rest of my day full immersed in Thai, talking to Thais or just studying in the 5 mins I found I was free. Basically, my life was a constant language study.
What Thai language learning methods did you try?
I mentioned the 2 months course already, this was created by my church specifically for teaching missionaries Thai. It is surprisingly similar to the FSI Thai Basic course and since they were both created around the same time period, I have a feeling that there may be some common authors in there. Though I have no way of knowing.

During the 2 months we were encouraged to S.Y.L. or Speak Your Language. Meaning as soon as you learn the word in Thai, we have to stop using the English word. This meant we spoke a lot of Thaiglish, but it was surprisingly helpful. We got used to using Thai grammar and patterns. A common joke we would do as missionaries was to speak English using Thai grammar. It was funny, but it actually solidified the Thai grammar in our head even though it was a joke.

Other than that, it was pretty much the sink or swim method. I had to go and communicate in Thai all day everyday. I did have the help from other missionaries, but for the most part they would only help you to save you from drowning. We all knew the best way to learn was to go and do.
Did one method stand out over all others?
The sink or swim method and the SYL were the biggest things that helped me I think.
How soon did you tackle reading and writing Thai?
One of the last days in the 2 month course, we were given a one hour primer on how to read Thai. They basically showed us how to sound out the words. After that I kinda waited a month or two before starting to really try and read Thai.
Did you find learning to read and write Thai difficult?
I did find it hard to differentiate the words, due to the fact that Thai script is written with very few spaces. Eventually it just became normal. It's kinda like having a conversation in a noisy room, at first it is hard to talk to your neighbors, but after awhile you adjust and it seems normal.
What was your first 'ah hah!' moment?
There was just one day I talked to a man and we had a good 10 minute conversation. Afterwards, I realized that I didn't have to ask him to repeat anything and he never once asked me to repeat myself. We just talked. I was on cloud 9 the rest of that day!
How do you learn languages?
I am a systematic person. I like to follow recipes and create plans. Right now I developed a system for me to learn Spanish, mostly to satisfy my desire to follow formulas.
What are your strengths and weaknesses?
My strengths are that I love to learn new things and I am totally willing to admit I am not good at something. It does me no good to learn things if I think I already know everything.

I think a weakness would have to be follow through. I get so excited to do things that unless I have a responsibility partner or some sort, I would easily get distracted and start 10 projects and finish none.
What is the biggest misconception for students learning Thai?
That it is TOO hard. Learning any language is difficult and Thai can seem even harder since there is little in common with English. That said, It is very attainable and I don't think it is beyond anyone who is willing to try to be able to become fluent in Thai.
Can you make your way around any other languages?
I started learning Spanish about 5 months ago and I am now capable of getting myself in trouble. Still have a ways to go before I consider myself fluent in Spanish.
Are you a computer programmer, or do you have programming experience?
I took a computer science class in High school and we learned to program in Basic. I got an A+ since I created an very simple animation of a dragon breathing fire all while having Baby Elephant Walk by Henry Mancini playing in the background. I was also part of the first Internet class in my High school. This may make me sound dated, but until my Junior year, we had dial-up internet access and it was so unreliable that they couldn't teach a class around it. That class taught us to make webpages using HTML code and notepad. It was fun, but I haven't done anything like that since.
Do you have a passion for music?
I definitely have a passion for music. I was in Choir, band, marching band, orchestra, and Jazz band in High school. I received the Louis Armstrong Jazz award in High school as well. When I came back from Thailand, my Brothers and I started an a cappella group, like the Warblers on Glee though not as good. I was the Vocal percussionist for the group. I can also play the Bass guitar so I am often asked to join bands. I learned the piano as a kid from my mom, but I wouldn't put me at a high level of piano playing. Recently I have taken up playing the Ukulele.
Were you learning another language at the same time as Thai?
I have never learned another language before learning Thai and I don't know who I would have learned Thai if I was trying to learn another one at the same time. I am sure there are those out there that can, but I doubt I could have done it.
What advice would you give to students of the Thai language?
Don't be afraid to fall on your face. The first day in Thailand I had a guy laugh at me every moment I talked. Every time I felt cocky about my Thai I would be reminded that I still have much to learn. Thai people can be very direct sometimes. You just need to brush it off and keep trying.
Justin Travis Mair
I Want To Speak Thai
The Series: Interviewing Successful Thai Language Learners…
If you are a successful Thai language learner and would like to share your experiences, please contact me. I'd love to hear from you.