It's been my observation that when you are advanced in a language, to read you don't need to recognize each letter. You see words as a coherent whole. And given the context you can guess what the word is quite easy.
But at the beginning of learning a language such as Thai, even little differences in letter shapes (using different fonts and handwriting) will often make you stumble. At least it was my experience. Over time I developed rules on how to distinguish letters in the Thai alphabet which I will share with you now.
There are hundreds of Thai fonts. To make the comparisons, I chose four different ones:
Browalia New – classic Thai font

JS-Puchong-Normal.ttf – modern font with simplification

Prompt-Black.otf – modern font with another type of simplification
SOV_wayo.ttf – nice handwriting
Let's take a look at how I differentiate between each Thai fonts:
Find basic component of the letter shape. For example, ก is the upside down of U no matter is there a "beak" on the left or not. ท is similar to n, ห is similar to k, and ร is similar to s.
There are some letters that you normally have no problem such as า
Look at "cluster" of similar letters such as ช and ซ
Certain letters are rarely used. So, you can just skip them such as ฐ ฆ ฑ ฎ
Take a look at the left bottom of each letter: ก ถ ภ ภ Is there a bulge? Is it to the left or to the right?
Look at the left upper "tail". Is it u-shape or not? such as ข ช ซ
Look at the right upper tail. Is it short or long such as ข ช บ ป
ข and บ may look the same at some font. Always remember that ข is narrower than บ
Is left vertical line under top horizontal line? ง จ
Some letters are unique and can be easy to spotted such as ฌ ญ ฒ ณ ฎ ฏ
Is the circle of the letter above or inner the line such as ด ค ต ศ?
You can see the below pictures for side-by-side comparisons.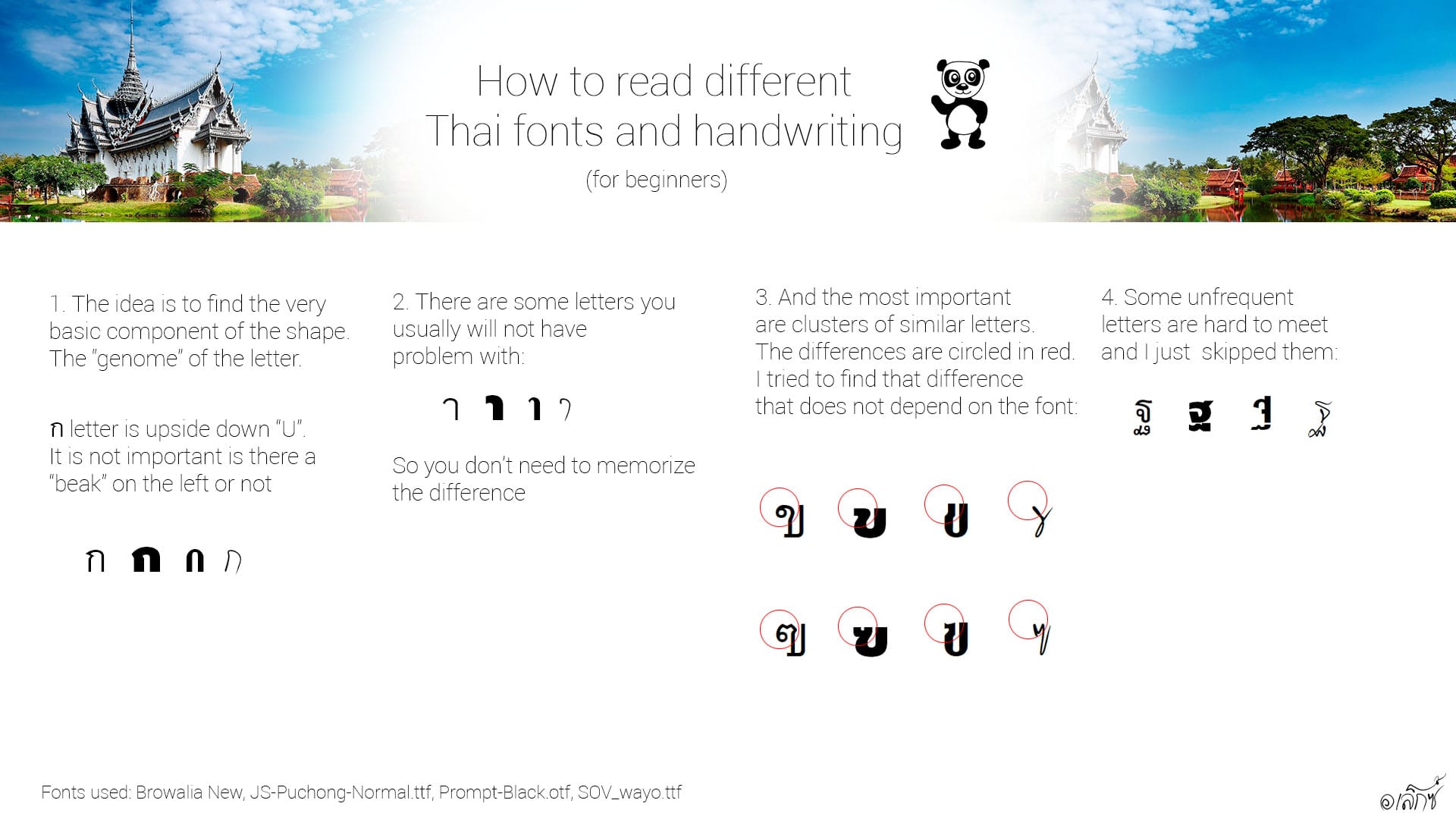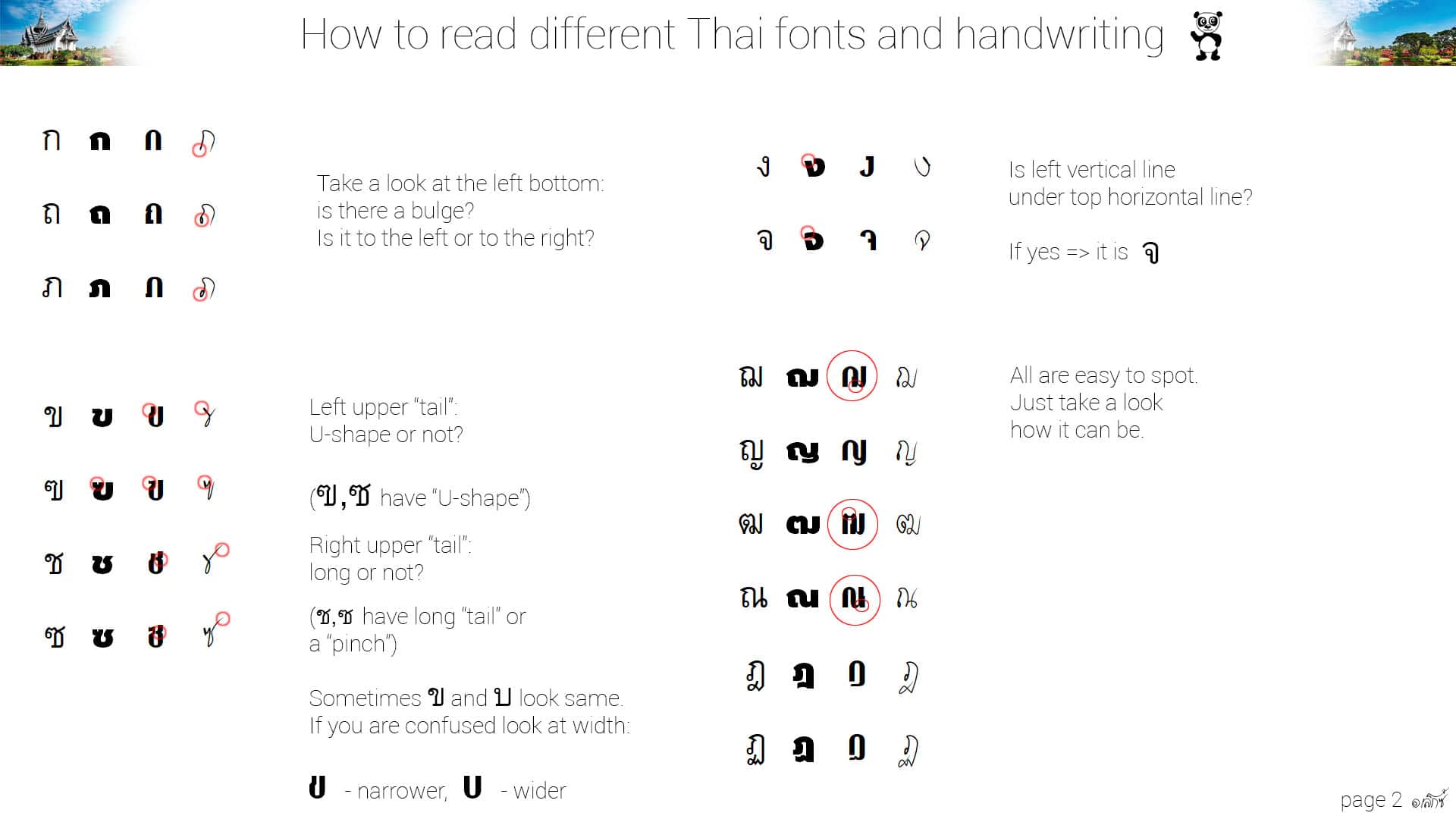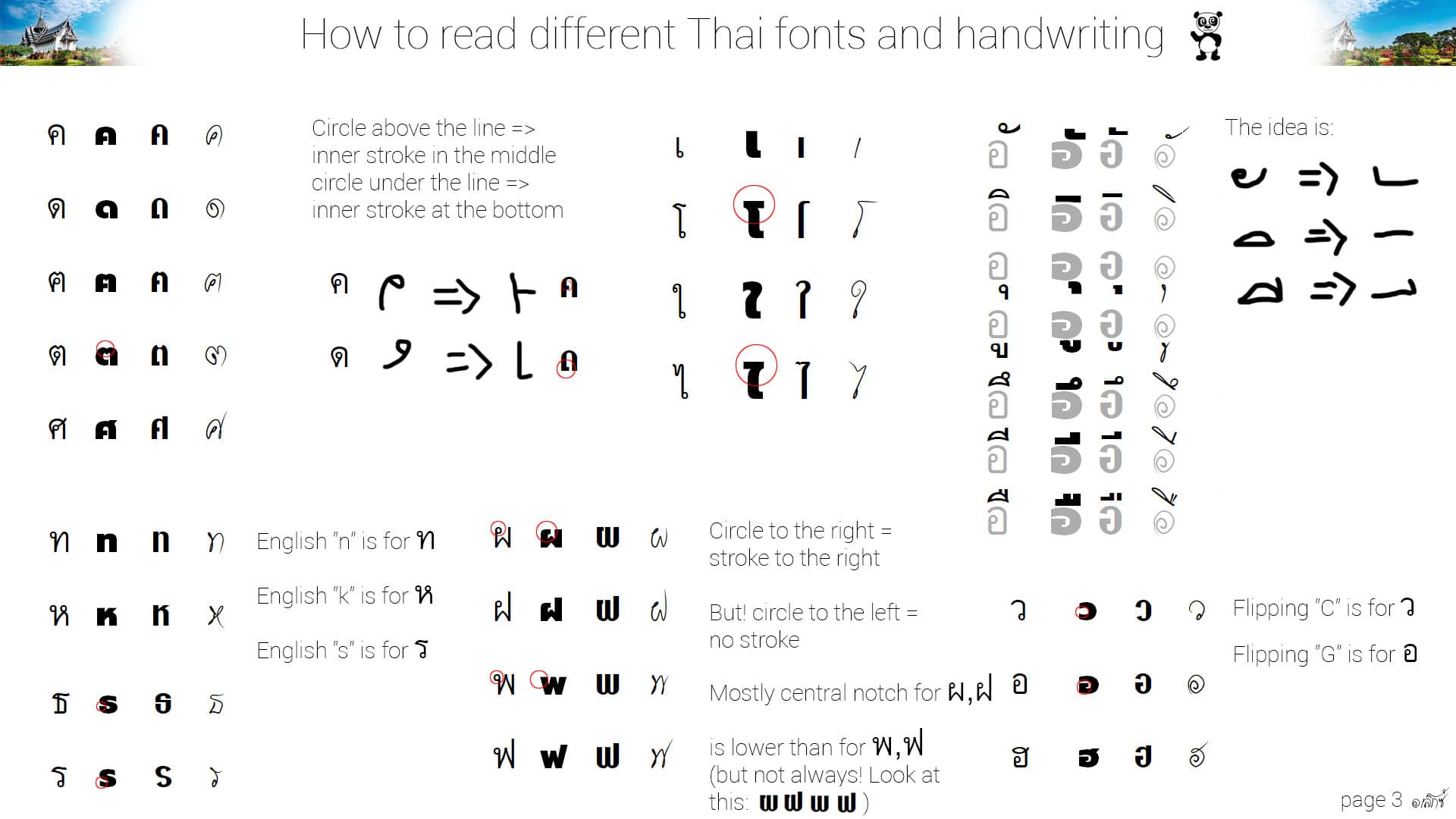 Download Free Thai Fonts
Thai fonts sizes are all over the place. And if you don't choose a well-designed font, to get the Thai and English to balance you'll be forced to adjust sizes by hand. Tedious. Throw in transliteration – not all fonts design for it – and if you are not careful you'll end up with a mess.
For common fonts, both Arial Unicode and Thonburi (sans serifs) allow you to use the same font size for English and Thai, and the transliteration scales wonderfully as well.
For a paid font, Adobe Thai, is a serif font with a wonderful balance. It's not free but I've included it due to its clean attributes. So, apart from Adobe Thai, the list below is free for personal use.
Thai National fonts (Thai: ฟอนต์แห่งชาติ; rtgs: [font] haeng chat), or colloquially SIPA fonts (Thai: ฟอนต์ซิป้า, are a group of thirteen Thai-Roman fonts distributed and used by the Government of Thailand as public and official fonts after they won a national competition.

The Council of Ministers officially announced the thirteen fonts as the public fonts, naming them the "national fonts". The public agencies were ordered to use these fonts, especially "TH Sarabun PSK", in their state papers.
The Thai fonts listed come from all over the place but there is no way we could include everything we found.
Here you can download the pdf FREE Thai Font.
What to Read Next
Credits: Catherine Wentworth