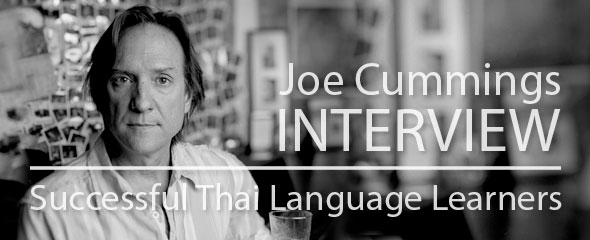 Interviewing Successful Thai Language Learners…
Name: Joe Cummings
Nationality: American
Sex: Male
Location: Bangkok and Chiang Mai
Profession: Editor/writer/musician
Website: www.joecummings.com
What is your Thai level?
On a 5-point oral proficiency scale, I'd rate 4.5 (near-native). I manage academic reading just fine, and write well enough for emails, notes, etc, but not at an academic level. Frankly I've never met an adult learner of Thai who could write at a native academic level.
Do you speak more street Thai, Issan Thai, or professional Thai?
Professional Thai at work, street Thai with my friends, and Lao/Isan (Vientiane/Udon Thani dialect) when travelling in Isan or Laos.
What were your reasons for learning Thai?
In the beginning, to integrate into Thai society as much as possible, and to function without using English. Later at university, and later still, in my writing career, to carry out research on Thai art, religion, history, and so on, for books and articles I was writing.
Do you live in Thailand? If so, when did you arrive?
I first arrived in 1977 and have lived here on and off every since. I divide my time between Bangkok in Chiang Mai, with homes in both cities.
How long have you been a student of the Thai language?
Since the day I arrived, March 17, 1977. I joined the Peace Corps specifically to come to Thailand, and began language training right away. After that, I continued my Thai studies as part of an MA program at UC-Berkeley. I tested out of all the Thai courses at Berkeley, and so took independent language study under a Thai professor. I did my MA field studies back in Thailand, translating Thai texts for my thesis on the Thai communist insurgency's treatment of Buddhism. While at grad school, and also after graduating, I began working as a Thai-English interpreter/translator in San Francisco, specialising in legal translations, including live deposition and simultaneous court interpreting for the State of California for various lawsuits between Thai and US companies, and in a drawn-out heroin smuggling case involving Thai nationals. One of the more memorable translation jobs was serving as an escort for Bangkok cosmetics reps who had been given free trips to SFO after exceeding their annual sales targets. Then I started coming to Thailand to write Lonely Planet guides, and drifted away from academia. I did go back to school for a second MA in applied linguistics at the University of Hawaii, concentrating on the order of acquisition of English structures by native Thai speakers.
Did you learn Thai right away, or was it a many-pronged approach?
Although I was able to travel and converse freely after nine months, it took five years of full and part-time study before I felt really confident in the language. And of course I've never stopped learning.
Did you stick to a regular study schedule?
Peace Corps language training was six hours a days, six days a week for three months. At Berkeley, I kept a typical grad student schedule, with daily in-class discussion, a ton of Thai homework, and a lot of late-night drinking sessions with Thai students at UH, many of whom had fled Thailand in October 1976.
What Thai language learning methods did you try?
The Peace Corps language training used Caleb Gattegno's Silent Way, where you physically manipulate colored wooden rods (Cuisenaire rods) of various lengths, using them to represent people and things, and also as syntax markers for sentence structure. For reading and pronunciation practice, we used the Silent Way charts where the different letters of the Thai alphabet were colored according to differing sounds and consonant class. At least 15 minutes of every hour of instruction would be spent on pronunciation.

The Silent Way is based on the basic theory that:

Learning is facilitated if the learner discovers or creates rather than remembers and repeats what is to be learned.
Learning is facilitated by accompanying (mediating) physical objects.
Learning is facilitated by problem solving involving the material to be learned.

At Berkeley we used the grammar-translation method, which is pretty much the complete opposite of the Silent Way! After a short period doing grammar exercises followed by sentence-by-sentence translation, I went straight into translating Thai newspaper stories (I spent nine months translating nearly all of Kukrit Pramoj's Siam Rath columns) and moved from there to Thai epic verse, eg, Phra Aphaimani, Traiphum. After that I could read well enough that I would choose my own material, based on topics I was interested in (politics and Buddhism), and then work on those until my professor was satisfied with the translations.
Did one method stand out over all others?
Each had its strengths and weaknesses, but I've come to the conclusion that we learn language in spite the methods chosen, rather than because of them.
How soon did you tackle reading and writing Thai?
Immediately, beginning the first week of classes in Thailand.
Did you find learning to read and write Thai difficult?
I found the first month or so quite difficult, and although I could read simple signs on the street, and simple notes between friends, it wasn't until I went to Berkeley that I properly learned to read long passages of text.
What was your first 'ah hah!' moment?
I had a major ah hah moment when I flew back to Thailand after 18 months at Berkeley, coupled with all the translation work I'd been doing. Suddenly I could understand almost everything around me, spoken or written. It was like rebirth in a new life, but in the same world. And it felt like I was supposed to be here. I knew Thailand would always be my home after that.
How do you learn languages?
My father was in the military so I grew up with neighbours and friends who had lived all over the world, and often spoke languages other than English. When I was 10 my family moved to France and I went to an international school for three years where I learned French. So by the time I came to Thailand as a 23-year-old I had been exposed to foreign languages and appreciated the language learning process. But I don't think I was a particularly talented language learner.
I believe that since we're all completely fluent in our own native languages, that that means we have the same capacity to learn other languages. I think most of the obstacles to learning another language are sociolinguistic rather than psycholinguistic. "I can't speak French because I'm not French," is the basic problem.
What are your strengths and weaknesses?
My Thai is strong in most fields of reference nowadays, but my best areas are probably politics, tourism, cuisine, music and Buddhism, all areas I've had a lot of experience researching in Thai. I'm weaker in medical and scientific Thai.
What is the biggest misconception for students learning Thai?
That you can learn the tones without learning to read. Children can learn by pure imitation, but not adults. Adult learners benefit immensely from both using the language communicatively (as in The Silent Way methodology) and by explicitly discussing the structure (grammar translation). You need to work at the language from both ends, structure and communication.
Can you make your way around any other languages?
I can read French pretty well but can't speak it very well. I got involved in Spanish in the 90s while doing guidebooks on Mexico, so can also read and write Spanish at a 3+ level, I'd say. I really haven't spoken much Spanish since then. I studied elementary Mandarin and Burmese at one time. I guess I've forgotten more languages than I can speak! I can read and speak Lao okay – sometimes inadvertently mixed with a little Thai.
Were you learning another language at the same time as Thai?
At Berkeley I studied Sanskrit and Pali alongside Thai. Learning to read Sanskrit (and to a lesser degree Pali) really helped me understand Thai orthography and technical vocabulary a lot more.
Are you a computer programmer, or do you have programming experience?
Nope.
Do you have a passion for music and or you play an instrument?
I've played music since I was seven years old. First piano, then saxophone, and finally guitar, which I still play today.
What advice would you give to students of the Thai language?
For Thai, I think it's as important to study Sanskrit and Pali as it is for a student of English literature to study Greek and Latin, to get to the roots of a lot of the vocabulary. Plus you can have fun translating your Thai friends' last names for them (the Thai interpretations are often incorrect)!
Joe Cummings
www.joecummings.com
The Series: Interviewing Successful Thai Language Learners…
If you are a successful Thai language learner and would like to share your experiences, please contact me. I'd love to hear from you.