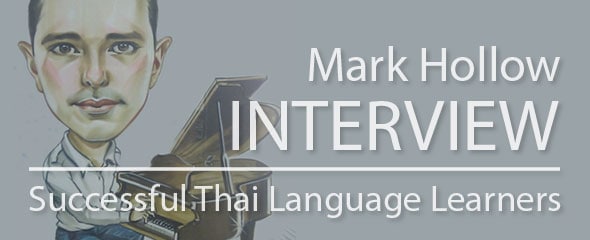 Interviewing Successful Thai Language Learners…
Name: Mark Hollow
Nationality: British
Age: mid-30's
Sex: Male
Location: Bangkok
Profession: Formerly an IT project manager, currently just studying.
Twitter: @hmmbug
What is your Thai level?
I can speak reasonably well, although my ability and confidence varies according to the subject but can usually find my way around most conversation topics. I'm a better reader than speaker, regularly practising with reading newspaper articles, short novels and modern poetry. I don't practice writing often enough, what I do write is mostly just short notes, or SMS/facebook messages.
Do you speak more street Thai, Issan Thai, or professional Thai?
Professional/textbook Thai, I guess. I probably sound a bit "stiff" to locals as I'm likely missing some of the idioms and common sayings that a native speaker uses to make their speech sound truly natural.
What were your reasons for learning Thai?
I had been working in Singapore and in late 2009 decided I wanted to take a break from work because it was stressful and was going nowhere career-wise. However, I was fortunately made redundant due to a corporate takeover before I had chance to resign.

While not working I wanted to do something to keep my brain ticking over and learning a language seemed like a good choice. Thailand was the first Asian country I'd ever travelled to and I was fascinated by the language, in particular the writing system. So, learning Thai it was – and my plan to study for six months has turned in 1½ years so far!
Do you live in Thailand? If so, when did you arrive?
Yes, in Bangkok. I first lived here for about 5-6 months during 2009. When my work in Singapore ended in mid-January 2010 I took just a few weeks to pack up my life in Singapore, then flew to Bangkok.
How long have you been a student of the Thai language? Did you learn Thai right away, or was it a many-pronged approach? Did you stick to a regular study schedule? What Thai language learning methods did you try?
Since 2010. Prior to that, very little study with tangible results.

Initially I learnt some tourist Thai during holidays in Thailand between 2004-2008 – the usual stuff like numbers, food, please/thank you, "where's the toilet?" and other essentials. At the time I was using Pimsleur's Thai CDs and Benjawan Poomsan Becker's Thai for Beginners.

During 2009 I tried learning more seriously but still largely on my own. That year I also met my now-fiancée who helped whenever I had questions but I was on my own and somewhat lost for structuring my learning: she's a nurse, not a teacher and I was a project manager, not a student! I didn't have a set learning schedule and work often took priority. I thought learning basic grammar (from David Smyth's Thai: An Essential Grammar) would help with putting vocabulary together correctly. However, I didn't really know much vocabulary to put together so that attempt died. I think it's fair to say 2009 was a failure as far as language-learning was concerned.

It was only since leaving work that I was able to start learning seriously. On returning to Bangkok I immediately signed up with a private language school. I decided on Baan Aksorn because I'd read positive reviews about them and they gave a good impression when I visited. The building itself was different too – a cosy converted house, rather than a dull office in a tower block. It turned out to be a good choice for me.
Did one method stand out over all others?
Well, I can only really comment on my studies at school as my prior attempts weren't successful.

Except for one month, I've only had one-on-one tuition which I've enjoyed. The teachers were rotated periodically which gave variety to both the lessons and the learning approach. For the one month that I studied with another student I felt like I was holding him back – he was a Singaporean and, like many of his fellow countrymen, already a polyglot from growing up in a multicultural & multilingual society so I returned to one-to-one lessons.
How soon did you tackle reading and writing Thai? Did you find learning to read and write Thai difficult?
I began learning reading and writing as soon as I started school and in parallel with the speaking lessons so learned from phonetic spellings for about four months until my Thai reading was at an adequate standard to swap over to Thai-only course materials.

I found learning the alphabet very difficult. Learning by rote and with no context is almost impossible for me so I made a story out of the alphabet to provide the context eg. ท thor tahaan (soldier) is a patriotic chap likes to stand next to ธ thor thong (flag), next to him is… etc.. it's all silly stuff but through the story I could remember.

The tone rules were difficult too at first but I found similar ways to link them together as an aide to my memory. Applying them while reading was a slow progress too but over time it becomes more natural.
What was your first 'ah hah!' moment?
I don't really think I've had any big 'ah hah' moments, just a gradual progression. I remember a "ขายยา" sign outside a pharmacy was probably the first multi-word sign that I read in the wild. Being able to do that put a smile on my face. Getting through the Ministry of Education's Thai Language Competency Exam was a milestone too.

I do find that I go through a cycles of optimism and then pessimism about my studies and abilities. Usually the pessimism arises if I try to push myself too hard, eg. reading about a specialised topic when I know very little of the vocabulary. Documents about religious or royal subjects can easily do this. I think it's important to understand your limits and not push yourself too hard.
How do you learn languages?
For the first month or two I was very quiet and said little at school. I would learn vocabulary and language patterns but didn't start speaking much Thai until I had more vocabulary (and confidence). I saw no benefit in speaking in the classroom unless it was mostly in Thai.

For the first six months I kept a notebook on me and wrote down new vocabulary, at first it would only be words I saw frequently as there were so many words I didn't know. The notebook was later replaced by a smart phone flashcard application which I found more convenient and sometimes quicker (eg. the ability to take a photo of an advert, sign etc).

Most of my time at home was spent reading reference and course materials. This was very intensive, sometimes up to 10 hours a day. I'd often have the TV or radio on in the background for a few hours too just to let the sounds sink in, regardless of whether I understand or not.

As my reading ability grew I started buying Thai books and reading Thai websites. I've found modern poetry to be a fun way to learn as it often evokes an emotional reaction and therefore (for me at least) makes it easier to remember the vocabulary. Contemporary poems are also often quite short – perfect for a quick read on the skytrain.
What are your strengths and weaknesses?
My enthusiasm for learning is probably my greatest strength. Weaknesses? Vocabulary retention especially those with irregular spellings such as loanwords.
What is the biggest misconception for students learning Thai?
That learning to read/write is too difficult or not necessary. Yes, it takes a long time and regular practice but it's not too difficult. The benefits from being able to read are immense.
Can you make your way around any other languages?
Not now – I did learn some French and German at secondary school but they were the lowest-graded subjects of my school exams. Languages just weren't important to me at that time.
Were you learning another language at the same time as Thai?
No, one's enough!
Are you a computer programmer, or do you have programming experience? Do you have a passion for music and/or do you play an instrument?

Computers and music are both very much intertwined for me. I started learning to program computers when I was very young, perhaps eight or nine years old. Over the years I've learned a range of computer languages (C, java, python, PHP, and even some SPARC assembly). In my opinion though they've nothing in common with human languages.

During my early teens I learned the piano and continued learning music through to university, studying both classical music and music technology. After graduation I worked for the university's IT department while starting a PhD researching user interface design for music software but quit that to develop the IT career that I've now left behind for language studies.
What advice would you give to students of the Thai language?
Persist.
Mark Hollow,
Twitter: @hmmbug
The Series: Interviewing Successful Thai Language Learners…
If you are a successful Thai language learner and would like to share your experiences, please contact me. I'd love to hear from you.