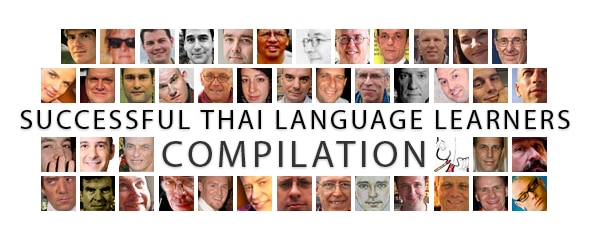 Successful Thai Language Learners Compilation…
Years back I was told that expats who didn't learn Thai right after relocating to Thailand would most likely never ever learn to speak Thai. They'd be failures. Shocking.
At first the statement didn't make sense because many academics schedule breathers, taking years to complete their assorted studies. So why would learning a language be any different?
But ok, by not learning Thai right away you do run the chance of getting stuck in an expat comfort zone. You arrive in Thailand, search out the expat haunts, surround yourself with speakers from your home country, and then discover (to your delight) that it's not a hardship if you don't speak Thai. But studying is.
Curious about the outcome, I added the right way vrs many-pronged question to the interview. And admittedly, the question should have been phrased better so a delayed apology to one and all.
In the interview tally, those who learned Thai to a decent level right away are in the majority with a total of 32. The many-pronged approach side numbered 16. As that's exactly half of the right away total, maybe there is something to the theory? Not sure.
And me? I take the many-pronged method of language learning to soaring heights. And you? What do you think about the risk of failure? Do you believe it has merit? Or no?
Did you learn Thai right away, or was it a many-pronged approach?…
Aaron Handel
Aaron: In the beginning, I only learned a few words and phrases, but I did something much more useful than that. I traveled all over the country with a tape recorder. I recorded various Thai speakers as they read from a text book. This provided me with the tools that I needed to actually learn how to speak. Later, I used those tapes to drill.
Aaron Le Boutillier
Aaron: Many pronged, but now there is direction. With advent of FB, Twitter etc learning has become so much easier in the way of resources at hand. I don't think I learnt it the right way in the beginning, although I did learn how to read early on which I think is a huge bonus.
Adam Bradshaw
Adam: Right away.
Andrew Biggs
Andrew: Right away. It was a good decision of mine, too. I got right into it the moment I arrived.
Chris Pirazzi
Chris Pirazzi: I started learning Thai because I (ignorantly) thought people would not speak English in Thailand before my first trip. I attended a nearly free Sunday Thai language class taught by volunteer Thai-Americans at a Thai Temple in California (there are more than three Thai temples in the San Francisco area alone). This was fun so I kept it up, going almost every Sunday that class was in session from late 1998-2003.
Christy Gibson
Christy: My understanding of the language was very good, but as they say in Thai, "ฉันไม่กล้าพูด (chun mai glah poot)" and I was always afraid of making mistakes in my speaking or pronunciation—a major barrier, I would say, to learning to speak any language—and thus I really didn't progress in my spoken Thai as I should have until later.
Colin Cotterill
Colin: Do you mean did I start to study as soon as I got here or did it stick? If the former, no. I first arrived in Thailand by accident on my way to work on the Burmese side of the border up in Mae Hong Son. Due to a little SLORC skullduggery, I was forced to retreat to Thailand and wait for things to cool down. They didn't, so I stayed. I didn't study Thai because I didn't intend to be here. If you mean the latter, then no also. I have a shocking memory. I needed to use a lot of mnemonic devices to remember vocabulary, and lots of tape recordings to get familiar with the pronunciation.
Daniel B Fraser
Daniel: Long approach – a few phrases at a time.
David Long
David: I began classes during my second week here.
David Smyth
David: Right away.
Don Sena
Don:It was a very gradual approach, starting in June of 1967. Study was persistent throughout the period of twenty-one months ending in 1969. It continued when I returned to the US. I had my books that I had brought from Thailand and acquired more here in the US.
Doug
Doug: Right away.
Gareth Marshall
Gareth: What's the right way? If that means in a classroom, then definitely not. Learned through researching the language I needed, and then discovering new lessons as they came to me.
Glenn Slayden
Glenn: Thai-language.com started in 1997 when I wanted to organize my notes from the Thai class. I did this in HTML format and then, as a lark, made them public on the web. People found them useful and a snowball started rolling. My involvement with the Thai language has, over the years, led me back to graduate school, where I am currently seeking a degree in computational linguistics at the University of Washington.
Grace Robinson
Grace: I learnt a few general words and phrases whilst living in Thailand, then went on to regular study of the language on my degree course. In which I studied at Chiang Mai University for one year, it was a really great experiencing life as a Thai student and living in the country is always the best way to learn a language.
Hamish Chalmers
Hamish: After the initial pre-Thailand preparation I dived straight in when I got here.
Hardie Karges
Hardie: Cross-reference is always the best learning approach for me. Learning to read was critical for advancing, though I know others who read not a word and speak well.
Herb Purnell
Herb: I started right away. Actually, I started in the States before coming to Thailand, while I was just is the first year of my MA program. My wife and I took an evening class with a linguist who knew no Thai. We listened to the very old 78 rpm records for the U.S. Army Thai course by Mary Haas. The prof listened to us as we mimicked the records and corrected our pronunciation as needed. That was a weird way to start, but it gave us a reasonable sense of the pronunciation and some basic vocabulary before we arrived.
Hugh Leong
Hugh: I learned Thai before coming to Thailand (3 month, 6 hours a day, 6 days a week Peace Corps training) which gave me a good base, especially with the tones and simple grammar. Then I studied every day for the next 40 years.
Ian Fereday
Ian: Yes, I studied for the first several months and haven't done any serious study since.
James (Jim) Higbie
Jim: I would say that through writing the books I learned to speak Thai. I worked closely with Snea Thinsan, my co-author, and over seven or eight years got a good understanding of grammar and vocabulary. Living in a rural area gave me the chance to speak Thai all the time. I'm not a quick language learner. Some people I knew could speak Thai fluently in a year.
Joe Cummings
Joe: Although I was able to travel and converse freely after nine months, it took five years of full and part-time study before I felt really confident in the language. And of course I've never stopped learning.
John Boegehold
John: I definitely jumped right in! I was pretty much obsessed immediately.
Jonathan Thames
Jonathan: Considering I began learning Thai before I'd even been to Thailand, I guess the former. I began to study it on my own using the Teach Yourself Thai book and CD set. Then I went to Thailand to study language at AUA-Chiang Mai for 10 weeks in a private class. Following that I studied at my university for one year and then in 2009 I participated in the Advanced Study of Thai (AST) program at Chiang Mai University. Currently I am studying Professional Thai with a Thai instructor at the Monterey Institute of International Studies (MIIS); I am, again, the only student in my class.
Justin Travis Mair
Justin: I learned Thai right away. We had no other choice as missionaries other than to just jump in and embrace this new language and culture.
Larry Daks
Larry: During the three months Thai language training during the Peace Corps training, I developed limited conversational proficiency. However, I found that I could see come progress during this training period gave me a great incentive to continue studies my in Thailand. During this period, I guess I took about a year of lessons. In addition, when I wasn't teaching English in the classroom, I was conversing almost exclusively in Thai.
Marcel Barang
Marcel: Right away.
Marc Spiegel
Marc: I studied 4 hours per day, 5 days per week.
Mark Hollow
Mark: Many-pronged.
Martin Clutterbuck
Martin: Yes, I learned Thai, but only by myself with no course, just one main textbook, "The Fundamentals of the Thai language." This got me to a level where I was able to enter SOAS Thai language courses in the 2nd year.
Nils Bastedo
Nils: Well, learning a language is hardly done overnight. I started with very limited phrases, and stayed at that level fairly long before deciding to actually go to Thailand. Once that decision was made, I tried many approaches, from searching out Thai expats to studying at the university for the 2nd half of a semester to buying several CDs, tapes and books. I will be studying Thai once again when I return, focusing more on reading and writing this time around.
Paul Garrigan
Paul: I definitely don't think that I have learnt the right way. I guess that a lot of the time it was going around in circles. Still though, progress has been made along the way.
Peter Montalbano
Peter: Many-pronged, but sharp prongs!
Rick Bradford
Rick: I began to check learning resources immediately and started to use those which appealed to me.
Rikker Dockum
Rikker: I learned spoken Thai first, focusing on the tones and basic conversation. In the crash course I had three teachers for three shifts: morning, afternoon, evening. One native Thai, one native Lao (with near-native Thai), and one American with pretty good Thai. The Lao fellow was the supervisor, and he was a strong believer in mastering speaking before reading. He took the other teachers to task if they tried to sneak any of the alphabet into our lessons.

Once I arrived in Thailand, I learned to speak through trial and error (multiplied by 1 million), and lots of jotting words down in notebooks. I had to teach myself to read Thai. I poured over the Mary Haas dictionary (the green brick) in my spare time, and I had a photocopied list of the basic rules for reading Thai to study on my own. I looked at all the signs around me, puzzled over the fonts, but things started to look familiar relatively quickly, and I jumped into reading books right away. (Initially quite slow going, of course.)

In those days, for me reading meant underlining every word I didn't know with a red pen (those first books were more red ink than black by the time I was through), looking it up in my pocket dictionary, and writing the meaning in the page margin. If it was a word worth remembering, I would run across it within the next few pages. In that case, I would underline it again, and then flip back and check the definition I'd written in the margin before. I found that when I did that several times for the same word, before long I recognized the word and understood it in context.

Speaking came more organically. I simply spoke with people on a regular basis. Since I was usually speaking more Thai than English all day every day, the basics came relatively quickly. This is still my primary method, though it has its limitations.
Ryan Zander
Ryan: I started to get it right away, but some word uses took a bit more time to sink in than others.
Scott Earle
Scott: Initially I was working in an office full of Thai people, and tried picking up a few phrases. It was a risky business, though! Some of the guys enjoyed mis-teaching me, with hilarious consequences …
Stephen Thomas
Stephen: Many prongs, many starts… The very first Thai words I learned were from a guy I used to work with in an office in Hackensack. I learned hello, goodbye, thank you and monkey which I always think are important words to know in any language.
Stickman
Stickman: My introduction to the Thai language was at the Thai temple on the Te Atatu Peninsula in West Auckland, way back in 1997. I was invited there by a Thai woman who ran a small Thai food stall. I had befriended her and told her that I hoped to spend a year or two in Thailand and she invited me to the Thai temple. She explained there was a New Zealander who had lived in Phuket for 8 years, John Batt, who gave lessons for free on Sunday afternoons to all who had a genuine interest in learning the language.

In addition to studying at the temple, I went through the Linguaphone course at the same time.
Stuart (Stu) Jay Raj
Stu: Right away.
Terry Fredrickson
Terry: Had three months of intensive Peace Corps training on the island of Hawaii before arrival with a team of 20 Thai teachers. Unbelievably good. Apart from Peace Corps training I had about one more month of formal training. I mainly learned from day to day experience. About two weeks of that formal training came after a year in country. That was when I was finally able to straighten out my tones forever — thanks largely to one very strict teacher.
Tod Daniels
Tod Nope I didn't undertake Thai right after washin' up on these shores. For almost the first 3 years here I compelled Thais to speak English. As far as "bang-4-the-baht" it yielded a very low return and was more a lesson in futility than anything else.

I mostly learned to speak, read and write Thai because I realized that 63 million of these people couldn't ALL be smarter than I am. Some of them are for sure, but not every last one of 'em.
Tom Parker
Tom: I was encouraged to learn Thai as part of my Bachelor's degree, but had no confidence in my ability to master it. I had no interest in French and German at school and as far as I was concerned learning a second language (especially Thai) was beyond me. Luckily my tutors encouraged me to take the plunge and I've never looked back.
Vern Lovic
Vern: I guess I went about it my way, which is my usual hard-headed style. I knew from graduate school that I learned best visually so I created over a thousand notecards with definitions on one side and Thai words on the other. I'd drill myself with hundreds at a time until I knew them all. With that first sustained effort I knew 1400+ Thai words.

I took a break after that and practiced using the words in conversation and listening to Thai conversations often to see what I could pick out of them. I think I'm functionally learning disabled, so it's taken me a long time to get to where I am now!
The series: Successful Thai Language Learners Compilation…
And here you have it, the rest of the series: