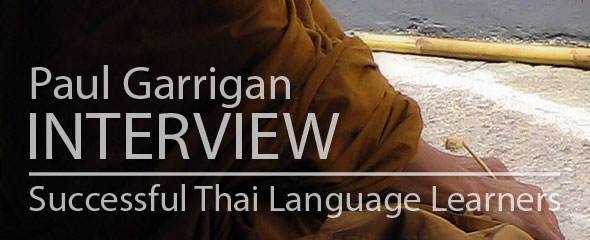 Interviewing Successful Thai Language Learners…
Name: Paul Garrigan
Nationality: Irish
Age range: Just turned 40
Sex: Male
Location: Lopburi, Thailand
Profession: Freelance writer
Website: Paul Garrigan
Book: Last Escape
What is your Thai level?
Intermediate.
Do you speak more street Thai, Issan Thai, or professional Thai?
I previously worked as an ESL teacher so would pick up a lot of Thai from the students as well as the Thai teachers. I also lived in a Thai village for almost 4 years where they spoke Issan. Now I live in Lopburi and as this is an army town you get a lot of people from all parts of Thailand with many accents. A lot of my Thai vocabulary has come from reading so it is a mixture of all of these influences. I suppose it is a mixture between professional and street Thai.
What were your reasons for learning Thai?
I began learning Thai when I moved here eight years ago. As well wanting to be able to know what was going on around me, I also wanted to find out more about Thai Buddhism. I have been interested in Buddhist philosophy since my teens and wanted to be able to communicate with monks in Thai and read some of the Buddhist resources that are only available in Thai.
Do you live in Thailand? If so, when did you arrive?
I moved to Thailand at the end of 2001.
How long have you been a student of the Thai language?
I have been learning Thai since moving here, but my studies have dropped off at times.
Did you learn Thai right away, or was it a many-pronged approach?
I definitely don't think that I have learnt the right way. I guess that a lot of the time it was going around in circles. Still though, progress has been made along the way.
Did you stick to a regular study schedule?
I can get periods where I manage to have regular times for studying each day. These productive periods can last for a few months before life interrupts.
What Thai language learning methods did you try?
I used the internet from day one. Places like Speaking Thai the Easy Way (no longer online) and some other I forget. I used to buy every Thai text book I could find including the Benjawan Becker series; I suppose these are the ones that stand out as being really useful. These days I don't buy any more textbooks but use real texts. I do subscribe to the Learn Thai Podcast and these have been helpful.
Did one method stand out over all others?
I think that it has been a mixture of all these methods that have gotten me to where I am today. I think that is how it works, you learn a bit here and a bit there.
How soon did you tackle reading and writing Thai?
Learning to read Thai was important to me from the beginning so I was learning from the first day. I am glad that this was the path I took.
Did you find learning to read and write Thai difficult?
I have found learning to read Thai to be far easier than learning to speak it. This is probably because I much prefer dealing with written text than spoken language; even in English. I am quite satisfied with my ability to read and my vocabulary is quite large.
What was your first 'ah hah!' moment?
I have had lots of times when it felt like I am really getting it. I can understand all that is going on around me and they seem to understand every word I say in Thai. During the first few years I would mistake this for being fluent, but now I'm less optimistic about my abilities.
How do you learn languages?
Slowly but surely.
What are your strengths and weaknesses?
I never give up is my strength and my weakness is that I'm easily distracted.
What is the biggest misconception for students learning Thai?
I think that people expect things to happen quickly, but this is not the way for most of us. It is usually a case of believing that you are almost fluent one day to realising that you have a long way to go. It is easy to become disheartened because the prize always seems to be moving further away. Still if you stick with it you will get better. It might take a long time though; for some of us it will be a long long time.
Can you make your way around any other languages?
I learnt Irish for fourteen years in school and can barely put a sentence together so my history with languages is fairly poor.
Were you learning another language at the same time as Thai?
I lived in Saudi for a bit before coming to Thailand, but my attempts with Arabic finished as my attempts with Thai language began.
What advice would you give to students of the Thai language?
You need to realise that you will improve if you keep on practicing; there will always be improvements. It is like a journey, but some of us have further to travel. We will all make it to the end if we keep on going; the only thing that can stop us is the end of our lifespan. The fact is though, anyone who spends enough time learning Thai will become fluent.
Paul Garrigan,
Paul Garrigan | Last Escape
The Series: Interviewing Successful Thai Language Learners…
Getting advice from experienced Thai language learners is important. If you are a successful Thai language learner and would like to share your knowledge with those coming up, please contact me to make it so.