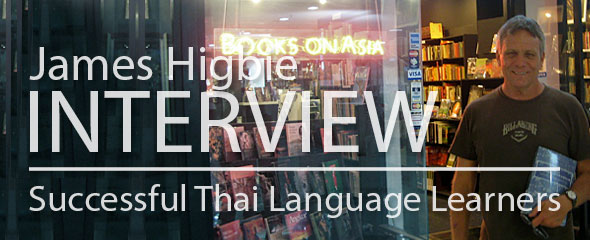 Interviewing Successful Thai Language Learners…
Name: James Higbie
Nationality: American
Age range: 60+
Sex: Male
Location: Sierra Leone
Profession: Work for NGO in Education Development
Thai level: Intermediate to Advanced
Website: Thai Language / Lao Language
Books: From Orchid Press: Thai Reference Grammar, Essential Thai, Let's Speak Thai, Let's Speak Lao; From Hippocrene Books: Dictionary and Phrasebooks for Thai and Lao
Do you speak more street Thai, Issan Thai, or professional Thai?
I try to speak both street and professional Thai depending on the situation. I lived in Laos for eight years and also speak Lao which is basically the same as Issan. At this point, though, I've been working in Africa for seven years so I'm not as fluent as I was when I lived in Thailand and Laos. I can still speak both languages when I go back but it would take some time to be as fluent in Thai as when I was writing Thai Reference Grammar.
What were your reasons for learning Thai?
I wanted to get into the culture. I'd been in the Peace Corps in Africa and liked the ideal of getting to know another culture through learning the language. Of course Thailand is a really nice place to live and you can enjoy it a lot more if you can speak Thai.
Do you live in Thailand? If so, when did you arrive?
I came in 1980 and worked in a refugee camp in Chonburi Province, living in a town called Phanat Nikhom. It's a very nice town and there was a big staff of Thais and foreigners. A lot of the foreigners could speak Thai and the Thai staff were very helpful so it was a good situation for learning Thai. I lived in Thailand for 16 years, the whole time in Phanat Nikhom.
How long have you been a student of the Thai language?
I wasn't serious about learning Thai the first three years but then a friend who worked in the camp (an Australian) one day told me how terrible my Thai sounded when I tried to speak it. That made me think I'd better start working on it. I'd been thinking about writing a book on English as a Second Language (I have an MA in ESL from the University of Hawaii and worked in English teaching and curriculum development in the camp) but at that point I decided to write a book on Thai.
Did you learn Thai right away, or was it a many-pronged approach?
I would say that through writing the books I learned to speak Thai. I worked closely with Snea Thinsan, my co-author, and over seven or eight years got a good understanding of grammar and vocabulary. Living in a rural area gave me the chance to speak Thai all the time. I'm not a quick language learner. Some people I knew could speak Thai fluently in a year.
Did you stick to a regular study schedule?
I used to study Thai in the morning and spent free time and weekends reading. That was before the internet, so there weren't so many distractions.
What Thai language learning methods did you try?
At first I went through all the books written up to the early 80s, which were mostly "Fundamentals" and Gordon Allison's books. They were interesting books but I felt they didn't have the real language in them – some of it was old-fashioned formal Thai which wasn't what I was hearing people speak. (Interestingly I heard some of those old fashioned constructions in Laos.) I thought Thai was difficult because of the lack of materials, which was one reason why I wrote the books. I'm sure it would have helped going to a language school but I was living in the country.
Did one method stand out over all others?
Keeping notebooks of vocabulary and phrases was the best method for me. I used to spend weekends at Ko Samet talking to people and writing down new things I heard them say.
How soon did you tackle reading and writing Thai?
I started right away.
Did you find learning to read and write Thai difficult?
I thought writing Thai was difficult because of the spelling and I only got to the point where I could write a short letter. I thought reading was easier and I read mostly magazines – music and movie star magazines, love advice magazines and all the things they sell which are great for learning about Thai culture.
What was your first 'ah hah!' moment?
I was in the North and a bus went by going to Phan. On the front were just three letters – "p, ah, n" and I thought "wow, I can read Thai".
How do you learn languages?
I need to learn how to say sentences in a very front brain manner. I can't pick up a language by letting it wash over me.
What are your strengths and weaknesses?
I'm better at analyzing than at remembering vocabulary. Especially at first, I thought Thai words were hard to remember because they were mostly a single syllable and they all sounded the same to me. My ear wasn't good enough to pick up tones just by hearing other people speak. I developed the visual transliteration system in my books at first to help myself visualize the sound of the words. It helped me learn to speak with the correct tones and vowel lengths.
What is the biggest misconception for students learning Thai?
Some people say the tones aren't important but your Thai will sound pretty ragged if you don't learn them.
Are you a computer programmer, or do you have programming experience?
The only experience I have is developing the tone/vowel length markers used in the transliteration system in my books. We used a program called Fontographer to do that.
Do you have a passion for music?
Yes, I played drums in rock bands with refugee camp workers and in Laos. We played covers of Rolling Stones, etc for parties, and some Thai and Lao songs. We had both foreign and Thai or Lao musicians which was a lot of fun. They were good rock musicians.
Can you make your way around any other languages?
My high school French isn't very good.
Were you learning another language at the same time as Thai?
No. I concentrated on Thai.
What advice would you give to students of the Thai language?
I would say it's important to learn how to say things exactly the way Thais say them. Don't try to learn a lot of vocabulary then make up your own sentences. Also, don't feel that using ka or krup is demeaning. Use it a lot, especially with older people and even at first when you talk to people your own age. People in Thailand really appreciate politeness. Don't hang out with foreigners all the time.
James Higbie
Thai Language / Lao Language
The Series: Interviewing Successful Thai Language Learners…
If you are a successful Thai language learner and would like to share your experiences, please contact me. I'd love to hear from you.