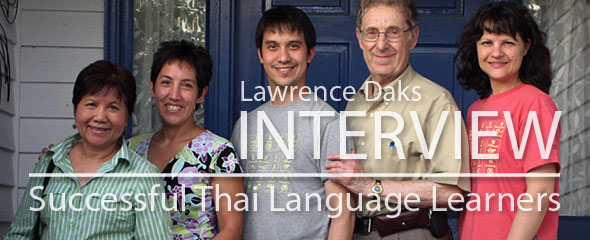 Interviewing Successful Thai Language Learners…
Name: Larry Daks
Nationality: American
Age: Sixty and quite a few years plus.
Sex: Male
Location: Reston, Virginia (located about twenty miles from Washington, DC)
Profession: Retired, U.S. diplomat, currently a consultant, focused almost entirely on education and cultural initiatives involving China.
Website: NA (although you can check out my wife, Nongkran's website, Thai Basil
What is your Thai leve?
Level of fluency varies with the topic. Conversationally fluent and then varying degrees of proficiency with the topic and timing of my most recent visit to Thailand.
Do you speak more street Thai, Issan Thai, or professional Thai?
Professional Thai, but since I also speak a fair amount of Lao, I can converse in Issan and, to a lesser extent, Northern Thai dialect.
What were your reasons for learning Thai?
I joined the Peace Corps and was assigned to Thailand. Thai language study was a central aspect of our training, which took place between November 1962 and February 1963.
Do you live in Thailand? If so, when did you arrive?
I lived in Thailand as a Peace Corps volunteer between February 1963 and April 1965. At the time, I served as an English teacher at Kasetsart University.

I also lived and worked in Thailand between December 1979 and June 1965. During this period, I was the Director of the American University Alumni English Language Center (AUA) in Bangkok
If you live elsewhere, how often are you in Thailand?
On average I get back to Thailand once every three to four years.
How long have you been a student of the Thai language?
I had three months of formal study and then studied on my own, off and on, for another two years.
Did you learn Thai right away, or was it a many-pronged approach?
During the three months Thai language training during the Peace Corps training, I developed limited conversational proficiency. However, I found that I could see come progress during this training period gave me a great incentive to continue studies my in Thailand. During this period, I guess I took about a year of lessons. In addition, when I wasn't teaching English in the classroom, I was conversing almost exclusively in Thai.
Did you stick to a regular study schedule?
Yes.
What Thai language learning methods did you try?
I can't remember the conversation text we used during our Peace Corps training and which I continued to use in Thailand. However, certain phrases still stand out in my mind, such as สถานีรถไฟอยู่ที่ไหน (where is the railway station), สมบูรณาญาสิทธิราชย์ (absolute monarchy, which I can never forget because the phrase was very long and required extra effort) and ดูโน้น มี เมฆ สอง ก้อน กำลัง ลอย มา ("Look there, two clouds are floating by" which I incorrectly pronounced so it turned "Look there two mothers are floating by". All of this amused the Thai tutor I hired when I reached Bangkok, which I suppose is why she married me, so she could have a never ending source of amusement.

I taught myself how to read by using "A programmed course in reading Thai Syllables" by Edward M. Anthony.
Did one method stand out over all others?
Initially, I got the basics through endless repetition through pattern practice and memorization.
How soon did you tackle reading and writing Thai?
I never did learn how to write Thai, although I can write a number of letter in the alphabet and a few words. I started studying reading about two months after I arrived in Bangkok, five months after beginning to study Thai.
Did you find learning to read Thai difficult?
Learning to read was fun, because I found it easy to measure progress. In addition, because I had already built up a fair vocabulary in Thai, I could quickly read things that I found interesting or useful, such as newspaper stories and street and store signs.
What was your first 'ah hah!' moment?
I can't recall any one particular moment where I reached Thai linguistic nirvana. However, I found that when I was motivated when I set goals for myself. For example, after seeing my first Thai language movie, perhaps a month or so after arriving in Bangkok, I thought to myself that at the end of two years I would like to be able to understand a Thai film on a par with my comprehension of an English language film track. Perhaps I reached about 70% of that goal.
How do you learn languages?
Hard work, putting myself into situations where speak the language, being proactive by seeking out opportunities to speak and listen.
What are your strengths and weaknesses?
After working hard on this aspect of the Thai language, my pronunciation is pretty good. This leads people to believe I understand more than I do, which means they speak to me in a natural manner. I count this a strength, because in the course of these conversations, I can pick up new vocabulary and sentence structure through context.

I also speak and react quickly, another advantage, because again native Thai speakers also converse with me in a natural manner.

After forty years, getting basic grammar right remains a glaring weakness. For example, I still make mistakes on when to use "go" ( ไป ) and "come" (มา )
What is the biggest misconception for students learning Thai?
I don't know what the biggest misconception is, but this is one that leads people feel reluctant to speak. That if you mispronounce words the listener can't understand you. That is the case in some situations, but if you use words within sentences, your listeners can often figure out the context.
Can you make your way around any other languages?
Yes, subsequently I had the opportunity to study Chinese. I guess most people would say I'm pretty fluent in Mandarin Chinese. In addition, after living in Laos for four years, I have decently fluently in Laotian.
Were you learning another language at the same time as Thai?
No.
What advice would you give to students of the Thai language?
Don't be afraid of making mistakes. We all do it.
regards,
Larry Daks
The Series: Interviewing Successful Thai Language Learners…
Getting advice from experienced Thai language learners is important. If you are a successful Thai language learner and would like to share your knowledge with those coming up, please contact me to make it so.