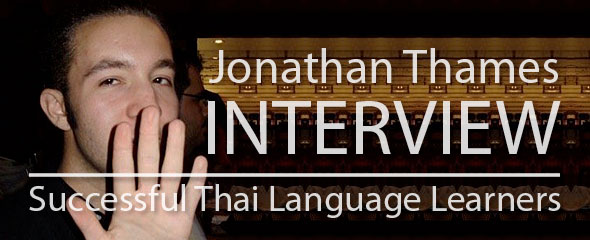 Interviewing Successful Thai Language Learners…
Name: Jonathan Thames

Nationality: Third Culture Kid; USA citizen

Age range: 20-30

Sex: Male

Location: Monterey, CA / Chiang Mai / other places

Profession: MPA Student



What is your Thai level?
Let's say "Advanced" because I am generally proficient and got into "Advanced Language Study" at my current school (Monterey Institute of International Studies). The word "fluent," I find to be too ambiguous to be meaningful, most of the time.


Do you speak more street Thai, Issan Thai, or professional Thai?
I speak a mix, I'm sure. I have had a great deal of formal training for Professional Thai and I speak with relative ease in informal environments, as well. I also have picked up a smattering of Northern Thai from my time in Chiang Mai. 


What were your reasons for learning Thai?
I studied Southeast Asian Studies for my B.A. and after going to Thailand the first time, I made quite a few good friends and so became truly invested in learning Thai. I had some Khmer-American friends and a Thai friend growing up, so that got me interested in the region in the first place.


If you live elsewhere, how often are you in Thailand?
Currently I live in California, but I have been to Thailand in 2007 and 2009. I plan on going back in 2010 for a 6 month internship. I hope to work in Thailand following graduation.


How long have you been a student of the Thai language?
I can't believe it, but I have been studying Thai in some fashion or another since late 2006, so about four years now.
Did you learn Thai right away, or was it a many-pronged approach?
Considering I began learning Thai before I'd even been to Thailand, I guess the former. I began to study it on my own using the Teach Yourself Thai book and CD set. Then I went to Thailand to study language at AUA-Chiang Mai for 10 weeks in a private class. Following that I studied at my university for one year and then in 2009 I participated in the Advanced Study of Thai (AST) program at Chiang Mai University. Currently I am studying Professional Thai with a Thai instructor at the Monterey Institute of International Studies (MIIS); I am, again, the only student in my class.
Did you stick to a regular study schedule?
Since much of it has been formal study, yes. But since I now have part of my life in Thailand and have relationships with Thai-speakers, I use Thai daily – through music, chatting, emails, forum posts, translations, prose, movies, etc. So in that sense, not so much regular as constant.


What Thai language learning methods did you try?
Sorry to be repetitive, but I have used: the Teach Yourself Thai book and CDs; a textbook authored by Dr. Wiworn Kesavatana-Dohrs (University of Washington – Seattle, USA); a textbook/reader authored by Dr. Thomas Gething (University of Hawai'I – Manoa); and various materials/readings provided by AUA and CMU instructors. From my first class I was also given basic newspaper articles to read, as well – although newspapers can still be fairly challenging


Did one method stand out over all others?
I would say, as with any language learning in my experience, a combination of several different methods is the most effective. To this end, I have always attempted to create an immersion-like experience when learning, and especially helpful is interaction with fluent speakers. Then again, just the four basic skills (listening, speaking, reading, and writing) are all important and are ignored only to one's detriment. I have very much enjoyed my Professional Thai course at MIIS as it has been the most rigorous.


How soon did you tackle reading and writing Thai?
Immediately; using the Teach Yourself book, I was a decent beginning reader by the time I started formal study in Chiang Mai. I am also a speller and visual learner, and so the better my reading/writing the easier it was for me to expand my vocabulary and learn new words.


Did you find learning to read and write Thai difficult?
Many rules, some exceptions, but in the end just an alphabet-like writing system! I have found the Thai and Khmer scripts far less difficult and more intuitive than Chinese characters.


What was your first 'ah hah!' moment?
Saying a sentence while in Dallas to a Thai friend and having her understand me! She was shocked at how well I was learning from the Teach Yourself book; although looking back on my abilities at that point, I'm sure it was mostly just shock and innate Thai exuberance for any Thai language-learner.


How do you learn languages?
Through people; that is the bottom line. I have used different methods for each language due to circumstances, and I think different languages sometimes lend themselves better to different methods. As I said before, though, I really think a combination of things that engage all four basic skills and include all different registers of a language are the most helpful.


What are your strengths and weaknesses?
Not sure. I think in general I'm a quick learner when it comes to languages; however I would say that even now I have good days and bad days. Comprehension is a tricky thing, and sometimes you'll just not know a word or just not understand somebody. Usually context and more overt clueing can help one determine the meaning, but at times I simply have to get used to the way an individual speaks. In the end exposure to different registers, media, and dialects/sociolects is the best way to improve on those weak areas. At least, that's what I believe.


What is the biggest misconception for students learning Thai?
That it's especially hard and/or impossible. I don't know, lots of things. That's what happens when you learn a language – hundreds of misconceptions are broken down over time. At least that's been my experience. 


Can you make your way around any other languages?
I generally say that I am proficient at three languages: English, Thai, and Spanish. I have been fluent in iciBemba (a language of Zambia), but lost it. I speak a smattering of chiNyanja (another Zambian language) which my father speaks and learned American Sign Language for about five years while in elementary school. I have studied Khmer at SEASSI and now feel like I have a firm base in that language; my Mandarin Chinese is fairly rudimentary. I am working on Turkish now and have some familiarity with Latin, German, Lao, and Northern Thai. I'm constantly gaining deeper understandings of all of these languages (including English!), and if I were to find myself somewhere new I would undoubtedly make every attempt to learn a new language.


Were you learning another language at the same time as Thai?
I'm at varying levels of several languages at almost any given time; so yes. When I started learning Thai I had recently gone through an intense year-long effort to learn Spanish while living in Dallas, Texas and had become fairly proficient. I was also working on Mandarin Chinese (which I later studied formally for a year before going to Thailand for the first time). I've been a mix of languages for a long time, though, so I guess that's just how I am.


Are you a computer programmer, or do you have programming experience?
No, not a programmer. However, I have taken a course a very long time ago on basic Java programming. 


Do you have a passion for music?
I love music! Have no talent, though. I am constantly listening to music, though; I love the lyrics.


What advice would you give to students of the Thai language?
Make Thai friends and try to use it all the time.

Jonathan Thames
The Series: Interviewing Successful Thai Language Learners…
If you are a successful Thai language learner and would like to share your experiences, please contact me. I'd love to hear from you.