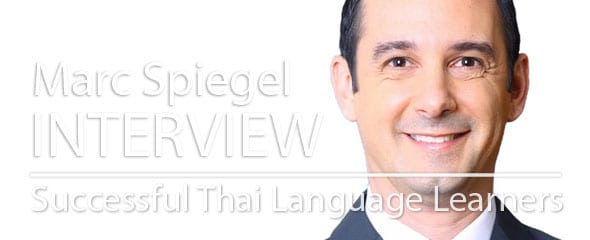 Interviewing Successful Thai Language Learners…
Name: Marc Spiegel
Nationality: American
Sex: Male
Location: Bangkok
Profession: Management
What is your Thai level?
Intermediate.
Do you speak more street Thai, Issan Thai, or professional Thai?
Professional Thai.
What were your reasons for learning Thai?
I believe that if you are going to live and work permanently in a country where your language is not the native language of the country then it is important to learn the language of the country in which you reside. Especially in Thailand where many people do not speak English in order to truly integrate to society here I believe it is critical to learn the language.
Do you live in Thailand? If so, when did you arrive?
September 2008.
How long have you been a student of the Thai language?
I studied approximately 600 hours (reading, writing and speaking).
Did you learn Thai right away, or was it a many-pronged approach?
I studied 4 hours per day, 5 days per week.
Did you stick to a regular study schedule?
Yes
What Thai language learning methods did you try?
I studied at Baan Aksorn.
How soon did you tackle reading and writing Thai?
Immediately.
Did you find learning to read and write Thai difficult?
Reading was not so difficult to learn once you master the alphabet, but writing is another story, especially when it comes to tone marks.
How do you learn languages?
I've always learned languages by studying in school and then reinforcing and expanding my capabilities through practice and use.
What are your strengths and weaknesses?
I have a natural knack for languages; however, as I am not the most patient person I am sometimes challenged by the speed in which I become conversant in a foreign language. I have a tendency to try and move too fast sometimes.
What is the biggest misconception for students learning Thai?
Thinking you can get by learning transliteration. Of course you can learn the language, and I do have friends who are fluent; however, their pronunciation is quite poor and there are many instances where Thai people do not understand what they are saying until they hear most of the conversation and can understand the topic they are trying to speak about. In order to truly master Thai I strongly believe you must learn to read Thai properly.
Can you make your way around any other languages?
I speak French proficiently (business vocabulary as well), and I know some German, Italian and Spanish.
Were you learning another language at the same time as Thai?
No.
Are you a computer programmer, or do you have programming experience?
No.
Do you have a passion for music and/or do you play an instrument?
I have always had a passion for music and I did play the drums for a short period of my life.
What advice would you give to students of the Thai language?
Stick with it! It's difficult in the beginning, but the more you practice and use the language the easier it gets.
Marc Spiegel
The Series: Interviewing Successful Thai Language Learners…
If you are a successful Thai language learner and would like to share your experiences, please contact me. I'd love to hear from you.