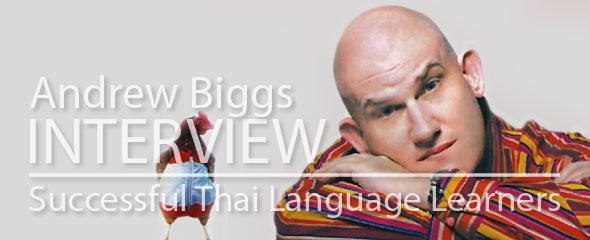 Interviewing Successful Thai Language Learners…
Name: Andrew Biggs
Nationality: Australian
Age range: Mid-twenties. Oh allright, 47.
Sex: Male
Location: Bangkok
Profession: Writer, TV producer, Tv and radio emcee, school owner … you name it
Website/blog: www.andrewbiggs.com
Products (books, courses etc): Too many to mention
What is your Thai level?
That depends on how much sleep I've had. I can sound incredibly fluent with the aid of a script, or Khaosan Road-ish with the aid of a hangover.
Do you speak more street Thai, Issan Thai, or professional Thai?
In a bad mood I'm excellent at street Thai, but I think I veer towards professional (for the first time in my life).
What were your reasons for learning Thai?
I wanted to learn how Thais tick. I figured knowing their language would explain their nuances, personalities and habits, and I was right.
Do you live in Thailand? If so, when did you arrive?
I arrived on Valentine's Day, 1989. Recently I spent three months in the USA, the longest I've ever been away from Thailand since then.
How long have you been a student of the Thai language?
Since the day I arrived.
Did you learn Thai right away, or was it a many-pronged approach?
Right away. It was a good decision of mine, too. I got right into it the moment I arrived.
Did you stick to a regular study schedule?
Yes I did. I was incredibly disciplined. I learnt the alphabet, then the tone rules, and then ten new words a day for at least a year. Then I went to Ramkhamhaeng University to study a degree in Thai. All the time I was working a full time job – sometimes two full time jobs.
What Thai language learning methods did you try?
I started off by learning how to read and write the language, and I think this is the way to do it. The tone rules gave me lots of headaches but once I understood them I felt as though I'd made a major breakthrough. I went to a school very early on but they laughed at me when I told them I wanted to do the Education Ministry's Grade 6 exam in three months time. They said if I didn't take their five-day-a-week expensive course I'd fail it for sure. I walked out of that school and got to work by myself with the help of a lovely Thai teacher. I ended up coming first in that exam three months later.
Did one method stand out over all others?
Immersion, immersion, immersion. Read the newspaper. Watch the hideous Thai soapies. Listen to Thai pop music. Sit quietly with your Thai friends as they open a bottle of whiskey and solve the world's problems in three hours before passing out. This all helps.
How soon did you tackle reading and writing Thai?
One millisecond after I started learning the language. It's the ONLY real way to learn Thai. This phonetic rubbish with the squiggles for tones just makes you sound like a farang sputtering through the language. You will never get fluent doing it that way.
Did you find learning to read and write Thai difficult?
No. I love it, actually.
What was your first 'ah hah!' moment?
I was in Kanchanaburi one year after arriving here, doing a story for The Nation when all my stuff got stolen. I raced into the nearest police station and blurted out, in Thai, that all my stuff had been stolen. I screamed for about five minutes. At the end of it I realized it was the first time I'd been fluent.
How do you learn languages?
With Tylenol and Xanax.
What are your strengths and weaknesses?
Catherine, are you serious? My strengths are I am creative and manic obsessive so when I put myself into a task I stick with it. My weaknesses … you simply don't have enough room in your column to list them all. Kate Bush is my greatest weakness.
What is the biggest misconception for students learning Thai?
That you can do it without reading and writing it.
Can you make your way around any other languages?
I used to be good at French. The last time I went to Paris, everytime I wanted to speak French, Thai came out! "Je voudrais kin khao."
Were you learning another language at the same time as Thai?
No. I'm not clever enough for that.
Are you a computer programmer, or do you have programming experience?
No! Why would you ask that?
Do you have a passion for music and / or do you play an instrument?
Yes. I play the piano and I have a great passion for music.
What advice would you give to students of the Thai language?
60 million Thais can speak it. You're no different. Ditch the excuses and get on with it.
Again, thank you so much for reading.
(fingers cross and crossed again… and once more for double measure)
Andrew Biggs,
www.andrewbiggs.com
The Series: Interviewing Successful Thai Language Learners…
If you are a successful Thai language learner and would like to share your experiences, please contact me. I'd love to hear from you.