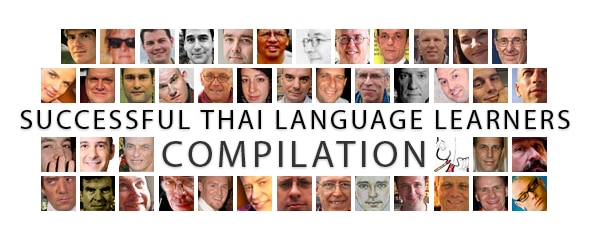 Contributors: Successful Thai Language Learners Compilation…
To get 50 interviews for this series I begged, I pleaded, and I didn't quite bribe those involved (or at least, I didn't think I did). And because I owe, before we get to the guts of the Compilation Series I'd like to introduce those interviewed.
I'd also like to thank each one of those interviewed for taking the time to send in their contributions. I know you are all busy people (just look at your accomplishments) so my request wasn't a small thing. Thank you.
Please note that some interviewed have quite the large public persona, while others are more private. My outlines reflect just that.
If you'd like to be interviewed as well, please contact me.
Contributors: Successful Thai Language Learners Compilation…

To drill Thai into his head, armed with audio files, Aaron locked himself in a hotel room for 30 days. His persistence paid off and Aaron is now the author of Thai Phrase Book with Tones and Thai Language Course (Speaking and Listening).
Website: Thai Language Course
Twitter: @Thai_Language
Aaron Le Boutillier is the author of the sobering And Then One Morning, which details his experiences as a Tsunami survivor. A Security Consultant for the Le Boutillier Group, Aaron Specialises in Women's Self Defense, Hijack Management, Disruptive Passenger Management and Law Enforcement Training. Aaron's latest project is the 'I Love Thailand' show where he battled through 45 minutes of speaking Thai.
Website: Le Boutillier Group
Twitter: @securitybangkok
WLT: Remembering Tsunami 2004: And Then One Morning

Adam is a television presenter, English Teacher, and entrepreneur. Due to his appearances on Wink Wink English and YouTube, Adam is popular with both Thais and expats. Personally, I've always been envious of natural language learners such as Adam. He doesn't sweat the niggly bits, he just jumps in and starts speaking. Impressive.
YouTube: jadambrad, winkwinkenglish
Twitter: @AjarnAdam
Bangkok Podcast Adam Bradshaw
The Nation: Aj.Adam Bradshaw

Andrew is a humongous personality in Thailand. Writer, TV producer, Tv and radio emcee, school owner … and on and on. Andrew's penned a zillion books for the Thai market (check his site for titles) which are great for students of Thai as well. And when I start moping around, I click over to his articles at the Bangkok post for some cheer.
Website: www.andrewbiggs.com
Twitter: @andrewbiggs
wikipedia: Andrew Biggs
Bangkok Post Articles: Andrew Biggs

After experiencing a bit of Thailand with friends, Celia went back to the US to study Southeast Asian Studies at the University of Washington. Then after graduation she hightailed it back to Thailand and now works at an NGO (non-governmental organization) in Mahachai, Samut Sakhon.

A highly regarded author, along with his wife (Pasuk Phongpaichit), Chris writes serious books such as The Tale of Khun Chang Khun Phaen, Thailand's Crisis, A History of Thailand, Thaksin, and more.
wikipedia: Chris Baker

Hands down, Chris is a Software Engineer extraordinaire in the learning Thai industry. Working with Benjawan Becker (Paiboon Publishing), Chris developed the absolute best ever Thai-English English-Thai dictionary for smart phones and the PC. Seriously, the learning Thai industry is in their debt. And if you aim to learn Thai, Chris' website, Slice of Thai, is a must-have resource.
Websites: Slice of Thai, Word in the Hand
Book: Thailand Fever
WLT: Chris Pirazzi: How Thai Language iPad Apps are Designed
WLT: Backstage View into the Process of Creating a Thai Dictionary

Christy is talented, graced with a natural beauty, and genuinely sweet as all get out to boot. As a top expat Lookthung performer in Thailand, she totally rocks. Along with contributing to the Successful Thai Language Learners series, Christy graciously took time out of her insanely busy life to send in bits for an Expat Interview too (below).
Website: Christy Gibson
Twitter: @ChristyGOnline
WLT: Expat Interview: Jonas Anderson and Christy Gibson

While well-known for his Dr. Siri mystery series, I first came across Colin's clever cartoons years ago when neither of us lived in Thailand. Small world. And when I first started WLT, Colin's lovely wife Jess helped out with advice and encouragement (both were sorely needed).
Website: Colin cotterill
Blog: International Crime Authors Reality Check
wikipedia: Colin Cotterill
Expat Interviews: Colin Cotterill

Daniel is a Thai TV Host and owner of the Smiling Albino (Travel Company). Another impressive Thai speaker, he hosts the popular Thai language TV Show LongKrung (หลงกรุง). To get a taste of his style watch Long Krung – Episode 1 – Have you eaten Yet? on YouTube.
Website: Smiling Albino
YouTube: Smiling Albino
Bangkok Podcast Thai Language Series: Daniel Fraser

David become highly proficient in Thai by studying at AUA in Bangkok using the controversial ALG method (Automatic Language Growth). These days he runs the AUA Language Centre in Bangkok. Not too shabby. Yes?
Website: AUA Language Centre
Youtube: David Long on the ALG Method
Blog: David Long in Asia

David lists his profession as university professor but his contributions to the learning Thai market have a wider reach. If I had to guess I'd say that thousands of students owe their proficiency in Thai to his materials. David's Thai courses are easily at the top of the learning Thai market.
Products: Thai: An Essential Grammar (also on Kindle), Teach Yourself Thai, Linguaphone Thai Course (with Manas Chitakasem).
WLT: Complete Thai: David Smyth Updates Teach Yourself Thai

Semi-retired translator (Thai – English) and editor (English), Don is an academically minded student of the Thai language. His reworking of the paper, The Codaphrase in Thai Syntax, will keep me busy for some time! Don's insightful comments can be found on Glenn's Thai forum at thai-langauge.com.
Doug: Computational linguistics

Doug is a highly respected professional interested in computational linguistics. A former student of the AUA Thai method, to improve his Thai skills Doug rewrote the classic Noss's Grammar.

Gareth Marshall is a magazine editor with a talent for languages. As a former teacher, when it comes to the Thai language Gareth is pretty much self-taught. And after reading his interview I got the impression that he'd be the one to go to for advice on how decent Thai course materials should be structured.

Glenn is the author of one of the absolute best Thai language resources around: www.thai-language.com. Again with this being a small world, when living in Seattle, Hugh Leong's wife Pikun taught Glenn Thai. I met up with Glenn on a trip to Seattle last year and it was the first time I'd held a real honest to goodness copy of The Fundamentals of the Thai Language. I was shameful. I drooled.
Websites: www.thai-language.com, Glenn Sladen

At the time of her interview Grace was a Postgrad student. She's now a Deputy editor, writer, and TV presenter. Together with Adam Bradshaw (mentioned above), Grace appears on the Thai PBS show called Yes No Ok.

Hamish came to Thailand to work as a tour leader. He stayed on. Hamish is now employed as an EAL Faculty Head. His Thai adventure began with the now ancient Colloquial Thai and moved on to David Smyth's Teach Yourself Thai.
Blog: Tweet Yourself Thai

Writer and businessman Hardie Karges takes traveling mighty serious. His new book, Hypertravel: 100 Countries in 2 Years walks you through his travels. Hardie does not live in Thailand at the moment but he absolutely has plans to return.
Blog: Thailand to Timbuktu to La Paz
Book: Hypertravel

As a linguist and academic, Herb spent a good part of the past 20+ years in and out of Thailand. He's now finishing the project of a lifetime, a Mien (Yao) – English dictionary (and as soon as it gets published I'll add the link). I thoroughly enjoyed reading about Herb's adventures in his interview and wonder if he can be enticed to share more (if he wrote a book on his life, I'd read it).

I always learn something new on Hugh's wonderful posts at Thai Language, Thai Culture. Hugh's also the author of the hardback series Professional English for Thailand (Hotel, Office, Hospital, Banking), former writer for A Retiring Attitude, (retirement column for Chiang Mai City Life magazine), and even takes on freelance writing. Going further back, Hugh's been a Peace Corps volunteer, psychotherapist, computer consultant, English teacher, and director A.U.A Chiang Mai. Whew!
Website: Retire to Thailand
Product: eBooks in Thailand
Blog: Retire to Thailand's blog

As a semi-retired owner of Patong Language School, Ian has his hands full. And seriously, I couldn't imagine a better motivation to learn Thai! Another feather in his cap, Ian's school is one of the few Thai language schools offering Skype lessons.
Websites: phuket-languageschool.com , teflplus.com
WLT: Guest Post: Study Thai Online via Skype

It took me years to track Jim down for this series. And Jim swears he wasn't hiding out, just out of touch. At the moment he's living in faraway Sierra Leone working for an NGO (but I'm trying to tempt him back to Bangkok). IMHO, Jim's Essential Thai and Thai Reference Grammar are the perfect combo for students of the Thai language.
Website: Thai Language / Lao Language
Books: Thai Reference Grammar, Essential Thai, Let's Speak Thai, Let's Speak Lao, Dictionary and Phrasebooks for Thai and Lao.

Whooh. Joe. Joe's bio says 'editor/writer/musician' but if I shared all his accomplishments in detail there wouldn't be any room left over for the rest of those interviewed. Most know Joe from his Lonely Planet guides but he's also the Deputy Editor at the Bangkok Post, a talented musician, as well as being quite clever with the Thai language.
Website: Joe Cummings
Just a few outside interviews: Vagabonding update with Joe Cummings and The Truth About Life as a Travel Writer: Interview with Lonely Planet Writer & Travel Guru, Joe Cummings

In the early days I was quite sure of the connection between musicians so wasn't surprised to see 'songwriter-composer' come through on John's bio. John presently belongs to an American band called Brainforest Music, and when not out strumming, he plays around in property management.
Facebook: John Boegehold

Jonas is a talented Lookthung performer who often performs alongside Christy Gibson. Jonas moved to Thailand as a young boy and his experiences from back then as well as his insights in learning Thai are quite an interesting read.
Facebook: Jonas in Thailand
WLT: Expat Interview: Jonas Anderson and Christy Gibson

When Third Culture Kid Jonathan Thames was interviewed in 2010 he was an MPA Student. He's now a project manager at a translation company in Los Angeles, with hopes of returning to Thailand soon.

As a missionary Justin went through 2 months of Thai language training similar to FSI. Exciting for many of us at WLT was hearing about the language method Justin was taught, Speak Your Language. More Justin, please, we'd love some more.
Blog: Want 2 Speak Thai
WLT: Learn Thai by Speaking Your Language
WLT: More Learn Thai by Speaking Your Language

Larry first arrived in Thailand to work as a Peace Corps volunteer, and then came back for another tour as the Director of AUA in Bangkok. Now retired from being in the U.S. Diplomatic Corps, Larry is a consultant focusing on education and cultural initiatives involving China.

What can I say. Guest author Luke is one talented puppy. He's a photographer, artist, Yoga teacher, host at Farang Pok Pok on Thai TV, and recent grad from Ramkamhaeng University (it's not one of those fluffy English speaking schools, but an all Thai language school). Luke's latest project is the award winning documentary, The Cheer Ambassadors. Congrats Luke!
Blog: luke.org
Facebook: Luke Cassady-Dorion
WLT: Luke Cassady-Dorion: Photographer and Linguist, Grokking the Thai Writing System Part 1: Consonants, L-Lingo's Burmese & Thai Language Learning Software, Luke Cassady-Dorion: Successful Thai Language Learner, Luke with Farang Pok Pok: Episode 1, Luke with Farang Pok Pok: Episode 2

Marc is one of those successful students who just gets on with the business of learning Thai. His aim was to integrate into Thai society and to do that, speaking Thai is a must. In Bangkok, Marc choose Baan Aksorn for his studies (check out Tod's Thai Language School Review: Baan Aksorn).

Marcel is an impressive translator of the Thai language. His work can be found at thaifiction.com. When reading Marcel's interview, be sure to scroll down to the end for his word-by-word approach to translation.
Website: thaifiction.com
Blog: Marcel Barang

Taking time off from his profession as an IT project manager, Mark moved to Thailand to study Thai. At the moment WLT has one post from Mark, an enlightening review of Thai grammar books. There will be more.
WLT: Review: A Guide to Thai Grammar Books

Another serious student of the Thai language, Martin holds a degree in Thai Studies from the School of Oriental and African Studies at London University. Several years back Martin wrote a book I'm chuffed to have on my bookshelf (there are plans for a review): The Legend of Siamese Cats.
Website: Siamese Cats: Legends and Reality
Book: The Legend of Siamese Cats

Hailing from United States and Sweden, Nils has a handle on learning languages. As well as being a Taekwondo instructor, Nils is also the author of Tenses for Thais, a book written to help students of English.
Website: Lstk
Facebook: Tenses for Thais
Book: Tenses for Thais
WLT: How to Gain Insight into the Thai Language from How Thais Learn English

A former nurse, Paul's clear writing can be found on Spirituality and Addiction Recovery in Thailand. He's also embarked on the bone breaking adventure of Muay Thai. Heat in Thailand can be megga uncomfortable at times so he's one rugged guy!
Blogs: Paul Garrigan, Middle Aged Muay Thai
Book: Last Escape

Musician slash writer Peter Montalbano arrived in Thailand with the Peace Corps at an interesting time in Thai history. And if there's one thing I've learned about Peace Corps language training, it gives a solid education in Thai.

Except for being in Publishing, it doesn't say much on Rick's bio. But, I can tell you this. When Rick leaves comments on Thai language forums and WLT, I pay attention. Why? Because I usually come away knowing something new.

Guest writer Rikker is a linguist and Fulbright grantee researching the ancient Thai language. His knowledge of Thai, as you can imagine, is extensive. And when I'm around Rikker, I don't dare say nadda in Thai. Nope. Not me.
Blog: Thai 101
Wiki: Thai Video Transcripts
Ryan Zander: Podcast host, app developer, teacher

Ryan was halfway through an undergraduate program (Language and Cultures of Asia at the University of Wisconsin) when he was faced with learning an Asian language. Fast forward, he now has some of the best learning Thai apps on the market. His first app (and my favourite) is Reading Thai. When Ryan is not coding, he helps out at ThaiPod101.com.
Web: Nagaraja Rivers
Thai learning apps: Reading Thai, Reading Thai Alphabet, Reading Thai – Words & Sentences, Speak Thai Sanuk, Speak Shan.

My buddy Scott knows his stuff. Getting a wild hair (as I often do) a couple of years back I asked him to explain Thai tones. Off the top of his head he filled email after email with information on the Thai alphabet, tone rules, the works. I swear there's over ten pages sitting in my inbox and one day I'll nudge him to create a series with the materials. It's that good.
Blog: Scott Earle

Stephen is deeply embedded in the Thai acting profession. He's performed with Opera Siam in Thailand and London, and rubs shoulders with pop singers, jazz musicians, and classical Thai musicians. And I'll bet he's a night person.
Facebook: Stephen Thomas
cdbaby.com: Stephen Thomas and People On Wheels

Stickman doesn't really need an introduction. I read Stick's site extensively before I moved to Thailand and I still dip in ever so often. He's interviewed the likes of Benjawan Becker (the Queen of Thai language resources at Paiboon publishing) and Christopher G Moore and many many more (see Chris, I did get you injected into this series after all).
Web: StickmanBangkok.com

I met polyglot Stu Jay Raj within six months of moving to Thailand (or thereabouts). He was teaching an amazing course called Cracking Thai Fundamentals that took away my fear of the language. Truly, the energy of his course is electrifying and worth every baht. Also worthwhile is following his YouTube channel. Just this week Stu posted There is no such word as 'Yes' in Thai. Yes! Check out his FB page for the feisty conversation on the subject of his video.
Web: Stu Jay Raj
YouTube: stujaystujay
Twitter: @stu_jay
WLT: Stuart (Stu) Jay Raj: Interview Part One
WLT: Stuart (Stu) Jay Raj: Interview Part Two

When Thai politics start steaming up (as it does) I head for Terry's tweets. It's always Terry who tweets translations of Thai speeches, TV announcements, most anything Thai politics related really. And when you live in a country like Thailand you sort of need that edge. Terry's real job (paid) is as the head of educational services for the Bangkok Post.
Twitter: @terryfrd

Thomas is an English teacher in the Bangkok area. In addition to speaking Thai, he can make his way around Portuguese, Bali Sanskrit, and Laotian. For Thai, he takes a minimalism approach.

Guest author Tod Daniel's interview first launched in the Getting by With Learning Thai series but he was moved to the Successful Thai Learners Series due to his Thai level being too high. Clearly, Tod works hard at learning Thai. For the past several years Tod has made it his mission to check out Bangkok Thai schools. And in a quirky style that makes me smile, that's what Tod writes about on WLT: Thai Language Schools in Bangkok.

Tom is another academically minded Thai student who went for a degree in Southeast Asian Studies and Language (Thai). Not ready to leave academia, Tom also bagged an MA in Southeast Asian Studies.
Vern Lovic: Internet marketer, writer, web developer

Vern has a more relaxed attitude to learning Thai than most in this series. He knows what he needs to know and that's that. If you have a love for Thai critters then head over to his YouTube channel. Vern has them all. And if you are interested in meditation, download Vern's 22 Day Meditation Course.
Website: Thailand eBooks
Blog: ThaiPulse.com/blog (no longer online)
YouTube: thaipulsedotcom
The series: Successful Thai Language Learners Compilation…
And here you have it, the rest of the series: