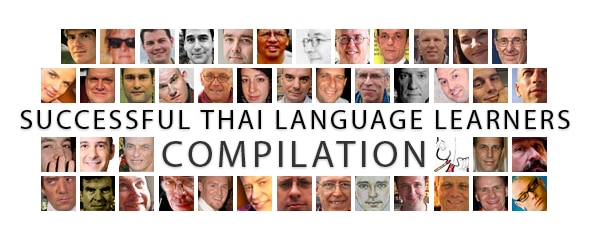 Successful Thai Language Learners Compilation…
Have you ever wondered what drives people to take on the immense challenge (and sometimes the chore) of becoming successful in a foreign language? I mean, we are talking about heaps of hours dedicated to listening, reading, and sometimes writing in a strange language. And don't forget communicating.
That's a whole load of hours where they could be doing something else. Like. Watching TV. Or sleeping. You know. Useful stuff.
When I put the question, 'What Were Your Reasons for Learning Thai?' to the 50 in this interview, polyglot Stu Jay Raj came back with 'live life'. And that makes perfect sense because we all know how polyglots absorb languages the same as breathing.
But what about the rest of us? What about those who don't have a passion for gobbling up 10 or 20 or 30 languages in our lifetime?
Chris Pirazzi saw learning Thai as a way to escape from the drudgery of Silicon Valley. And do I ever sympathise! A nine to nine life in the suburbs is not for me.
Scanning down the remaining answers received in the interview, 34 listed necessity (living or working in Thailand), 8 aimed to learn more about the Thai language and Thai culture, and 5 wanted to study a second language. All good reasons too.
Like Chris, I also saw Thailand as an escape but my main reason for learning Thai is because I live here. And possibly, maybe, dunno really, for the rest of my life. So like a chunk of the others my reason was sort of out of necessity. But, not really.
You don't absolutely need to understand the Thai language to survive in Thailand. Thing is, being able to understand what the locals are saying around you gives your life more depth. It also introduces even more questions to get answers for. Exciting stuff.
What were your reasons for learning Thai?…
When I stripped down the answers for the spreadsheet I came up with an extra tidbit that you might miss, so here it is. Amongst the tally, 4 arrived in Thailand with the Peace Corp and 5 as missionaries. And from what I understand, both institutions have a substantial history in preparing their people to communicate in the local languages.
Anyway, now on to the rest of the replies.
Aaron Handel
Aaron: When I first came to Thailand, very few Thais spoke English. I traveled extensively in the North and in Issan, as an amateur photographer. I learned Thai because it was necessary. If I were to ask in English for "fried rice with chicken," Thai people would show me to the toilet or bring me their baby pictures. This just would not do. I had to learn Thai.

Beyond basic survival, I found that Thai opened up a whole new world of light and color. Speaking Thai helped me to feel that I was present and involved, rather than just a passive observer. I became part of the picture.
Aaron Le Boutillier
Aaron: Absolute passion. I am never happier than when I have learnt a new word in the morning and then use it with ease in the afternoon. Magic!
Adam Bradshaw
Adam: Originally I learned Thai because I had to as a volunteer missionary, but I found myself falling in love with the Thai language.
Andrew Biggs
Andrew: I wanted to learn how Thais tick. I figured knowing their language would explain their nuances, personalities and habits, and I was right.
Celia Chessin-Yudin
Celia: I learned Thai when I came here the first time four years ago. I learned just from friends and then I went back home and studied Southeast Asian Studies at the University of Washington for two years, until I came back here to Thailand in November 2008 and have been working here ever since.
Chris Baker
Chris: I moved to Thailand in 1979-80, already married to Pasuk, and in flight from Margaret Thatcher, and thus unlikely to return.
Chris Pirazzi
Chris Pirazzi: I wanted to escape Silicon Valley in California, and Burma was having a revolution at the time.
Colin Cotterill
Colin: I don't believe you can live anywhere unless you can speak to and understand the natives of that place. It's easy to slump into an environment where everyone speaks English so it helps to have an incentive. Mine was that I was working at the open university and needed to communicate with the technicians. All the Ajans spoke English. That's where a lot of foreign English teachers fall off the motivation wagon.
Daniel B Fraser
Daniel: Survival – I knew that starting a travel company was going to require intensive ground-level logistics, and I wanted to know what was going on.
David Long
David: I moved to Thailand in 1987 and wanted very much to be integrated into Thai society.
David Smyth
David: A youthful infatuation with a Thai girl, which led me to apply to study Thai as part of a BA South East Asian Studies at SOAS.
Don Sena
Don: Was stationed in Thailand during late sixties; general passion for languages led to inquiry into language spoken and written officially in Thailand.
Doug
Doug: Living here, wanted to fully engage, then became interested in computational aspects of Thai, and points of intersection with other languages in the region.
Gareth Marshall
Gareth: I couldn't imagine living in a country where I can't communicate with people or interact with the local culture/lifestyle.
Glenn Slayden
Glenn: It is still an ongoing process but I would say that the more I learned about the country and culture the more resonant it felt with me.
Grace Robinson
Grace: After first traveling in Thailand when I was 18 and then returning the next year as an NGO working on the Thai/Burma border, I felt I had left a piece of my heart in Thailand and had big dreams to live in the country. I also wanted a degree from University, so when I discovered that there was a Thai and Southeast Asian studies BA at the University of Leeds, I was very happy to find that I could combine everything I wanted to do.
Hamish Chalmers
Hamish: I came here in 2001 to work as a tour leader for an adventure travel company. My job was to pick up a bunch of tourists at Don Mueang then take them around the country for a couple of weeks, visiting 'off the beaten track' destinations, and catering to all their needs.

As a consequence of this 'off-the-beaten-trackness', knowing Thai was pretty imperative. Up-country there are far fewer people comfortable with English than there are in Bangkok. In fact, in many places our local guides would be speaking Thai as their second language: Karen, Hmong or an ear-bending Southern dialect being their first.

If I wanted to make sure the minibus driver got us safely to the right guesthouse in Nakorn Sri Thammarat, account for a passenger's nut allergy at the Night Bazaar in Pitsanulok, or relay warnings about a hornets' nest deep in the jungle of the Nan borderlands, it was pretty important for me to know Thai.
Hardie Karges
Hardie: I wanted to live there, and don't like being surrounded by fields of squiggly lines and sounds that have meaning outside my field of recognition.
Herb Purnell
Herb: I originally came to Thailand as a missionary, and the language was obviously required. As my experience and proficiency increased, knowing Thai became an asset for my graduate studies, professional contacts with Thai academics and government officials, and getting involved in applied language projects. I became a linguistic consultant and had assignments in different parts of Thailand, so I needed to keep my Thai up.
Hugh Leong
Hugh: I initially came to Thailand as a Peace Corps volunteer and we had three months intensive Thai training before arriving.
Ian Fereday
Ian: Having decided to move here and married the owner of a language school it was a necessity!
James (Jim) Higbie
Jim: I wanted to get into the culture. I'd been in the Peace Corps in Africa and liked the ideal of getting to know another culture through learning the language. Of course Thailand is a really nice place to live and you can enjoy it a lot more if you can speak Thai.
Joe Cummings
Joe: In the beginning, to integrate into Thai society as much as possible, and to function without using English. Later at university, and later still, in my writing career, to carry out research on Thai art, religion, history, and so on, for books and articles I was writing.
John Boegehold
John: I didn't really have a specific reason when I started. Los Angeles has a very large Thai population. A few years ago, I discovered that Wat Thai Los Angeles was only a few miles from where I live and that there was great, cheap food available there in an open-air market setting on the weekends. A couple of my friends and I started going there occasionally to eat and hang out since it was a really great atmosphere.

One day I noticed a sign about Thai language classes being held there on Saturday and Sunday mornings. I had been toying with the idea of learning a second language at the time and figured that since I was already coming there regularly, I'd check it out.

I'd never been to Thailand and besides a Thai ex-girlfriend trying (unsuccessfully) to teach me a word or two a year earlier, I knew nothing about the language. I went to the class and was deeply confused pretty much immediately.

Maybe I have a bit of a masochistic streak, but the idea of starting from zero on a language so radically different from English really appealed to me. So, I took the plunge.
Jonas Anderson
Jonas: Based on my personal experiences I am convinced that children are very adaptable to unique cultures. I am not an expert, but I think there is a misconception that moving between very diverse cultural situations destabilizes children. They are much more resilient and capable of handling culture shocks than adults I believe. Moving here simply became the "new normal" for us as kids and I found the change exciting. It was peculiar to be stared at so much in upcountry Thailand and to be surrounded by so many black haired children, but I have always been a socially active person, even as a small child, so I enjoyed making new friends and learning about my new environment. I think that is the main key to my learning to speak Thai—simply wanting to talk to people.
Jonathan Thames
Jonathan: I studied Southeast Asian Studies for my B.A. and after going to Thailand the first time, I made quite a few good friends and so became truly invested in learning Thai. I had some Khmer-American friends and a Thai friend growing up, so that got me interested in the region in the first place.
Justin Travis Mair
Justin: I was a missionary for my Church, The Church of Jesus Christ of Latter-day Saints (the Mormons). I didn't choose where I was sent, but I am lucky I got called to where I did. We were expected to talk and teach about our church to those who were interested. We also taught English classes for free at our local churches. To do this we had to learn Thai.
Larry Daks
Larry: I joined the Peace Corps and was assigned to Thailand. Thai language study was a central aspect of our training, which took place between November 1962 and February 1963.
Luke Cassady-Dorion
Luke: Well, first off I love learning and I love learning languages. Of course, the fact that people told me that it was impossible for a foreigner to fully master this language was further reason to work hard and prove them wrong. More than that though, I feel that it shows a level of respect for the country. People who move to a new country have an obligation to learn the language and culture of their host country. I don't think that anyone would have much sympathy for a Thai person who walked into a Boise, Idaho store and got mad because the store manager didn't understand his Thai. Yet, the same people grow frustrated when Thais don't understand their English, or when Thais get an order wrong because they are too embarrassed to express their inability to understand.

I don't mean that we are obliged to adopt 100% of what it means to be Thai, just that we have to understand the language and culture if we are going to successfully co-exist.
Marc Spiegel
Marc: I believe that if you are going to live and work permanently in a country where your language is not the native language of the country then it is important to learn the language of the country in which you reside. Especially in Thailand where many people do not speak English in order to truly integrate to society here I believe it is critical to learn the language.
Marcel Barang
Marcel: The need to communicate with people. I came to Thailand as a journalist.
Mark Hollow
Mark: I had been working in Singapore and in late 2009 decided I wanted to take a break from work because it was stressful and was going nowhere career-wise. However, I was fortunately made redundant due to a corporate takeover before I had chance to resign.

While not working I wanted to do something to keep my brain ticking over and learning a language seemed like a good choice. Thailand was the first Asian country I'd ever travelled to and I was fascinated by the language, in particular the writing system. So, learning Thai it was – and my plan to study for six months has turned in 1½ years so far!
Martin Clutterbuck
Martin: Get around in this country. As I've been living here a long time, I've acquired the language in depth. As to why I've been here a long time, it's a self generating cycle – being good at Thai has helped me get on in Thailand to a point where I am pretty comfortable.
Nils Bastedo
Nils: I decided to leave Sweden for the tropics as early as 2002, thereby doing what so many say they wish they could. I had met some people who had lived in the tropics and quickly realized that, though talented, they were not exactly superhuman. They were just people who had had the gumption to get up and go. The reason I picked Thailand was of course that I had fallen in love with a Thai woman. When I decided to learn more about Thailand, I went there and felt immediately 'at home' in 'The Land of Smiles'.
Paul Garrigan
Paul: I began learning Thai when I moved here eight years ago. As well wanting to be able to know what was going on around me, I also wanted to find out more about Thai Buddhism. I have been interested in Buddhist philosophy since my teens and wanted to be able to communicate with monks in Thai and read some of the Buddhist resources that are only available in Thai.
Peter Montalbano
Peter: I was in the Peace Corps here from 1965-67, teaching English and living in places where no one spoke any English to speak of, so it was a necessity. But it wasn't a hardship. I love learning languages, and it has been a great adventure to learn Thai.
Rick Bradford
Rick: I simply cannot imagine living in a place where I could not speak the language. I wouldn't be able to stand the isolation from the culture and lives of the people.
Rikker Dockum
Rikker: My reasons for learning Thai, and the path that Thai has taken me down, are perhaps atypical. My very first reason for learning Thai was because I had to. At age nineteen I signed up for volunteer missionary service. Thailand requires two years of military service from its young men. Mormons require two years of missionary service. While not strictly compulsory, it's a strong cultural expectation, and the idea that one should put in one's two years is planted from childhood.

Part of volunteering meant agreeing to go wherever assigned. As I recall, I was asked two questions that might have influenced my assignment. They were: 1. Have you ever learned a foreign language? (The answer was 'Yes, two years of Spanish in high school.') and 2. On a scale of one to five, how well do you think you could learn a foreign language if required to? (I said, 'Five.' I was afraid of being sent to Topeka, Kansas.) So ending up in Thailand was a very happy accident. Before leaving I took a two-month intensive crash course in Thai. 10 hours a day, 7 ways a week, 8 weeks. I found I loved the challenge right off the bat.

The missionary service lasted two years, but it was the language that really fascinated me. I returned to the U.S. to finish my university studies. I majored in linguistics, and while at school I wrote every term paper I possibly could about Thai. Sociolinguistics, semantics, syntax — I even wrote a term paper on Thai for a class on the languages of China — I convinced the professor to let me write about the influence of Chinese on Thai. There was no formal instruction in Thai of any kind, so this was my best option for keeping up my language studies. Eventually I won some grant money to come back for a few months to do a research project on Thai dictionaries, which would eventually become my senior thesis. During those months I visited the Royal Institute. I observed the work of its Dictionary Revision Committee and interviewed several of its members. This was the beginning of my interaction with Thai academia, which is what brought me back after graduation, and what continues to keep me here for now.
Ryan Zander
Ryan: My initial reason for taking up Thai was that I was already halfway through an undergraduate program in Language and Cultures of Asia at the University of Wisconsin and I needed to finish 4 semesters of an Asian language. I was really more interested in the "culture" half of the program at first and I took a bunch of courses on Indian religions, Southeast Asian history, Asian art history, etc. For the language part I initially tried to go with Sanskrit. It was very interesting, and I'm glad I was able to learn a bit of it, but my study habits at that time were just abysmal and I couldn't keep up with it. So, I took some time off from school to travel to Nepal, and on the way I passed through Thailand. While there, I heard Thai being spoken and something about the sound of it just resonated with me. And then when I saw how simple the grammar was, I decided it was something I could get myself to study.
Scott Earle
Scott: I came to live in Bangkok as part of my job, and felt that it would be rude not to at least try.
Stephen Thomas
Stephen: At first, communication, obviously. The first time I visited Thailand in 2006 I was going to be staying with a friend who I knew couldn't speak English, though she could read and write English. We'd been friends for a few years through instant messaging and e-mail and she offered me a place to stay. I picked up a book and CD set from Teach Yourself and began getting a basic foundation. Good thing, too! It turned out she lived in Ormnoi in Samut Sakhon where practically nobody spoke English. That was a great way to really learn the Thai way of life and to quickly hone language skills.
Stickman
Stickman: I have always wanted to learn a second language to a high level. I reached a reasonable level in German way back when I was still at school but eventually gave it away when I realised that no matter how good my German got, the average German would always be able to speak more than passable English and so making my German redundant. Also, German starts to get quite complicated as you get to the higher levels and the grammar becomes a bit of a nightmare!

When I decided that I would be moving to Thailand – and the original plan was only to stay for a year or two – it presented an opportunity to learn a second language in the country where that language was spoken. Back then I thought I would actually need to have Thai skills just to survive in Thailand, something which really isn't true at all.
Stuart (Stu) Jay Raj
Stu: Live life.
Terry Fredrickson
Terry: I was a US Peace Corp volunteer assigned to Nakornsrithammarat Teachers College.
Tod Daniels
Tod: Initially I compelled the Thais I interacted with to speak English. However, that got old awfully fast, and I was limited to predominantly tourist or foreign dominated areas, speaking about what ever it was they were selling, etc. Seeing as I have very few foreigners who are what I would truly call friends – partly out of loneliness but more out of the need to communicate something besides daily pleasantries or mindless Thai 'phrozen-phrases' – I finally realized to get bang-4-the-baht out of my life here I'd need to learn Thai.
Tom Parker
Tom: I believe language is the key to understanding culture and aids integration which is one factor contributing to contented, successful living in Thailand. I also wanted to communicate with and understand the people that live here.
Vern Lovic
Vern: At first, necessity. There are very few good English speakers among native Thais in Ubon. Over the years I've added to what I know slowly, and not out of necessity but more of a general need to connect with the many amazing Thai people I meet almost daily.
The series: Successful Thai Language Learners Compilation…
And here you have it, the rest of the series: