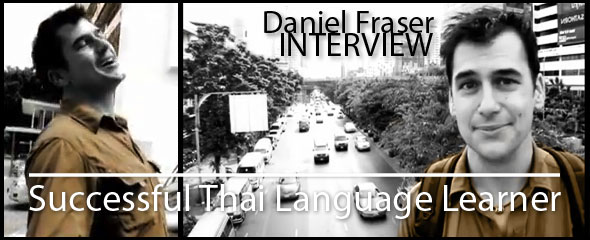 Interviewing Successful Thai Language Learners…
Name: Daniel B Fraser
Nationality: Canadian
Age range: 30-40
Sex: Male
Location: Bangkok, Thailand
Profession: Travel Company Owner, TV Host
Web: Smiling Albino, Facebook: Daniel B Fraser , YouTube: Smiling Albino
Interview: Bangkok Podcast Thai Language Series: Daniel Fraser
What is your Thai level?
Combo of Intermediate and Advanced, with occasional moments of fluency and utter confusion.
Do you speak more street Thai, Issan Thai, or professional Thai?
Street Thai.
What were your reasons for learning Thai?
Survival – I knew that starting a travel company was going to require intensive ground-level logistics, and I wanted to know what was going on.
Do you live in Thailand? If so, when did you arrive?
First arrived in 1995 for a short project at Chitralada Palace, then returned just before 2000. I've lived in BKK since.
How long have you been a student of the Thai language?
Since arrival, but have never learned formally.
Did you learn Thai right away, or was it a many-pronged approach?
Long approach – a few phrases at a time.
Did you stick to a regular study schedule?
No – I've never had one but can certainly appreciate the benefits of one.
What Thai language learning methods did you try?
The way I learned was by mimicking others, using a dictionary daily, and writing words down in a little black book.
Did one method stand out over all others?
Mimicking others for sure was best.
How soon did you tackle reading and writing Thai?
I learned to read before I could speak as I understood it was the key to the tones and pitch. So, I learned to read very soon after arrival.
Did you find learning to read and write Thai difficult?
Writing yes, as it is a slow process for me (and often incorrect). Reading less difficult, but the lack of character/word spacing was and still is a challenge.
What was your first 'ah hah!' moment?
I landed a movie role speaking Thai in 2003 after only being here 2.5 years. My script was all in Thai, and despite being somewhat terrified at the prospects of learning it, I found that by practicing and practicing, it became more natural and then I could actually envision myself speaking like that all the time. Ah hah!
How do you learn languages?
Constantly asking questions and seeking to understand what is being said. Then mimicking the right way to say it.
What are your strengths and weaknesses?
Strengths are a good memory for difficult words or phrases. My tones are also quite good (for a Canadian!). But general structure and grammar is all very home-made for me, so I tend to not be so precise or clear with complicated dialogue.
What is the biggest misconception for students learning Thai?
I think it is that you have to sound perfect before you can be accepted as a Thai speaker. But Thai has so many styles and accents, that one shouldn't let the sounds and tones intimidate you. Just go out there and make an effort.
Can you make your way around any other languages?
I can pick up parts of Vietnamese fairly quickly when doing business there. Lao of course as it is similar to Thai. Now I find western languages so easy and straightforward by comparison.
Are you a computer programmer, or do you have programming experience?
No – I don't bond well with computers (or programmers).
Do you have a passion for music?
Absolutely – a virtually encyclopedic knowledge of various styles and influences.
Were you learning another language at the same time as Thai?
No.
What advice would you give to students of the Thai language?
Don't be intimidated – just get the basics and make a daily (thrice daily) effort to get out and engage with people at street level.
Daniel B Fraser,
Smiling Albino
The Series: Interviewing Successful Thai Language Learners…
If you are a successful Thai language learner and would like to share your experiences, please contact me. I'd love to hear from you.