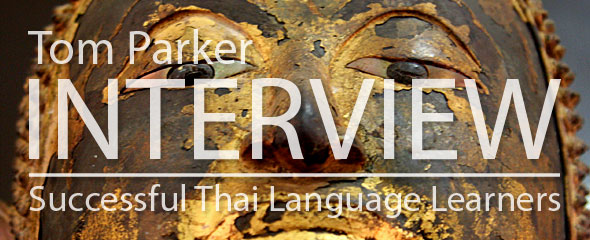 Interviewing Successful Thai Language Learners…
Name: Tom Parker
Nationality: British
Location: Bangkok
Profession: Recent MA graduate. I have previously worked as a Research Manager for a multi-national in Chiang Mai. I have a BA (Hons) in Southeast Asian Studies and Language (Thai) and an MA in Southeast Asian Studies.
What is your Thai level?
Advanced
Do you speak more street Thai, Issan Thai, or professional Thai?
I studied Thai at university so I learnt mainly 'Central Thai'. I also studied some 'Royal Thai' as my Thai language instructor was a descendent of a royal court family. I have forgotten most of that and since I now learn a lot of Thai from everyday conversation and pop-culture 'street Thai' is probably my forte.
What were your reasons for learning Thai?
I believe language is the key to understanding culture and aids integration which is one factor contributing to contented, successful living in Thailand. I also wanted to communicate with and understand the people that live here.
Do you live in Thailand? If so, when did you arrive?
I currently live in Bangkok, I have spent about three years living in Thailand and have been coming here on and off for about twelve years.
How long have you been a student of the Thai language?
I studied Thai formally at one Thai university and two UK universities for four years. I've done about a year's worth of private study. I have studied with various Thai instructors and with Dr David Smyth at the School of Oriental and African Studies, University of London.
Did you learn Thai right away, or was it a many-pronged approach?
I was encouraged to learn Thai as part of my Bachelor's degree, but had no confidence in my ability to master it. I had no interest in French and German at school and as far as I was concerned learning a second language (especially Thai) was beyond me. Luckily my tutors encouraged me to take the plunge and I've never looked back.
Did you stick to a regular study schedule?
Learning Thai at university meant that a regular study schedule was unavoidable, but I think the amount of extra work I put in really paid off. In the first year of studying Thai I was absolutely determined to master the language and studied it obsessively, that helped give me a good foundation in Thai which I think still pays off today.
What Thai language learning methods did you try?
At my first university we used the Thai 'Linguaphone' by Dr David Smyth, in addition to worksheets provided by the teacher. In the second year we also used Benjawan Poomsan Becker's course which at the time had just been published. In Thailand we used a language course written by the tutor which has not been published. At MA level we read and studied popular Thai novels.

Many varied techniques were used throughout this learning process, notably flashcards, conversation, lots of reading – starting with children's books, watching Thai TV, listening to Thai songs etc.
Did one method stand out over all others?
Not really, I think the key is to use a wide variety of methods and to totally immerse yourself in the language and keep the learning process entertaining. I totally agree with Chris Pirazzi's advice about the importance of 'drilling' the tricky sounds and this is exactly what we did in our first few weeks of Thai study at university.
How soon did you tackle reading and writing Thai?
Straight away and I still think of learning to read as the most enjoyable aspect of learning Thai.
Did you find learning to read and write Thai difficult?
Yes, but it is absolutely critical to long-term success, not just in reading and writing Thai, but speaking it too, because if you rely on transliterated Thai to learn new vocabulary the pronunciation will often be incorrect. Plus there are so many ways of transliterating the Thai script it can only lead to confusion for the student.
How do you learn languages?
I am most definitely a visual learner. I learnt how to read by plastering consonants and vowels all over my bedroom walls as a student. In the early stages I would scan these images twice a day, once in the morning before class and in the evening. It worked very well for me, but I stress I did this by consonant class and not all the characters at once. That would have made my bedroom somewhat dizzying. I learnt vocab by repetition.
What are your strengths and weaknesses?
My weakness is still my limited vocabulary, although I can hold a conversation in Thai on most topics a few words always trip me up and when Thais hear that you pronounce Thai well they do not hold back on speaking with rapidity! My strengths are my pronunciation, which still needs some tweaking, and my ability to read well, although I have still not achieved my aim of being able to read Matichon newspaper fluently.
What is the biggest misconception for students learning Thai?
That transliteration systems can be relied upon for correct pronunciation.
Can you make your way around any other languages?
I speak basic Khmer and basic Mandarin Chinese.
Were you learning another language at the same time as Thai?
No, I put all my efforts into Thai.
What advice would you give to students of the Thai language?
As has been advised in the previous interviews, dedicate a lot of time (preferably early on in the learning process) to learning the tones. Listen to examples of tone pronunciation over and over and over again. Drill them into your brain and practice them every day. Find a good language course with tone examples and listen to it in your car, on the bus, before you go to bed etc.

Communicate with Thais as much as possible. If you don't live in Thailand, watch Thai films even if you can't understand anything, the important thing is to immerse yourself in the language, eat, sleep and breathe it, especially at the outset. If you live in Thailand you are surrounded by possibilities, go out and chat with a noodle vendor, a taxi driver etc. make learning more interesting and fun.

Learn to read Thai. It is absolutely fundamental to successful Thai language learning. Do not be intimidated by those alien-looking squiggles. At first I thought learning how to read Thai would be impossible, but when it begins to make sense to you it is very rewarding. Be methodical, learn the consonants in their consonant classes; learn the simple vowels first etc etc. There are now many good Thai language courses that teach how to read and write effectively. If you live in Thailand and cannot read Thai you are surrounded by things that do not make sense: signs, posters, books etc. In my view learning to read Thai is the principal factor contributing to successful Thai language learning.
regards,
Tom Parker
The Series: Interviewing Successful Thai Language Learners…
Getting advice from experienced Thai language learners is important. If you are a successful Thai language learner who would like to share their knowledge with those coming up, please contact me to make it so.