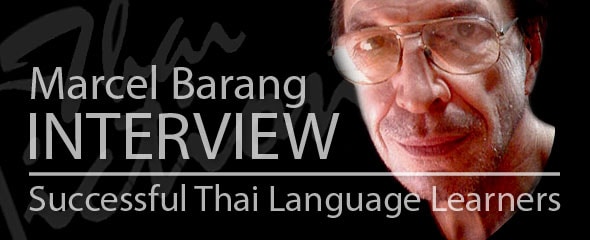 Interviewing Successful Thai Language Learners…
Name: Marcel Barang
Nationality: French
Age range: 60+
Sex: Male
Location: Bangkok, Thailand
Profession: Literary translator from the Thai
Website/blog: Marcel Barang, thaifiction.com
Books: Over 40, mainly in English, on thaifiction.com
What is your Thai language level?
Fluent.
Do you speak more street Thai, Issan Thai, or professional Thai?
Both street and professional. Isarn, bor pen.
What were your reasons for learning Thai?
The need to communicate with people. I came to Thailand as a journalist.
Do you live in Thailand? If so, when did you arrive?
I've lived in Thailand since 11 May 1978. But I was already familiar with Thailand (as a reporter, since 1972).
How long have you been a student of the Thai language?
31 years and still learning.
Did you learn Thai right away, or was it a many-pronged approach?
Right away.
Did you stick to a regular study schedule?
Yes. I studied intensely for two-three years. A few years later, I got married locally, which helped a lot: Thai became my first language in daily life. Still is.
What Thai language learning methods did you try?
Wasted one month in a small school in Sathorn Rd that insisted on the oral method (nothing written down) then hired one of their teachers to teach me how to write, read and speak at home the old-fashioned way, three lessons per week initially (with homework), then two, then one, each lesson lasting one hour and a half – until dear Khun Buaphan decided I was proficient enough to be left to cope with dictionaries all by myself.
Did one method stand out over all others?
I need to write things down. Knowing the international phonetic system (learned when I studied English at school in France) helped a lot. I adapted it to Thai in my own way.
Did you find learning to read and write Thai difficult?
Not really. To me, speaking good Thai with the proper accent is more difficult.
What was your first 'ah hah!' moment?
Too many to remember.
How do you learn languages?
By parroting, by writing things down, by asking what this or that means.

When I used to teach English to French students, the first thing I did was to have them speak French with an English accent: it worked wonderfully.

One decisive moment was very early in my study of Thai when I overheard an already Thai-fluent Catholic priest friend of mine in Song Phee Nong ask a fellow Thai, 'How would you say this correctly?' (Tong Phoot Yanggai Jueng Ja Took): I've been using that open-sesame ever since.
What are your strengths and weaknesses?
As a speaker, when I'm tired or nervous, I make mistakes; I know too much slang for my own health. As a translator, you tell me.
What is the biggest misconception for students learning Thai?
That learning to read and write is difficult: it takes time, certainly, but it's hugely rewarding. If you settle down in Thailand for a number of years, it's well worth investing in reading and writing. My only regret: I never learned to type Thai. It'd have come handy in my line of work, to consult dictionaries online or to Google things.
Can you make your way around any other languages?
I'm French educated, learned English at school then went to England (twice, one year each time), learned Spanish at school pero no lo he ablado hace muchos anos, so I understand Italian a little. Having spent two schoolyears in Cambodia, I had enough Khmer to buy cigarettes at the market and order the maid around, but it was that experience (the fact that I had talked all along in French or English with the elite only) that convinced me that, were I to settle down somewhere as a journalist, the first thing I'd do would be to learn the local lingo, to be able to address everyone and understand what's going on without having to rely on an interpreter.
Were you learning another language at the same time as Thai?
No.
What advice would you give to students of the Thai language?
Are you committed? Then never despair: it all builds up somehow. If you are not, then mai pen rai, just have fun, they'll like you anyway for trying and for being (to their ears) funny.
On the subject of translation…
What qualities do you look for in good Thai literature?
The same as I do in world literature: clever, credible plots; well-rounded characters; words that sing; food for thought and the soul.
What, in your opinion, are the great Thai literary works that remain untranslated?
All the classics in verse, of the Khun Chang Khun Phen calibre – a mammoth task, not for me. In terms of modern novels, I'm currently working on See Phaendin by Kukrit Pramoj, the last of the 20 best novels of Thailand according to me.
Which Thai literary works need re-translation?
Narm Thuam Park = I'm tongue-tied.
Do you plan to tackle any of those listed?
I've retranslated three or four novels that needed and deserved to be, in my view. Let's leave it at that.
Would you recommend translation as a language learning exercise?
Definitely. Just don't publish your renderings right away: wait until you've reached a certain level of fluency. And don't believe that you (whose Thai is still wobbly) teaming up with a Thai (whose English or French or whatever isn't really up to par) is going to work wonders. On the other hand, you don't need to engage in literary translation – ordinary texts can be as rewarding; just keep clear of newspaper lingo, a tough nut to crack, especially headlines!
What process do you use for your word-by-word approach to translation?
It's a three-step approach:

translate word by word by word just to enter the text into the computer, never mind the gobbledygook you produce;
mould each sentence and each paragraph, trying as much as possible to keep them as they are, respecting their grammar and their flow and their level of language (very important); for dialogues, improvise, rewrite if you have to: there are too many idioms, too many plays on words and levels of understanding to stick to the original formulation;
once your text has been checked for exactitude and for language correction (in English or French or whatever), check it all over again for dissonance (of a word, of an expression) and of course for consistency.

This, in my view, is the only way to respect a writer's style, instead of imposing your own.
Your translation style (word-by-word) is an attractive option for those learning to read Thai. If a student were to work their way through your collection, 1) which order would you advise, and 2) are the Thai versions easily available?
They should start with any of Chart Korbjitti's novels or collections of short stories: simple, not too colloquial language. Also Seeboorapha's Behind the Picture short novel: easy and beautifully flowing classical Thai. All readily available in Thai. Leave Saneh Sangsuk's The White Shadow for the very end of your learning curve. And if you have a patois to add to your mother language, then tackle Jao Jan Phorm Horm (Lady Jane of the Fragrant Mane) by Mala Khamchan for me. That one is beyond my ability to translate.
Have you considered developing Thai language courses/instruction tied to your translations? (pdf downloads, educational seminars, or similar).
No, but a friend of mine, Doug Cooper, has been busy building up a corpus of translated Thai stories, including some of mine. You'll find them at sealang.net/lab and much, much more at sealang.net/thai.
Marcel Barang
Marcel Barang | Thai Fiction
The Series: Interviewing Successful Thai Language Learners…
Getting advice from experienced Thai language learners is important. If you are a successful Thai language learner and would like to share your knowledge with those coming up, please contact me to make it so.