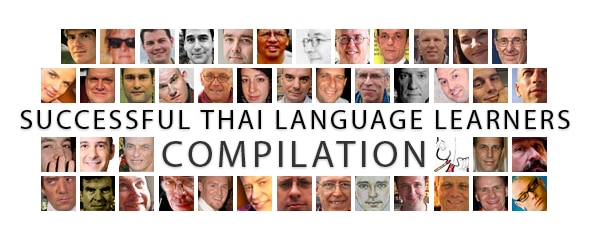 How soon did you tackle reading and writing Thai?…
A subject that repeatedly comes up on Thai language forums is the importance of learning to read and write Thai from the beginning. A small number do learn on the street, but the results from this interview point to successful Thai language learners tackling reading and writing early on.
Out of 50 of those interviewed, 34 learned to read and write from the very beginning of their studies, seven within the first six months, five during the first or second year, one between 15-20 years, one at 25 years, and one never learned how to write (didn't mention reading).
Simplifying the results: 44 out of 50 learned how to read and write within a year of starting their Thai studies. That's an impressive number.
Aaron Handel
Aaron: I learned to write about 15 or 20 years after I learned to speak.
Aaron Le Boutillier
Aaron: Early early! And I am a great advocate of this method. Throw away the phonetics and go crazy with all those lovely consonants and vowel sounds.
Adam Bradshaw
Adam: Right from the get go.
Andrew Biggs
Andrew: One millisecond after I started learning the language. It's the ONLY real way to learn Thai. This phonetic rubbish with the squiggles for tones just makes you sound like a farang sputtering through the language. You will never get fluent doing it that way.
Celia Chessin-Yudin
Celia: After about six/seven months.
Chris Pirazzi
Chris Pirazzi: From the beginning, a few consonants at a time (as seen in "Thai for Beginners").
Christy Gibson
Christy: I was pretty interested in learning Thai reading from a very young age and I loved doing those alphabet writing books as a child. I always loved writing, penmanship and art, and my "girlynature" thought that the Thai letters were "so pretty and curly" :). So I learned the basics pretty early on, but didn't really gain fluency in my Thai reading until my late teens. Having to learn Thai songs helped me a great deal as I didn't want to work from phonetics and knew that of course my pronunciation would be far better if I was reading straight from the actual Thai. And just the practice of having to read and stare at all those song words for hours every day was a sure-fire way of improving my Thai reading skills.
Colin Cotterill
Colin: I still can't write.
Daniel B Fraser
Daniel: I learned to read before I could speak as I understood it was the key to the tones and pitch. So, I learned to read very soon after arrival.
David Long
David: I found that by building my vocabulary through watching, listening, and guessing, I was ready for Reading and Writing during my second year of my stay here.
David Smyth
David: From the very beginning.
Don Sena
Don: I actually found a book shortly after arriving in Thailand that explained completely the orthography, including "tone rules." I scrutinized it in its entirety.
Doug
Doug: After completing AUA conversation (vocabulary ~ 1,000 words).
Gareth Marshall
Gareth: As quickly as I could after getting a few speaking basics.
Glenn Slayden
Glenn: In 1997, when I traveled to Thailand with "Reading and Writing Thai" by Marie-Hélène Brown.
Grace Robinson
Grace: The first thing I was taught was ก,ข etc from scratch, the same way Thai children are taught in primary school. This created the best foundation for authentic language learning, without using 'karaoke' Thai.
Hamish Chalmers
Hamish: Bit of a mixed bag this one. I learnt the alphabet almost straight away. It became very clear very early on that one cannot trust the transcriptions. Forget the obvious ones like Phuket and Sukumvit (where one just learns to substitute p for ph and w for v); it's things like ต, ป and ง, not to mention many of the vowel sounds, which really get butchered by the transcription protocols. However, to my shame, I didn't learn the tone rules until very recently.
Hardie Karges
Hardie: After 3-6 months of study without it.
Herb Purnell
Herb: The Army Thai course was written in phonetics. That was the era when linguists advocated learning a language orally at first (listening and speaking) and then later do the reading and writing. The course was in two books. After finishing Book 1, the Thai tutor began teaching the writing system while doing the lessons of Book 2 which were still in phonetics.
Hugh Leong
Hugh: I had spoken Thai for 25 years before I learned the alphabet. Many people on these pages stress the importance of learning to read and write. I do not disagree. But I do not have an opinion about how important reading and writing is because language learning is a very individual thing. We each learn in our own way. Some people can learn a word without seeing it written down. Others can't learn a word's tone without seeing it written and using the tone rules they have learned. As I said, I am an audio-centric person. Reading came much later.
Ian Fereday
Ian: Immediately. I recommend to anyone that if they have the time they should learn to read first. It makes it much easier to learn to speak if you can read written Thai. Trying to understand Thai speakers is not always easy – they don't speak the best Thai! If you can read, your grammar will also be better and you will have no slang or dialect. Your speech and tones will be clearer and sentence structure accurate. Learning conversational Thai using phonetics will only get you so far, and you'll never have good pronunciation.
James (Jim) Higbie
Jim: I started right away.
Joe Cummings
Joe: Immediately, beginning the first week of classes in Thailand.
John Boegehold
John: From day one, right along with basic vocabulary.
Jonas Anderson
Jonas: I started to learn to read Thai the first or second year here, but at a very relaxed pace (double speak for lazy pace). I started to be more fluent reading Thai in my mid-teens.

I have learned most of my writing since becoming a singer actually, but that is an area of Thai that is frankly quite weak for me still, probably because I have had difficulty finding the time for more formal study of Thai.
Jonathan Thames
Jonathan: Immediately; using the Teach Yourself book, I was a decent beginning reader by the time I started formal study in Chiang Mai. I am also a speller and visual learner, and so the better my reading/writing the easier it was for me to expand my vocabulary and learn new words.
Justin Travis Mair
Justin: One of the last days in the 2 month course, we were given a one hour primer on how to read Thai. They basically showed us how to sound out the words. After that I kinda waited a month or two before starting to really try and read Thai.
Larry Daks
Larry: I never did learn how to write Thai, although I can write a number of letter in the alphabet and a few words. I started studying reading about two months after I arrived in Bangkok, five months after beginning to study Thai.
Marcel Barang
Marcel: After one month.
Marc Spiegel
Marc: Immediately.
Mark Hollow
Mark: I began learning reading and writing as soon as I started school and in parallel with the speaking lessons so learned from phonetic spellings for about four months until my Thai reading was at an adequate standard to swap over to Thai-only course materials.
Martin Clutterbuck
Martin: Immediately. My first goal was to read bus destination boards. Sadly, now, buses also have boards in English 😉
Nils Bastedo
Nils: Right away. I started with the alphabet in 2002 and quickly got to the level where I could make my way around Thai menus, but I didn't delve deeper into written Thai until 2008.

I must admit that my own frustration at the complex script hindered me. I kept thinking thing like "Why not have one class of consonants, eliminate duplicates of same sounds, and have one tone marker for each tone instead of making tone dependent on consonant class". Example: 'mai eek' could always be low tone, 'mai dtoh' always rising, etc.

My experience conversing with Taxi drivers and other staff at Bumrungrad brought me to the realization that many Thais, even supposedly highly educated ones, quickly became unsure of spelling when venturing beyond their everyday vocabulary. This in turn made me consider how the system could be simplified rather than focusing on accepting it and learning. I am afraid the experience had me ranting about how things ought to be changed rather than humbly digging into what I needed to learn.
Paul Garrigan
Paul: Learning to read Thai was important to me from the beginning so I was learning from the first day. I am glad that this was the path I took.
Peter Montalbano
Peter: Look at, immediately. Tackle, relatively recently. Ten years of typing e-mails has been a big help (learning to type in Thai is easier than you might think), but when I got in the Chula classes this year, for which I had to take a reading/writing test, I found that they were right to ask me to write everything by hand. At first the old hand cramped up a lot, but it has gotten easier.
Rick Bradford
Rick: Immediately. I am primarily a visual learner and so mastering the script was imperative.
Rikker Dockum
Rikker: Pretty much right away.
Ryan Zander
Ryan: Pretty much right away, which I definitely think is the way to go. Although I admit it took a while for me to get around to really bothering to learn all the rarely used letters well.
Scott Earle
Scott: Immediately – I could read/write basic phrases long before I could make myself understood by talking.
Stephen Thomas
Stephen: Right away. The Teach Yourself system has it's own Romanisation (which actually makes more sense than most) but encourages you to learn to read Thai and prints the dialogues side by side in both formats.

The reading/writing lessons in Teach Yourself broke the alphabet down into about 10 characters per lesson, between consonants and vowels. The method was to write each character while saying the sound, "Dor… Dor… Dor…" over and over. Once they'd taught enough letters they began building up short sentences one word at a time to get you used to the lack of spaces between words. Then the book showed you some of the more complicated spelling rules, like those for words borrowed from Khmer.
Stickman
Stickman: I learned to read and write from the very first lesson and I firmly believe that this was the key in being able to reach such a high level. I never used to think in terms of transliteration as those who do not read and write are forced to. And because I learned the tone rules when I learned to read and write I knew how a word was supposed to be pronounced, even if I had problems pronouncing it exactly that way!
Stuart (Stu) Jay Raj
Stu: Straight away.
Terry Fredrickson
Terry: Right away.
Tod Daniels
Tod: I started learning to read before I could even speak more than two-word-tourist-Thai or even simple 'phrozen-phrases' in Thai. I can write Thai, but my handwriting looks like a kindergarten kid. I did teach myself how to touch type Thai on a keyboard using all my fingers. That is no small feat in itself, seeing as the 'finger load' when typing Thai is skewed to one hand and more so to the two outside fingers on that hand. Not to mention there's a lotta 'shifty business' and excessive reaching for keys which aren't used in English typing all that often.
Tom Parker
Tom: Straight away and I still think of learning to read as the most enjoyable aspect of learning Thai.
Vern Lovic
Vern: I couldn't, for the life of me, figure out why I'd need to read or write Thai over the first two years. I wasn't interested at all. After two years I thought I must be missing something and so I figured out the pronunciation of the letters, learned to form some words. Bought the childrens' books and traced the letters and learned as a child does for a couple of months. Then I just got so busy with my real work, web development and internet projects that it all took a backseat. It's still all in the backseat and I cannot fathom why I need to learn to read or write Thai at this stage.
The series: Successful Thai Language Learners Compilation…
And here you have it, the rest of the series: