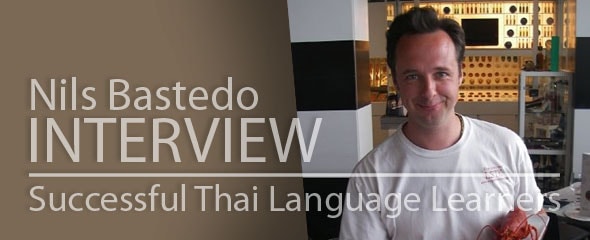 Interviewing Successful Thai Language Learners…
Name: Nils Bastedo
Nationality: United States and Sweden
Age: 39
Sex: Male
Location: Arkansas, USA
Profession: Currently a martial arts instructor
Website: Lstk
Products: Book – Tenses for Thais only in e-format as of today, but I hope for hardcopy versions as soon as questions concerning distribution can be resolved.
What is your Thai level?
Thais tend to praise my abilities and suggest that I speak very well, but I am afraid that I may sound better than I really am since I copy sounds more easily than the average student of Thai. I am able to carry on simple conversations, but my reading is at a very basic stage and my writing practically non-existant. Since I am able to converse and communicate orally, I would label myself as 'Intermediate'.
Do you speak more street Thai, Issan Thai, or professional Thai?
I have been lucky in that the Thais I have met have chosen to teach me nice language, and Thais often say that I phrase myself nicely. I do not speak Isan, but since the people I taught at Bumrungrad International represented very many different backgrounds and people from all over Thailand, I probably have a blend of 'street talk' and professional language.
What were your reasons for learning Thai?
I decided to leave Sweden for the tropics as early as 2002, thereby doing what so many say they wish they could. I had met some people who had lived in the tropics and quickly realized that, though talented, they were not exactly superhuman. They were just people who had had the gumption to get up and go. The reason I picked Thailand was of course that I had fallen in love with a Thai woman. When I decided to learn more about Thailand, I went there and felt immediately 'at home' in 'The Land of Smiles'.
Do you live in Thailand? If so, when did you arrive?
I first visited Thailand in 2000 and lived and worked there from August 2005 until January 2009.
If you live elsewhere, how often are you in Thailand?
At this time, I teach martial arts full-time in the United States. I have not been back since January 2010, but am planning to return and establish permanent residence in 2011 or possibly 2012.
How long have you been a student of the Thai language?
I started to learn single words in 1998. Back then, my language was limited to saying thank you, please, you're welcome, tastes good, and the names of various kinds of food. My language stayed fairly simple until I decided to move to Thailand in 2002. I then studied a little at the University of Lund and started associating with Thai expatriates in order to prepare myself for a move whilst at the same time preparing my Taekwondo students to keep the club I had started in Sweden (LSTK) functioning without me.
Did you learn Thai right away, or was it a many-pronged approach?
Well, learning a language is hardly done overnight. I started with very limited phrases, and stayed at that level fairly long before deciding to actually go to Thailand. Once that decision was made, I tried many approaches, from searching out Thai expats to studying at the university for the 2nd half of a semester to buying several CDs, tapes and books. I will be studying Thai once again when I return, focusing more on reading and writing this time around.
Did you stick to a regular study schedule?
Unfortunately, no. I have learned new vocab only through use and there has been little structure to my studies, which is of course not very good. As a language teacher teaching 4.5 or even 6 hours per day, I must also admit that my energy for learning Thai was at a low point after returning from work. When in Thailand, I did not associate much with Westerners, which was good, but as an English teacher I did not speak as much Thai as I would have liked at work. One thing which was very useful for my own improvement was explain English to my Thai students by using Thai examples and explanations for tenses and pronunciation.
What Thai language learning methods did you try?
I have tried books, CDs, practical conversation and even private lessons. As many others, I found that studying on my own by using books or computers was challenging. Having worked with a few outside institutions when at Bumrungrad, I have realized that what makes computer based learning at places like Wall Street Institute relatively successful is that they are good at helping their students study regularly and stick to it. However, based on the students I had at Bumrungrad, it seems that improvement is slower with even the best of programs than with a real-life teacher. I do feel that working with a person is always better than any other approach, though the person you learn from should be chosen with care. Combining personal tutoring with computer-based learning and/or books may offer the best of all words, but practical application – speaking with another person – must take the most prominent place. Without practical application and real-life responses, language training loses its most vital dimension.
Did one method stand out over all others?
The book 'Teach Yourself Thai' was very useful. It contains sections on different situations, and I found the romanized script they used very intuitive. Before going out on early excursions, I would look up the vocabulary for the task I wanted to do in advance (giving directions to taxi drivers, buying fruit, and so on) and then go out and implement the knowledge. I had one CD in particular which, though extremely limited, was very helpful for helping with basic vocabulary. I don't remember the name, but it offered short quizzes on limited topics. Seeing scores like 8/10 stimulated me to re-do the tests and 'nail them'. Wanting to get the best in e-learning, I spent a lot of money getting Rosetta Stone, but with an instruction booklet in Thai and starting with phrases such as 'The plane flies over the clouds' or 'The boy is under the table' instead of 'Where is the bank' or even 'Hello, how are you?' I have few positive memories of that particular product. Besides, merely showing Thai script without giving explanations on the writing system is … not the best possible approach.
How soon did you tackle reading and writing Thai?
I started with the alphabet in 2002 and quickly got to the level where I could make my way around Thai menus, but I didn't delve deeper into written Thai until 2008. I must admit that my own frustration at the complex script hindered me. I kept thinking thing like "Why not have one class of consonants, eliminate duplicates of same sounds, and have one tone marker for each tone instead of making tone dependent on consonant class". Example: 'mai eek' could always be low tone, 'mai dtoh' always rising, etc. My experience conversing with Taxi drivers and other staff at Bumrungrad brought me to the realization that many Thais, even supposedly highly educated ones, quickly became unsure of spelling when venturing beyond their everyday vocabulary. This in turn made me consider how the system could be simplified rather than focusing on accepting it and learning. I am afraid the experience had me ranting about how things ought to be changed rather than humbly digging into what I needed to learn.
Did you find learning to read and write Thai difficult?
Yes. Not having spaces between words, memorizing not only the extended alphabet but also consonant classes, adjusting to vowels being placed non-sequentially and in complex combinations makes written Thai difficult. Not that English is that much better, it is the only European language I know where the sound of a word can not be seen immediately from the writing. English vowel sounds vary greatly, which must be frustrating to Thais, whose vowel system leaves no room for doubt. The student of Thai needs to memorize individual word spelling since identical tones can be made with different combinations. Being raised seeing writing as a code for replicating spoken sounds, I was as frustrated with having to memorize the writing of individual Thai words as Thais must be having to memorize the pronunciation of individual words in English.
What was your first 'ah hah!' moment?
I think very early when I first used the language successfully, probably when ordering a meal in a restaurant and then saying 'thank you, tastes very good' and eliciting a friendly smile.
How do you learn languages?
I learned Swedish as a native speaker. English as a native speaker and as a foreign language. French for 6 years in grade and high-school and again at Harvard, where I became certified by the Paris Chamber of Commerce. Spanish 3 years in high in school and one semester at Harvard as well. Danish by ear and by watching subtitled Danish TV growing up. Norwegian (Oslo dialect) since it is close to Swedish and Danish. I also get by in other European languages (German, Italian) fairly well by using the languages I have to figure out what things mean and to make myself understood. When working as a consultant in Belgium, I was mistaken for French quite frequently, which was of course very flattering.
What are your strengths and weaknesses?
One strength is that I am good at mimicking sounds, though I must admit that tonality is still quite difficult. My basic programming, using tones for emotion and emphasis, is hard to disregard, and the habit of listening for tones in the way you need to when speaking a tonal language requires much practice. One major problem was that the word 'tone' mislead me for a long time. It was not until I looked at the relative length of the vowel sounds in the Thai tonality that my ear for tonality improved. Not starting by combining spoken and written Thai was also a mistake that hampered perfect learning. Sitting in a school bench and learning from scratch consonant classes, memorizing words, and building a varied vocabulary may sound boring, but it certainly is effective. besides, with a good teacher it can probably be a lot of fun.
What is the biggest misconception for students learning Thai?
I think that every person is unique in this aspect. Since Thais tend to praise and don't expect much from foreigners, one can gain a false sense of achievement. Remain humble. You will be advanced when you can watch Thai movies and newscasts with ease and read books and newspapers. If you cannot read a newspaper, you are intermediate at best.
Can you make your way around any other languages?
Yes, I speak several other languages, several of them very well. Speaking the local language when traveling in another country is a great experience.
Were you learning another language at the same time as Thai?
I can't say that I was, but I have friends in many countries and tend to use several languages on a regular basis.
Are you a computer programmer, or do you have programming experience?
No. When it comes to computers I am a good example of someone who sees them as ready-to-use tools. I have worked with them a lot, but programming … No.
Do you have a passion for music and or you play an instrument?
I love music, dancing and singing, but am not a musician. I have used music to teach English to Thais and learning a few Thai songs was a great experience.
What advice would you give to students of the Thai language?
Learn basic questions and answers to begin with. Get out there and try to implement what you have as you are studying it. Doing a task or even helping others learn is a great way to achieve good retention. Roman script can be useful when learning Thai, but it can never fully portray Thai pronunciation as Thai writing, so dip into the Thai writing system right away starting with a few basic words, the alphabet, the consonants, the consonant classes and tonality.
Nils Bastedo
Tenses for Thais | Lstk
The Series: Interviewing Successful Thai Language Learners…
If you are a successful Thai language learner and would like to share your experiences, please contact me. I'd love to hear from you.