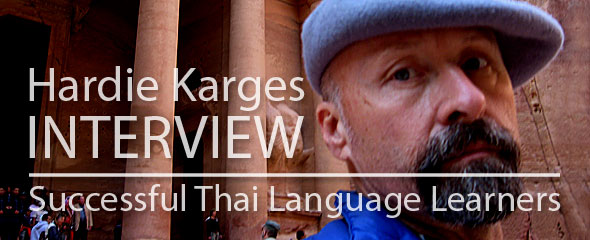 Interviewing Successful Thai Language Learners…
Name: Hardie Karges
Nationality: American
Age range: 50-60
Sex: Male
Location: Traveling currently
Profession: Business, writing
Website/blog: Thailand to Timbuktu to La Paz: world music, film, and travel | Hardiek's Traveler Profile – TravelPod
streaming consciousness | Hypertravel: Time and Space
Book: Hypertravel: 100 Countries in 2 Years
What is your Thai level?
Advanced/Fluent.
Do you speak more street Thai, Issan Thai, or professional Thai?
I don't acknowledge the 'street' version of any language, merely correct or corrupt versions, though evolution and change is obvious and essential.

I mostly use modern standard central Thai, but also understand northern Thai–my wife's native tongue–and can speak and read Lao (Isaan) at probably the intermediate level.
What were your reasons for learning Thai?
I wanted to live there, and don't like being surrounded by fields of squiggly lines and sounds that have meaning outside my field of recognition.
Do you live in Thailand? If so, when did you arrive?
My main time in Thailand was 1997-2007. I am currently not living there, but plan to return.
How long have you been a student of the Thai language?
As above, but first 2-3 years actually in study.
Did you learn Thai right away, or was it a many-pronged approach?
Cross-reference is always the best learning approach for me. Learning to read was critical for advancing, though I know others who read not a word and speak well.
Did you stick to a regular study schedule?
I did for 2-3 years, at least an hour a day.
What Thai language learning methods did you try?
I took one short course from AUA, the rest self-taught, through books and reading.
Did one method stand out over all others?
Reading, then every time you walk down the street you have a lesson embedded in each and every sign, i.e. life is the lesson.
How soon did you tackle reading and writing Thai?
After 3-6 months of study without it.
Did you find learning to read and write Thai difficult?
At first, since an alphabet has to be learned, one with much 'junk DNA', i.e. archaic obsolete letters. Lao is easier since it has purged much of that. Writing is more difficult than reading, of course, since you have to spell correctly.
What was your first 'ah hah!' moment?
Riding a bus through the outback and reading a sign that said, phonetically in Thai, 'Eddie Money', apparently playing at the local equivalent of a Thai county fair a decade or so ago. It may have been an 'uh oh' moment for him.
How do you learn languages?
STUDY! Nothing is 'picked up' unless you're one year old with all the time in the world.
What are your strengths and weaknesses?
My strength is probably good visual memory and the mathematical aspects of language- e.g. alphabet as code, sentence structure as equation, and the connections between related languages.

My weakness is processing acoustic information, which is highly imprecise. This is how most languages mutate over time, of course.
What is the biggest misconception for students learning Thai?
That tones are a huge obstacle to learning the language. Tones are a function of correct pronunciation, but so are many things, such as long and short vowels, which is scarcely mentioned. Once you can read, then you can 'see' the tones also, as they are written in.

Non-tonal Thai is still understandable, also, witness Lao which differs significantly in tone from Thai, but not an obstacle really. Many Cambodians can speak Thai, but non-tonally, though still understandable. Some of the words they share with Thai indeed ARE spoken the same way, though Khmer is technically a non-tonal language.

Also I hear many pop songs butcher the tones to fit the melody, so I disagree with Jonas on this point.
Can you make your way around any other languages?
I speak fluent Spanish and know some of at least a half dozen others at decreasing levels of capability.
Were you learning another language at the same time as Thai?
Yes, Vietnamese, among others.
Do you have a passion for music?
I guess the music blog speaks for that, though I feel little or no remorse at not playing, so an emotional/cerebral connection only. Maybe a connection with language 'acquisition' is the ability to process acoustic info, which I admit as a weakness.
What advice would you give to students of the Thai language?
Crack the book, crack a smile, and reduce your dependency on English-only Thais for your social interactions.
Hardie Karges
Thailand to Timbuktu to La Paz: world music, film, and travel
Hardiek's Traveler Profile – TravelPod
streaming consciousness
The Series: Interviewing Successful Thai Language Learners…
If you are a successful Thai language learner and would like to share your experiences, please contact me. I'd love to hear from you.