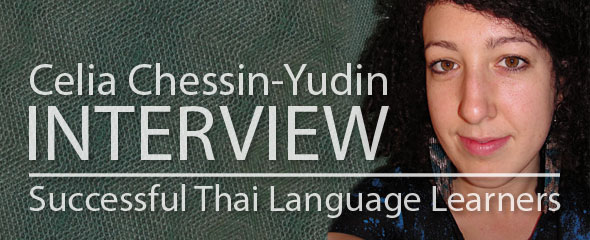 Interviewing Successful Thai Language Learners…
Name: Celia Chessin-Yudin
Nationality: American
Age range: 20-30
Sex: Female
Location: Mahachai, Samut Sakhon, Thailand
Profession: Working at an NGO
What is your Thai level?
I would say I am at an advanced Thai level. Though not fluent yet.
Do you speak more street Thai, Issan Thai, or professional Thai?
I speak professional Thai as I have been working at a Thai NGO and translating for the past year.
What were your reasons for learning Thai?
I learned Thai when I came here the first time four years ago. I learned just from friends and then I went back home and studied Southeast Asian Studies at the University of Washington for two years, until I came back here to Thailand in November 2008 and have been working here ever since.
Do you live in Thailand? If so, when did you arrive?
I was in Thailand from Dec 2005 to August 2006 and then November 2008 to the present.
How long have you been a student of the Thai language?
I began learning Thai when I first came to Thailand, but just from friends. Then I studied for two years, and I have been here for the last year.
Did you stick to a regular study schedule?
I have tried to speak everyday since I came to Thailand first.
What Thai language learning methods did you try?
I learned the alphabet on my own. I tried transliteration but I didn't begin speaking clearly until I took a University class.
Did one method stand out over all others?
Reading and writing really helped me speak clearer.
How soon did you tackle reading and writing Thai?
After about six/seven months.
Did you find learning to read and write Thai difficult?
Reading isn't difficult, but remembering how to spell is hard.
What was your first 'ah hah!' moment?
When I memorized the tones and the rules for the tones.
How do you learn languages?
By talking with people.
What are your strengths and weaknesses?
I "get" a language very quickly, but I am not good at paying attention to rules.
Can you make your way around any other languages?
French and Spanish.
Were you learning another language at the same time as Thai?
No.
Are you a computer programmer, or do you have programming experience?
No.
Do you have a passion for music?
I like to listen to music.
What advice would you give to students of the Thai language?
Get a speaking partner, who will correct you.
regards,
Celia Chessin-Yudin
The Series: Interviewing Successful Thai Language Learners…
If you are a successful Thai language learner and would like to share your experiences, please contact me. I'd love to hear from you.