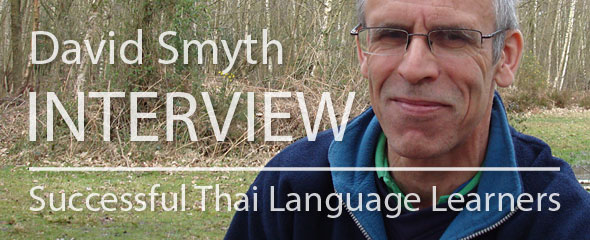 Interviewing Successful Thai Language Learners…
Name: David Smyth
Nationality: British
Age range: 50-60
Sex: Male
Location: UK
Profession: University lecturer
Books/Products: Thai: An Essential Grammar, Teach Yourself Thai, Linguaphone Thai Course (with Manas Chitakasem) + translations of a number of Thai novels and short stories.
Do you speak more street Thai, Issan Thai, or professional Thai?
Bangkok Thai.
What were your reasons for learning Thai?
A youthful infatuation with a Thai girl, which led me to apply to study Thai as part of a BA South East Asian Studies at SOAS.
Do you live in Thailand? If so, when did you arrive?
Not now, but l lived in the country from the mid 1970s until the early 1980s, teaching English at Thammasat University and later at Srinakharinwirot University.
If you live elsewhere, how often are you in Thailand?
In recent years, every 12-24 months.
How long have you been a student of the Thai language?
More than 30 years.
Did you stick to a regular study schedule?
Yes. It was part of my degree course, the class was small and I was highly motivated. Like most language degree courses at the time, there was much more emphasis on reading, writing and translating than on speaking, although I did spend a good few hours in a language lab, doing drills like those in Marvin Brown's AUA Thai Course and listening to comprehension passages.
What Thai language learning methods did you try?
Beyond the unpublished materials provided, I also worked through Stuart Campbell's Fundamentals of the Thai Language on my own in my first year. It was not a book that my teachers had any great fondness for, but I found it very useful as an additional reinforcement. Later, I began to read books in Thai. I found novels were good for dialogue (but the descriptive passages were sometimes best saved for a rainy day) while biographies and autobiographies often had a strong human-interest angle that made it possible to forget the linguistic obstacles.
Did one method stand out over all others?
What struck me at the time, was not so much the method of the teaching but rather the attitude of my teachers, Manas Chitakasem, Peter Bee and Stuart Simmonds.

At school I had studied French and German to university entrance standard in an atmosphere of fear and trepidation, where mistakes were regarded as evidence of laziness, stupidity or moral turpitude. To then find teachers who were patient, encouraging and eager to share their knowledge was a radically new experience; I shall always feel grateful to them.
How soon did you tackle reading and writing Thai?
From the very beginning.
Did you find learning to read and write Thai difficult?
No. The script was presented in manageable chunks and progress was quick. We began by learning the most common low class consonants, and followed a similar order to that presented in Marvin Brown's AUA Thai Course: Reading, Teach Yourself Thai and the Linguaphone Thai Course. Credit for first recognizing that learning consonants by class, rather than traditional alphabetic order, would enable the foreigner to learn to read more quickly, goes to Basil Osborn Cartwright, a teacher of English at the Royal Civil Service College in Bangkok, who introduced his system in his Elementary Handbook of the Siamese language, published in 1906. Yet 100 years later there are still teachers of Thai and authors of Thai language books for foreigners who expect their students to spend early lessons memorizing letters they will hardly ever encounter.
What was your first 'ah hah!' moment?
I'm afraid that I tend to remember only the 'how-could-I-have-possibly- said/mispronounced/misunderstood-that-and why-wouldn't-the-earth-swallow-me-up-moments?'
What are your strengths and weaknesses?
At first my hearing was not good. If I asked a Thai, 'What was that word you just said?' and they repeated the word in isolation, I had no idea what tone they had produced and therefore mispronounced it when I tried to repeat it. I had a farang friend who could not read Thai but could always repeat what he heard perfectly, much to the admiration of Thais. He made me feel inadequate. I eventually got round the problem by asking Thais to write the word down for me, and once I could see it on paper, I knew what the tone should be. Suddenly the roles were reversed. Thais saw that I could not only pronounce Thai correctly, but could read, too. Victory was mine! Happily, over time, my ears gradually got more attuned to what to listen out for; and I learned how to pass the blame – a bad telephone line, going slightly deaf, so-and-so not expressing themselves clearly.

In the end I think it is important to recognize that we each have our own strengths and weaknesses in language learning and that by working on the weaknesses we can always improve – if we want to.
How do you learn languages?
One of my Thai teachers very diplomatically described me as a 'visual learner'; I think my previous answer explains why. When I started learning Thai, audio materials were not readily available and Thais were a bit thin on the ground in London (perhaps they were avoiding me) so my efforts were focused mainly on reading. At first, I used to copy out reading passages – several times – which helped my reading, handwriting, spelling, understanding of grammar and retention of vocabulary. As I progressed to longer passages, I would just copy odd sentences or phrases that appealed to me or which I thought I could inflict upon some unsuspecting Thai.

Learning Thai made me aware how important it is to be able to ask questions. When I was at school the French and German teachers asked the questions and we answered; we never asked a thing. And if you were lucky and kept your head down, you could go for several weeks without even answering a question. A good classroom survival technique, maybe, but not very good preparation for real life. One of my former students, who seemed to have also got it into his head that, as a foreign-language speaker, his role, too, was to answer questions, complained one day, 'Thais don't want to talk to me.' I think he expected that if he just stood somewhere, Thais would gravitate towards him, bombarding him with questions and that way he would learn to speak Thai fluently. It never occurred to him to ask Thais questions, whether out of feigned interest to improve his linguistic skills, or genuine interest in order to gain greater insight into another world and in the process, his own world.
What is the biggest misconception for students learning Thai?
One misconception is that if you get a tone wrong, Thais will not understand you. Another is that if you can't immediately 'hear' or distinguish tones, you might as well not waste any further time trying to learn the language. Some learners can hear and reproduce tones accurately almost from the outset, while others take longer … yet still get there.

Another misconception is that it is good enough just to speak and there is no need to write. Back in 1906 Basil Osborn Cartwright cautioned 'those who imagine they can 'pick up' a smattering of the language in a few weeks by trying to learn words in a parrot-like fashion from romanized versions which are invariably misleading' and which is an 'absolute waste of time, money and frequently of temper also.'
Can you make your way around any other languages?
At a push!
Were you learning another language at the same time as Thai?
No.
What advice would you give to students of the Thai language?
Become literate. Being able to read Thai makes it much easier to take responsibility for your own learning. It also shows Thais that you are serious about learning the language so they are more likely to want to help you to achieve your goals. Not being literate imposes severe limitations on your opportunities to make progress.

Make friends with Thais.
Use tv/radio/internet etc.
Accept mistakes as a natural part of language learning.
Don't get discouraged. Everyone has good and bad days.
David Smyth
Thai: An Essential Grammar | Teach Yourself Thai | Linguaphone Thai Course
The Series: Interviewing Successful Thai Language Learners…
Getting advice from experienced Thai language learners is important. If you are a successful Thai language learner and would like to share your knowledge with those coming up, please contact me to make it so.