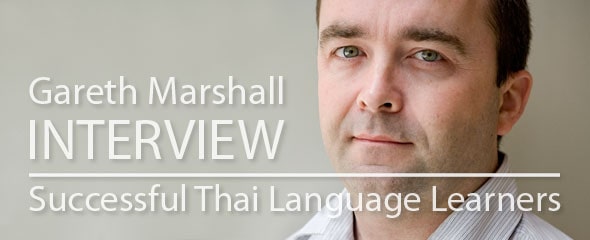 Interviewing Successful Thai Language Learners…
Name: Gareth Marshall
Nationality: British
Age range: 30-40
Sex: Male
Location: Bangkok
Profession: Magazine editor
What is your Thai level?
All a bit mixed up, really. Overall I'd say intermediate, although I practice writing rarely, if ever.
Do you speak more street Thai, Issan Thai, or professional Thai?
Most of my Thai learned has been in Bangkok.
What were your reasons for learning Thai?
I couldn't imagine living in a country where I can't communicate with people or interact with the local culture/lifestyle.
Do you live in Thailand? If so, when did you arrive?
I live in Bangkok although I've also spent time on Koh Tao and Phuket. In total I've been here about 10-12 years.
How long have you been a student of the Thai language?
My first couple of years were hardly noticeable but I guess I started picking up words when I first came here at the end of '96.
Did you learn Thai right away, or was it a many-pronged approach?
What's the right way? If that means in a classroom, then definitely not. Learned through researching the language I needed, and then discovering new lessons as they came to me.
Did you stick to a regular study schedule?
Ah, sadly a goal I have never been able to achieve.
What Thai language learning methods did you try?
I did try a school around Ploenchit – the building is no longer there and I can't remember the name. It started well, although I had to research and provide most of the materials and advise the teacher on how to best to 'teach' me – I was a teacher at the time and I knew how I learned best so just needed someone to take me through things and add extra vocab, explain rules, etc. The teacher moved on to use her own materials but they were irrelevant and usually not pitched at anywhere near my level at all – either too simple or totally impossible. In the end I gave up.
Did one method stand out over all others?
I prefer learning through reading as it presents vocab and phrases in context, helps get your head around the writing structure, and deals with grammar.
How soon did you tackle reading and writing Thai?
As quickly as I could after getting a few speaking basics.
Did you find learning to read and write Thai difficult?
Tricky, but not impossible. Once you get your head round vowel placement and punctuation issues it all makes sense, somehow.
What was your first 'ah hah!' moment?
Sitting on a bus going to work riding the whole length of Ratchada-Pisek road on the no. 136 and finally being able to read a billboard.
How do you learn languages?
I'm not a classroom learner – much better to be out and using the language, making mistakes but finding your way.
What are your strengths and weaknesses?
My pronunciation is generally pretty good (although some friends say I sound a little Isaan at times – I put it down to me having a strong native English accent). My vocab is not what it should be for the length of time I have been here.
What is the biggest misconception for students learning Thai?
That pronunciation is not important.
Can you make your way around any other languages?
I'm generally pretty good at picking things up.
Were you learning another language at the same time as Thai?
No.
Are you a computer programmer, or do you have programming experience?
No and none.
Do you have a passion for music?
Yes, love listening to music but don't play. Generally much prefer music without vocals.
What advice would you give to students of the Thai language?
Don't give up.
Gareth Marshall
The Series: Interviewing Successful Thai Language Learners…
If you are a successful Thai language learner and would like to share your experiences, please contact me. This series continues to be amazing, and I'd so love to hear from you.