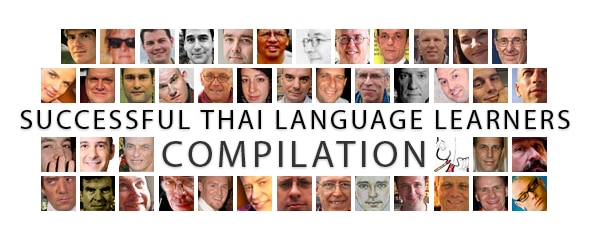 Successful Thai Language Learners Compilation series…
In a nutshell, the interview series shares successful Thai learning experiences. And now, over 50 interviews later, it's time to post the results in a compilation series.
The series starts off with a tally of the short answers (shown below). The next post will introduce those interviewed. Following will be individual compilation posts focusing on questions going into more depth.
For over three years I've been thrilled to read each new interview as it arrives. I hope you'll be equally thrilled with the compilation series. Enjoy!
Tally of the Successful Thai Language Learners series…
To get an overview of the answers (and to satisfy my anal nature) I created a spreadsheet to tally the information. Unclear answers were queried (and a huge thank you goes to those who had time to respond).
Below you'll find the brief answers in the series (age, nationality, sex, yes/no answers). The total is from the time of their interviews (well, except for their length of time in Thailand – to keep it simple, those years have been calculated to 2012).
Nationality: 28 Americans (includes 1 American-Swedish), 15 British (includes 1 British-Dutch, 1 British-English, 1 British-Swedish), 2 Australians, 1 Canadian, 1 Fijian Indian-Australian, 1 Frenchman, 1 Irishman, and 1 New Zealander.
Age: 20-30 years old (8), 30-40 years old (11), 40-50 years old (11), 50-60 years old (7), 60+ years old (7), 70+ years old (2), and four didn't answer the question. As you can see, the largest ages represented are in the 30-50 bracket. And except for the two 70+, the rest are not that far behind (8, 7, 7).
Sex: Out of the 50 included in this compilation there were a total of 3 women and 47 men interviewed. Please understand that the absence of women being interviewed wasn't from a lack of trying. I would seriously love women to be better represented in this series so if you can help, contact me.
And to those weirded out by my tongue-in-cheek domain name, Women Learning Thai… and some men too 😉, it now makes sense, agreed?
Ah, this also needs a mention. Due to the high average of male responders, more often than not the answer came back "yes please". Sigh.
Location: 34 reside in Thailand full-time, 1 splits time between Thailand and Australia, 2 between the USA and Thailand, 7 are in the USA, 1 in the UK, 1 in Scotland, 1 in Japan, 1 in New Zealand, 1 in Sierra Leone, and 1 in transit.
Do you live in Thailand? If so, when did you arrive? Those residing in Thailand are equally spread out from 2 to 35 years: 2010 (2), 2009 (2), 2008 (2), 2007 (1), 2006 (3), 2005 (3), 2004 (1), 2003 (1), 2002 (2), 2001 (2), 2000 (1), 1999 (1), 1997 (2), 1994 (1), 1993 (1), 1992 (1), 1990 (1), 1987 (1), 1985 (1), 1979 (1), 1978 (2), 1977 on and off (1).
If you live elsewhere, how often are you in Thailand? Of the 12 who do not presently live in Thailand, 4 have never lived here. The rest previously lived in Thailand for 1, 2, 3, 4, 6, 10, 14, 15, and 16 years.
Profession: The professions are all over the place. Scanning through (I won't list everything) there are 10 writers, 9 performers (actors, MCs, Thai TV hosts), 7 retired to semi-retired (from various professions), 6 teachers, 3 translators, 3 consultants, 2 plus linguists (some didn't list themselves as such but I know what I know), 2 Lookthung performers, 2 NGO employees, several university students, 2 past directors of AUA, 1 present director of AUA, 1 former foreign service officer, 1 martial arts instructor, and a Theravada monk.
What is your Thai level?: While I do realise that there are official tests to grade language levels, at the time I felt I was already asking a lot from those replying. Instead, as a starting point I chose the intermediate level (can converse freely in regular day-to-day conversations). Overall there are 10 intermediate students, 13 intermediate-advanced, 1 high intermediate-advanced, 10 advanced, 5 advanced-fluent, and 8 fluent. Three purposely didn't answer but if I had to guess I'd say they are mostly advanced-fluent.
Can you make your way around any other languages? A whopping 28 said yes, 10 admitted to no longer being able to converse in other languages (except for English), 7 came back with an absolute no, and 1 can sort of fudge it.
Were you learning another language at the same time as Thai? 36 said no, 8 yes (but out of those, 1 quit studying a second language after awhile).
Are you a computer programmer, or do you have programming experience? A grand total of 21 said no (some replying NO!), and 11 said yes. The rest, 18, were so flabbergasted by the question that they didn't answer.
Do you have a passion for music? Music got the popular vote with 31 saying yes, compared to 6 no's. But again, 13 either chose not to answer the question or didn't receive the question.
And why those two odd questions? Both computer programming and music were added a ways into the series when I noticed how many of both were appearing. It didn't pan out but it's still interesting to know.
The series: Successful Thai Language Learners Compilation…
And here you have it, the rest of the series: