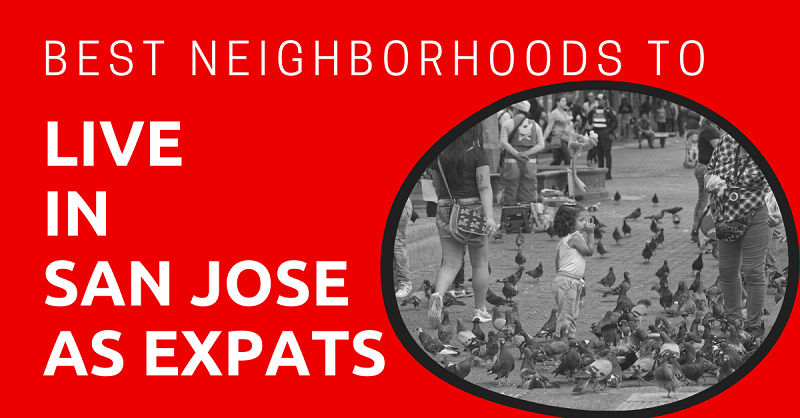 San Jose is a great place to visit and live. In fact, this capital city boasts some of the best neighborhoods in all the country because it's the main hub for social and cultural life.
Having said that, there are many barrios – or neighborhoods – worth visiting and living if you're an expat looking to make the city your new home.
But because each barrio has its own character, it's best to visit each one to get a feel for life here. Until you can do that, though, here are the best neighborhoods in Costa Rica to live in.
This article will take approximately 7 minutes to read. Don't have the time right now? No worries. You can email the ad-free version of the article to yourself and read it later!
Downtown
Downtown is filled with mostly businesses and political offices. However, areas like Avenida Central boast pedestrian malls, retail stores, and hotels.
In downtown San Jose there are also a number of cultural attractions, such as the Gold, Jade, and National Museums. You can also find performing arts theaters downtown.
Moreover, downtown has several popular public parks and plazas, and you can find a wide range of restaurants here as well.
While downtown is a popular destination, very few people live there due to a lack of housing options.
Barrio Amon and Aranjuez
Barrio Amon and Aranjuez are both located just a half mile away from downtown, which makes them very convenient distances for anyone wanting to spend a lot of time there.
They are both charming neighborhoods and have a lot of beautiful colonial-era architecture. You can find a lot of historic buildings with hand-carved woodwork, ornate eaves, and wraparound porches.
If you're looking to relocate in either Barrio Amon or Aranjuez, however, there are some drawbacks. Only certain areas of both neighborhoods have desirable locations. Some sections have street noise, traffic, bus exhaust, and petty crime.
In other areas of these neighborhoods, it tends to get run-down and you'll even see prostitutes.
La Sabana Park
La Sabana Park is a big draw for those who live in the surrounding neighborhoods of Sabana Norte and Sabana Sur. These neighborhoods surround the park and are home to many young professionals, residents, and students.
La Sabana Park has wide-open spaces, a small lake, beautiful trees, an art museum, and a soccer stadium.
Furthermore, Paseo Colon is a nearby commercial avenue that will take you right into the heart of downtown. This area is a big draw for tourists and residents.
The neighborhood is about a mile from the downtown performing arts centers that have theaters, operas, clubs, and bars. La Sabana Park is also a short drive from several gourmet restaurants.
La Sabana boasts condo towers and newer buildings for those who enjoy a more modern landscape. And it's near the edge of the city, so you can expect peace and quiet with very little night life.
Rohrmoser
Rohrmoser is a few minutes west of La Sabana Park. While not in San Jose, it's a nearby suburb. You can expect tree-lined avenues and residential neighborhoods dotted with small parks and playgrounds.
This established neighborhood also boasts a high concentration of foreign embassies, including the U.S. Embassy.
Expats and professionals prefer Rohrmoser for many reasons. First, it's a short ride to San Jose, so anyone who works or visits the city won't have a long trip. Second, this neighborhood is known for being safe and tranquil. There aren't many hotels nearby; only quaint local bed and breakfasts and inns.
Santa Ana
Santa Ana is another suburb of San Jose. It's about 15 minutes away and is known for its lush mountains and constant breezes.
It's also an established suburb full of upper middle-class professionals. With gated communities and traditional homes, this neighborhood offers a quiet, relaxed atmosphere, which is great for anyone who wants to retiree in Costa Rica.
Moreover, there are many outdoor activities to do in Santa Ana, such as horseback riding and golfing. If you enjoy the outdoors and ideal weather, then Santa Ana might be the neighborhood for you.
Los Yoses, Barrio Escalante, and San Pedro
These three eastern suburbs are close to the action of the city but offer peace and quiet when you're home.
They're all upper middle-class neighborhoods that are popular for people who want to buy a house in Costa Rica. You will generally see young families, students, and professionals living here.
Los Yoses and Barrio Escalante are more stately with larger and older homes. There's a grace in those neighborhoods that gives off an air of permanence.
Barrio Escalante is also the place to be if you're a foodie. There is a wide variety of restaurants to be found in and around this neighborhood. Los Yoses has a lot of embassies and consulates.
On the other hand, the University of Costa Rica can be found in San Pedro. Because of this, there's more of a youthful atmosphere here.
San Pedro has many opportunities for shopping, such as the San Pedro Mall, the Multiplaza del Este, and the Outlet Mall. There are a large selection of restaurants and the best nightlife in San Jose in this neighborhood, too.
These three suburbs are great locations for any tourist or city dweller.
Escazu
If you're looking for a neighborhood with other expats, then Escazu is the suburb for you. Not only is Escazu one of the most affluent places in the country, it has just about every store and service that you would expect to find if you were in the United States.
It's a great location for expats, whether you're looking for a luxurious lifestyle or planning to work. This inland town isn't just home to English-speaking expats; there are expats from other countries, too.
Even so, there are many English-speaking areas. In fact, this neighborhood is sometimes called "Little America" because there are so many English-speaking expats. You can also find American chain-restaurants and luxury condos here.
If you or a family member needs medical care, Escazu is the best location in the country to receive it. You can find the best hospitals and clinics in Costa Rica here as well.
If you're a frequent traveler, you'll be close to a major international airport. It's also nice if you expect friends and family to visit frequently.
Escazu boasts some beautiful weather and a nice view of San Jose in the distance, and it's about a 10- to 15-minute drive from the city. If you have younger kids, there are several private schools nearby, too.
You'll also find many fine restaurants and country clubs in this suburb.
Now, on to You
Whether you prefer English-speaking neighborhoods, a varied nightlife, or being close to downtown, San Jose has a lot to offer. It's also a good city to live in especially if you're an expat looking to move to Costa Rica.
Once you know what you're looking for, there's a neighborhood in San Jose for everyone.