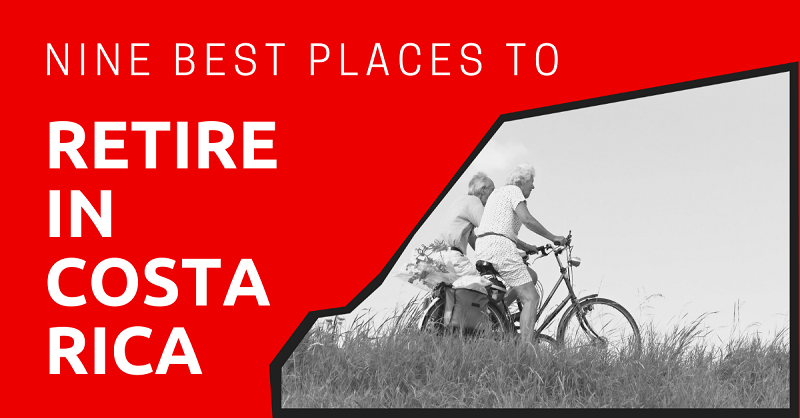 Costa Rica is a country popular with expats from North America and Europe, but it's also appealing as a retirement destination because of its great weather and affordable cost of living.
It might be a small country, but Costa Rica also has lots to offer in terms of stability and diversity.
So, with that in mind, this guide is going to show you the top nine places to retire in Costa Rica, and what the weather, cost of living, and amenities are like in each place.
This article will take approximately 18 minutes to read. Don't have the time right now? No worries. You can email the ad-free version of the article to yourself and read it later!
What to Consider
Before we get into the nine best places to retire in Costa Rica, let's look at what to consider before committing to one of these places.
Although retirees often have different wants and needs when it comes to places to live, there are a few common requirements. These include:
access to amenities and healthcare services
cost of living
lifestyle options
weather
We've used these four factors above to come up with the best places to retire in Costa Rica.
Of course, nothing beats visiting a country and testing out different areas, but this list should be enough for you to narrow down your choices.
Where to Retire in Costa Rica
Here are the nine best places to retire in Costa Rica.
San Jose
San Jose is Costa Rica's capital city, located in the Central Valley.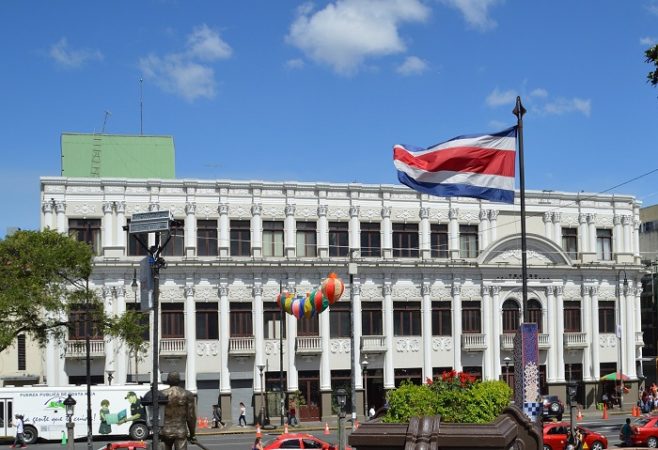 As such, it's a popular choice for expats who don't want somewhere too rural. San Jose has all the things you'd expect from a capital, including some of the best amenities and healthcare facilities in the country.
It's close to the country's main airport too, meaning it's easy to fly out of the country. You also have plenty of museums, galleries, and theaters here, which should help you keep busy in your downtime.
As for the weather in San Jose, it's typically sunny with nearly 12 hours of daylight every day. Temperatures usually peak around 84 Fahrenheit and drop to around 63 Fahrenheit in the colder season.
As such, you can expect a warm and often humid climate.
The cost of living is understandably the highest in the country, as is often the case with capital cities. Even so, the cost of living in Costa Rica is 33 percent lower in San Jose than in Knoxville, TN — arguably an average costing American city.
So, even if you live on your retirement savings and pension, your money goes far.
However, it comes with all the usual downsides of a capital city. It's much busier than the surrounding area and many of the buildings are old; but not classic and inviting old.
Instead, they're a bit tatty and rundown. However, if you want Costa Rica without losing access to amenities, San Jose is the way forward.
Pros
access to great amenities
plenty of museums and galleries to fill your time
good weather
Cons
city is a bit rundown
cost of living is the highest in the country
Tamarindo
Tamarindo is a coastal town in the northwest of the country. It's located in the Guanacaste Province, which sees reasonable tourist activity.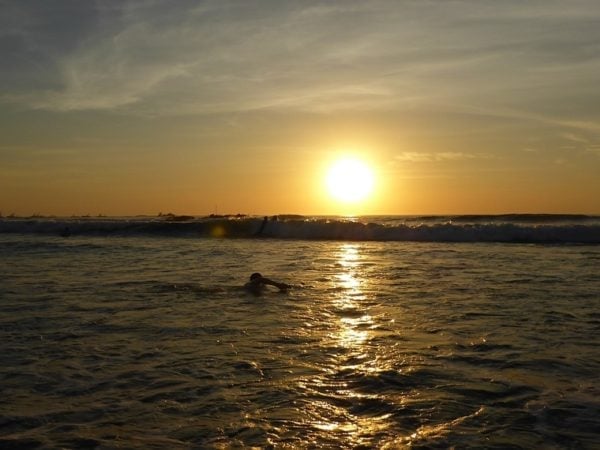 This is primarily thanks to the area being a major nesting site for leatherback turtles, which led to the Las Baulas National Marine Park.
The town is popular with surfers because of its beach's strong waves and the focus on water activities. As such, it's a great choice for expats who want an outdoor lifestyle, particularly one filled with fishing, boating, and beach walks.
As is often the case with tourist-heavy areas, there are plenty of great restaurants and shopping too. However, it still retains much of its traditional charm, making it a good middle ground between authentic living and convenience.
Like San Jose, its weather sits in the mid-to-high 80s. However, thanks to it being situated on the coast, the temperature is far more stable.
For instance, it rarely drops below 77 Fahrenheit throughout the year, although you must balance this with higher rainfall amounts and greater potential for storms.
The cost of living isn't as low as you'd expect though, mainly due to the area's tourism industry. Rent for an apartment costs around US$1,000 a month, but grocery and utility prices are low.
Plus, as a local resident, you have plenty of time in the off-season to sniff out the best places to buy your food.
Pros
great choice for expats wanting a water-focused lifestyle
good middle ground between authentic living and convenience
consistent year-round weather
Cons
can get quite busy during the tourist season
Santa Ana
Santa Ana is a small city in Costa Rica's Central Valley. It's fairly close to San Jose, making it a great choice if you want all the benefits of a capital city living without any of the downsides.
With a population of roughly 11,500, it's comparatively small for a city. And, because of this, it retains the traditional feel of a Costa Rican town, with small grocery stores, local bars, and weekly markets.
However, like much of the Central Valley, it's seen plenty of interest from real estate developers in recent years. This means now is potentially a good time to secure property.
Santa Ana is well connected to the surrounding area. Using Route 27, you can reach San Jose in about 20 minutes and the Pacific coast in 45 minutes. This means days trips to beach are never too far away.
The city is home to the country's only public pro golf course – the Parque Valle del Sol, making it ideal for golfers who want easy access to a premium course.
Also, the surrounding valley area is great for hikers or anyone else wanting access to rolling hills and outdoor spaces.
The cost of living in Santa Ana is hit-or-miss, though. Real estate interest rates have led to a rise in property prices, meaning you can get a central apartment for around US$1,400 per square meter.
However, grocery prices and utilities are quite low, as are restaurant prices. Despite the property bubble happening in the city, it's still a good time to consider setting up a home there.
Pros
access to San Jose and the surrounding area
ideal for outdoor-focused retirees
traditional charm combined with modern infrastructure
Cons
modern investment has created a property bubble
Nuevo Arenal
Nuevo Arenal is a small town in the Guanacaste Province in south-central Costa Rica. It's located on the bank of Lake Arenal, although the old town of Arenal is now underwater.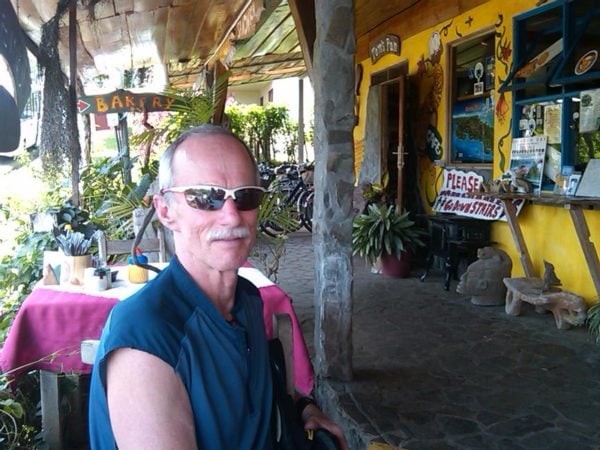 Costa Rica's highlands are renowned for their beauty and wildlife diversity. As such, Nuevo Arenal is a great choice for those seeking an outdoor lifestyle.
Whether it's hiking through the rainforest or driving around the rolling hills, there's plenty to enjoy.
Due to its higher elevation, temperatures here are slightly cooler than elsewhere in the country. Even so, the average year-round temperature in Nuevo Arenal is 70 Fahrenheit.
Nuevo Arenal would be a good choice for expats who want to live in Costa Rica but avoid the higher temperatures.
The current expat community has Italian and German roots, although there are people from all over the world here, too.
Due to the town being quite young, there's a strong bond between the locals and expats, as many have lived here for the same length of time.
There are healthcare facilities and grocery stores, but that's about it in Nuevo Arenal. As such, it's better suited for expats who want a quiet life.
Those seeking more culture would be better off looking for a more populated town or city.
Pros
cooler than other areas in the country
plenty of wildlife diversity in the area
integrated expat community
Cons
not bursting with amenities
Montezuma
Montezuma is located on the southernmost tip of the Nicoya Province in western Costa Rica. It has many of the same draws as Tamarindo without the booming tourist industry.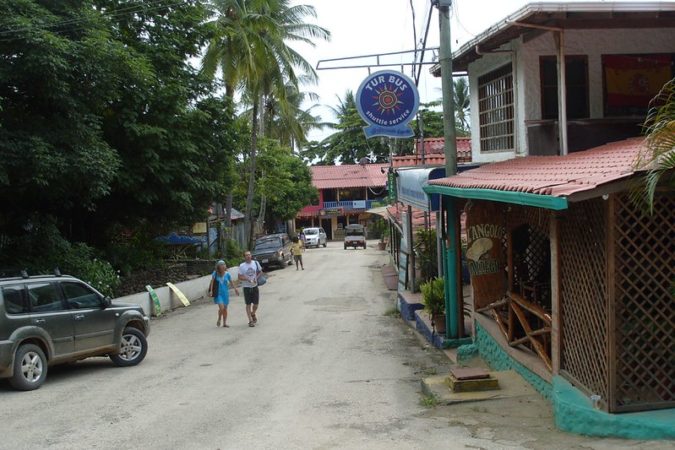 It's comparatively isolated when compared to the surrounding towns in the province. As such, you have to travel to Cobano for most of your amenities, which is only five miles away.
Despite it not being as popular as a tourist destination, it still sees interest from eco-tourists. However, this works in the area's favor, as it draws in money but without too much focus on high-end hotels.
The nearby Cabo Blanco Nature Reserve is the main area of interest in Montezuma, which will likely remain appealing no matter how long you live near it.
Temperatures can climb above 93 Fahrenheit in March and April, but the coolest months of October and November rarely drop below 77 Fahrenheit.
So, if you want a retirement destination with soaring temperatures and quiet living, this could be for you.
The cost of living in Montezuma is incredibly reasonable too. A single person, for example, can happily live on US$1,600 a month, rent or mortgage included. Of course, if you have extra money to spare, you can live as comfortably as you want.
The closest medical center is in Cobano, and its facilities are high-quality and very affordable.
Pros
secluded area on Costa Rica's west coast
scorching year-round temperatures
potential for tourism-related businesses
Affordable cost of living.
Cons
amenities are found in the next town over
Limon
As mentioned earlier, Limon is the capital city of the Limon Province. Its claim to fame (at least in the past) is as the original landing site of Christopher Columbus in 1502. The event is still celebrated by the annual carnival, which is famous throughout the country.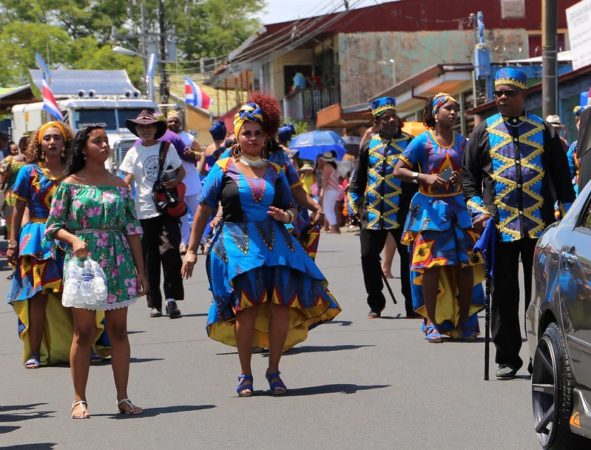 Unsurprisingly, Limon comes with all the benefits of living in a provincial capital. It's home to the area's main amenities, including healthcare, dental clinics, and the airport, meaning these are right at your doorstep when needed.
However, with a population of roughly 61,000, it's still not a massive city.
The Limon Province is considered one of the best-preserved areas in the country, so living in Limon would offer the best of both worlds.
You have plenty of services and activities and a large expat community here, but also access to some of the country's best beaches and natural spaces.
The annual climate isn't much different from elsewhere in Costa Rica. It's hot (average 79 Fahrenheit year-round) and has roughly 186 days of rain each year.
Its proximity to the Caribbean Sea keeps things warm, but also means it's a stopping point for plenty of Caribbean cruises. It might not be a bad thing depending on your perspective.
The cost of living isn't unreasonable either, but is higher than towns in the surrounding area thanks in part to Limon being the provincial capital, but also because of its tourism industry.
If you feel this might be a problem, consider living in a smaller town that has good connections to the city.
Pros
annual carnival is a worthwhile event
considered to be the best-preserved area in the country
great weather
access to the Caribbean
Cons
Limon is a tourist hotspot
Dominical
Dominical is a small beachside town in the Puntarenas Province, which is central on the Pacific coastline.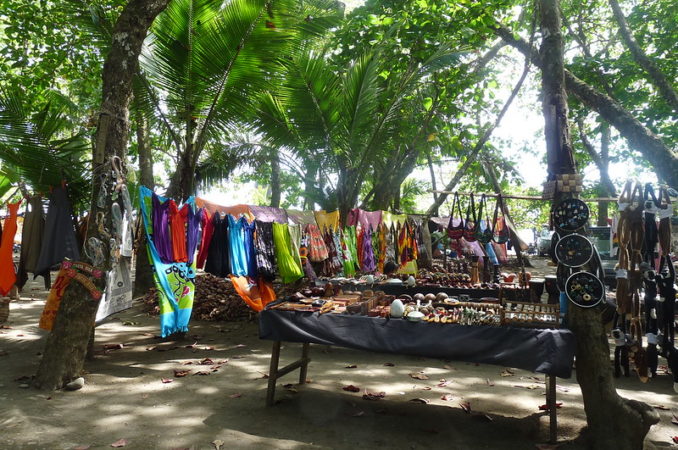 Much like Tamarindo, it's a popular destination for surfers, which means there's potential for tourist-related businesses.
Also, the town is surrounded by rainforests and has numerous amazing beaches. As you can imagine, it's a perfect spot for expats wanting an outdoor lifestyle.
In fact, this has been the main draw for its current expat community, which is always welcoming to new arrivals.
It's also home to yoga retreats and one of Costa Rica's booming craft breweries. Combine this with some great dining options and plenty of produce markets throughout the week, and you could see why Dominical is a popular draw with expats.
The cost of living in Dominical isn't unreasonable. A couple could happily live on around US$2,000 a month, including rent.
Housing prices vary depending on your wants and needs, but even an expensive property only costs around US$2,200 a month.
What's there to say about Dominical's weather that would be new?
It's warm but can be rainy. The wet season runs from August to November. However, daylight hours and sunshine are fairly consistent. In the dry season, you can expect 12 hours of daylight and more than 250 hours of sunshine a month.
Pros
well located for access to the capital and surrounding area
plenty to keep you occupied during retirement
cost of living is affordable
welcoming expat community
Cons
tourism industry is on the rise – it won't stay quiet forever
Monteverde
Monteverde is located in Costa Rica's highlands, roughly a two-hour drive south from Nuevo Arenal. It's in the Puntarenas Province and sits around 4,600 feet above sea level.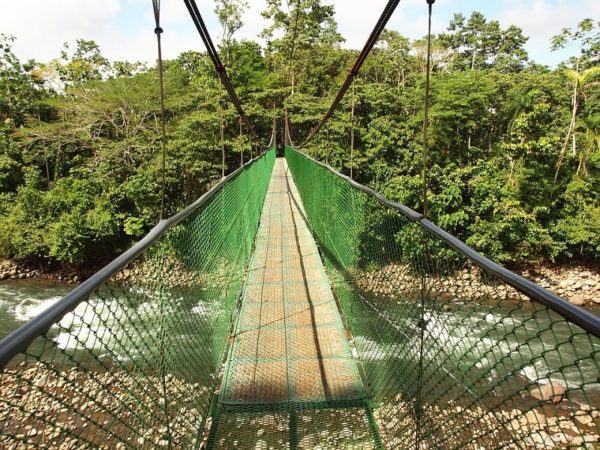 The area's appeal to expats is primarily its distance from the country's major tourist hotspots.
While it still sees some tourists, they're mainly eco-tourists. As such, the area is quieter and far more peaceful – ideal for a relaxing retirement.
This means you should have a Costa Rica driver license in order to drive around.
Of course, there's still plenty to do in Monteverde. The Cloud Forest Reserve is on your doorstep and is considered one of Costa Rica's seven natural wonders. While this might not appeal to everyone, its beauty certainly has its charm.
Santa Elena is the area's main town, which is where to find most amenities. It offers decent access to healthcare along with shopping and grocery options.
Smaller towns have food markets, but Santa Elena is your main stop for everything outside of everyday goods.
The cost of living varies depending on where in the area you settle down. Even so, it's fairly cheap across the board. A couple could happily live on around US$1,500 a month.
As always, though, the more money you have, the better lifestyle you can access.
The main downside of Monteverde is perhaps its remoteness. For many, this is its appeal, but it can become a challenge for others.
For example, the Central Valley and San Jose are three hours away by car, and some parts of the journey are difficult. This is also where the closest airport is, which can make visiting family difficult.
Pros
inexpensive cost of living
cooler climate than coastal regions
amazing natural beauty
Cons
remoteness makes access to everyday things difficult
Puerto Viejo
Formally known as Puerto Viejo de Talamanca, this is another small town in the Limon Province.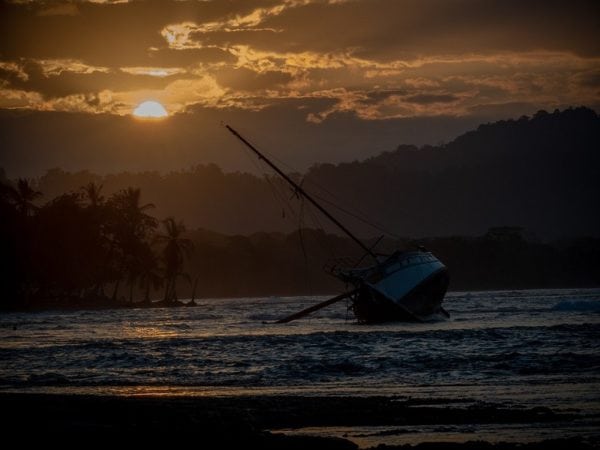 Located on the Caribbean Coast, it's a popular destination with tourists. However, it's incredibly laid back, thanks in part to its remoteness. For instance, the town didn't have road access until 1979.
While this might not sound too appealing to some retirees, it's ideal for anyone looking to set up a tourism-related business.
It's also popular with backpackers heading for the Panama border, so anything from a hotel or hostel to a restaurant would work well here.
As with most of Costa Rica, Puerto Viejo has a tropical climate with little temperature variation. The coldest it gets is 72 Fahrenheit and it peaks around 82 Fahrenheit in the summer.
Daylight is also consistent, with around 12 hours of sunshine per day.
Due to its remoteness, most amenities are in the province's capital, Limon, which is roughly an hour's drive away along the coastal road.
So, while it's not all that convenient, at least the journey is beautiful. You also have to travel to Limon for most healthcare services and for the province's airport.
The town has a steadily growing expat population, many of whom settled to take advantage of the rising tourism trade.
While the area might not be ideal for those seeking a relaxing retirement, it's a good choice for expats wanting to start a tourism-focused business.
Pros
rising tourism industry – good business potential
access to the Caribbean
great year-round weather
Cons
quite remote – could be an issue with amenities
not as modern as some other expat choices
Now, on to You
While this is by no means an exhaustive list, it should point you in the direction of where you could live when you retire in Costa Rica.
There's some difference between the east and west coasts, but both enjoy hot climates and great beaches. Of course, if you want something cooler and more remote, look further inland.
As always, the best way to decide on where to live in Costa Rica is to visit the country and try out a few places.
Make contact with expat communities too, so you can get some first-hand experience. Wherever you choose, retiring in Costa Rica certainly comes with plenty of benefits.