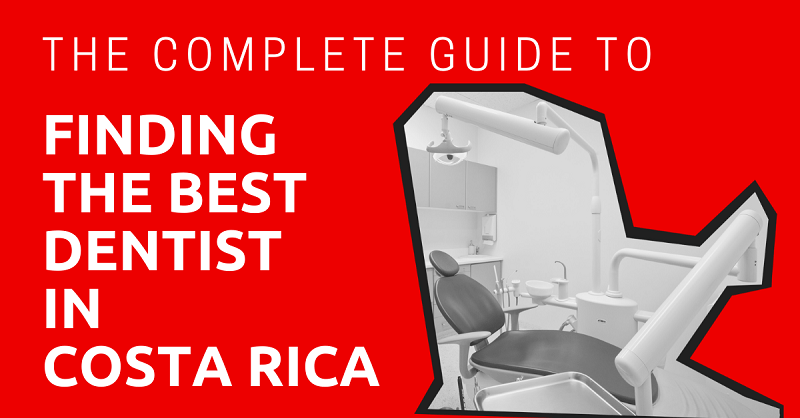 As an expat, it's quite easy to change your location from time to time. What's not so easy is changing the state of your teeth–unless you get the proper dental care you need.
If you currently call Costa Rica your home, or you're interested in coming here to get dental work done, you might be surprised to know that the country has some of the most qualified dentists in the world.
Moreover, prices for dental work in Costa Rica are fractions of the cost for treatment in your home country if you happen to live in the USA.
Picking a dentist in Costa Rica can be challenging, however, so we've put together this guide to help you differentiate qualified dentists from unqualified dentists, explore the dental treatments available to you in the country, and get a good feel of the prices.
This article will take approximately 21 minutes to read. Don't have the time right now? No worries. You can email the ad-free version of the article to yourself and read it later!
Should I See a Dentist in Costa Rica?
One of the main reasons why expats decide to retire and live in Costa Rica is because of the country's excellent health care system, which includes quality dental treatment, and medical tourists visit for the same reason.
Nowadays, many foreigners travel to Costa Rica, especially those who are from the North America, to take advantage of the growing number of specialized dentists and dental treatment in the country.
Yes, this small country cares about the dental health of its citizens and all those who want to visit for dental work, and it shows in the dentists' attention to detail, dental work guarantees, and prices.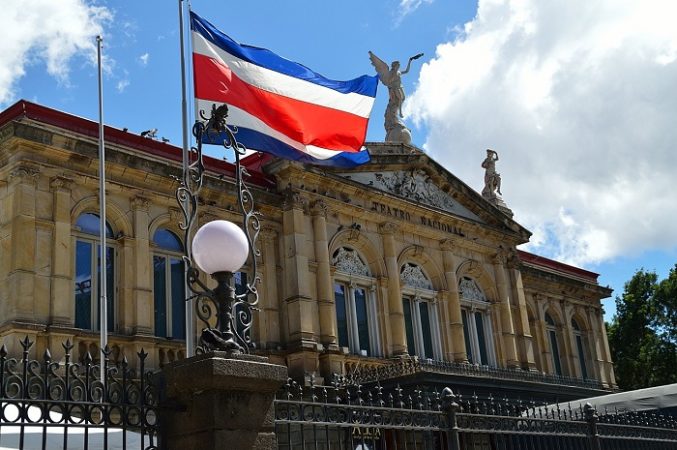 Affordable Price
Dentists in Costa Rica offer fair prices for dental work. This is why hundreds of patients every year travel here for dental treatment that in their home countries would be difficult to afford.
To put it simply, getting dental treatment in Costa Rica is going to be 2-3 times cheaper than in the United States.
For example, dental implants are one of the most requested treatments by patients who fly to Costa Rica for dental work. It can cost more than $20,000 to get all-on-4 dental implants in the United States. However, in Costa Rica, it would only cost $10,000.
Dental veneers are also another popular treatment that medical tourists in Costa Rica get. In the United States they are priced at $1,245 while in Costa Rica they are only $500.
Quality
Costs aside, foreigners also prefer to get dental work done in Costa Rica because many dentists in the country have studied abroad. This almost always guarantees a high level of competence.
Lastly, materials used for dental treatment in Costa Rica are manufactured by multinational companies that distribute their products worldwide.
This means the equipment and materials are of the highest quality and ensures the results of dental work are on par with the best dental clinics in the world.
Now that you know the reasons for choosing dentists in Costa Rica for your dental work, let's look at the different types of specialists you can find here.
Types of Dentists
If you live in Costa Rica and need dental treatment–or someone in your family does, it's likely that you can find a dentist for your issues, no matter how simple or severe.
Most dentists in the country have undergone extensive training abroad, so you'll be in good hands.
With that said, you will find the following types of dentists in Costa Rica:
Prosthodontists: Dentists who restore and replace missing or damaged teeth. If you need complete dental rehabilitation, the best option for you will be to visit a prosthodontist.
Pediatric Dentists: Dentists who specialize in children's care. They will tend to your child's dental needs without traumatizing your son or daughter. If you live in Costa Rica with your kids, this is very beneficial because they will always need quality dental care.
General Dentists: Dentists who take care of your most basic dental problems. General dentists handle endodontics, dental extractions, fillings, and dental reconstructions.
Orthodontists: Dentists who provide patients with maximum functionality of the teeth in addition to improving the aesthetics of the patient. Dentists provide foreign patients residing in the country with the most innovative treatments, interdisciplinary dentistry and, if necessary, combined surgical and orthodontic treatment.
Periodontists: Dentists who take care of the health of the soft tissues of your mouth. They specialize in the prevention, diagnosis, and correct treatment of periodontal diseases. They also treats different diseases that occur in the periodontium, or the gums. The most common ailment periodontists fix is gingivitis.
Oral and Maxillofacial Surgery Dentist: Dentists who that specializes the medical-surgical area of dentistry. With the help of this kind of dentists, patients will be able to prevent, undergo studies and diagnoses, receive treatment, and rehabilitate in case of problems in the mouth, teeth, or face.
Geriatric Dentist: Dentists who specialize in treating the elderly and can even provide their services at the patient's home depending on the severity of the dental problem.
Cosmetic Dentists: Dentists who return the shape and function back to patient's teeth. Porcelain dental veneers, dental whitening, dental reconstructions, resin laminates, cosmetic dental re-contouring, and dental closing gaps are some of the dental treatments that fall under this category.
Dental Implantologist: Dentists who provides the patient with a series of treatments through dental implants. This type of implant is permanently placed to renew the function of lost teeth.
Quality of Dentist in Costa Rica
Dental treatment in Costa Rica varies and is of high quality. Most of the dentists speak English fluently so you won't have any problems indicating the treatment you need.
The dentists will provide you with exceptional dental care and they use modern and innovative equipment.
Many dentists even specialize in replacing lost teeth through the placement of fixed or removable prostheses and dental implants.
Dentists will also do a detailed dental evaluation using their clinical judgment and tests such as x-rays.
Tools including volumetric dental tomography can be found nationwide; this guarantees you a proper clinical diagnosis of your dental problem and an excellent dental care plan.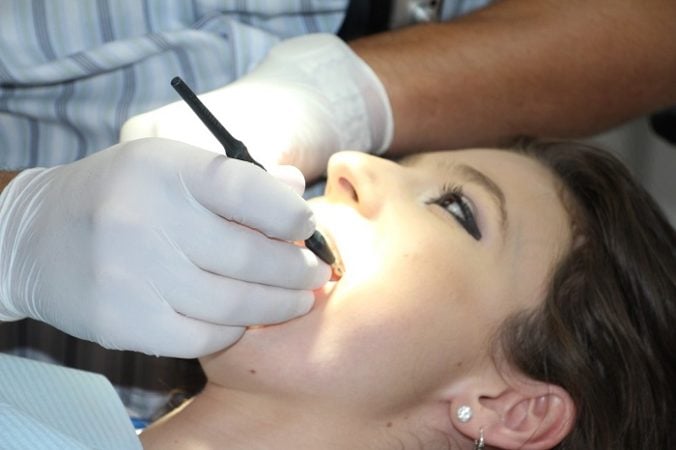 Moreover, in Costa Rica, major dental clinics offer a lifetime warranty on dental implants and have a solid track record of replacing failed implants.
Although dental implant failure is rare, if this situation occurs, you'll have a lifetime guarantee in Costa Rica.
Freer Dental Implant Center is an example of a dental clinic that offers lifetime guarantees on the implants they set. If the implant fails, they will replace it at no cost.
Some examples of dental treatments a patient can undergo in a dental clinic are as follows:
Dental crowns
Veneers
Endodontic treatments
Dental extractions
Cosmetic dentistry that includes a wide variety of treatments such as: prosthodontics, crowns and bridges, zoom whitening, esthetic contouring, anterior and posterior composite restorations, porcelain veneers, and more
Dental implants
Full mouth restoration
Dental Surgeries
Tooth Whitening
Another advantage of getting dental work done in Costa Rica is that dentists have extensive experience with oral rehabilitation, cosmetic dentistry, and other areas.
Finding the Best Dental Clinics
When you get dental work done in Costa Rica, you'll get to pick from a variety of dentists who offer specialized care, use modern equipment and quality materials, and offer affordable prices.
Below are some examples of clinics you can visit to get quality dental work while living in or visiting Costa Rica. They treat national and foreign patients, their staff speak English, and they offer a variety of dental treatment.
Keep in mind, some of the clinics listed below have even been accredited by Global Clinic Ratings and meet all standard requirements in regard to patient safety and quality dental care.
Prisma Dental
Prisma Dental is located in San José, a capital city of Costa Rica.
The clinic is dedicated to providing a wide variety of dental treatment including diagnosis, tooth extractions, x-rays, dental fillings, dental sealants, and teeth cleanings.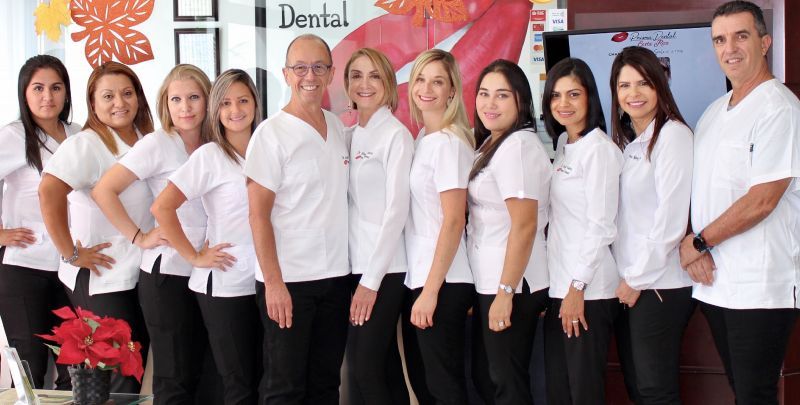 In addition, they specialize in dental implants, periodontal surgical treatments, and cosmetic and restorative dentistry that includes veneers, crowns, and bridges.
Their dentists speak English and clearly explain the process, risks, and benefits that come with the treatment.
Prisma Dental also offers pediatric dentistry and orthodontics for children as well as endodontic procedures including surgery and special procedures to save teeth after traumatic accidents.
The clinic offers a pleasant, cool, and clean environment and uses modern technology.
Freer Dental Implant Center
Freer Dental Implant Center is also located in San José. All their dentists are qualified professionals who speak fluent English and use advanced dental implant technologies. 

They provide patients with services that include full mouth restorations and cosmetic dentistry procedures such as dental implant placements, periodontal surgery, crowns, bridges, resin and porcelain veneers, teeth whitening, and more.
At the time of this writing, they are one of a few dental clinics in Costa Rica that uses 3D surgical methods to get the most accurate placement of dental implants.
In addition, Costa Rica Dental Team offers a lifetime guarantee on their dental implants.
Clinica Mario Garita
Located in Avenida de las Americas, Torres del Parque Building, San José, Costa Rica, Clinica Mario Garita offers a wide variety of dental services such as cosmetic dentistry (teeth cleaning, whitening, porcelain veneers, porcelain bridges and crowns), prosthodontics (removable prostheses and complete dentures), dental implants, endodontics (root canals), and periodontics).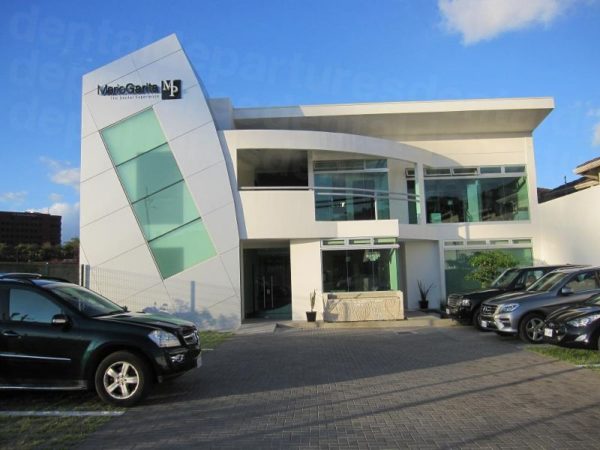 The clinic is equipped with the latest equipment, x-ray machines, and has qualified professionals who speak English.
Clinica Mario Garita have a complete dental laboratory in which they use only modern dental materials, which guarantees quality results.
In addition, they adhere to international standards of quality and safety. Chinica Mario Garita also offer online estimates, available through a contact form on their website.
Goodness Dental Costa Rica
Goodness Dental Costa Rica is located in Habitat Empresarial Escazú, Floor 3, San Jose, Escazu.
They offer crowns, bridges, root canals, full mouth restorations, dental implants, temporary prostheses, and dental veneers.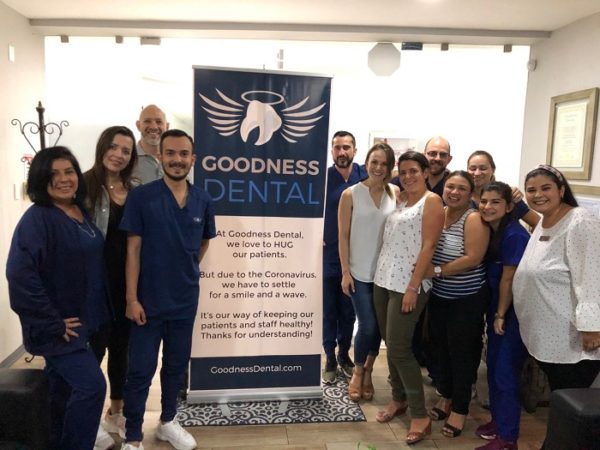 Goodness Dental Costa Rica is the only qualified clinic that offers dental restoration for Sjogren's Syndrome, a disease that affects thousands of Americans and is considered the most common autoimmune disease in the USA.
They also offer intravenous sedation for patients who are afraid to get dental work because of previous trauma.
Patients can pay with cash, a credit card, PayPal, or wire-transfers from a US bank. The clinic even offers refunds if the treatment has to be interrupted. 
They will reimburse you for the treatment you paid for but didn't receive, with the exception of some services–but this will be stated in your dental work contract.
Sonria Dental Clinic CR
Located in Centro Comercial Manara Center, Local 7, Guachipelín, Escazú, San José Costa Rica, Sonria Dental Clinic CR offers comfort, aesthetics, innovation, technology, and highly trained specialists.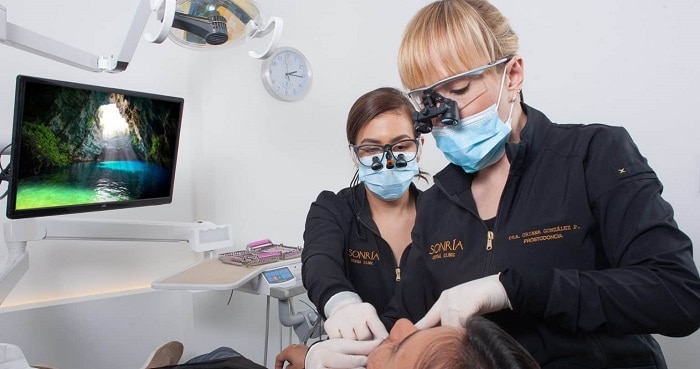 All patients receive personalized services, and the dentists provide innovative solutions and speak English fluently.
They offers a wide range of professional services such as oral restorations (tooth extractions, crowns, veneers), cosmetic dentistry (tooth whitening, zirconia crowns, porcelain veneers, and fixed or partial dentures), and dental prosthesis.
Sonria Dental Clinic CR also offer services for periodontics, endodontics, orthodontics, and resin restorations.
Doctor Rivera Clinic
Doctor Rivera Clinic is located in the capital of the country, San José, and provides total or partial restoration treatments for dentures.
They use the latest technology in their procedures, and their dentists constantly undergo training to learn about new technologies and treatments.
Doctor Rivera Clinic offer dental implants, full mouth restorations, dental crowns and bridges, teeth whitening, wisdom teeth extraction, and more.

They can also fit you with a temporary dental prosthesis, which they make on the same day of your appointment so that you can use it before they set the permanent prosthesis.
Doctor Rivera Clinic's dental staff are highly trained and speak English, and the clinic has diagnostic imaging services and an operating room.
Moreover, they offer dental implants with a lifetime guarantee.
Others
In addition to the dental clinics above, you can also check out:
Prices
Expats and visitors to Costa Rica alike have their dental work done in the country for two reasons. The first reason, which we already covered, is quality. The second, which will go over below, is price.
Here is a list of dental procedures you can get done in Costa Rica and how much it'll generally cost you.
Dental implant: $800-$1000 USD
Dental crown on natural tooth: $450-$600 USD
Dental crown on implant: $800-$1000 USD
Porcelain veneer: $400-$600 USD
Laser teeth whitening (1 day treatment): $330 USD
Regular dental cleaning: $80 USD
Full Porcelain/Ceramic Crown: $500 USD
Porcelain Fused to Gold Crown: $680 USD
Porcelain Fused to Metal Crown: $600 USD
Zirconia Crown: $555 USD
Temporary Crown/Veneer: $90 USD
Full Denture, Acrylic Teeth (upper or lower): $735 USD
Full Denture, Porcelain Teeth (upper or lower): $825 USD
Implant Supported Overdenture, removable (with 2 implants): $3030 USD
Implants Supported Porcelain Bridge, Full Arch (with 4 implants): $10270 USD
Standard Titanium Dental Implant (implant only): $835 USD
Root canal (molar): $350 USD
Dental Procedure: IV Sedation (by anesthesiologist): $515 USD
Keep in mind the list above is not exhaustive and only an estimate. Dental clinics in Costa Rica can perform every type of treatment you would find in your home country.
One thing to be cautious of is extremely low prices. Lower than average prices (for Costa Rica), could signify unprofessional services, and you don't want to put your teeth–or health—at risk by going to an unqualified dentist.
With that said, even when you visit a professional, qualified dentist in Costa Rica, you will save anywhere from 40% to 70% of the cost you'd pay back home.
In some cases, you can even finance your dental work through different payment plans, but it's best to talk to the clinic to find out what option is best for you.
Insurance
In Costa Rica, there are two insurance systems that expats can have access to.
One is the universal health system, which is administered by the government, specifically by the Costa Rican Social Security System (CCSS).
Expats living in the country, specifically legal residents, have access to residency programs for retirees or renters, and as a result, have access to the CCSS.
The CCSS gives foreign legal residents the option of contributing a small percentage of their monthly income in exchange for free medical treatment at the country's public hospitals.
Generally speaking, it's important you have health insurance when living in Costa Rica. But it could take up to 18 months to get residency and membership into the CCSS.
The second option is to apply for private insurance. You might want to take out a private policy during those waiting months because you never know when you'll need coverage. 
Some international policies are valid in Costa Rica, but if you need to, you can buy private insurance once you're in the country.
Sometimes you may have to wait for an appointment, and for this reason, many expats use a combination of public and private insurance in Costa Rica.
This means that in the event of an emergency, they can use their private insurance and won't have to wait weeks or months for an appointment. For non-medical emergencies, they can use their public policy.
If you live in Costa Rica but don't yet have your approved residency, you have another option for private health insurance.
Go to the National Insurance Institute (INS), which provides different types of plans for medical care. It may be a cheaper alternative than what you can find in your home country.
An example of private insurance in Costa Rica is Salud360, which includes a network of doctors who focus on providing comprehensive treatments to their patients.
The doctors who are members of this group have an excellent medical history and the policy gives legal residents access to important benefits.
Generally, if you decide to take out this type of insurance, all you have to do is sign up–often online, to start enjoying the benefits.
From there you can schedule an appointment with a specialist, go for your treatment, and schedule a follow-up appointment.
Choosing the Best Dentist
Whether you want to straighten your teeth, close dental spaces, treat gingivitis, fix a toothache, or improve the appearance of your teeth, dentists in Costa Rica can do it all.
However, before choosing the best dentist to suit your needs, you have to know how to pick the right dentist.
Some dentists work out of small clinics that don't have modern equipment. Although you can get basic dental work done at these places, for more serious treatments you should go to a clinic that employs a team of specialists who work with up-to-date equipment.
Cosa Rica has about 6,000 qualified dentists and more than 100 dental clinics throughout the country.
Here's what to consider when picking a dentist:
Call the College of Dentists of Costa Rica to verify that your dentist is licensed
Avoid choosing the cheapest dentist; price shouldn't be a factor when choosing the best dentist and the best treatment for your dental needs
Pick a dentist that is close to where you live
Make sure that both the clinic and the dentist comply with all the basic hygiene and sterilization measures
One way to find a dentist in Costa Rica is to join for groups of foreigners living in the country on social media.
Many people share their experiences of living in Costa Rica, and it's a good place for you to ask about dentists.
Visiting the Dentist
When you visit a dentist in Costa Rica for the first time, it's important that you follow some important steps to guarantee you get the best care.
With that said, we recommend taking the following steps.
Make an Appointment
After selecting the dentist or dental clinic that meets your needs, make an appointment. Many of the staff working in dental clinics can speak English, so communicating with them will be easy.
Usually in Costa Rica, you can make an appointment on any day of the week except Sunday—but in case of an emergency, many dental clinics will accommodate your needs.
If you need to change your appointment, let the clinic know in advance so that they can reschedule your visit.
Note that if your dental care is through CCSS, you'll need to go to the hospital or health clinic to get an appointment, which can take days or weeks.
As for private dental clinics in Costa Rica, you can usually get same-day appointments.
Show up Prepared
You should get to your appointment 15 minutes early, and remember to give your dentist or receptionist as many details about your case as possible.
Your dentist needs to know if you have prior health conditions like diabetes or high blood pressure to avoid problems, in case, for example, he or she has to apply anesthesia.
They need to know if you've had any dental work done in the past and even if some dental work has failed you.
The dentist will then create a clinical record for you, take you into the room, and start your checkup.
Your dentist will then let you know if you need any further treatment or tests, such as cleanings or x-rays.
Lastly, on the day of your appointment, don't forget to bring all your documents that show are a legal resident and that your social security is up to date.
After your appointment is over, you can then pay your bill.
Pay Your Bill
In Costa Rica, most businesses (including dental clinics) take cash—which you can transfer from your home country into Costa Rica at an affordable rate—debit, or credit cards like Visa, MasterCard, and American Express.
It's likely that after your first visit, you'll have to return for a follow-up, which will also depend on the treatment you need.
Don't hesitate to ask any questions you have, either about prices or the dental treatment itself.
Costa Rican dental staff are kind, responsible, and will always be willing to help you.
Now, on to You
Whether you're a long-term expat or a short-term visitor to Costa Rica, finding a dentist in the country doesn't have to be difficult.
With the right resources, proper insurance, and a little foresight, you'll be on your way to getting quality dental care at a fraction of the cost you'd pay in your home country.