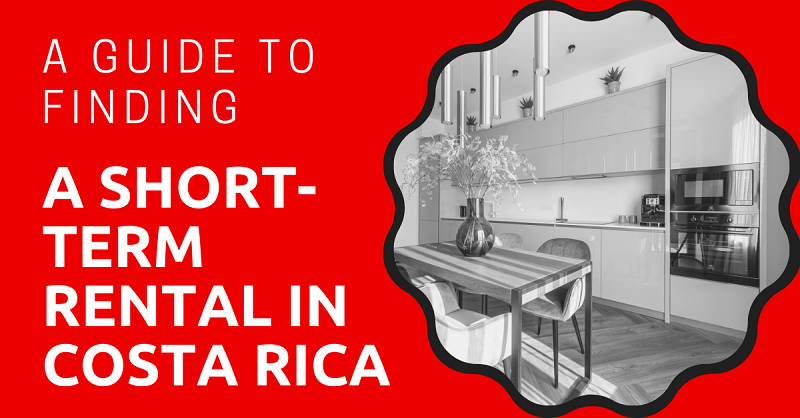 In Costa Rica, short-term rentals are defined as a property you'd rent for between 30 days and three years.
Thanks to this fairly clear-cut definition of a short-term rental in Costa Rica, finding potential properties isn't too difficult. However, getting everything organized, particularly for expats, can be complicated.
So, in this article, we'll cover all the important information about short-term rentals in Costa Rica, why you might pick one over a long-term rental, and where and how to find them.
This article will take approximately 13 minutes to read. Don't have the time right now? No worries. You can email the ad-free version of the article to yourself and read it later!
Benefits of Short-Term Rentals
Short-term rentals in Costa Rica range from three months to one year long. However, some property managers will set their own terms on how long a short-term lease lasts.
That said, let's go over some of the benefits of renting a short-term place in the country.
Enjoy Longer Vacations
The most obvious reason is that you could stay a lot longer in the country. For longer vacations, a hotel isn't always the most financially viable option. This is where a short-term rental comes in handy, providing it doesn't lock you into a one-year lease, of course.
Citizens of countries on Costa Rica's visa-waiver list can stay for up to 90 days without needing temporary residency. So, if you want a longer vacation, you'll probably want a short-term rental instead.
If you're not from a visa-waiver country, you can apply for a temporary residence permit.
Get the Chance to Find a Permanent Home
On the subject of residency, you might be looking for somewhere permanent to settle down in Costa Rica. If you're an expat who plans to move to the country, first exploring the area can help you make a more informed decision about your permanent home.
Of course, to do this properly, you'll need a base of operations. This is where a short-term rental can come in handy.
You could rent a property somewhere accessible such as in San Jose and, if you drive in Costa Rica, take day trips to any locations that appeal to you. Doing it this way also means you'll spend less on international travel if you want to check out a bunch of towns or cities.
Lets You Travel
If you're someone lucky enough to be traveling the world, stopping somewhere for longer stays gives you a chance to recharge. This also applies to digital nomads, who can move about freely because they're not tied down by work.
Either way, a long-term rental might not be the most appealing option, and neither are hotels because of the price. A short-term rental falls somewhere in the middle, giving you the balance of stability and affordability.
Pros and Cons of Short-Term Rentals
For the most part, any downsides of short-term rentals aren't major. Even so, let's cover the main benefits and drawbacks of opting for a short-term rental in Costa Rica.
Pros
Flexibility, costs, convenience, and protection are the main benefits of short-term rentals in Costa Rica. Let's look at each one more closely.
Flexibility
A short-term rental offers great flexibility. You could rent the property for anywhere between one and 12 months. This lets you go home when you want, or move elsewhere in the country with very little effort.
Costs
A short-term rental will usually come with utilities included. This means one less thing to worry about when it comes to paying.
Also, as you can imagine, renting a property by the month is far cheaper than staying in a hotel.
Convenience
A short-term rental will almost always be furnished. This saves you from having to either buy stuff in-country or shipping your belongings to Costa Rica.
Of course, this isn't an issue if you're on vacation, but is a big help if you're staying in the country long-term.
Protection
Some short-term rentals come with plenty of renter's protection. That could mean protection from eviction or protection by the property's management company.
Either way, it means fewer things for you to worry about, allowing you to enjoy Costa Rica.
Cons
With the pros of short-term rentals covered, let's look at the cons.
Agency Fees
If you use an agency, be prepared to pay fees. In some cases, these aren't bad, but in others, they can be very high.
The short-term rental market is mainly geared toward tourists and other temporary visitors, and people operating in the market may take advantage of this.
Limited Options
The biggest benefit is also arguably the biggest drawback. The longest you'll be able to stay in a short-term rental is one year, meaning you'll have to move elsewhere.
If you find a property you love, it can be quite disappointing to move.
Stress
This isn't specific to short-term rentals, but it's worth mentioning anyway. Renting a property and dealing with a landlord can be stressful because you have very little control over what happens and when.
If you've ever rented a property, you know this. Now consider dealing with a landlord if you don't speak Spanish. While this might not affect everyone, it's certainly worth considering.
Short-Term Vs. Long-Term Rentals
A long-term rental in Costa Rica is anything with a lease length of more than three years. Generally, you'll find properties with longer leases in larger towns or cities. You might even be able to find them in rural villages, although they won't be as common.
The main benefit of opting for a long-term lease is the stability it offers. Within reason, there's very little that could get you kicked out of a property before the lease ends.
This means you can settle into a property without the same kind of obligations that buying a house in Costa Rica comes with, even if you plan to stay in the country for a long time.
But there are some downsides to long-term rentals. First is that you're tied to a lease for three years or more. You might be able to leave before this period ends, but you almost always lose your security deposit.
The second is the length of your visa. In most cases, a residence visa is valid for two years, after which you need to renew it. While the renewal process is fairly straightforward, there's no guarantee you'll get approved.
If you're denied renewal for some reason, you have to leave the country. This could mean voiding your lease, which, as mentioned, means losing your security deposit. Because of this, it makes sense to use short-term rentals until you have your permanent residency permit.
Options for Short-Term Rentals
For expats looking to rent an apartment in Costa Rica, there are plenty of options in terms of property types.
Considering the country ranges from towns and cities to rural villages, you'll be able to find any of the following if you look hard enough.
Houses
You can find houses for short-term rentals on Airbnb and holiday rental sites. Note, though, that you're more likely to find houses in towns and villages rather than cities, where apartments and condos will be more common.
Pros
plenty of private space
more flexibility over number of bedrooms and location
Cons
less common in urban areas
Condos
Condos come with all the benefits you'd expect, such as private living spaces and sometimes property services. On Real Estate Costa Rica, you can choose between standard condos or condos in gated communities. While the latter is more expensive, it comes with more services, such as 24-hour security.
Pros
convenience of not having to rent a house
other short-term renters share the same building
Cons
can be expensive for what they offer
Luxury Properties
If you're looking for a very fancy and expensive stay in Costa Rica, you could look at luxury property rentals.
These are typically beachside villas or jungle homes. Many come with several bedrooms, a pool, and other services you won't find in standard short-term rentals.
Pros
the best way to enjoy Costa Rica in style
provide access to some of the most exclusive locations
Cons
expensive
less common, meaning less flexibility over location
Serviced Apartments
Serviced apartments exist somewhere between hotels and condos. Rather than you paying rent to a private owner, the whole building will be owned by a single company.
As such, rent is usually cheaper and may come with some extra benefits, such as included utilities.
Serviced apartments aren't a massively common option in Costa Rica, but there are some available in San Jose, Jaco, and Limon.
Pros
good middle ground between hotels and condos
rent will often be cheaper than condos
Cons
may not be as nice as privately owned condos
Costs
There's no clear answer to how much it costs to rent a short-term property in Costa Rica. If you're not fussy, you could find a place for as little as US$500 a month, even in San Jose.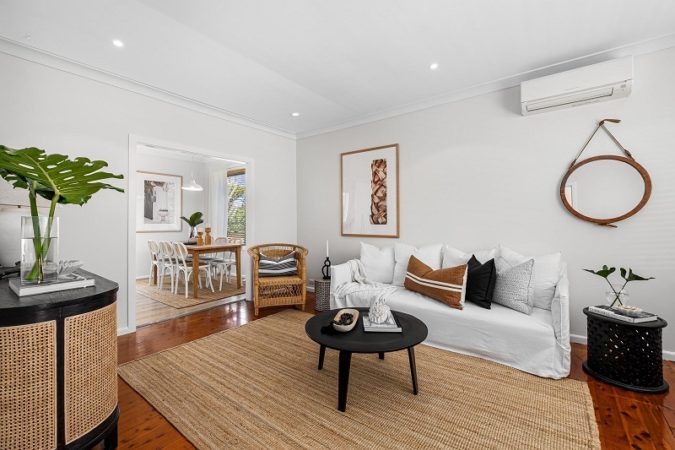 This could work if you only need a home base and don't plan to spend loads of time there.
But if you're looking for somewhere high-end, you could spend US$3,000 or more per month for a short-term rental. It ultimately depends on what sort of property makes you comfortable and how much you can justify spending.
Of course, size and location are the two biggest factors when determining rent. Despite being the capital, you'll find cheaper properties in San Jose because there's more variety. But if you look at coastal areas with lots of appeal, such as Limon, you should be prepared to spend a bit more.
The best way to get a feel for rental prices is to browse some of the websites listed above. Even if you don't like the properties, it should help you budget for your living costs in Costa Rica.
Best Places to Find Short-Term Rentals in Costa Rica
In theory, you'll be able to find short-term rentals throughout Costa Rica. That said, they'll be more common in larger towns and cities, or in tourist hot spots.
Short-term rentals aren't geared toward Costa Rican citizens or permanent residents, so you'll have better luck finding them in the sort of places that appeal to temporary residents.
In terms of where to actually look for short-term rentals, you have a few options.
Online
This is perhaps the broadest category. You could look anywhere from a newspaper's classified pages to holiday rental sites. The former will focus more on private landlord-to-tenant rentals, whereas the latter is geared more toward commercially managed properties.
Real estate agents aren't usually involved in short-term rental agreements, although you might find them advertising more expensive properties.
They can be a good option if you want a bit more security, as they offer renter's protection and property management. Keep in mind, though, that real estate agents are a better option for long-term rentals.
Airbnb
It would be impossible to discuss short-term rentals anywhere without mentioning Airbnb. The website strikes a good balance between private landlords and managed rentals because it offers protection for both parties.
It's also a good option if you're looking in more rural areas or for more interesting properties.
Of course, not all properties will offer the kind of rental periods you might want. So, check whether they offer monthly rentals, although many won't offer more than 30 days at a time.
Also, because of the way the website works, Airbnb might be more expensive than other options.
Private Rentals
Another option is to look for private rentals when you're in the country. You could do this by either searching classified ads in local newspapers, or by simply responding to a sign outside a property.
Going this route does carry some risk, however. You'll likely get a rental agreement, but if you don't speak Spanish, you might miss some important details. Unless you're confident in your negotiating ability or plan to hire a lawyer, it might be best to go another route.
That said, dealing directly with a landlord will be the cheapest option for a short-term rental because there won't be any extra fees. Similarly, you should have more room to negotiate longer leases.
Expat Websites
Finally, consider looking on expat websites or social media pages. Expats living in Costa Rica are always a great source of information for this sort of thing. Some might be renting properties themselves, or they might have connections to locals who manage short-term rentals.
Either way, it's always worth checking in with people in similar situations because they should have some good leads on where to look and advice on how to deal with renting property.
Some useful leads include websites such as Expat Exchange and Expat forums, and there are even Facebook groups for expats in Costa Rica.
Now, on to You
That should be everything you need to know about short-term rentals in Costa Rica. They provide a great level of flexibility if you want to move around or are visiting the country for an extended period.
However, you must do enough research before signing a lease. They're legally-binding contracts, so you must know what you're signing up for.