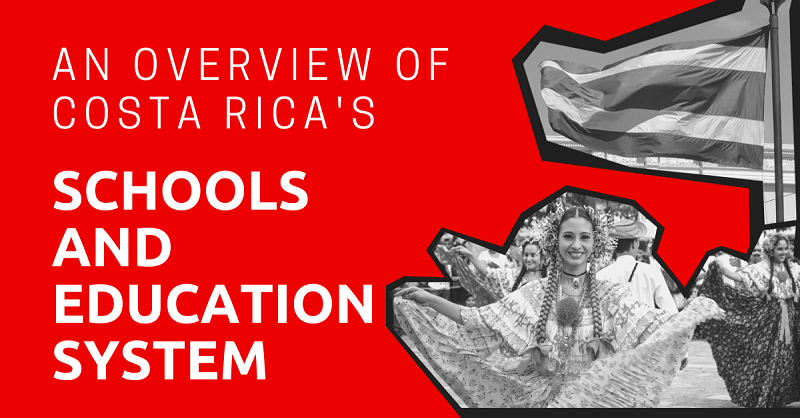 As an expat living in Costa Rica, you will love the fact that the country takes its schools and education system seriously, which means you or your children get an education built on the highest standards.
That said, there is much you need to know about the education system in the country, including its public, private, and international schools.
This guide, then, will familiarize you with Costa Rica's education system, and how public, private, and international schools in the country work.
By the end of this guide, you should be well on your way to deciding which option is best for you or your family.
This article will take approximately 23 minutes to read. Don't have the time right now? No worries. You can email the ad-free version of the article to yourself and read it later!
The Costa Rican Education System
Similar to the healthcare system, the education system within Costa Rica can also be considered superior and is ranked high among many other countries known for their education.
This is because when the civil war was over, the military was disbanded and the funds then went toward the improvement of the education system.
Costa Rican Teacher Qualifications
In 1887, the first standard school was founded by Dr. Jose Castro Madriza in San Jose with the goal of training educators.
The length of training for students who used financial aid was close to six years long with an additional five to obtain teaching experience once they had graduated.
It wasn't until the late 1960s that second standard schools came into existence along side the other.
However, the goal of the new school was to provide training to teachers who would be teaching in secondary schools.
The second normal school lasted for a good amount of years until the Universidad Nacional came into existence and incorporated it as part of the university.
When salary reductions occurred, many teachers left teaching. This also forced those who stayed to obtain extra employment.
Many took employment at their local supermarkets during their off time. During the 1980s salary cuts, teachers banded together to strike so that their salaries would be restored to the amounts seen in the 1970s.
Luckily, they managed to succeed. However, it only provided a little bit of headway.
During that time, Costa Rica´s Ministry of Education decided to bring in teachers who were probationary and fresh out of secondary school. When this occurred the overall quality of education diminished.
This was highly noticeable throughout the countryside where the necessary educational material was needed the most, such as libraries, supplies, books, and maps.
Costa Rican universities also provide training for teachers as well, as three of them provide teacher-specific study courses.
This allows the student to obtain their title as teacher or professor by attending only two years of study. If an additional two years is taken, then the student can obtain their bachelor degree with an emphasis in education.
For an additional two years the student can continue on for their licenciatura (degree), which focuses on curriculum development, preschool, administration, and primary education.
Out of all of the primary school teachers, women make up more than 90 percent of them. This is due to the low salaries they earn, which has caused men to become uninterested in the education field.
On the other hand, many male teachers can be found teaching secondary school as well as holding positions at the administrative level.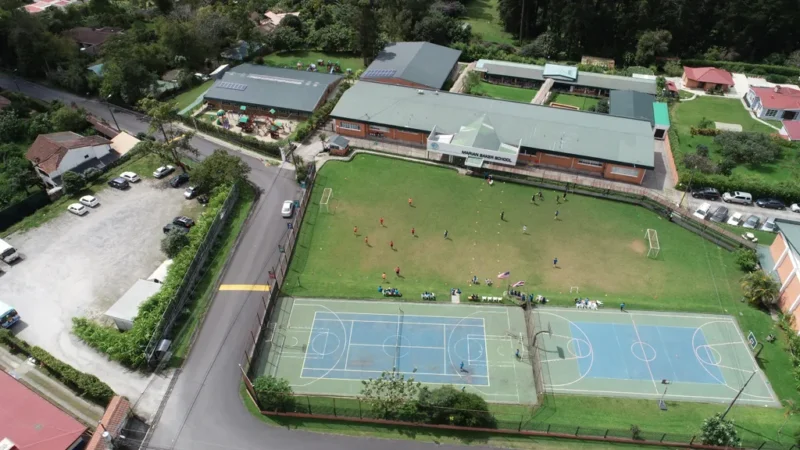 As far as salaries are concerned, they make up over half of the budget used for the education system. However, the salaries are considered to be low in comparison to other professions that are public.
Also, the school supplies and school repairs have to come out of teachers' pay.
Classification of teachers is dependent on their preparation level. Teachers with titles are university educated and have degrees.
Teachers that are authorized to teach has no degree but is educated with more than just secondary education. Teachers who are aspiring to teach are only educated with secondary educations.
That said, all teachers within Costa Rica belong to the National Association of Educators association.
Besides this, two other teacher associations also exist, and they are the Syndicate of Costa Rican Educators and the Association of Professors of Secondary Education.
The Costa Rican government also showed its support by erecting teacher housing to make the teaching field more attractive for wider amounts of candidates.
Prior to the construction, the communities got together and donated some land so the homes' foundation could be built. After the foundation was complete, prefabricated homes were brought in as housing.
Facts Concerning Education in Costa Rica:
The literacy rate in Costa Rica is over 96 percent
All students are required to be in school uniforms to ensure equality among the students
Costa Rican School System
As you plan your relocation with your kids, make sure you fully understand the Costa Rican school system and how it runs.
Your children may not have an easy time adjusting to foreign schools. As a parent you need to recognize a good school and not just choose one blindly.
Typical Ages and School Grades
Below are the ages and grades you can expect your children to attend.
Preschool Age
Zero to six years old: Costa Rican preschool is made up of different stages. By the time children reach the age of four, they must be enrolled.
The primary school is equal to an elementary school and goes up to the sixth grade.
First grade children are six to seven years old
Second grade children are seven to eight years old
Third grade children are eight to nine years old
Fourth grade children are nine to 10 years old
Fifth grade children are 10 to 11 years old
Sixth grade children are 11 to 12 years old
For secondary school, it's a mix of junior high school and high school.
Seventh year children are 12 to 13 years old
Eighth year children are 13 to 14 years old
Ninth year children are 14 to 15 years old
Tenth year children are 15 to 16 years old
Eleventh year children are 16 to 17 years old
Twelfth year children are 17 to 18 years old
Grade Equivalent
Schools in the Costa Rican education system provide grading systems made up of 10-point or 100-point scores.
In many instances, the school may also use letters for grades. The letters used are S (Outstanding), N (Notable), Suf (Sufficient), and I (Insufficient).
Equivalent standards for grades in Costa Rican schools and schools using A to F grades are as follows:
satisfactory equals to outstanding
notable equals to above average
sufficient equals to average
insufficient equals to fail
With letter and number grades, you'll likely experience the following:
S equals 100 to 0 or 10 to 9.00 (A in US system)
N equals 89 to 80 or 8.99 to 8.00 (B in US system)
Suf equals 79 to 70 or 7.99 to 7.00 (C in US system)
I equals 69 to 0 or 6.99 to 0 (F in US system)
Private vs Public Costa Rican Schools
Similar to many other schools around the world, the same difference exists between private and public Costa Rican schools, and that is the total cost to attend.
Costa Rica offers a free public school system, but the family is obligated to furnish the child´s supplies, uniforms, and their books.
The government provides education assistance if children's families cannot afford the items.
For private schools, the student´s family pays out of pocket for everything and gets no government assistance.
Costa Rican schools are required to maintain specific amounts of quality education that the Ministry of Education has set.
With the private schools, the students can look forward to an increased exposure to English.
School time starts the same for all students attending private school instead of the rotating schedule.
Private classrooms are lot smaller in size and consists of up to 25 students as opposed to the 40+ found in public classes.
You'll hardly find any public school offering activities after school hours. If after-school activities are necessary, then private schools are better options for your children.
Requirements for Public School Enrollment
In order to enroll in the Costa Rican public school system, your children need a certain amount of Spanish proficiency. For children in preschool, they may not need this language proficiency.
Also, you must provide the following while registering:
parent identification (passport or cedula)
proof of residency for children and parents
transcripts from last school attended
If you are still waiting for your residency, check with the school to make sure your children can still enroll.
Requirements for Private School Enrollment
Similar to public schools, private schools need to receive the transcripts from the last school attended.
Spanish proficiency may not be needed and leniency may be given if residency has not yet been obtained.
The primary motivation for expat children to enroll in private schools is due to the private school´s flexibility toward residency.
Mandatory Preschool
As opposed to other countries, Costa Rica makes it mandatory for children to attend preschool for more than a year prior to them transitioning to primary education.
Authorities believe the emphasis leads to them learning more effectively in future years.
With children being able to attend preschool at an early age, they can also attend preschool for longer amounts of time, even though two years are the minimum.
Mandatory Kindergarten
With kindergarten age averaging around five years old, the Costa Rican equivalent would be the Ciclo de Transicion. This cycle is required but is only for a year.
Daycare Services and Kindergarten
With education taken seriously within Costa Rica, many school options are available that are similar to both preschool or kindergarten.
In general, preschool is considered to be pre-primary and broken down into two stages. The first is the mother-child stage and the other is the transition stage, or kindergarten.
Alternative Options for Childcare in Costa Rica
Besides the great options for schooling, there are also many other services available in regards to childcare, such as babysitters and nannies.
If it is your first time in Costa Rica, you should get in touch with other expats who have been in country for a while and who know the school process.
This way you can familiarize yourself and your children with the process.
Education Costs in Costa Rica
Education costs are determined by the needs of the family.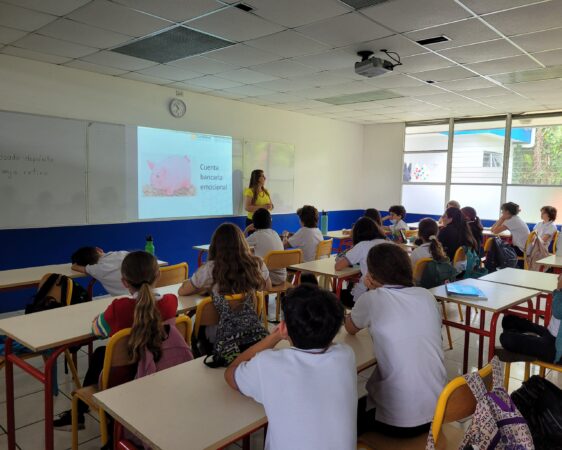 As mentioned, it is free to attend public schools. This coincides with preschool and kindergarten and children can begin attending at under a year old. This makes it perfect for young children to attend.
If private Costa Rican schools are your choice, then you can expect to pay as high as USD880 each month. For private schools offering bilingual education, you can expect to pay more.
Primary and Secondary Schools
In order to become a great school that provides education, the education must be emphasized strongly.
It is for this reason that you'll have no problem locating schools in Costa Rica that provides quality education.
Because the public school is taught in Spanish, most expats go with private schools for their children — although other reasons also exist, such as residency leniency.
Elementary School (Primary School)
Primary education in Costa Rica is mandatory. Primary school also runs for at least six years and ends when children are close to 13 years old.
Similar to the preschool system, the primary school also has two phases. The first phase is up to fourth grade and the second phase is up to the sixth grade.
Not much difference exists between these phases besides the amount of studies that each require and the overall growth of children.
Normal topics that Costa Rican schools teach include:
art
English language
music
religion
math
sciences
home economics
history
Out of all of the world's languages, French and English are seen the most in Costa Rican school curricula.
High School (Secondary School)
High school lasts longer than in the U.S. In fact, the secondary school system is six years long in Costa Rica.
Although secondary school is not mandatory, many complete it to make a better future for themselves. It also has two phases.
The first phase is up to the ninth grade and is equal to primary school where the students continue to study the subjects they learned before but in a more in-depth manner by teachers who are more educated in the subjects they teach.
The second phase goes up to the twelfth grade and is frequently known as diversified education. If students decide to enter this second phase, then they can choose among three different routes to take: technical, academic, or artistic. The length of time for each is no longer than three years.
Once they graduate, they get a certificate for the course they completed.
Deciding Between Local or International Schools
Because of the well-structured public education system in Costa Rica, international schools may or may not be on your radar.
Choosing a public school is not an easy task and involves many factors. Having your children voice their opinion is also a good idea since they're the ones interacting with the local kids.
Picking an international school also comes with its own challenges, like costs.
Costa Rican International Schools
Residency and language are two reasons why expats send their kids to international schools.
Also, at public schools the foreign student needs to speak Spanish proficiently. Kids who are older are usually not able to learn new languages as quickly as younger kids.
This reason is also why expats prefer international schools.
International schools are also a good idea if you plan is to stay in Costa Rica for no more than a year.
International schools let your children stay up to date with their studies and not have to worry about playing catch up.
This will also prevent your children from having to redo the entire year again in whichever place you move to next.
As we mentioned about private schools, an international school is also a great choice if your residency process is taking longer than expected. International schools may be lenient when it comes to enrolling, as long as the residency is still pending.
Enrolling in International Schools
Looking for an international school is not a hard task to accomplish.
You'll find most of them within the Central Valley. The Central Valley is surrounded by many mountains and is home to San Jose, Cartago, Alajuela, and Heredia.
If you prefer the coast, you can find many international schools in Guanacaste province.
Tuition and Fees
You need to do your research in order to find the best price for your budget. That said, both tuition and fees are determined by the individual international schools.
You may be surprised to find that schools charge as low as USD125 per month or as high as USD1,500 a month.
As you consider your child´s school, you need to take any extra costs into consideration so that you know the full tuition.
Admission Requirements
Similar to the costs for tuition, the requirements for admission are determined by each international school.
You may also need the following:
your child´s record of vaccination
your and your spouse's passport
official transcripts previous school
your child´s passport
Due to the limited space in international schools, your children may be required to take an exam prior to being accepted.
You can also expect to pay fees for applying for admission. Also, once your children have been admitted you may need to make a deposit.
When enrolling two or more of your kids, you may be eligible for a discount.
School Hours
Costa Rican schools are made up of morning and afternoon schedules.
The morning school schedule starts at 7 am and finishes at 1 pm. The afternoon schedule starts at 1 pm and ends at 5 pm.
Usually, all students have schedules that rotates, where each student attends the afternoon or morning schedule for three or four days and alternate to the other for three or four days.
By keeping an alternating schedule, the sizes of the classes are kept small and helps maintain the upkeep of the education system and school itself.
International Schools Vs. Private Schools
At first glance it may seem like international schools are no different than private schools. However, many things exist that make them different.
For example, private schools teach from curricula that are used in public schools.
With international schools, the curriculum they follow may be designed through an education system outside of Costa Rica.
You could also locate schools that teach in a completely different language. Doing this lets your children study the same curriculum as back home.
Moreover, international schools may also be comprised of a combination of both foreign and Costa Rican students.
With this mix, each student can adapt more quickly to the culture as well as make new friends who can show them around and provide tips on how to adapt to the new surroundings.
The Best Costa Rican International Schools For Your Children
Costa Rica is home to many world-famous international schools.
No matter what nationality you are, Costa Rica surely has the one that is right for you and your children.
A few of these international schools include:
Costa Rican Higher Education
Within Costa Rica you'll find some of the top universities available.
Similar to the reputation seen among the primary and secondary educational systems, Costa Rica provides students with many opportunities to achieve higher education beyond high school.
As of late, many universities within Costa Rica have been recognized as top schools among many of the most prestigious academies around the world.
In fact, the Universidad de Costa Rica was listed close to the top 500 universities in the world.
University Experience
Obtaining a university education while living in Costa Rica provides more than achieving excellence in your studies — it's also an investment that lasts a lifetime.
There are many private and public universities, as well as those recognized around the world.
The yearly tuition for the universities are normally half of what you would see for the tuition that many U.S. colleges charge for in-state students.
Plus, you can enjoy extra time in tropical paradise while studying.
While in university you have the opportunity to immerse yourself in the Spanish language while obtaining an education that is top notch and respected.
For current students who are interested in relocating to Costa Rica, you should get in touch with your university to inquire about transferring to a Costa Rican university.
If independent study is your goal, or if you plan to stay longer than a year, then you need to take care of the school registration, testing, and residency requirements.
The student visa is required if you plan to take classes for more than 90 days.
Most universities in Costa Rica provide Spanish-only courses. However, there are also several classes that are taught in English.
If you prefer classes in English, then you can easily enroll in a private university where all of the majors are English-based.
A few examples include the Universidad Veritas, the Universidad de Iberoamerica, and the Universidad Latinoamericana de Ciencia y Tecnologic.
If you decide to attempt at least 15 semester credits, then you are responsible for at least USD2,500 in tuition fees, as well as your living expenses, which are determined by the way you live.
For graduate students attempting 14 credits they can expect to pay close to USD4,500 each year, not including allowances.
The cost of 14 credits is about USD4,500, excluding expenses. With universities like Universidad a la Distancia, its credit costs are similar to many other universities.
With the INCAE and University for Peace, they are both highly-respected education institutions that serve vast international communities of students as well as providing English courses.
The University for Peace was founded by Rodrigo Carazo and the United Nations to promote tolerance, peace, and understanding.
Degrees offered include Peace Education, Gender and Peace Building, and International Law and Human Rights. Yearly tuition runs around USD27,000 without living expenses.
Students can apply for financial aid, tuition waver, or full scholarship.
The Instituto Centroamericano de Administración de Empresas (INCAE) is among the top 10 business schools and founded by Harvard in the mid 1960s along with private sector contributions and USAID.
INCAE provides four different master degree programs: Global Executive MBA, MBA, a Global Real Estate Management, and degree a Master's in Agribusiness Management.
The MBA program´s tuition is less than USD55,000, which includes expenses. This is great because other business schools could easily charge so much more for the same tuition each year.
Accreditation for INCAE is provided by the European Quality Improvement System, the Southern Association of Colleges and Schools (SACS), and the Association to Advance Collegiate Schools of Business International (AACSB).
Unlike tuition found in U.S. universities, Costa Rican university tuition is cheaper.
For example, UC Berkley collects more than USD18,000 in tuition for state residents and more than USD29,000 for out-of-state students, with room and board included.
Then there is Williams College, which charges more than USD40,000 in tuition as well as more than USD10,000 in boarding expenses.
No matter what the size of a student´s financial aid, scholarships, or loans are, average students run up more than USD20,000 of debt when they graduate.
By attending Costa Rican university, you won´t have to spend more to get the same education and experience.
Both private and public universities are available in Costa Rica. In fact, there are 55 private universities and five public universities.
Public Costa Rican universities provide their courses only in Spanish. However, English classes may be provided as well.
Private universities may also provide English courses, but you need to to check first.
Many students arrive in Costa Rica from international destinations to both live and attend school. This is due to the superior quality of the education provided as well as low cost of living.
In contrast, students deciding to pursue their higher education in Costa Rica are likely to experience less debt in comparison to the U.S. or Europe.
Prerequisites for University Enrollment
Due to the high demand of attending Costa Rican universities, you may experience some struggle to get in.
This is due to the Spanish language proficiency requirement that must be fulfilled.
However, if Spanish is your first language, then this requirement can be waived. For those who are not, you need to be tested first.
Besides testing your language skills, non-Spanish speaking students also need to obtain their student visa from immigration.
You can get this process started prior to arriving in country by obtaining a provisional visa from your home country through the consulate.
You can also apply after arriving and having a valid tourist visa. You need to remember that a switch in residency status adds a cost of around USD180.
The necessary paperwork that you must have for a visa and school enrollment involve the following:
registration with the embassy
notarized financial support statement
current bank statement
your passport
copy of your birth certificate with seal
FBI background check
Universities Best Suited for International Students
Because of the continuous amount of effort toward improving the environment, there are many opportunities to study the environment through the methods that the universities provide.
Not only that, but individuals interested in learning Spanish or studying Spanish literature would benefit highly from an education obtain at Costa Rican universities.
Although there are many universities to choose from in Costa Rica, a few that an international student would benefit the most from include:
Universidad EARTH
Universidad de Costa Rica
INCAE Business School
If you prefer an English curriculum, then check out the universities listed below:
Spanish Language Schools in Costa Rica
No matter where you live in Costa Rica, whether it´s at the beach or more inland, there are likely schools nearby where you can learn Spanish.
The language courses depend on your level of fluency and comprehension, as well as allow you to learn the language in depth.
As a start, you should be able to speak the basic greetings. Once you have the basics down then you will become more comfortable with the more challenging Spanish phrases.
You will also see how easy it really is to navigate around the country and ask for directions.
When you learn a foreign language, you are making the effort to transition into your new home.
The fees you'll pay for attending a language school depend on the size of the class, how many hours a day the class lasts, and the school itself.
The cost can fluctuate and be as much as USD35 dollars for each class or as much as USD650 for a week´s worth of classes.
Now, on to You
Getting to know Costa's Rica's schools and education system is not an easy task. It can be even harder when you have no idea where to start.
Hopefully this guide has helped you understand more about the Costa Rica's school and education system so that you can make the best decision for you or your children's education.