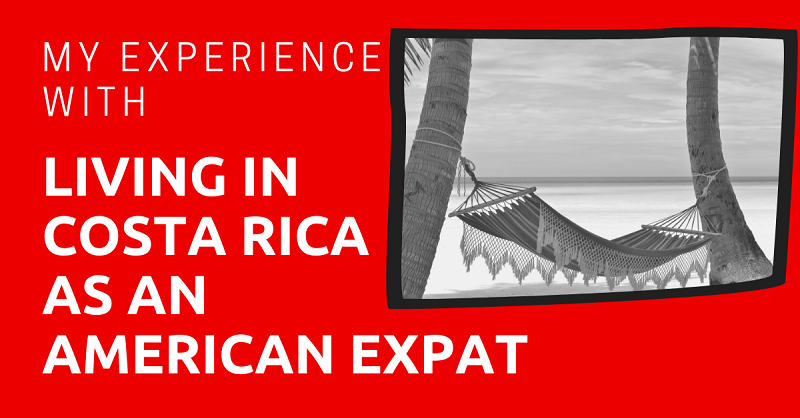 Living in Costa Rica as an American can be fun and exciting. There's nothing like starting your new life in the Central American country.
After all, the people are great, the weather is superb, and the cost of living is relatively cheap compared to back home.
That said, I'm going to cover what it's like to live in Costa Rica as an American expat. I'll go over safety, working, visas, cost of living, and more. Throughout this guide, I also link to other relevant guides so you can dig deeper into each area.
This article will take approximately 19 minutes to read. Don't have the time right now? No worries. You can email the ad-free version of the article to yourself and read it later!
Is Costa Rica Safe for US Citizens?
A fun fact about Costa Rica is that it has no standing army nor any recorded civil war. The country also ranks as the 32nd most peaceful country out of 163 nations.
However, while Costa Ricans generally stay away from the drug trade, the country has recently been labeled a major transit point for drug traffickers.
An influx of migrants from neighboring Central American countries seeking employment has also increased the local crime rate. In fact, the homicide rate increased from 11.9 percent in 2019 to 12.3 percent in 2020. These crimes have remained somewhat of a threat to tourists and expats.
I've never been mugged, but one time my journal (a really beautiful journal, I still miss it) was taken out of my car.
I had opted to lease a car for a week and on this fateful day, and I forgot to close the window when I went into a shopping mall. Surprisingly, I had other valuables in the car, but just the journal was taken.
However, just because I have been lucky doesn't mean that you should throw caution to the wind, American citizens are known to be targets for criminals.
As an expat, you will most likely stand out in this country, so exercise caution at all times.
Just follow these tips and you may have no trouble.
always be aware of your surrounding
never try to overdo it with your appearance; if you appear too flashy or wealthy, you'll set yourself up as a target
always travel or move around in a group or with a company if you can
avoid dark roads, parking lots, etc.
never resist in a robbery; the aim is to live to fight another day
say no to drugs, and try to keep your wits as sharp as possible by avoiding getting drunk
when you don't need it, never move around with passports or other valuable documents
Remember to stay alert at all times.
Cost of Living in Costa Rica Compared to the US
Although Costa Rica is the most expensive country to live in Latin America, the cost of living is still lower than that of the United States.
In general, everything in Costa Rica is around 35 percent cheaper than in the U.S. The exception is gasoline and imported products.
A lot of people I know spend between US$900 to US$4,500 a month in Costa Rica. I know this is a big difference, but it's also because people have a really different styles of living.
You can read our cost of living article in Costa Rica guide to get a better idea on how much your cost of living will be when living in the country.
Housing
When I first came to Costa Rica I opted to live in a homestay (this is where you rent a room in a family's home). This may have helped me understand the country better.
The family was nice, so I got to learn quickly with them.
I advise that you seek to understand what you want while in the country; this also includes where you will eventually put down your roots. This is why I suggest, in the first few months or year, that you don't buy a house in Costa Rica, even if you can afford it.
It's better to opt for rentals instead.
With your observations from visiting all the regions in the country, then you can finally decide where to settle down.
Getting a house is pretty easy for expats. In fact, you can get one through any of these methods below.
Real estate agents help you buy or rent any property. You can find their offices around town.
Another method for finding a house is by searching online, where you'd be certain to find Airbnb listings. You can get deals for two-to-three month stays or even longer.
Finally, the strategy I used in getting my first home was via Facebook – yes, Facebook groups. These groups comprise expats living and working in Costa Rica, retirees, and tourists. Bottom line is that there is a wealth of knowledge and information in these Facebook groups. Simply search "expats in Costa Rica" and you'll see those groups in the results. When you eventually get into a group, search in the group for "rentals" or "rented apartment."
Healthcare
The Costa Rican healthcare system is ranked 36th in the world for healthcare by the World Health Organization, just a spot above the U.S.
The healthcare offered by Costa Rica has frequently been cited as a major reason for relocation by expats and retirees.
There are two healthcare systems available in Costa Rica, all of which foreigners can access. These are the government-run universal healthcare system and the private healthcare sector.
The government-run system is referred to as the Costa Rica Social Security Fund, the Caja Costarricense de Seguro Social (CCSS), or simply as CAJA. It's responsible for servicing the healthcare needs of the general populace at a subsidized rate, although the system is almost always overstretched.
The private sector offers speedier services and even better standards compared to the government-owned ones. However, it doesn't come cheap, yet still not as expensive as it is back home in America.
The largest private hospital can be found in Escazu, which is the CIMA hospital. There is one in San Jose, Clinica Biblica, and another in San Jose-Guadalupe, known as the Hospital La Catolica.
These private hospitals usually accept payments in cash and also recognize certain insurance policies from America.
Food
What's considered the second most beautiful thing in Costa Rica besides the country itself? Costa Rican food.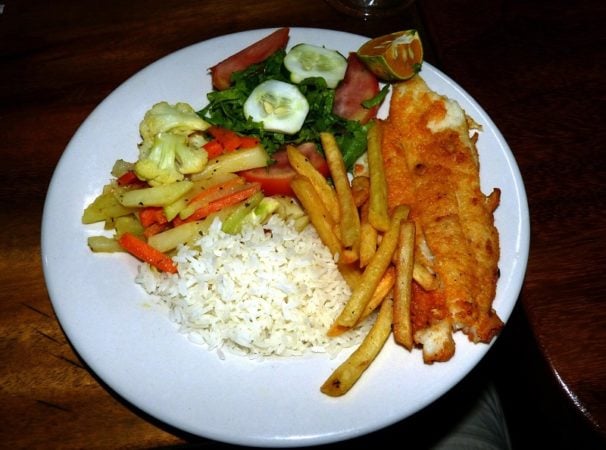 The country is known for its generous use of fresh ingredients and its food is mild compared to other Central American countries that pride themselves on spicy dishes.
Rice and beans are the most popular staple in Costa Rica. In fact, most of the dishes are made up of one of the two, or both.
For instance, gallo pinto is a breakfast dish popular all over Costa Rica and is mainly rice and beans.
Another popular traditional dish in Costa Rica is cascada, made up of a combination of many dishes. You can get rice, beans, salad, tortillas, plantain, meat, and so on.
Some other dishes you'd want to try out include tamal, a dessert called arroz con leche, olla de carne, and black bean soup.
You can also find a host of American fast food chains like KFC, Burger King, Taco Bell, and more in larger cities like San Jose.
However, fruits and veggies make a good part of Costa Rican dishes.
Job Opportunities for Americans
Costa Rica is known for its low unemployment rate compared to other countries in Central American.
The country has very strict labor laws wherein foreign workers must be sponsored by an employer, and it must be for a position that can't be filled by a local. This means finding a job can be challenging.
Be careful when accepting offers from companies unwilling to help secure work permits. However, this does not spell doom for expats seeking to reside in the country. You can gain skills in fields wherein working remotely is possible and then telecommute.
The tourist visa and other temporary residency visas do not allow expats to work, but they can own businesses (that is a tip to make money). As an American, you can decide if setting up your own business is right for you.
Putting this in simpler terms, getting a job as an American in Costa Rica is nearly impossible except if you're highly skilled. A native Costa Rican will always be placed above anyone else.
The best bet would be to get a remote job that you can do online, then you can do that comfortably from Costa Rica.
This is similar to how it played out for me. I had a few remote gigs that allowed me to fund my lifestyle and afforded me a lot of free time as well.
In fact, the Costa Rican Government encourages remote working, as they signed into law a new visa program in December 2021. This gives remote workers a residence visa (digital nomad visa) for six months to a year so they can work from the country.
Banking in Costa Rica
To run your day-to-day activities seamlessly, you need to open an account with a Costa Rican bank. It would interest you to know that, basically, all Costa Rican banks have branches in the U.S.
Expats must meet certain requirements and conditions to open an account in Costa Rica. It involves a lot of paperwork.
Read our article on how to open a bank account in Costa Rica to find out everything you need to know.
The bank wants to know you if you're a trustworthy person or not (of course, no one wants to do business with shady people), and where your money comes from.
A shortcut to take when looking to open a bank account in Costa Rica is to buy property worth at least US$300,000. This will make the process easier. I got to know about this through an acquaintance who bought property.
Also, there is nothing a good attorney won't make easy for you in Costa Rica. Hire one and you'll get most things done.
Since 2016, expats could open bank accounts in the country if they can provide proof of residency. But even now, non-residents can open and maintain an account with Banco de Costa Rica (a state-owned bank) where a maximum of US$1,000 can be deposited every month.
All Costa Rican banks are categorized either under state-owned banks or private institutions. You can open an account in either as long as you meet the criteria. The state-owned banks include Banco de Costa Rica and Banco Nacional de Costa Rica.
State-owned banks guarantee all deposits and have many branches with an array of ATMs, hence making them more popular. However, being popular means longer queues.
The easiest account to open is the basic savings account that offers transactions in Costa Rican Colones and U.S. Dollars as well. Banco de Costa Rica also offers an account in Euros.
Concerning taxes in the country, you should read our guide on Costa Rica taxes for U.S. expats. However, you should always seek professional advice so you don't break the law.
Transportation
Driving in Costa Rica can be an extreme sport, so one needs to practice defensive driving to thrive in the city and exercise extra caution to stay safe.
A small vehicle like a Toyota Corolla or the likes will cost US$25,000 to purchase, and a gallon of gas currently runs about US$3.91, which comes out to just over US$117 per month for me.
Expect to do a lot of hiking in Costa Rica. Cycling is also a popular means to get around.
However, Costa Rica has a robust and reliable public transportation system that is affordable, costing just US$0.66 for a local one-way ticket. Traveling most days per month, you'd spend just about US$49.56. Taxi fares per mile run US$1.87 plus the US$1.07 base fee.
Life in Costa Rica: Entirely Different or Not?
Coming from America, I expected things to be just like they were back home. I had gotten used to the bustling environment of America.
For me and many other Americans who were newbies in Costa Rica, everything happened in slow-motion, but it was indeed shocking.
I often asked myself why people in Costa Rica moved so slow and questioned whether they had someplace to be.
With that said, below are some important tips about living in Costa Rica as an American.
Learn Patience
It's not referred to the Pura Vida country for nothing. The lifestyle entails that you wait and take things easy. Their unofficial mantra should be, "Nothing happens on time all the time and when you want it to."
Take Your Time, Understand the Country
You may have read all the beautiful things written about Costa Rica and seen videos about how alluring it is. My candid advice for you is to try to define and understand what you want and what you need.
What lifestyle suits you and what kind of lifestyle do you seek? Do you want the city life where there will be more access to amenities, or do you want the simple one offered in rural places or near the beach? It all depends on you.
This is why I suggest you get a temporary visa or a tourist visa where you can travel around to get a feel for the country. Use the time to visit regions all over Costa Rica.
From this, you will know if you want to make the move permanent or not.
Learn and Practice Spanish
The official language of Costa Rica is Spanish. However, with the large influx of expats over the years, other languages are understood by locals. English is among them. There is also Creole and other Indian languages.
Make an effort to learn and practice Spanish, though. Yes, you will fare well enough with English as you will always find someone who can speak it, but the locals will appreciate you more and even warm up to you faster when they see you putting in the effort to understand their language.
Visas
As an American, you don't need a tourist visa to visit Costa Rica. You can stay for as long as 90 days, but immigration has to see a proof of plans showing you'll leave the country after that time. Proof of plans to leave can be your return airline ticket.
If you want an even longer stay without seeking residency, then you'll have to become a perpetual tourist.
As a perpetual tourist, you have to leave the country every 90 days and go to a neighboring country for a day. Then you can re-enter Costa Rica for another 90 days. Rinse and repeat.
While this method is seemingly cheap, it will become tedious and expensive over time. Take into consideration that you'd have to quadruple this process every year, so the cost of transportation and accommodation will add up.
Interestingly, if you become a perpetual tourist, you still have the right to own property in Costa Rica. You can also own a business, but the law forbids you from working for it or any other company.
If you don't fancy the perpetual tourist status and you'd rather get the full benefits that residency offers, then you'd need to explore other options of residency in Costa Rica.
Residency Options for Americans
There are two types of residence permits issued to seekers of Costa Rican residence:
permanent residency permits
temporary residency permits
A permanent residency permit is issued when an applicant has a Costa Rican family member in the country, or after he or she has stayed in the country for a minimum of three years or more with a temporary permit.
There are about five visa options available to those who seek permanent residence in Costa Rica:
pensionado visa program
rentista residency program
invesionista visa program
representante residency program
permanent residency program
Note that holders of either the pensionado visa, the rentista visa, or the investor visa will be eligible to apply for permanent residency after three years.
Having said that, let's look at them in more detail.
Pensionado Visa Program
Costa Rica is a dream retirement location for many retirees because of its tranquil environment and tropical weather, both of which sometimes convince many visiting tourists to want to stay in the country permanently.
The pensionado visa, known as a Costa Rica retirement visa, was designed for retirees who want to settle in the country.
There is no fuss involved in getting this visa, and the requirements are straightforward as well.
Applicants need to have proof of US$1,000 income per month from any source, and it must be guaranteed for life. This source could be from a private insurance company, military pension, social security, and so on.
In addition to the monetary obligation, retirees have to show other documents as well. These can be found in detail on the Costa Rica Embassy's website.
Rentista Residency Program
This is a temporary residency permit granted to expats who want to move to Costa Rica and who have at least US$2,500 income per month guaranteed for a minimum of two years.
This requirement can be met by making a deposit to the tune of US$60,000 in a bank account and obtaining a commitment letter that US$2,500 will be made available monthly.
Invesionista Visa Program
If you've fancied doing business in Costa Rica then the invesionista visa opens up a portal for you. With this visa, you get a temporary permit to do business in the country.
An applicant needs to make an investment of at least US$200,000 to be considered for this residency permit (your money does most of the talking here, but you need to meet other requirements as well).
Just as with the pensionado and rentista visas, holders of this visa are allowed to add a spouse or dependent under 25 years of age. He or she can also buy property or own a business but will not be permitted to work as an employee.
Representante Residency Program
This visa program serves directors of companies who employ a minimum number of local workers established by labor laws and provides a financial statement verified by a public accountant.
More details about this can be found on the Costa Rican Embassy's website.
Permanent Residency Program
A person with a first-degree relative status with a Costa Rican citizen either by blood or marriage can apply for a permanent residency permit.
If you have no relative in Costa Rica and you want permanent residency, you only need to have stayed in the country for at least three years. Then you can begin the process of permanent residency.
The benefits of being a permanent resident include the freedom to work, owning property or starting a business, plus other benefits enjoyed by citizens (excluding voting and being voted for). These visa holders can also add a spouse or dependent under the age of 25.
Other Key Facts About Costa Rica
There are other key facts that are important to know when living in Costa Rica as an American.
Let's cover them more closely.
Weather
Costa Rica has two basic seasons – it's either hot and sunny or wet and rainy. The weather may be just right or go overboard at other times. However, it can be beautifully warm between December to April when there is little-to-no rain.
The wet season runs from May until November. During this period it pours hard. However, where you live will be a major determinant of how the weather affects you.
For instance, if you live anywhere on the beach or around it, the weather will be more intense. During the dry season, you'd almost always need an air conditioner as opposed to those who stay in the mountains.
The Costa Rican People
I have mentioned in this article the friendly and warm nature of Costa Ricans, but I'll sound that gong once more. The people love their country and are always willing to show an expat around.
However, expats with little patience may find Costa Ricans to be different. They are known to be quite real and blunt with the way they air their thoughts. It's a kind of say-it-like-I-think-it sort of culture.
Now, on to You
Packing up and leaving America for Costa Rica may not be as easy as it sounds. I was on very shaky ground when I finally decided to move, and my first few months as a resident in Costa Rica weren't exactly glamorous.
But if you're interested in doing it, check out our guide on moving to Costa Rica next. It'll show you step-by-step what you need to do to prepare for your move to this beautiful country.