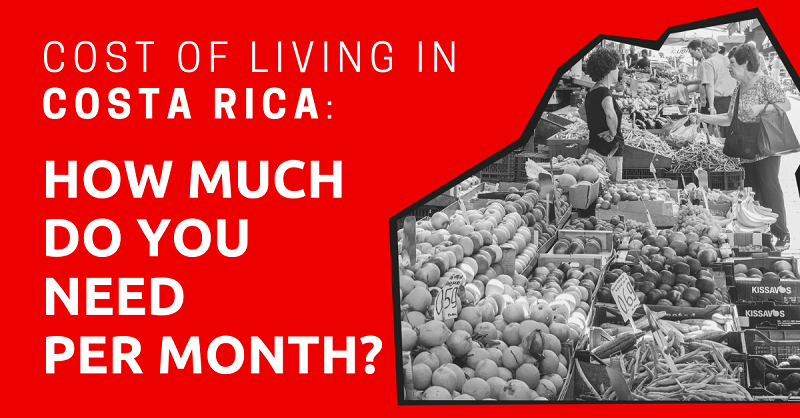 Whether you're looking to retire in Costa Rica or spend a lengthy stay in the country, you need to know what your cost of living will be.
Not only will this help you budget how much you're going to spend each month, but it'll also help you save some cash so you can spend it on the things you enjoy in the country.
In this guide, we're going to break down all the major and minor expenses you might incur each month while living in Costa Rica. From housing to food and from utilities to entertainment, let's look at how expensive – or in most cases, inexpensive – Costa Rica is.
This article will take approximately 17 minutes to read. Don't have the time right now? No worries. You can email the ad-free version of the article to yourself and read it later!
Is it Cheap to Live in Costa Rica?
When it comes to living in Costa Rica, the first thing many expats want to know is if the country is expensive. Unfortunately, the answer to that question is "yes."
Costa Rica is more expensive than any other Central American country.
With that said, Costa Rica is still at approximately 37% cheaper than many developed countries including the United States or the United Kingdom, Germany, and other European countries.
This means almost everything in Costa Rica is 37% less expensive than the United States.
However, many of the products that you enjoy in the United States have a higher price tag to here.
For example:
Luxury items are expensive but basic-need items are cheap
Imported goods are expensive but products made or grown in-country are cheap
Gasoline is expensive but hiring labor is cheap
Many times the increase in prices is due to the import taxes, which can sometimes double the cost of the product.
A good example of this involves shaving cream. If you want to buy an American brand, then you can expect to pay around 5,000 colones (US$7.85). However, with a local brand, you pay no more than 1,600 colones (US$2.5).
Knowing this, you're better off enjoying local products ­– unless you have bottomless pockets.
But, as you'll soon see in the next section, there is a way to lower your cost of living in Costa Rica.
Visa Type
Your immigration status while living in Costa Rica will play a major role in your cost of living. When you move to Costa Rica, you have many visa options that will let you live here long-term.
They include being a retiree (pensionado), an inversionista (business owner or investor), a rentista (property owner), or the spouse of a Costa Rican.
When you get one of these statuses, you will experience cheaper living expenses because Costa Rica puts its people first ­– whether local or expat.
If you have your residency ID, you'll be considered and recognized as one of the country's own. You'll get cheaper health care coverage and you'll find it easier to qualify for rental leases.
With that said, getting a residency ID takes a lot of time and money and may not work out in your favor if you only plan to stay in Costa Rica on a 90-day tourist visa.
For everyone else, keep reading.
Housing Prices
Housing prices in Costa Rica depend on the same circumstances you would find in other countries.
Prices are based on whether you want to live in low class, middle class, or upper class neighborhoods and depend on amenities, location, and total square meters.
Living a modest life here is possible, though, so it shouldn't come as a surprise to hear that housing prices in Costa Rica are so low compared to the West.
In fact, you can buy a two-bedroom condo for under 63,730,220.00 colones (US$100,000). If you want luxury, then you will find it a lot more costly, up to 1,500,000,000 colones (US$2.35 million) in places like Guanacaste.
Short-Term Rentals
You can get a short-term rental to get a feel for living in Costa Rica before you commit to moving to the country. This will give you a little taste of what you can expect while living in Costa Rica long-term.
Many options for a short-term stay are available, such as:
If you decide to stay in an Airbnb, hostel, or hotel, you can look for other convenient short-term options while inside the country.
You can easily walk around the barrios (neighborhoods) and find signs that say se alquila (for rent) hanging in the home's window.
Going directly through an owner is the easiest way to land a rental.
Depending on the size of the rental and utilities, the average short-term rental is between 160,000 to 380,000 colones (US$250 to US$600) per month.
Long-Term Rentals
Finding long-term apartments or rental homes is easy, and once you sign a lease, you'll be locked into an agreed upon monthly amount that can either include or exclude utilities.
Either way, the monthly rent can range from 130,000 to 955,000 colones (US$200 to US$1,500) per month, depending on the region you decide to live in.
Food
The diet of Costa Ricans is made up of rice and beans and will always be included in the typical meal.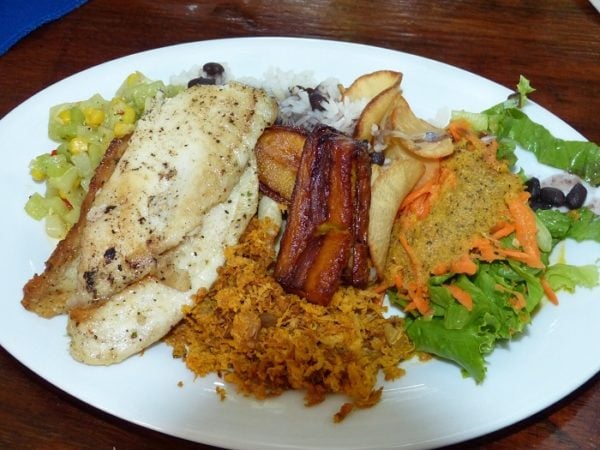 This is due to the control that the government has over the price of rice and beans, which is relatively cheap and affordable for ticos, or Costa Rican natives.
If you're not used to having rice every day, then you better get used to it – or not buy it at all.
On average, the price of rice is around 955 colones (US$1.50) per kilo.
Because of cheap food prices, you can make one grocery run and have an entire month's worth of food for under 130,000 colones (US$200).
If you live in areas frequented by expats, then you may see higher prices. Asking around to find the lowest prices is a good idea because locals know where to go.
To save the most on your grocery bill, visit the weekly farmer's market in your area.
Dining Out
There will be many times that you don't feel like cooking at home and decide to dine out.
This is fine because you will absolutely love discovering what awaits you as you experience the Costa Rican cuisine.
There are many restaurants that serve everything from cheap traditional food to porterhouse steaks that will run you at least 35,000 colones (US$58).
But, if you want to truly experience Costa Rican food, keep an eye out for the local sodas, or diner.
A plate of local food with meat costs around 3,800 Colones (US$6) to 7,000 Colones (US$11) on average. A meal can even be as cheap as 2,500 Colones (US$4) in non-touristy areas.
These are family-owned and serve traditional meals that may have a little twist to them. However, they will normally have rice and beans in the mix and are inexpensive.
Typical a meal at a soda includes salchichon – or sausage – eggs, a cheese slice, and pinto beans.
If you add in a natural drink, then that will only be an extra 500 colones (US$0.75). So, in total, a traditional meal will run you 3,000-7,000 colones (US$5-11).
Taxis
There are two types of official taxi services in Costa Rica: red and orange.
You will only find the orange taxi at the airport and they primarily transport passengers to their destinations.
Their meter begins at 960 colones (US$1.57) and increases in 10 colones intervals until you reach your destination.
You will find the more common red taxis in all provinces, and they can only pick up passengers in their designated areas.
The meter rate for red taxis begins at 660 colones (US$1.08) and every km thereafter is 630 colones (US$1.03). So if you take a red taxi to a destination 10 km away you can expect to pay 660 + 630×10 km = 6960 colones (US$11.40).
Other than the official taxis, Uber also operates and employs close to 30,000 Costa Ricans since launching in 2015. It services all areas of the country.
The cost for an Uber ride also varies but tends to be cheaper than taxis. The average price is roughly 3,100 colones (US$5.00) in the San Jose area.
Transportation
Having a new car in Costa Rica is expensive. A vehicle's price in the country and the United States can differ by more than US$25,000.
Public transportation in Costa Rica is very affordable.
For example, a 2022 Hyundai Tucson that has a US$24,950 price tag in the states can double in Costa Rica due to import taxes.
Gasoline prices to keep your new car running cost close to 3,800 colones (US$6) per gallon.
The cheaper alternative is to rely on public transportation.
Buses are available for almost every destination within Costa Rica. Not only that, but public transportation is as easy to use as those in other developed countries.
Public transportation in Costa Rica is very affordable.
Every bus route is cheap by comparison, but like everything else, the price depends on the distance of your destination. So, the further away you go, the more you will pay.
Currently, the price for a local city bus is 200-400 colones (US$.30 to $.60)
Besides local buses, there are also buses that travel to further distances, which originate in San Jose and have bus terminals in smaller cities.
Like we've mentioned, the price depends on the distance and can vary between 1,500 and 6,400 colones (US$2.45 and US$10.00).
The more popular destinations that the San Jose bus routes cover include the following:
Poas Volcano = 3,100 colones (US$5.00)
Tamarindo = 5,700 colones (US$9.00)
Manuel Antonio = 4,400 colones (US$7.00)
Quepos = 3,800 colones (US$6.00)
Playas del Coco = 6,400 colones (US$10.00)
Public Healthcare Services
Costa Rica provides a universal health system through their CCSS (CAJA) and private healthcare insurance through their Instituto de Seguro Nacional (INS).
The health services provided through CAJA are paid for through a percentage of your monthly salary. The rates increased in 2022, so those enrolling in the program after March of 2022 will pay higher rates. The percentage you pay depends on your total monthly income, but it ranges between 9-17% for foreigners and also depends on your official status in Costa Rica. The INS is a little different in that its costs are determined by age.
Up to 21 years old: 18,000 colones (US$30)
22 to 40 years old: 24,000 colones (US$40)
40 to 60 years old: 33,000 colones (US$55)
60 and above: 42,000 colones (US$70)
The healthcare and dental care provided in Costa Rica is among the best in the world in regard to costs and quality.
Like we said above, all healthcare recipients must pay a certain monthly amount in order to receive care. The payments are minimal, which is great for exceptional care.
As soon as you're all set up and current with payments, you'll have access to free services that you would normally have to pay for out of pocket in the U.S., especially prescriptions.
Regardless of being able to provide superior care, public hospitals are often crowded with patients who don't have a choice in the doctor that sees them.
Education
If you have school-aged children and they have some level of Spanish, then you may be able to enroll them into public school.
If they do, then you can expect to pay for supplies, uniforms, and books. You don't have to worry about the cost, however, because at the most, it will be no more than 13,000 colones (US$20).
If you prefer to have your child attend an international or private school, then you're looking at tuition on top of the normal supplies and requirements.
Having your child receive a private education will cost you quite a bit depending on the age of your child and which school he or she goes to.
On average, monthly tuition for basic private schools start at 130,000 colones (US$200.00) and can go as high as 1,300,000 colones (US$2,000)for more prestigious academies.
As for international schools, the yearly price is the same across the board and can be as high as 9 million colones (US$14,000).
Attending university in Costa Rica is another option once you make Costa Rica your home. The yearly tuition ranges between 1.5 million colones (US$2,400) and 1.7 million colones (US$2,700) for a public university undergraduate degree. And up to 25 million colones (US$40,000) for a degree at a private institution.
If you wish to obtain your graduate degree, then you can expect a cost of at least 2,745,000 colones (US$4,500).
Groceries
Once you stock up on your fruits and vegetables from the local farmers' market, head over to the local market and stock up on your other non-produce items.
A few examples of some common food items that are often found in a tico fridge include the following:
2% liter of milk: 860 colones (US$1.35)
Bread loaf: 1270 colones (US$2)
Dozen eggs: 1500 colones (US$2.35)
Farmers' Markets
Like we've mentioned, getting your produce from the local farmers' market is the way to go. Not only will you get an entire month's worth of produce for under $120, but you can find them in every city.
You can buy yuca chips (cassava chips) at farmers' markets.
Normally, farmers' markets are held on Friday and Saturday mornings and provide the freshest fruits and vegetables straight from the farm.
Oftentimes, you will find vegetables that are hard to find in the states, such as yuca, which is like a potato.
You can buy yuca chips (cassava chips) at farmers' markets.
Some of the popular farmers' markets can be found in the following cities:
Heredia: the Heredia farmers' market is in front of the plaza in San Bartolome. It is a big farmers' market.
Alajuela: Alajuela's farmers' market is two blocks west from the Santa Anita gas station. You have your choice of going on a Friday or Saturday, but to get the best produce, go on Friday.
Atena: the farmers' market in Atena is held on Friday and can be found south of the central market.
Escazu: this suburb is well-known for many wealthy ticos. Its farmers' market is held every Saturday near the central Catholic Church.
Jaco: the Jaco farmers' market is held every Saturday and is near the stadium.
La Fortuna – The farmers' market in La Fortuna can be found every Friday near the city's Salon Comunal de La Fortuna, which is close to the volcano.
Coffee
Coffee in Costa Rica is taken very seriously and is highly regulated by the government to ensure that only 100% Arabica quality is maintained.
Chances are, you will experience a nice cup of Joe while in Costa Rica want to keep a bag of your favorite ground beans in your house.
But what Makes Coffee Here So Great?
Costa Rica provides the best conditions for growing coffee. The soil is very rich and fertile, the climate is warm, and there is plenty of rain.
Because conditions are ideal, on 100% Arabica beans are grown.
Once you've lived in the country for a while are invited into a friend's home, you'll notice that they will always offer you a cup of coffee.
Likewise, when you make plans to go out with friends, coffee will always been part of the date regardless of what the actual plans will be later.
Prices will vary based on brand, amount of ground coffee, and strength. But on average, a 200g bag of ground coffee costs roughly 1,500 colones (US$1.75).
Utilities
Electricity will cost you the most as far as monthly utilities because you will use the air conditioning a lot if you live in a hot and humid area of Costa Rica.
If you decide to live in these areas, then you can expect the climate to be a constant 80 degrees with a humidity level that averages 85%.
In the central valley, though, the climate is cooler and more comfortable thanks to the mountainous surroundings that bring in the cool winds.
With that said, let's take a look at a breakdown of each utility.
Electricity
Just like in the U.S., the electricity paid for in Costa Rican is determined by the amount used.
So if you don't feel like paying high rates, then foregoing the air conditioning would be the place to start.
However, if you can't imagine yourself living without air conditioning, then you can expect to see the following rates:
55-67 colones (US$0.08-US$.11) per kWh up to 200 kWh
67-120 colones (US$11-US$0.19) per kWh for 201-300 kWh
139 colones (US$0.22) per kWh for 300 kWh or more
Rates also depend on housing type. You can check the CNFL website for more info.
Water
Water consumption is not an expensive utility in Costa Rica, but it is metered, so the amount you use has to be paid for.
On average, the cost for water is moderately cheap thanks in part to many home appliances that help to conserve water.
A few of these include washing machines that are semi-automatic and shower heads that are low-flow. You'll rarely see a dishwasher in a home as dishes are mainly hand-washed.
With this in consideration, the average cost for water is around 8,000-15,000 colones (US$ 12 to US$23.00) per month.
You can check the Institute of Aqueducts and Sewers for a detailed breakdown of water price per unit.
Cable Television and Internet
The three main cable providers in Costa Rica are:
These cable providers offer customers at least 55 channels in both English and Spanish.
If you wish to include the internet with your cable, that is no problem and can be installed in one day.
On average, the cost for cable and internet depends on your needs, but can average between 15,000 to 32,000 colones (US$23 to US$50) per month.
Entertainment
Visiting and living in Costa Rica can be a fun experience and the country offers a lot of enjoyable activities.
National park entrance fees in Costa Rica are between 4,400 and 9,500 colones (US$7 and US$15) per person, per day.
From the beaches to the national parks, there's something for everyone once you know where to look.
If you're a nature and outdoor type, then making visits to the many national parks will help you to stay relaxed.
National park entrance fees in Costa Rica are between US$7 and US$15 per person, per day.
Many of the activities offered in national parks include touring through the canopies, observing the wildlife, riding horses, and hiking on the many trails.
There are also many trips that take an entire day, like visiting the active Poas Volcano or the La Fortuna Hot Springs.
Tour prices per person can be as much as 50,000 colones (US$80).
Average Cost of Living
When you decide to make Costa Rica your home, you will love that every city has a different cost of living, which makes it easy to live in on a budget.
Below, we've listed the major cities and regions that U.S. expats love the most along with the average cost of living for a single person.
San Jose: 700,000 colones (US$1100)
Alajuela: 575,000 colones (US$900)
Limon/Puerto Viajo: 640,000 colones (US$1000)
Guanacasta: 1,270,000 colones (US$2,000)
Puntarenas: 800,000 colones (US$1,250)
Now, on to You
The location and lifestyle that you're after while living in Costa Rica will weigh heavily on the amount you spend each month.
However, when you factor in everything above, the average amount can be between 550,000 to 3,000,000 colones (US$900 and US$4,500) per month.
Considering everything you've discovered in this guide to the cost of living in Costa Rica, what would your monthly expenses be?