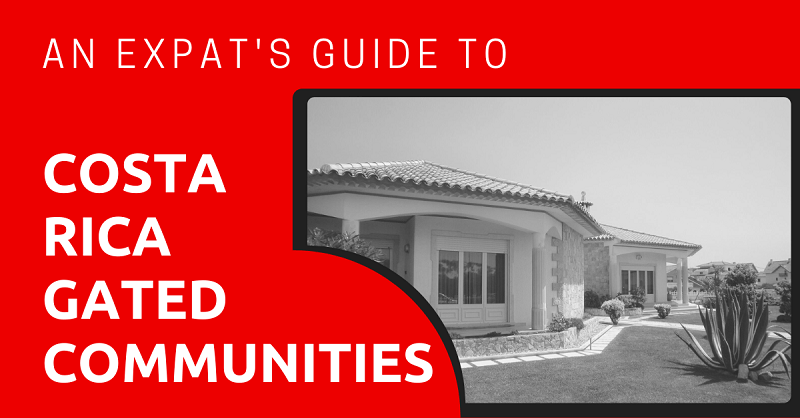 Gated communities in Costa Rica are another popular accommodation for expats who want to make the country their home.
But there are advantages and disadvantages that come with living in these kinds of neighborhoods.
Having said that, in this guide you'll discover what a gated community in Costa Rica is, the types of homes you can find there, some popular locations throughout the country, and how much a house would cost to buy and rent there.
This article will take approximately 11 minutes to read. Don't have the time right now? No worries. You can email the ad-free version of the article to yourself and read it later!
Why People Live in Gated Communities
There are many reasons why people live in gated communities in Costa Rica. Let's go over some of the more popular ones.
Similar Social Class
The first is to live near others in the same social class. Costa Rica has gated communities for middle-class, upper middle-class, and upper-class, all mixed together.
In other countries people in similar wealth brackets tend to live near each other. There are mansions near other mansions, middle-class homes near other middle-class homes, and lower income homes near other lower income homes.
In Costa Rica, however, communities aren't set up that way. You'll find houses of different types – mansions, middle-class homes, and lower income homes – all in the same neighborhood.
If socioeconomic status is important for you, then gated communities are great for you. Your neighbors will be in approximately the same income bracket as you.
Added Security
In Costa Rica, it's almost standard for houses to have bars on their windows and razor wire, electrified wires, or broken glass on walls and rooftops. This is done to keep houses safe.
Even though Costa Rica has low crime rates, these features are pretty commonplace on almost all houses.
Gated communities are more secure and safe than if you were to rent an apartment in Costa Rica. There is round-the-clock security at the entrance and many gated communities have walls surrounding the entire complex.
Because of the gates and extra security, you also won't have to worry about solicitors.
Less Maintenance
Gated communities tend to be more beautiful and better maintained than most neighborhoods, in general.
Common areas and amenities are maintained by the homeowner's association, so you have beautiful grounds that you don't have to worry about maintaining.
Reduced Noise
The bylaws of most gated communities prohibit loud noise during specific hours, so you don't have to worry about noisy neighbors. In general, you'll find it quieter and more peaceful.
Moreover, the only vehicles allowed in the community are the resident's cars, so you don't have to worry about people speeding through your neighborhood or passing by in loud, noisy trucks.
Lower Construction Costs
Since the houses in gated communities are built at the same time, contractors often get a discount on the bulk materials they need to build a house. So, if you want to buy a house in Costa Rica, you should look at gated communities.
There are also gated communities where you work with the developer to determine the details about your house or even choose your builder. They will, of course, have to follow the guidelines of the gated community. But at least you'll be able to somewhat customize the house to your liking.
Property Value
Another nice thing about gated communities is that property values tend to stay stable or even grow. On the other hand, it's rare that a property in a gated community will lose value.
Facilities and Amenities
Another advantage to living in a gated community is the facilities and amenities. Many of these things can be expensive to have and maintain on your own, but living in a gated community can help make them affordable.
Some amenities that can be found in gated communities in Costa Rica are:
tennis courts
swimming pools
gyms
parking spaces
walking trails
Amenities vary according to the gated community, but most of them have something special to offer.
Prices
In Costa Rica, rental and sales prices in gated communities vary. Houses in luxury gated communities can go as high as US$15,000,000.
Since the cost of living in Costa Rica is quite low, on the lower end, a house in a middle-class gated community runs about US$350,000. A plot of land in a gated community, on the other hand, could cost as little as US$100,000.
If you're interested in renting in a gated community, you could expect to spend between US$2,000 and US$3,000 per month for a house with plenty of space and a private pool.
Best Gated Communities
You'll mostly find gated communities in the suburbs of large cities, in beautiful natural areas, and nearby beaches and other tourist areas.
Having said that, here are three places where you can find gated communities in Costa Rica.
San Jose
Orchid Point Estates is a gated community in the hills west of San Jose, near San Antonio de Puriscal. This community has 5,000 square-meter lots (about 1.25 acres).
All of the lots have municipal water and electricity and come with magnificent views of the Central Valley and Santiago de Puriscal. Other lots have 360-degree views of the Central Valley and the surrounding distant mountains.
The creators of this neighborhood have clearly chosen this area overlooking Santiago de Puriscal for both the natural beauty and convenience.
The gated community is near the Escazu and Santa Ana area – home to the largest mall in Costa Rica – a U.S.-affiliated medical center, restaurants, dentists, and other goods and services.
Here, you can enjoy an ideal climate, majestic views, country character, and yet have easy access to all sorts of modern amenities.
In addition to all of these luxuries, there is a new road being built from Ciudad Colon to Caldera. That means that homeowners in this community can drive to the Pacific Coast in about an hour.
Easy access to the beach is a bonus, since the climate near the coast is more hot and humid than the climate in the hills, where this gated community is built.
Atenas
Rocas Verde is a larger gated community near Atenas, a 45-minute drive from San Jose. This particular development defies a lot of the generalities applied to gated communities.
Both locals and expats own homes in this community. It has large lots that often, but not always, have mountain or valley views. Many of the available parcels have a secluded feel to them with only a few of the nearby houses being visible.
Homes also come in a variety of sizes, with different numbers of bedrooms, but even the smaller ones are spacious. Rocas Verde will let you select what architectural style you want for your home, though most of the choices seem to be an updated version of the Tico-style house. Some of the homes even have a private Jacuzzi and a swimming pool.
However, unlike many other gated communities, Rocas Verde doesn't have many amenities. The focus is on the privacy of residents.
Because it doesn't offer many amenities, this means the association fees are lower than usual. This makes Rocas Verde a good place to live if you're worried about the cost of retiring in Costa Rica.
Beach Communities
The Vistas de Manuel Antonio can be found in the Central Pacific region of Costa Rica. It's a 210-acre gated community on a beach. It's located in the foothills above Manuel Antonio outside of the Quepos. It's only about a 20 minute drive from fine dining, shopping, several beautiful beaches, and fishing.
Many of the lots boast ocean views and sit on cobblestone roads. The homes are high-quality rustic log cabins designed to blend in with the surrounding nature. These homes are also equipped with high speed internet and voice over internet protocol.
Homeowner's Associations (HOA)
Gated communities also have a homeowners association (HOA). It collects monthly fees that are used to upkeep the neighborhood and pay for the security personnel.
HOAs also set community rules that you must follow, usually regarding the upkeep of your property, how you conduct yourself in the community, and allowable changes you can make to your property.
HOA fees vary depending on the size of the community and the amenities and facilities that must be maintained. That being said, compared to North America, the fees are quite reasonable.
They will cost around US$175 to US$275 a month on average. That's not to say there won't be outliers. If you're interested in living in a gated community, it's in your best interest to find out what the fees are before you buy.
Disadvantages of Living in a Gated Community
Because there are a number of rules and guidelines in a gated community, many people find it difficult to live in them. Some of the rules ensure that all of the houses fit in together and that everyone is maintaining their properties. Other rules make it easier for people to live together.
However, there are some HOAs with rules that dictate other things like visiting or quiet hours. As a result, guests may feel strange with all that's required just to get to your house. Deliveries and other service providers can also have trouble accessing your property.
While many people might appreciate these things, there are plenty of other people that don't want others to dictate what they can and can't do on their own property.
Increased safety and security is nice, but it often comes at a price. Even if you completely own your own home, you will still have to pay HOA fees every month.
Because there are common areas and many houses grouped together, it's likely that you're going to have neighbors that you see and converse with on a regular basis. If you like your privacy, a gated community might not be for you.
On the opposing side, people can often feel isolated in gated communities. If you don't fit in with your neighbors, it can often feel rather lonely to live where you don't have any friends.
The physical separation of the rich from the poor may feel off-putting to many people. Not everyone wants to be around people of the same socioeconomic bracket, so it can feel weird not to see and live near all different types of people.
Choosing the Right Gated Community
When it comes to gated communities, there are many pros and cons. So, find out all you can about the gated community where you're interested in living. You can ask about the amenities and facilities by visiting the property manager's office.
Ask about the HOA fees as well.
It's important to get a full copy of the HOA rules and regulations before you buy. You wouldn't want to live in a place where you would struggle to follow the rules. Many HOAs have simple, easy-to-follow guidelines. Others have really restrictive rules. The only way you're going to find out is to ask.
Now, on to You
Gated communities in Costa Rica offer a completely different living experience than traditional neighborhoods in the country.
Your neighbors will be of a similar socioeconomic status and you're guaranteed much more safety and security.
In the end, choosing to live in a gated community is a personal choice. You might think that a gated community sounds like a great place to live, or you might decide that it's not right for you.
The best thing you can do is make sure you have as much information on a gated community as possible before renting or buying a house.