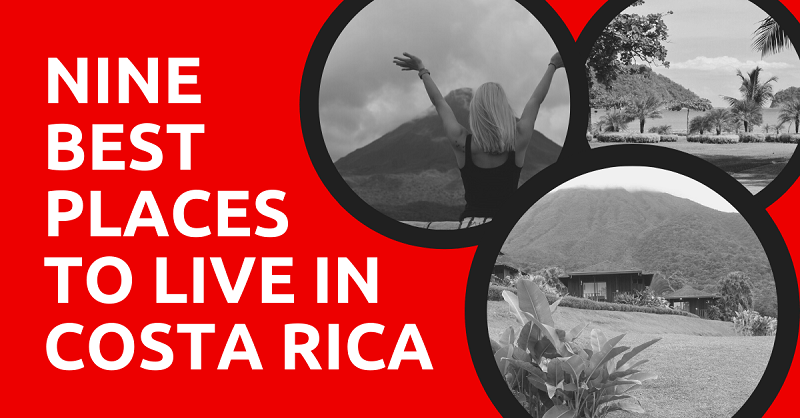 Costa Rica often ranks high on lists of best places to live, and for good reason. It's got great scenery, greater weather, and plenty of appeal for expats from around the world.
Despite being a small country, there's plenty of diversity in terms of possible living locations.
So, to help you narrow down your choices, here are nine of the best places to live in Costa Rica.
This article will take approximately 14 minutes to read. Don't have the time right now? No worries. You can email the ad-free version of the article to yourself and read it later!
What to Consider Before Moving to Costa Rica
As with all relocations abroad, you must consider some important things before settling on a destination. These include:
work opportunities (if this is a reason for your move)
access to healthcare and amenities
cost of living
weather
lifestyle options
We've used this list to come up with nine of the best places to live in Costa Rica. Of course, you should only use this as a starting point because nothing is more helpful than visiting the country and experiencing it for yourself.
Where to Live in Costa Rica
Here are our top nine picks for the best places to live in Costa Rica.
San Jose
Where better to start than with the country's capital city? San Jose has some of the country's best healthcare facilities and job opportunities.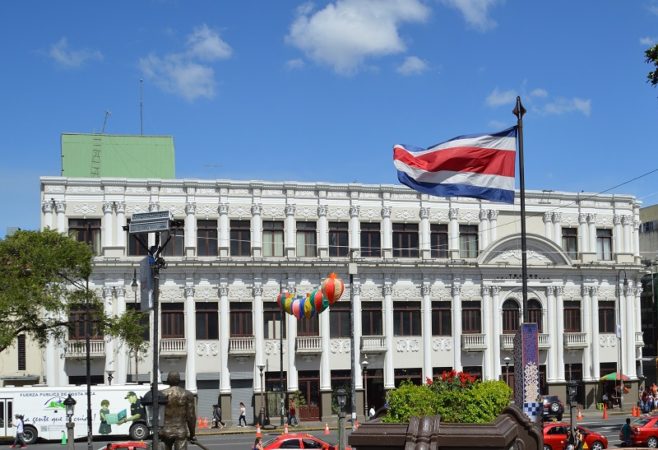 Moreover, it's a bustling city with great nightlife and restaurants, meaning you'll always have something to do. San Jose is also home to some great schools.
The weather is great in San Jose. Temperatures range between 65 degrees Fahrenheit and and 84 degrees Fahrenheit throughout the year, and the city gets around 12 hours of sunlight per day.
While the cost of living in San Jose is the highest in Costa Rica, it's still 35 percent lower than in the U.S. Basic, everyday items such as groceries are cheap, but luxury items are more expensive. However, it balances out overall.
The downsides of San Jose aren't massive and apply to most capital cities. For example, it's busy, as you might expect. Some services are a bit outdated compared to what you might be used to, but again, it's not a massive issue.
So, San Jose is perhaps the best place to live in Costa Rica if you want access to international travel, great amenities, and don't want to live in rural areas.
Pros
San Jose has everything you might expect from a capital city
good nightlife and cultural opportunities
decent access to the rest of the country
Cons
San Jose has the highest living costs in the country
some of the city's services are outdated
Nuevo Arenal
Nuevo Arenal is a relatively small town in the highlands of northern Costa Rica. It's about an hour's drive from Lake Arenal, a great walking and watersports site.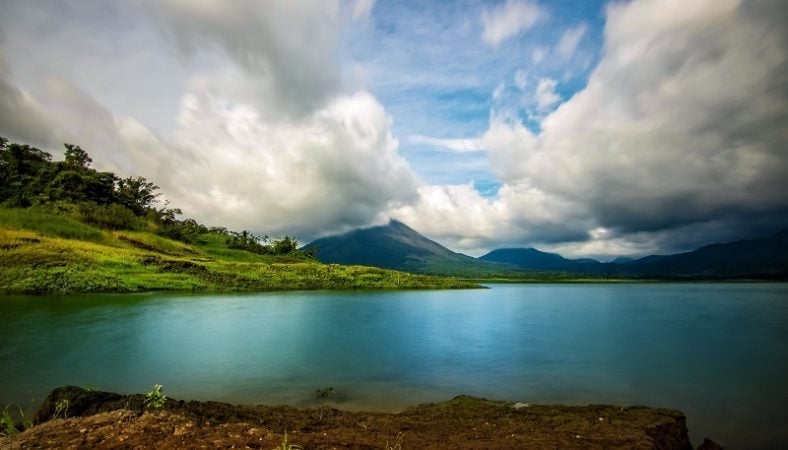 The "Nuevo" part of the name comes from the fact that the original town of Nuevo is now located under the lake.
Arenal has a notable population of Germans and Italians, so there are already expat communities you can integrate into. Many of them run restaurants in the town, giving it an interesting culinary vibe.
The town is pretty rural but has a few hotels to cater to the tourists in the area. As such, the main job opportunities relate to tourism, whether in hotels or restaurants.
The average annual temperature in Nuevo Arenal is 71 degrees Fahrenheit, although it drops significantly in the winter. While not everyone will enjoy this, it does offer a nice break from the warm, humid climate you'll find in other parts of Costa Rica during the same time.
Due to its size and rural nature, Nuevo Arenal is pretty cheap. However, there aren't loads of amenities in the town – you'll have to travel elsewhere for healthcare or large supermarkets.
Pros
amazing scenery
great outdoor activities nearby (particularly on Lake Arenal)
home to expat communities
Cons
not everyone will appreciate its rural location
Nuevo Arenal lacks amenities
Gold Coast
While the Gold Coast is home to several towns and villages, it's worth discussing as a single location. It refers to Costa Rica's northwest coastline and, unsurprisingly, has numerous amazing beaches.
This does attract a lot of tourists. Depending on what you want from your new life in Costa Rica, this could be a major pro or con. It means there are plenty of tourism-related jobs but also that work is very seasonal.
Some of the notable places to live include Playa Hermosa, Las Catalinas, Conchal, and Tamarindo. There are plenty more, but these are some of the latest up-and-coming locations.
Playa Hermosa, for example, is home to luxury and boutique hotels and, by extension, plenty of places to eat and drink. But let's not forget about the beaches, as these are why people flock to the area. Each is amazing in its own right, with golden sand and crystal-clear waters.
Other than the beaches, the Gold Coast receives the least amount of rainfall in the country. The temperature ranges from 72 degrees Fahrenheit to 82 Fahrenheit all year, kept in check by the coastline.
There's very little negatives about the area, which is why it's so popular. You'll find golf courses, amazing amenities, and plenty of culture along the Gold Coast.
Pros
popular with expats
plenty of differences between towns and villages
great amenities
Cons
tourism can be a downside for some
cost of living is fairly high
Puerto Jimenez
You'll find Puerto Jimenez on the Osa Peninsula in southwest Costa Rica. It's the largest town in the province, which gives you a good balance between rural living and convenience.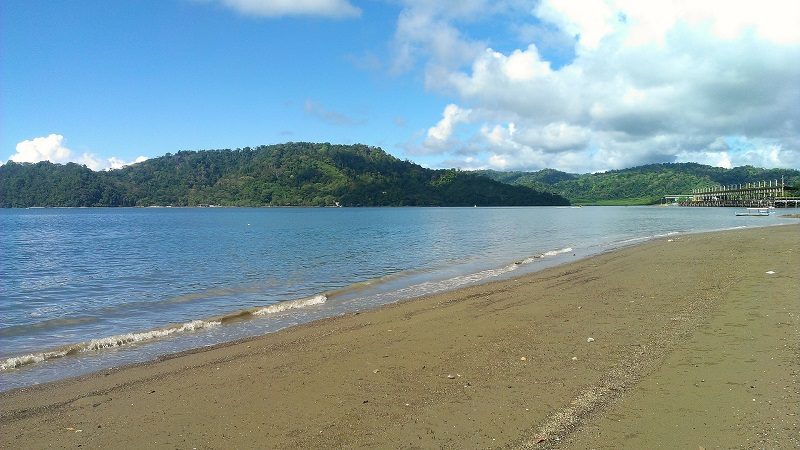 More importantly, it has its own airport – the third busiest in the country. Although you can't fly direct from here to your home country, the airport connects to San Jose Airport, so it's ideal for traveling.
Puerto Jimenez also gives access to Corcovado National Park, known for its biodiversity. The peninsula is home to around a third of Costa Rica's native species, making it ideal for nature lovers.
The cost of living is lower than places like the Gold Coast but is slightly higher than smaller towns on the Osa Peninsula. You'll find a supermarket, plenty of bars and restaurants, and other things to keep you busy.
However, for some healthcare services, you'll need to travel to a larger city.
The average temperature in the town is 79 degrees Fahrenheit, but it rains often here. Its dry season is short, and it receives an average of 146.5 inches of rainfall annually. So, if you want somewhere on the dry side, consider the Gold Coast.
Pros
access to a great national park
Puerto Jimenez has its own airport
plenty of things to keep you occupied
Cons
Atenas
Atenas is a city in Costa Rica's Central Valley, roughly 20 miles from San Jose. Despite also being a city, it's much smaller than the capital, making it a good middle ground for those who want amenities but also seek a quieter lifestyle.
The weather is basically identical to San Jose, but the cost of living is lower. It hosts a weekly farmer's market where you can buy fresh food, but there are also supermarkets.
Atenas has undergone lots of real estate development in the last few decades. As a result, there are large residential complexes with comparatively modern apartments. It's part of the reason why it's so popular with American and European expats, so you'll have plenty of communities to integrate into.
The city is connected to four national highways, making it fairly easy to get around. So, while you might not have access to the same immediate wildlife as you would in Puerto Jimenez or Nuevo Arenal, it won't take you ages to get there.
Atenas has a good share of healthcare and fitness facilities, too. Overall, there's very little negative to say about it other than it being quite hilly. The Atenas area varies in altitude from 900 feet to 3,600 feet.
Pros
good compromise between rural and urban
easy access to the rest of the country
comparatively modern housing
Cons
Limon
Limon is located on the Caribbean coast and is the capital city of the Limon Province. Compared to other locations in the province, it's not as popular with expats. However, it has everything you could need.
Limon is home to the province's major healthcare facilities, cultural activities, and shops. There's an annual festival that's worth attending, and tourism means there are plenty of seasonal jobs.
But if you need the country's most advanced healthcare, you'll need to travel to San Jose. This can take four hours or more, and the roads are often subject to landslides. Compared to the western side of the country, Limon can feel a bit more isolated.
The weather is exactly what you'd expect: warm and wet. It can receive tropical showers outside of the rainy season, but these are usually quite short.
Limon is a stopping point for lots of Caribbean cruises, and it also has a more notable Caribbean population than elsewhere in the country. As such, there's quite a different vibe to what you might find in central or western Costa Rica, making it an interesting place to settle down.
Pros
good amenities
Caribbean influences
interesting culture
Cons
travel to San Jose can be difficult
Quepos
Quepos is located on Costa Rica's Central Pacific Coast, an area we haven't yet discussed. It sits between the Gold Coast and the Ora Peninsula, meaning the climate is about the same.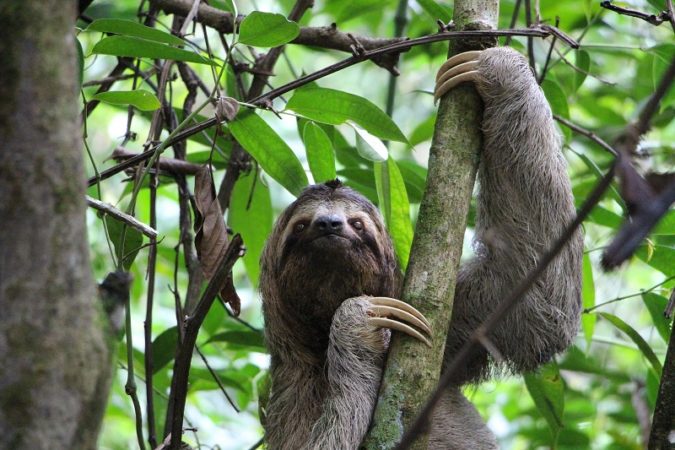 The town relies heavily on fishing, and it's a popular destination for world-class sport fishing. So, if this is something you enjoy, Quepos might be the town for you.
It also hosts an annual sea festival, which, as you can imagine, focuses on fishing and sea life.
Due to its popularity with fishing, the town has plenty of restaurants and bars to keep visitors busy. As you can imagine, fish is a big part of the cuisine here. However, you'll also find galleries here for a change of pace.
Quepos is also home to Marina Pez Vela, which opened in 2014. It's one of the most modern marinas in the country and has around 200 slips. You'll find it useful to live here – or nearby – if you own a boat.
Then there's Manuel Antonio National Park, which has a massive mangrove plantation. It's popular with tourists and scientists, and it's a great place to go for a walk.
So, Quepos is a good choice if you like the sea and catching and eating fish. If this doesn't appeal to you, there are definitely coastal towns you can choose with less of a focus on fishing.
Pros
great for fishing and boat owners
interesting culture
amazing local wildlife and scenery
Cons
fish are a bit part of Quepos culture
Malpais
Malpais is another town on the Pacific coast, this time on the Nicoya Peninsula. If you're noticing a theme about the best places to live on the Pacific coast, there's good reason for it. It's where most of the development happens thanks to its tourism industry.
That said, Malpais is still underdeveloped compared to other coastal destinations. Most of its roads are underdeveloped, so you might find yourself getting around on an ATM more so than a car.
It does still have some great restaurants and modern hotels, though. This is mainly because of the area's natural beauty, which attracts tourists looking for a remote vacation.
But this has also attracted a number of celebrities who either own property here or come on vacation. Some of the most notable names include Mel Gibson and Bobbie Phillips. While celebrity spotting isn't for everyone, it at least highlights the level of luxury Malpais offers.
You can probably already tell what the biggest downside of Malpais are: its lack of amenities. You'll can do your daily shopping here – and prices are low – but you'll need to go elsewhere for healthcare.
Pros
has some great luxury amenities
beautiful scenery
celebrities go there on vacation
Cons
La Fortuna
La Fortuna is a small town to the east of Nuevo Arenal. It's farther away from Lake Arenal but closer to the volcano and national park. As it's in the northern highlands, the climate varies a bit more than in coastal towns, too.
The town is small but is known internationally for its beauty. It features colorful gardens and interesting buildings. While a lot of its economy focuses on tourism, it still retains an authentic local charm.
As you might expect, La Fortuna isn't overloaded with things like specialized healthcare. It has a general doctor and pharmacy, but you'll need to travel for other services.
Luckily, it's on Route 142, allowing you to get to San Jose in about three hours. While this might not sound convenient in a small country, it's a much easier journey than you'd do elsewhere.
The main appeal of La Fortuna for people looking to relocate is the laid back attitude of its people. Again, it's big with tourists, but not in the same way as the Gold Coast or other destinations.
Instead, it presents a great opportunity to take in authentic Costa Rican life in a beautiful town. Unlike other areas, it doesn't have a huge expat population. However, some expats live here to take advantage of the tourism trade.
Pros
retains its local charm
access to Arenal Volcano and hot springs
relatively easy to reach San Jose
Cons
not a massive expat community
Now, on to You
Hopefully, you've now got a better idea of the best places to live in Costa Rica. Of course, there are plenty more to choose from, but this list should give you a taste of what's here.
One of the biggest factors in choosing somewhere in Costa Rica is its reliance on tourism. It'll be very difficult to fully escape it, but the northerly locations are usually more remote.
However, if you're still unsure, book a trip to Costa Rica and spend time traveling around to see what it's like first hand.