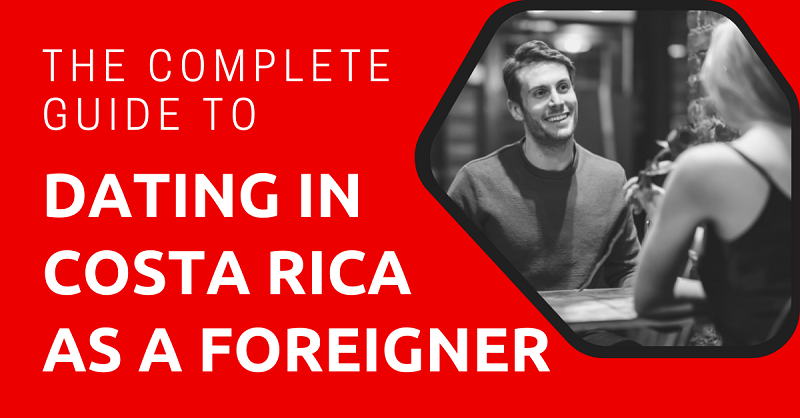 Costa Rica is known for its friendly people. If you're a foreigner living in this country, you'll find that there are friendly locals everywhere you go. But if you're looking to find love, go on casual dates, or have a fling, you have to make a little more effort.
It's worth noting that in Costa Rica, it's common for locals to marry foreigners, which is why you might see many interracial couples around. Even expats who chose to live in beach towns, which tend to have a smaller population than big cities, have found a life partner. Flings are easy to find in such areas, too.
Regardless of what you're looking for, whether it's a fling or a long-term relationship, you need to be clear from the get-go. It's best to be upfront with the people you date, and you will find that they can also be frank about what their expectations are.
So, if you're ready to search for that special someone, there are many places you can go like clubs, beaches, and restaurants, as well as tools that you can use like dating websites and applications.
This article will take approximately 17 minutes to read. Don't have the time right now? No worries. You can email the ad-free version of the article to yourself and read it later!
Places to Find Your Next Date
Single Costa Ricans are always up to meet new friends and/or romantic partners in places like art galleries, parks, night clubs, gyms, and outdoor markets.
A phrase you might hear often is "pura vida" (translation: "pure life" or "simple life"), a local expression that people usually say when they're being friendly or simply want to express happiness or radiate positivity. When someone says that to you, you can take that as a cue that you can get friendly towards that person.
Parks, in particular, are many people's favorite gathering place especially during weekends and are therefore a good spot to meet friends or make friends. Just make sure not to be too aggressive and maintain proper social decorum at all times, so that you don't come off as rude and too forward.
Some foreigners might join clubs or interest groups that do activities together like traveling or hiking. You can find many such groups on Facebook.
If you're up for it, you can also go to nightclubs, bars, and similar drinking places where it's easy to socialize — there are many such places in Costa Rica. In San José, the capital city of Costa Rica, there's a place called El Pueblo, a Spanish town that resembles an old village. It's one of the most popular places to find single people looking to spend a fun night.
Meanwhile, in Limon Province, there's a tourist town called Puerto Viejo where locals and foreigners gather to party. And they party a lot. Many of the clubs and bars here are open seven days a week.
If you prefer a Caribbean-inspired district, Puerto Limon is the place to go. Afro-Costa Ricans party differently, and mingling with them might make your night-outs a little more exciting than usual.
For those whose idea of fun is surfing and various water sports, Jaco Beach, located in Puntarenas province, is a must-visit.
Dating Sites in Costa Rica
When the pandemic struck Costa Rica, many people opted to use online dating sites. If this is how you want to find dates, just know that there are fake dating sites that try to scam people. These sties may look legitimate but are created with the intent to steal personal information.
So before you create an account on any website, do some research first. There are plenty of online scammers looking to pounce on hapless people, so sign up only on websites that are proven to have safety measures for their users.
Note that most sites will ask you to register your personal information like name, birthday, and even credit card information. If a site or app asks for payment upfront to get you a match, it's probably a fraudulent site.
To help you avoid getting scammed online, we recommend the following dating sites and apps to look for friends or dates in Costa Rica.
Match
I recommend Match to meet singles in Costa Rica. Here, you can filter your search based on country and nationality. You can further refine your search by using the option to filter based on appearance, interests, background/values, and lifestyle.
Citas Costa Rica
Citas Costa Rica is a good dating site with which to try your luck meeting Costa Rican singles. Like many other dating sites, it requires entering personal information to create a profile, but what's great about it is that you are likely to find many locals than foreigners, which is terrific if you're looking to meet Costa Ricans. It also has filtering options that allow you to search for potential matches in different Costa Rican provinces.
Loveeto
Loveeto is a dating site that is known to have safety measures in place, and is one of the reasons many Costa Ricans use it quite often. To use the site, you need to register and upload a profile photo. Then, you can start searching for matches. 
Chicos Costa Rica
For gay men who are looking to meet friends or dates, Chicos Costa Rica is worth checking out. It functions pretty much like many other dating sites. If you are looking to cast a wider net in your search to find love, it wouldn't hurt to create an account here. Just one major caveat: the site is in Spanish, so if you are so compelled to see what the site has to offer, you might want to learn Spanish first. Otherwise, you are going to have some difficulty navigating it.
Gays Costa Rica
Similar to Chicos Costa Rica, Gays Costa Rica is a dating site that caters to gay men looking to meet other gay men. It works similarly too: you create an account, upload a photo, and start searching. Here, you also might need to have some Spanish language skills to find success in meeting guys.
To learn more about the online dating scene in Costa Rica, read our guide to online dating in Costa Rica.
Best Dating Apps in Costa Rica
Let's face it — not many people are booting up their PCs or laptops and logging in to dating sites to find a partner. Nowadays, they're downloading apps and swiping left or right to find Mr./Ms. Right. This is mainly because using dating apps is convenient and offers better results than most dating sites. Therefore, there are way more people using apps.
At present, Tinder is the most popular dating app in Costa Rica and one of the country's most downloaded apps. There's a lot of information about when it is best to use Tinder, but since it is the most popular app in the country, using it is likely to have good results for you regardless of what day or time you use it.
Bumble works like Tinder, with one key difference: men on the app will have to wait for women to message them first before they can chat. This distinguishing feature is intended to lessen, if not totally prevent, harassment on the app.
Among gay, bisexual, transgender, and queer people, Grindr is the most popular app to use. It's a location-based networking app for meeting people, whether it's to make friends, meet for hook-ups, or find dates. Unlike Tinder and Bumble, Grindr does not require users to match with users in order to chat. It allows users to send anyone a message or tap (like) their photos. It has free and paid versions.
Be Mindful of the Laws in Costa Rica
Dating sites and apps tend to be a breeding ground for criminals and scammers. This should go without saying, but do not attempt to break any laws in Costa Rica. The Judicial Investigation Organism of Costa Rica has a specialized department that handles cybercrimes.
And what crimes might these be? For instance, propositioning a user who is underage. The age of consent in Costa Rica is 15, so it's illegal for those who are 18 years or older to have carnal relations with someone who's 15 or younger. On the other hand, the legal dating age in Costa Rica is 18.
It is not very often that expats or tourists get involved in crimes like these. In any case, know that the police are always watching.
Also, if someone on any dating site or app does not want to chat with you, it's best to just leave them alone. There is such a thing as being too persistent, and your actions might be construed as harassment for which the penalty might be jail time.
Going to someone's house without being invited is also considered harassment. So, if you've gone on a date with someone and it sadly did not work out, do not stalk them or show up at their home uninvited.
It also goes without saying that kidnapping is a crime. Kidnapping here does not only pertain to tying up someone; restraining someone's mobility in any way can also be considered kidnapping. Not allowing someone to leave the house or preventing them from any movement could also be seen as a crime.
Where to Go on a Date in Costa Rica
In Costa Rica, there are many places you can go for a date — from theaters, to restaurants, to music concerts.
The Nicolás Ulloa Central Park is one of the best places to go if you don't want to spend too much money on a date and just want to enjoy a casual stroll and see a beautiful sunset.
Visiting historic places like El Fortín, Heredia is also a great option. It's a remarkable 19th-century fort that stands out from all the surrounding buildings in the city.
If you prefer doing activities, consider going to Parque de Diversiones, an amusement park with various attractions, rides, and games. It's a family-friendly place, but it's also ideal for a date because there are lots to see and do. If you're a nature-lover, consider going to an ecopark to hike, see a waterfall, or simply walk in nature.
Mirador San José is also a good spot for a romantic stroll or a casual hangout. If you want to take someone out for a lovely dinner, you couldn't go wrong with Mirador Tiquicia, a traditional Costa Rican restaurant in San José which offers magnificent views of Central Valley. The restaurant affords an overlook of the city, which is one of the reasons it's quite popular.
Fun fact: "mirador" is a Spanish term that can be used to describe a balcony that commands a sweeping outlook.
Going to a restaurant will probably be your best bet, so if you're going for something more traditional, you can just take your date to a restaurant. In San José, there are plenty of choices as there are Mexican, Greek, Chinese, and French restaurants besides places that serve local cuisine.
Dating Advice
It's not called the "dating game" for nothing. Here's some advice for foreigners in Costa Rica who want to win at the dating game.
How to Start a Conversation
As previously mentioned, "pura vida" is a phrase you will hear thrown around a lot, as it is used to signal friendliness. It could simply be used to say "hi". So do as the locals do and use this as an opening line when opportunity knocks. If someone says "pura vida" to you, feel free to respond likewise.
The official language in Costa Rica is Spanish, but Costa Ricans can speak other languages like English, and many people can speak it well. So don't be afraid to strike up a conversation with anyone in English.
Once you've caught someone's interest and have started chatting, it's best not to touch on sensitive topics such as politics or immigration matters. Although it would be great to be with someone who shares the same values and views as you, leading with such subjects on what is supposedly a romantic conversation might not bode well for you.
You can lead with innocuous conversation topics. For example, you can praise the country's beauty or talk about how much you like living in the country. if you're dating a local, it wouldn't hurt to tell them nice things about their country. Talking food (e.g., a specific dish) is a great ice breaker. You can ask about what the difference is among certain local dishes like "chifrijo" and "casado" or rice and beans". These have the same ingredients, but Costa Ricans love to discuss the subtle differences of these dishes and what makes them special.
And if you're struggling speaking in Spanish, you can expect that you will meet a Costa Rican who would be friendly enough to give you a quick Spanish lesson and/or teach you a Spanish word or two if they notice your struggle.
How Not to Flirt
Flirting can be very complicated, whether in Costa Rica or any other place whose culture you are not very familiar with. There are instances when it's easy to tell when someone is uncomfortable in a social situation, such as while on a date, and there are times when it's not. Pay attention to signs when someone is uncomfortable around you, particularly in the context of dating, so you can avoid any sticky situation such as being accused of harassment.
A big no-no is commenting on someone's body. While you can compliment someone's beautiful smile, it's inappropriate to make a comment about their weight, height, or a particular aspect of their appearance.
Instead, talk about hobbies and interests like music. It would be difficult to offend anyone on a first or second date by talking about music.
Dressing Up
The weather in Costa Rica is mostly wet year-long, so bear that in mind when dressing up for a date. There's certainly no strict dress code you should follow. People generally just decide what to wear depending on whether it's rainy or hot on the day.
A pair of jeans and a t-shirt will do, or a sweater if it's cold. Don't overthink it; just wear something presentable and comfortable and based on where you plan to go.
On Punctuality
Costa Ricans are generally not known for their punctuality and financial savvy. The second one is not relevant in the context of dating, but it's something worth noting.
The subject of punctuality, however, is a major issue, one that can irk many expats who've just relocated to Costa Rica.
That said, the inability to be on time is a cultural norm in many Latin American countries, not just Costa Rica. So if someone invites you to a party, you can show up half an hour late and nobody will notice as nobody will be on time.
However, if you're going on a date with a Costa Rican, you should probably expect your date to show up at least 20 minutes late. Bad traffic can be the cause, but most of the time, the person is just late.
If you intend to show up on time for a date (or any meeting, for that matter), you have to leave the house at least half an hour before your meeting time, or even 45 minutes earlier if you're traveling during rush hour.
Gifts
In Costa Rica, it would be highly unusual for anyone to go on a first date and present one's date with a gift. It's simply not done and can be seen as strange. It can even come off as desperate, which can be a huge turn-off for many. Save the gifts for later, when the relationship goes somewhere.
Who Pays for Meals?
If you invite someone to go out on a date, you might be expected to pay for everything. But these days, it's not so common. It's a lot more common for people to split the bill, such as when dining at a restaurant.
Another option is to ask the restaurant staff to give you and your date separate bills, or they can take both your credit/debit card and charge separately. This is not very common, but as long as you are both clear in terms of who pays for what, then there shouldn't be any problem.
Goodnight Kiss
A date that goes well is one that usually lasts longer than planned, besides other signs that the two of you are compatible. If your date went well, you might think about hugging and kissing towards the end. There are no hard-and-fast dating rules regarding kissing goodnight on a date, and the only advice I can give you is to watch for signs that the person did enjoy your company and/or they are willing to seal it with a kiss and/or hug. Otherwise, err on the side of caution and end it with a harmless "good night".
Getting Married in Costa Rica
If things go really well with someone you've dated and you've decided that they're the one, you might think about tying the knot. You'll be pleased to know that Costa Rica is one of the few countries in Latin America where there are plenty of wedding options in terms of venue, food, etc. And the good news for LGBTQI+ people is that same-sex marriage is legal in the country.
Many Costa Ricans prefer to have a hotel wedding or have one in a nature reserve. Getting married in Costa Rica — as in many other countries — requires proof that you're not married in another country.
Planning to propose to your partner? The sky's the limit when it comes to ways of doing it. One couple in Costa Rica became engaged during a Coldplay concert.
If you're looking for places to propose, one of the best places to do so is Santa Teresa, a beach in Nicoya province. There are also some good spots in the peaks of Bajos del Toro in Alajuela where you can pop the question.
Some couples even choose to get married on top of the Leumi Business Center, a building with sweeping views of San José.
Note that many Costa Ricans are religious and may ask for a religious wedding, with a Catholic wedding being the most common.
But before you even get to planning a wedding, I hope this guide helps you navigate the dating scene in Costa Rica. Best of luck!