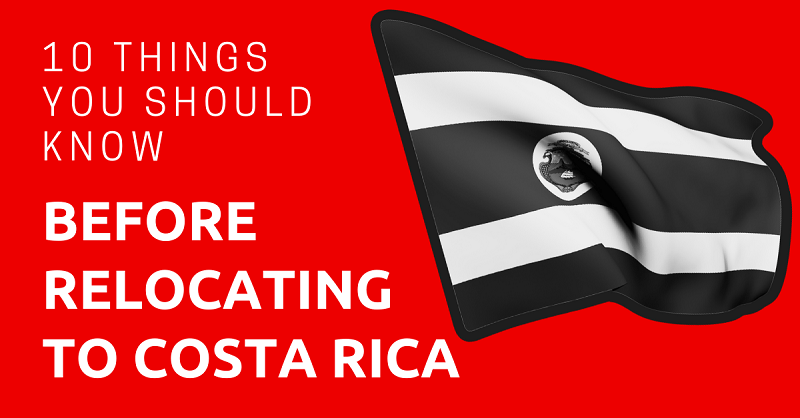 Costa Rica is known for its evergreen landscapes and tropical weather, but the Central American country is also known for being one of the top 10 countries in the world to retire or live in according to the Travel + Leisure Magazine.
You might be interested in relocating here but have a lot of questions. So, this guide provides you with 10 of the most important things you need to know about about moving to or retiring in Costa Rica.
It covers cost of living, food, rent, and, of course, where to spend quality time in the country, so let's jump into it.
This article will take approximately 13 minutes to read. Don't have the time right now? No worries. You can email the ad-free version of the article to yourself and read it later!
How Much Does it Cost to Live in Costa Rica?
The answer to this question will always depends on the location and lifestyle you want in Costa Rica. Where you choose to live determines how much money you need to spend on food and rent, for example.
Everything within the Great Metropolitan Area (GAM) is far more expensive than the same products or services in surrounding areas like Guanacaste or Limon.
GAM is the largest urban agglomeration in Costa Rica and is formed by some cities of the Provinces of San Jose, Alajuela, Heredia, and Cartago. Each of these provinces have cities that are part of GAM and some that aren't.
In San Jose, the cities of San Jose, Escazu, Desamparados, Aserri, Mora, Goicoechea, Santa Ana, Alajuelita, Vázquez de Coronado, Tibas, Moravia, Montes de Oca, and Curridabat are part of GAM.
In Alajuela, the cities of Alajuela, Grecia, Atenas, and Poas are part of GAM, while in Cartago, Cartago, Paraiso, La Union, Oreamuno, Alvarado and El Guarco are inside the same area.
The same goes for the cities of Heredia, Barva, Santo Domingo, Santa Barbara, San Rafael, San Isidro, Belen, Flores and San Pablo, which are part Heredia Province.
Every other city from those provinces sits outside of GAM.
Some economists estimate that US$700 per month is enough for one person outside of GAM. The amount may go up to US$1,000 inside of GAM. This includes rent, however.
To find out more about monthly expenses in the country, read our guide: Cost of Living in Costa Rica: How Much Do You Need Per Month?
Where to Buy Cheap Food
Let's talk about how much you need for food, which could total around US$150 for groceries.
All food products can be found in supermarkets or local convenience stores. But the best way to make your money last longer is to visit the Green Trade Fair, which opens on Saturdays from 7 AM to 12 PM (or sometimes 2 PM) depending on the city.
These open markets have farmers who sell their products and are very popular for their cheap prices and variety of products. Sometimes you can find products here that are difficult to find in supermarkets, and prices are cheap.
Most things are sold fresh and the sellers tend to give free products depending on how much you buy. Considering that this place only opens on Saturdays, you can plan to get fresh vegetables and fruits every weekend.
Now, let's talk about meat.
Of course you can find different products at local supermarkets, but some of products like chicken, for example, can smell very bad if it has been kept for a while on the shelves.
If you're unlucky, you might get rotten chicken without realizing it until several days later, which will make getting a refund difficult.
Your best option is to search for a "meat center," places where you can find fresh pork, beef, chicken and more at better prices. Most of the meat centers sell family meat packs too, which is great if you have a family.
A cheap pack cost around US$50 and has meat for each day of the week. You can ask the store for more or less products, if you want.
If you have the need to buy meals instead, Costa Rica has places called sodas, which are small cafeterias where you can buy complete meals for as cheap as US$4.49. These meals include meat, black beans, rice, salad, and sometimes beverages.
Do I Need to Speak Spanish?
The official language in Costa Rica is Spanish. That doesn't mean locals can't speak English, but it's very unlikely that people will speak English around every corner of the country.
Your best bet is to learn some Spanish to help you communicate, especially if you plan to go to local places such as Green Trade Fairs, where people don't understand English at all.
Spanish language schools charge around US$40 per week for classes, but more intensive programs can be found if you prefer.
Want to learn Spanish? Read this guide: A Personal Guide on How to Speak Spanish Fast
Where to Rent a House
Finding a place to live in Costa Rica might be the easiest thing in the world, but the prices might not be so cost effective in certain areas.
Also, there are a couple of things you should know before moving here, as they increase your expenses in in Costa Rica every year.
Many locals rent full houses in every city of the country. If you're looking for something in GAM, you have to pay up to 20 percent more than if you move to, say, cities that aren't part of GAM, such as Heredia or Alajuela. These places are just 20 to 30 minutes away from the center of San Jose.
A house with two or three rooms that includes water might cost around CRC300,000 (US$448) per month. The same house may cost less than that in other areas. Note that these prices can get higher for a fully furnished house or apartment.
Moreover, it may be difficult to find a place to rent that accepts pets.
An apartment is usually smaller, with one bedroom that includes a washing machine, or as locals call it, cuarto de pilas.
Every lease you sign when renting a house or an apartment runs for three years, as the General Urban and Suburban Leasing Law states. But the landlord may raise your rent by around 5 percent to 15 percent each year, as allowed by law.
For example, if you pay US$448 per month in rent during the first year, the next year your rent increases by an additional US$44.80 if the landlord charges an additional 10 percent. That will total US$492.80 for rent in your second year, and it will increase again in the third year.
You can negotiate with locals if you're not planning to stay for more than a year or if you're just exploring the area.
To find out more, read this article: The Complete Guide to Finding an Apartment for Rent in Costa Rica as Expats
Healthcare in Costa Rica
Healthcare in Costa Rica can get expensive. A doctor's appointment costs around US$80, but the country has some local foundations that can charge a lot less.
Asembis, Fundación Clínica sin Fronteras, and Consultorio Médico María Auxiliadora are some foundations that provide healthcare at inexpensive costs. They focus on serving non-native Costa Ricans who can't pay for private healthcare, but they also provide services to anyone who needs it.
For some medical procedures, people have to wait about a month, depending on where you go. Gynecology or dermatology appointments usually take anywhere from two weeks to two months.
The wait might be longer if you have an appointment at the local Caja Costarricense de Seguro Social (Costarrican Social Security Fund).
To find out more, read this guide: Health Insurance for Expats in Costa Rica: What You Need to Know
Where to Find Work in Costa Rica
After COVID-19, the employment situation for locals has been complicated. However, employment rates have been starting to recover over the last few months and things seem to be getting easier these days for some people.
For people who know English and Spanish, they can work at call centers here. Monthly salaries range from US$500 to US$1,500, depending on how many hours a person works.
But expats usually work in the real estate, tourism, or education industries, especially since English is in demand in the country.
You can work at a company in your hometown as well, but you need a reliable Internet connection that costs around US$40 per 100mbps. This is very cheap compared to other countries in Central America, where you pay double or triple for the same speed.
The local law allows expats with residency or refugees to work without limitations as long as your paperwork is updated. But also, you have to be registered at the Ministry of Finance (Ministerio de Hacienda) as an independent worker. If you work for a local company, they register for you.
If you plan to work here as an independent worker, the Costa Rican Social Security Fund, or Caja Costarricense de Seguro Social, requires that you register with them as well, and you have to pay a monthly fee to access their services, which can be extended to your family.
The Ministry of Finance requires that you pay 13 percent of your income, and the Costa Rican Social Security Fund will ask for an additional 8 percent to 10 percent, but this can be modified depending on your income.
How to Get Around Costa Rica
There are a lot of transportation options here to get around the cities and the country, but the most popular are Uber and DIDI, two different companies that provide the same service at different costs.
DIDI is usually less expensive than Uber, but the prices might rise whenever the traffic gets heavy. A short trip might cost around US$1.50 but can go up to US$10 during rush hour.
You can also take public buses, the most popular transportation in the country that often costs less than a dollar. But consider that in rush hour, most of them will be at full capacity. In most situations, you can find a seat and the trip isn't that uncomfortable.
However, everything is far away in Costa Rica, and rush hour can be challenging to deal with, especially if there's construction, which is very common in the country.
With that in mind, red cabs are the most expensive way of moving around, and cab drivers usually try to take advantage of expats and charge more for trips.
If you don't have your own car and plan to travel around the country often, buses are comfortable and run to all places in the country.
Because of traffic, leave your place at least a half an hour in advance, sometimes more if you can, if you have to be somewhere on time.
Is Costa Rica Safe?
Costa Rica is safe but does have it trouble with public safety. Depending on the time of the day and the place you're at, you might have to watch out for criminals.
GAM is usually known for criminal activity, especially towards expats, but that doesn't mean you can't go there. Just be careful and never go outside with all your money or belongings. Local authorities recommend not going into dark places, even in tourist zones, without a companion.
Some places you want to avoid are Tamarindo, Jaco, Tarcoles, Quepos, Manuel Antonio, La Pavona, and Puerto Viejo, tourist places where the crime rate has risen in recent years.
In San Jose, the main province, every place might be dangerous at night, but some embassies have warned that only a few streets should be avoided in San Jose: 14th Street, 7th Street, 6th Street, and Central Avenue.
Desamparados, Pavas, or La Carpio are places known for its crime, so avoid them if you can, or at least try not to go there at night. These places have some spots that are safe, but not all the time.
Weather in Costa Rica
Costa Rica has tropical weather, and some cities tend to have more rain, even during Summer, than other places. For example, San Jose or Heredia have rain the whole year, while Alajuela or Guanacaste are hotter.
That is something that might affect a trip you're planning with your family, so a trip to the local volcanoes, despite the time of year, should include a jacket, because Costa Rica can also get cold and temperatures can change quickly.
You will encounter rare weather combinations like cold and sunshine at the same time, or even a hot evening. But a night that drops under 16 degrees Celsius will feel like the thermostat isn't working properly.
What to Do in Costa Rica?
If there's something that Costa Ricans love to do, it's spend the weekends with their family. From natural activities to arts, parks or music concerts, this country has options for everyone.
Coldplay was in Costa Rica in March 2022, and other artists are planning to come to the country this year. But you take a city tour, the Tour del Cafe, to test different coffees, or you can go to Volcan Poas or La Paz Waterfall.
During August, you can see turtle nesting, hike in rural areas, visit the mangroves or butterfly gardens, and more. Every province has its own unique recreational activities for you and your family.
A word of advice: no matter what you plan to do, try to buy your tickets in advance because locals usually buy them quickly. Recreational activities are popular in the country, with concert tickets selling out in about an hour.