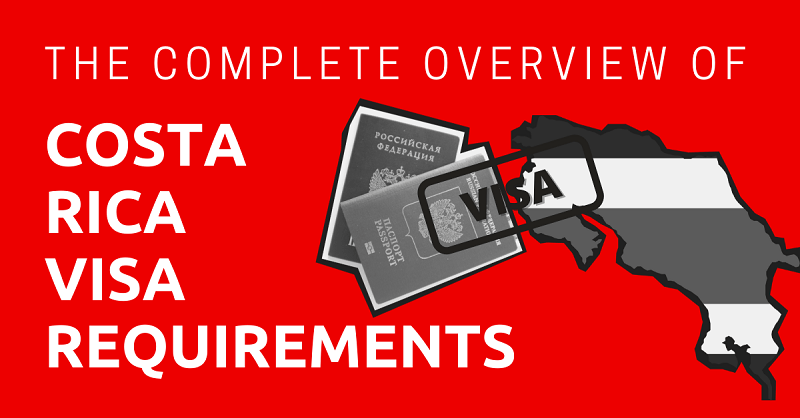 The Costa Rican visa requirements aren't dissimilar to most other countries. As you might expect, foreign nationals need a Costa Rican visa to remain in the country for any length of time, although there are some exceptions.
If you plan to live in Costa Rica either temporarily or permanently, you'll need a visa. In this article, we'll go over the different types of visas that Costa Rica offers, along with the documents and requirements for each.
Hopefully, by the end, you'll understand which type of visa is correct for your needs and how to begin your application.
This article will take approximately 13 minutes to read. Don't have the time right now? No worries. You can email the ad-free version of the article to yourself and read it later!
When Do You Not Need a Visa?
Costa Rica has a visa waiver program. In short, this allows nationals from certain countries to enter Costa Rica for up to 90 days without a visa.
This standard program lets people from these countries make short trips for tourism or visiting family members much easier.
So, if you're only planning a quick trip to Costa Rica, check whether your country is on the visa waiver list. If it isn't, you'll need to apply for a short-stay visa.
Documents Needed for a Costa Rican Visa
Regardless of which type of visa you apply for, you need a standard set of documents. You may need extra documents based on the type of visa you're applying for, but all require the following:
photocopy of your valid passport certified by a public notary
copy of your birth certificate translated into Spanish
two color passport photos
completed and signed form related to the type of visa you want
signed letter stating your reasons for applying; it must contain your name, nationality, age, contact details, address, and more
criminal record translated into Spanish (if applicable)
payment of US$1.25 and US$2.50 per page of residency application
Remember, these are the absolute basic documents you need when applying for any type of Costa Rican visa. Documents that need signing can be done either in Costa Rica on arrival or by a Costa Rican notary at your country's Costa Rican Embassy or Consulate.
Types of Temporary Costa Rican Visas
Costa Rica offers two types of visas:
Unsurprisingly, these let you live in the country temporarily (with the option of becoming permanent) or permanently. Generally, most people applying for residency visas need a temporary visa first.
First, let's go over the requirements for the main types of temporary Costa Rican visas.
Temporary Visas for Retirees
Costa Rica offers a pensionado (retirement) visa specifically for those who want to retire in Costa Rica.
Technically, there's no minimum age limit for applicants. However, one of the conditions is a pension income, so this generally sets a minimum age limit, particularly for state pensions.
First, you need all the documents mentioned in the above section. After that, the only other thing you really need to show is proof of pension.
This must be a minimum of US$1,000 a month for the rest of your life from a "competent authority." For example, this might be a pension scheme or state-issued pension.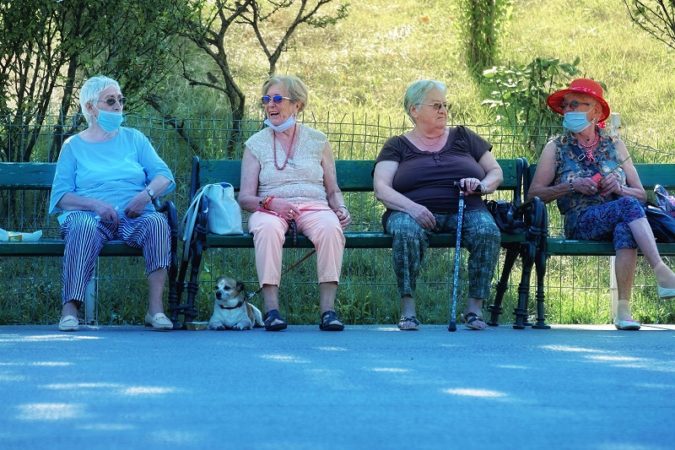 Most countries issue a form or document that covers this. For example, Americans can use their 401(k). As long as it shows that you receive the minimum monthly amount and it's a credible document, it's valid.
If you have any concerns, speak to your country's Costa Rican Embassy or Consulate.
Retirees in Costa Rica can also include their dependents on their visa application. Dependents are spouses and children under the age of 25. Children over the age of 25 are included if they're disabled.
For dependents to count, you need to show proof of your relationship. These would be documents such as marriage and birth certificates or medical records.
A pensionada visa is valid for two years. After this time, you can renew it while remaining in Costa Rica.
Renewal is fairly straightforward; you just need to prove your annual income again. You also need to prove that you spent at least four months of the year living in the country, although it doesn't need to be four consecutive months.
That's all you need to know about retirement visa requirements. Other than getting documents translated into Spanish and notarized by a Costa Rican authority, it's fairly simple to retire in Costa Rica on a temporary visa.
Temporary Visas for Spouses
Unsurprisingly, a spousal visa is one issued to someone who marries a Costa Rican citizen.
The only extra document you need for this visa is a copy of your marriage certificate. It's easiest if the marriage happened in the country and the certificate is issued by the Costa Rican Civil Registry.
However, if your marriage happened elsewhere (such as in your home country), you need to get your marriage registered in Costa Rica before you can begin your visa application. The average cost for doing this is around US$240 per person.
The visa is valid for two years, after which you can renew it. To do so, you just need to prove you're still married and living in the country.
Temporary Visas for Renters
One interesting visa category in Costa Rica is the rentista (renters) visa. The requirements for a rentista visa are straightforward
Other than the standard documents, you must prove a monthly personal income of US$2,500. You can do this by depositing a lump sum of US$60,000 into a local bank account and obtaining a commitment letter that you receive the required monthly amount. If you don't have one, consider opening a bank account in Costa Rica.
Alternatively, you need to show proof such as an employment contract, bank statements, or similar. The money can come from overseas but you'll need to get the proof certified by a Costa Rican authority.
You can probably see the pattern by now, but the rentista visa lasts for two years. To renew it, you must prove your continued monthly income, which you can do through the methods described above.
Requirements for Other Temporary Visas
Costa Rica offers numerous other temporary visas that are slightly less common. These generally fall into categories such as education and specialist workers.
We won't cover these in great detail, but here are some brief points.
Temporary Educational Visas
This visa category covers those who come to study in Costa Rica, researchers, teachers, and so on.
Essentially, the only extra documentation you need for this visa is proof of acceptance from a Costa Rican educational institution, or a job offer.
Students must provide proof of funds for the length of their stay, which includes accommodation and living costs. There isn't a set amount, as it depends on where they stay and for how long.
Specialist Workers
A specialist worker visa covers professions such as executives, managers, and technical workers. The applicant must show proof of a job offer or contract.
This should include salary information, length of employment, and details on the position.
Applicants must also provide proof of the company's insurance and certification from the company's legal department. This visa covers the applicant's dependents, too.
Requirements for Permanent Residency in Costa Rica
Costa Rica has two main routes into permanent residency depending on your current visa status or relationship status.
Converting from a temporary visa is probably the most common, so we'll cover that first.
Requirements for Converting from a Temporary Visa
Temporary residents in Costa Rica can apply for permanent residency after three years. As mentioned above, this doesn't need to be three years of continuous residence, but you must maintain temporary resident status for those three years.
There aren't any further income or property requirements for permanent residency other than those related to your existing category.
For example, retirees must maintain their monthly income of US$1,000 and renters must continue to show their US$2,500 monthly income.
Applicants must pay a US$300 filing fee to cover the application, although plenty of people hire a Costa Rican lawyer to make the process easier.
Permanent residency is just that – permanent – but you need to renew your card every five years. This is mainly to keep the photo up to date and is standard procedure.
Once you have permanent resident status, plenty of benefits open up to you, including:
the ability to work freely for a Costa Rican company
import duty exemptions on household items
twenty percent exemption on real estate transfer tax when you buy property
the ability to import up to two transport vehicles (car, boat, plane, etc.)
Also, permanent residency is much more relaxed with the amount of time you spend in the country.
With temporary visas, it was up to four months per year. However, permanent residents only need to spend 72 hours per year in the country to maintain their status.
If it wasn't already clear, permanent residency isn't open to specialist worker categories. This is because these are usually issued on a contractual basis with the understanding that you'll return to your home country once the job is finished.
Requirements for Immediate Permanent Residency
Some circumstances allow individuals to apply for immediate permanent residency without first being a temporary resident. However, this is quite a small category because it requires you to be a close relative of a Costa Rican national.
If you've looked this up before, you might have seen that this category usually includes spouses. However, this isn't true, as shown by Costa Rica having a specific temporary visa for spouses of Costa Rican citizens.
The Costa Rica Embassy states that immediate permanent residence is only open to close blood relatives of nationals. As such, it only covers parents, children under 18, or children over 18 if disabled.
The most important documentation for this is the applicant's birth certificate. The Costa Rican citizen must also provide proof of their citizenship, such as a passport or birth certificate.
Importantly, this is a way for naturalized citizens to bring their close family into the country. However, this can be a difficult process, so it's always worth getting a lawyer to advise you further.
Residency by Investment
One category we haven't discussed properly yet is residency by investment. Known as the inversionista (investment) visa, it gives foreign nationals the ability to buy their residency in Costa Rica.
The premise is fairly simple. You must invest US$200,000 into Costa Rica. This can be in property, a business, stocks, or securities.
Alternatively, you can invest US$100,000 in forest plantations. Doing so gives you the right to live in the country, and you can bring your dependents too.
However, it's worth noting that not even buying property guarantees you permanent residency in the country. You must renew the inversionista visa every two years by showing you've kept the investment.
For example, you can't sell the business or property or remove money from stock investments.
You must also live in the country for a minimum of three months per year. As with the other temporary visas, this doesn't need to be continuous.
Costa Rica Citizenship
For many, the end goal of permanent residency is citizenship. Obtaining citizenship by naturalization gives you the Right to Abode, meaning you can't be kicked out of the country.
There are two routes:
citizenship by residency
citizenship by marriage
The requirements are generally quite easy, as it mostly involves living in the country.
For citizenship by residency, you must be a permanent resident in Costa Rica for seven years. Some exceptions reduce it to five years, such as being a citizen of Central or Latin American countries or a citizen of Spain by birth.
You must then gather a few documents to support your application. The first is two witness character statements. These prove you're a good person, and they must come from Costa Rican citizens.
Then you must complete a citizenship test, which includes a social studies and a Spanish language test. Applicants over the age of 65 don't have to complete this step.
Finally, you must show proof of financial stability. There isn't a set amount for this, but a minimum of US$1,000 is probably a good benchmark. Also, you need to get the documents certified by a registered Costa Rican accountant.
The citizenship by marriage route is where much of the confusion online stems from. Rather than granting you permanent residency, it allows you to fast-track your full citizenship status.
Essentially, you can apply after two years rather than the usual seven. Also, marriage to a Costa Rican national exempts you from completing the required citizenship tests.
Both routes require a copy of your birth certificate and a criminal background check. However, you don't need to worry about these if they're already in your immigration file, which they generally should be.
Benefits of Costa Rican Citizenship
Other than the Right to Abode, there are plenty of benefits to being a full Costa Rican citizen. These include:
the right to vote in local and national elections
a national ID card, which is free and easier to manage than a foreign resident's card
a Costa Rican passport, currently ranked 30th on the Henley Global Passport Index; it provides visa-free or visa-on-arrival travel to 150 countries
enrollment in CCSS, the country's social security program
return of the US$300 deposit you paid during your permanent residency application
eligibility to work in a government role in Costa Rica
Luckily, Costa Rica recognizes dual citizenship, meaning you won't have to renounce your existing citizenship. However, this isn't the same for all countries, but the U.K., U.S., Canada, and most of Europe all recognize dual citizenship.
Now, on to You
Hopefully by now, you now have a clear picture of the Costa Rican visa requirements. Obtaining a visa in Costa Rica is generally a straightforward process.
The only difficulties applicants might encounter are finding a Costa Rican notary and properly translating documents into Spanish.
However, most countries have a Costa Rican Embassy or Consulate, and you can do much of the application online.