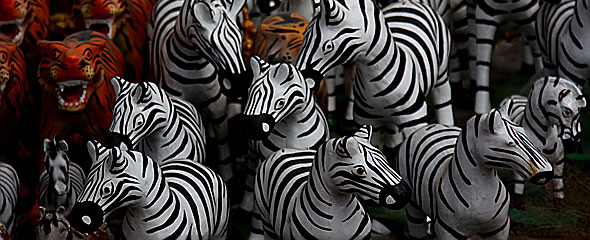 Zebras and tigers and chickens with questions…
Agree or disagree, but I believe that I live in one of the most interesting cities in the world – Bangkok – in one of the most curious of countries in the world – Thailand.
Living here is just like being 3 years old again. Why? Because my most often used word now is why.
Why aren't there seat belts in the back of taxis?
Why are Thai vowels under, over, behind, and in front of consonants?
Why is alcohol sold at Villa Market all day, but elsewhere, not?
Why am I given a 10% tourist discount at Central, when I am not?
Why can't I find a decent electrician, plumber, or carpenter?
Why are zebras everywhere?
And while I have found some answers, tracking down zebras wasn't as easy as I thought it should be.
I assumed that it would be a simple question to answer. But Khun Phairo (my Thai teacher and very good friend) didn't know. And my regular taxi driver, Khun Pisout, didn't know either. Very Thai's index even came up a blank.
Months later, Khun Phairo came in waving Guru (a Bangkok Post insert). Inside was the treasured answer. Sort of.
The article was arranged in a quiz layout. A question is asked, you pick one of three answers (with two being so far off they are not funny). That sort of thing.
The question was, "what is the significance of zebra statues at spirit houses?"
Animals are an important icon in Buddhism to remind people about their relation to the natural world.

There is an interesting theory about why the zebra is the chosen statue around some Thai spirit houses. It's believed that because a pedestrian zebra crossing is technically a 'safe zone' on the road, placing the statue at shrines can bring the same sort of protection to an individual.

It is alleged that a monk told one truck driver to deploy zebra statues to ensure a safe path to success, and over time other Thais began placing similar statues.
The safe zone theory makes sense as zebra crossings are all over the place in the UK and Thailand too. Warning: While I would brave a zebra crossing over there (the UK), I would not brave one here. Not on my life.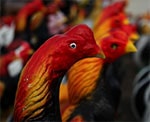 In Thailand, herds of zebras are mostly found along busy highways, but I came across zebras at a shrine for King Taksin, which is located along a river in Chachoengsao Province (ฉะเชิงเทรา).
Fair enough, as water can be dangerous too.
My question at พระสถูปพระเจ้าตากสิน (prá sà-tòop prá jâo dtàak-sĭn), King Taksin's shrine, was: "Why all the chickens?"
Poker-faced Khun Pisout shot back:
Because we didn't have any ducks.
Ooooooooo kaaaaaay… 😀
Chao Mae Tiger Shrine…
A short while back I wrote about Bangkok's Fertility Shrine, Chao Mae Tuptim. And if you remember, Chao Mae (or 'jâo mâe') in Thai means: goddess (female guardian spirit, or angel).
In my hunt for zebras, we three – Khun Phairo, Khun Pisout and me – visited ศาลเจ้าแม่เสือ (săan-jâo-mâe sĕua), which is the shrine of the Tiger Goddess.
ศาล เจ้า แม่ เสือ
săan-jâo-mâe sĕua
shrine goddess tiger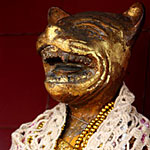 The shrine is located along a busy highway, where every so often you will hear the honking of cars going past. When I asked why, I was told that the drivers are letting the Tiger Goddess know that they are there. It is sort of in the hopes that she will safeguard them on the road.
I assumed that the drivers were keeping their hands on the wheel while honking, but I did not ask (next time).
Wrapped in a crocheted shawl with gold beads dangling down, the Tiger Goddess reminded me of the big bad wolf after he had eaten granny.
But I was not there for the goddess. I was tracking down zebras to photograph for this post. And opportunities to cross a new why off my list being what they are, I went for it.
The question I asked was this: "Why are there more zebras than tigers at a tiger shrine?"
Now, Khun Phairo did not know for sure, so she asked one of the worshippers at the shrine. The women came back with "Nadda. Nothing. Not a clue", then went back to lighting joss sticks.
So Khun Phairo offered up a plausible answer:
The Chao Mae Tiger Shrine is on a busy highway. There is no pedestrian overpass, so locals might have lost their lives crossing over and back. With each loss, near miss, or wishful thinking/hoping, a new zebra was added. And so on.
Khun Phairos's suggestion is logical, and makes total sense to me. What do you think?
Religion and superstitions and such…
Now, I am not a religious person. Nor am I – knock on wood – superstitious. But I do have a grand time in Thailand with superstitions. They are a way of life out here and not easily avoided, so I might as well have fun, right?
I totally enjoy teasing Khun Phairo about Thai ghosts and spirits and what not, and she delights in kidding me right back.
Ok, sometimes she gets scared, so I do watch what I say (it is all in good fun, and I like to keep it that way).
Recently, we started keeping score. She comes up with a for instance, I prove it wrong. I come up with a similar instance from the home country, she raises her eyebrows in response. Each time she learns something and I do too. A win win.
For instance… during our visit to the Chao Mae Tiger shrine, I went to step over what I thought were hundreds of zebras for sale. You know, to get the perfect photo?
A gasp from Khun Phairo halted my foot midair and I pulled back to get the explanation. Just like stepping on a baht note that is blowing away, you never, ever step over the religious icons placed around a shrine. And I knew that.
But these were everywhere. Spilling onto the sidewalk, trampling on the grass, threatening to overrun the road even. And my bad, my plan was to purchase a zebra to donate to the shrine. Or put on my balcony. Either one.

Concerned for her own safety – Khun Phairo swears that since I am a foreigner the goddess won't think ill of me, but for her… well, well – she started waiing in the direction of the Tiger Goddess to ask for forgiveness.
Then, not wanting to take any chances on the long road trip ahead of us, she grabbed a handful of joss sticks to seal the bargain.
Only, they would not light.
Again and again she tried, but they would not light.
Waiing deeply, Khun Phairo asked the Tiger Goddess to help her light the joss sticks.
WHOOOSH!
Up they went in a bonfire of flames.
Honk, honk. Khun Phairo one. Cat nil…