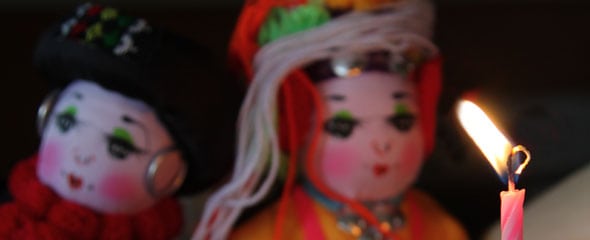 Blogging birthdays come but once a year…
A year and a month ago, on June 4th, WLT launched.
Sigh. I know, I know. It is already July 4th and I'm running late (it has been that kind of a month).

And while a blogging birthday is not the same as your firstborn turning one, it is a cause for celebration.
When I came up with the idea for Women Learning Thai, I had set aims in mind. A given, I wanted to improve my Thai and increase my understanding of Thailand and Thai culture. But along the way (just to be difficult), I also hoped to upgrade both my writing and photography skills.
Confession time: In the past year I have not improved my abilities equally, but I have improved overall. And while I am quite chuffed at my progress for some, it may take yet another year before I'm out of one stage and into another. For all.
A bonus that I did not take into account is the online Thai community. Bloggers or otherwise. Expats and locals included. A nice surprise, the friendships gained since launching WLT are as equally important to me as my intended aims.
To celebrate, I decided to share the bloggers in my small Thai community, as well as those responsible for helping me succeed. And a given, I'll include WLT's highlights for the past year.
Apologies. But you first need to wade though the highlights…
Top posts on WLT…
In the sidebar are WLT's most popular posts. Truthfully, they should be called resource-intensive content but as the title popular posts is shorter, there you go.
Learn Thai Online for FREE
Thai Language Phrase Books: A Mega Review
Google Books: Thai Learning Resources
Top Thai Language Learning Resources
The Easy Way for Beginners to Read and Write
Thai Language Cheat Sheets
The Thai Alphabet Poem
Thai-English Readers with Mp3s
Byki Thai Language Course
Thai Typing Tutors: aTypeTrainer4Mac
Recording the Thai National Anthem
Google Translation & Thai Dictionaries
Thai phrase books…
After purchasing 99.9% of the Thai phrase books on the market, I tried to make sense of them all. I'm not sure that I succeeded, but it was fun trying. The island trip I took during the process was trying too.
Travelling with Thai Phrase Books
Using Thai Phrase Books
Thai Language Phrase Books: A Mega Review
The Monty Python Phrase Book
Thai Phrase Books with a Twist
Pictures: When They Can't Speak Thai…
Quick and Dirty…
My very first book review was Myke Hawke's Quick and Dirty Guide to Learning Languages Fast. After tracking Myke down, I went further. Much further. And I'm not done yet.
The Quick and Dirty Guide to Learning Languages Fast
Quick & Dirty Thai Language Learning with Myke Hawke
Interviewing Myke Hawke: Quick and Dirty Guide to Learning Languages Fast
FREE: Quick & Dirty Thai Vocabulary Download
Thai alphabet cartoon…
The Thai Alphabet Cartoon was cleverly created for adults. And not all adults, as I soon found out. And boy, was this series ever an experience into Thai language and culture!
Thai Alphabet Cartoon: Part One
Thai Alphabet Cartoon: Part Two
Thai Alphabet Cartoon: Part Three
Thai Alphabet Cartoon: Part Four
Thai Alphabet Cartoon: Part Five
Thai Alphabet Cartoon: Part Six
Thai bumper stickers…
You can't drive around Thailand without noticing bumper stickers everywhere. And as stickers are filled with real Thai, an ongoing series is a must.
Thai Bumper Stickers 1
Thai Bumper Stickers 2
Thai Bumper Stickers 3
Thai Bumper Stickers 4
Thai Bumper Stickers on Taxis
There are many more posts in my growing archives so please have a look around.
WLT guest posts…
Opening the conversation to include subjects that I am not able to write about in detail is important, so I am especially grateful to those generously sharing their knowledge and experiences.
Tina Gibbons: The Most Effective Way to Learn Thai and Why Learning the Thai Language Needs to be More Than a Study of Words and Grammar
Tony Wright: Let's Talk Thai: How the Brain Learns
And stay tuned for a Thai learners series from Rikker of Thai 101!
A big blogging community thanks goes to…
In the past year I've met many bloggers in the Thai community. The six below not only throw comments my way, but they share time behind the scenes as well. In alphabetical order…

Amy: Expat Women in Thailand (no longer online)
Amy is married to Golf, a Thai translator. She blogs about the day to day expat living in Thailand. The information Amy gathers is not just for women, but for men too. For those heading to the land of smiles, she has put together an ebook – The Expat Woman's Guide to Living in Thailand.

Ben: The Thai Pirate (no longer online).
Ben married into Suphanburi, where he now lives, works, and plays. And sometimes blogs. And except for when he's playing around in the UK, his subjects cover all things Thai living.
To peruse: Driving in Thailand (no longer online), How far will 1000 Baht get you? and The Best Thai Blogs.

Martyn: Beyond the Mango Juice
Martyn works in the UK for most of the year, but as soon as he can, he hightails it to the wonderful Wi. Wi keeps their beautiful home running smoothy in Ban Norn Chad (thanks Wi!) With a humorous twist, Martyn posts about all things Thailand. His monthly reviews are a godsend for our busy community.
To peruse: Thailand Country Life – A Survival Guide, Always On My Mind and Giving a Little Bit Back.

Pete: FrogBlog – Thaidings
A wonderful photographer and writer, Pete lives part of his time in the sunny south of France and the rest of the time in Changmai. He writes thought-provoking posts about the cultural and political aspects of living in Thailand. Btw – do you twitter? Pete does too.
To peruse: Thaivisa: Founder of Thailand's largest online community answers the critics, Thailand's tarnished image abroad: Thai tourism in decline and Brash Bangkok, culture-hound Chiang Mai, pornographic Pattaya, innocent Isaan – which one is your Thailand?

Rikker: Thai 101
Rikker lives full-time in Bangkok. He is one of the few expats with in-depth knowledge of the Thai language. And while Rikker does not comment often, he does share his know-how on Thai 101, as well as via emails, forum posts and twitter. Starting next week, Rikker's learning Thai series will launch on WLT.
To peruse: Thai jokes category, Farang Stuff and A look at the Ramkhamhaeng script.

Talen: Thailand Land of Smiles (no longer live) Talen lives and works part-time in the US, but as his heart and the lovely Pookie are in Issan, he spends as much of his time there as possible. Talen has a good eye for a story, so we are often regaled by real life experiences from northern Thailand and elsewhere.
Note: While I am in contact with other fantastic bloggers, to keep this post a reasonable length I stopped at just six. I promise that the rest will be discussed at another time, so please do not send any bad mojo my way.
Photography, writing, book collecting and more… I owe… I owe…
Writing: I'd like to send a special thanks to two writing coaches: Joanna from Confident Writing (no longer online), and Paul from Bangkok BC Writing Services. Joanna released my writing fears, while Paul gives monthly tips on grammar, sentence structure, and more.
Photography: Gavin and Jackie from the newly formed Bangkok Photography School took my photography out of the 90's and ran it straight into 2009. I'm still playing catchup, but I'm not having to run quite as fast as before.
Book collecting: When it comes to tracking down obscure books dealing with Thai culture and language, Danny at DCO Books is a lifesaver. Danny's varied knowledge about Thailand has brought even more subjects to my attention. So much so, that I've ordered a new bookcase. Where it will fit, I don't quite know.
Thai learning: As for my long suffering Thai teacher, she deserves an award for her patience. At times she calls me her best student, but I believe she means that in a special sort of way. I flit here and there, dragging her into technology and subjects far away from her regular curriculum. And she holds steady on for the wild ride. Bless her.
Programming: Oh, and I can't forget my amazing programming buddy Jay, who puts up with a zillion frustrating emails about cacca code. Yeah, I owe, I owe. Hey Jay, even more chocolates are on the way!