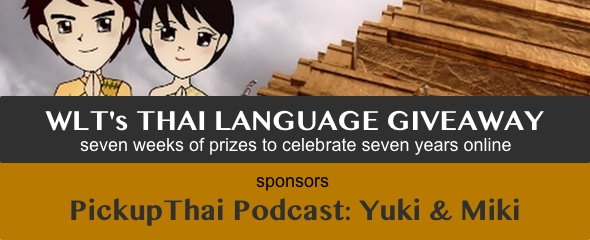 WLT's Thai Language Giveaway…
Here we are at week THREE of WLT's seven weeks of Thai language giveaways by top movers and shakers in the learning Thai industry!
If you are just hearing about the giveaway do read Please Vote THAI and WIN! 2015: Top 100 Language Lovers Competition to find out about the $4,500+ in prizes being given away.
The two previous giveaways were: 1) Paiboon Publishing and Word in the Hand's Talking Thai-Eng-Thai Dictionary, Talking Thai-English-Thai Phrasebook, Thai For Beginners iOS apps and 2) Smyth's Thai: An Essential Grammar, Higbies' Thai Reference Grammar and Essential Thai, and Segaller's Thai Without Tears. Congrats to the winners!
PickupThai Podcast: Sweet Green and Spicy Red…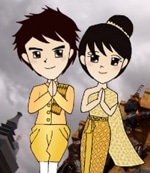 This week Yuki and Miki from PickupThai Podcast are giving away 15 podcasts each of either Sweet Green (beginner to lower-intermediate) or Spicy Red (upper-intermediate to advanced). The four winners get to pick which one, so do please mention your level in the comments.
The 15 podcasts can be any 15 lessons from all of the presently released podcasts. The lessons normally cost $5.89 per podcast, but you can select 15 for free if you win!

Sweet Green and Spicy Red…
Being a huge fan, in the recent Review: PickupThai Podcast by Yuki and Miki, I covered both courses extensively. So instead of writing another review, here are the highlights in bullet format:
The materials focus on teaching words and phrases in context.
To keep it fun, humour is sprinkled around the courses.
The audio lessons are roughly 30-40 minutes long.
Both male and female voices interact in the conversations.
Each course includes an audio file, two artistically designed pdfs, and a plain text file for all of that extra stuff everyone likes to do.
To cover practical situations you'll find in real life, PickupThai Podcast teaches real Thai from as many angles as possible. Here's a few of the differences between Sweet Green (beginner to lower-intermediate) and Spicy Red (upper-intermediate to advanced):
The lessons in Spicy Red are conversation heavy, making them significantly more challenging than Sweet Green.
With Sweet Green, as each lesson progresses they get slightly more difficult. But with Spicy Red, lessons are about the same level of difficulty.
In Spicy Red, except for the vocabulary section that has English translations, the crutch of English in the audio files is noticeably absent.
Sweet Green focuses on daily life situations such as getting a taxi, buying food, eating out, making a phone call, going to the movies, and more. While the advanced Spicy Red course concentrates on the more complicated life situations you'll find yourself in.
Also, while they both come in two parts, they take a different direction after the opening conversations. In Sweet Green there's a question and answer section using the patterns taught in the first lessons. And in Spicy Red, to check understanding, questions are asked about the story.
To see for yourself, download these FREE lessons: Sweet Green 1: Man & Mandy, Sweet Green 11: I'm Busy, Spicy Red 1: Massage & Fish Spa, and Spicy Red 11: The Soulmate.
Trust me, you won't regret it. Yuki and Miki have put together a wonderful resource for those of us learning Thai, and they aren't done yet! Lessons are added all of the time.
Coming soon at PickupThai Podcast…
In the works is a new course that will be appropriate for absolute beginners to the Thai language. The goal is to have lessons that students with zero Thai knowledge can enjoy without getting overwhelmed.
Also on the way is an exciting new site design! I'm not using 'exciting' lightly as Yuki gave me a peek and it's fabulous. There are free lessons such as 'Stuff Textbooks Don't Teach', 'Real-life Thai Conversations', 'Basic Vocab That You Should Know', and 'Practice Your Thai Listening'. One section I really love (on the original site as well) is Self-Study Guiding Services. In that section there's 'Ask Me Anytime" where you send in queries about expressions or words you've heard (a bargain at $1-$3 per question). Then there's 'Speak Like a Thai' where they will analyse a 1-minute recording of you reading or talking in Thai, letting you know where you need to improve. In 'Write Like a Thai', you can send in your letters, emails, whatever, for them to correct and explain what's wrong and/or unnatural sounding. The new site is chock-full of goodies, so to do it justice, it really needs a proper review. Stay tuned…
Here's a bit about the sponsors…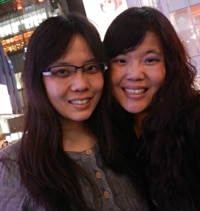 Yuki and Miki are a savvy team of Thai teachers with years of experience teaching Thai as a foreign language to non-Thais via Skype and one-on-one. Both are motivated to make a difference in the world of teaching Thai, and they have the products to prove it. Yuki and Miki are devoted to creating innovative materials that are fun; when using PickupThai Podcast, people sometimes forget that they are studying. The focus of the lessons is on teaching natural-sounding and practical colloquial Thai (not faranged Thai – the ban of my life).
To see what Yuki and Miki are up to, and read interesting stuff and trivial knowledge about the Thai language, follow their Facebook and Twitter accounts.
Website: PickupThai Podcast
Youtube: Yuki Tachaya
twitter: @PickupThai
Rules for WLTs Thai Language Giveaway…
The rules are extremely simple:
To be included in the draw, leave comments below.
Comment(s) need to add to the conversation (it really does matter).
Each relevant comment gets counted, so please do leave as many as you like!
If you don't collect your prize within a week of the announcement, it will be given away to the next person in line.
When you leave a comment, let us know if you are a beginner to lower-intermediate or upper-intermediate to advanced student of Thai.
I will not be responsible for choosing the winners (Yuki and Miki will do the honors) so even if you've known me for yaks ages you too can win. Also, there is no limit to how many prizes you can win. So go ahead. If you see something you fancy, please do enter again and again and again.
Important: If you have one of these courses please let us know in the comments so that we can adjust the prizes.
The draw will run from this moment until the 17th of June, 6am Thai time. After Yuki and Miki select the winners, I'll make an announcement in the comments below as well as create a dedicated post.
Again, my thanks goes to Yuki and Miki for being a part of WLT's seven year celebration!
WLTs 2015 Thai Language Giveaway…
The Language Lovers Contest…
Public voting in the Language Lovers Contest is now over. The Top 100 Language Learning Blogs section closed out at 14,287 votes and the Top 100 Language Facebook Pages section closed at 12,516 votes. Wow!
After deleting duplicate votes, from June 15th to June 17th the hardworking team at Lexiophiles and bab.la will rank entries. Public votes (that's you) count for 50% and the Lexiophiles ranking criteria carries the final 50%. The winners will be announced on June 17th. My fingers are crossed!
EDIT: The winners have been announced. WLT placed 25th in the Top 100 Language Lovers and 7th in the Top 25 Language Learning Blogs.
To everyone who voted for WLT, thank you. It really does mean a lot to me. Seriously. But even though the Language Lovers Competition is winding down, to celebrate WLT turning seven years old there's still FOUR more weeks of prizes to be given out. Good luck everyone!