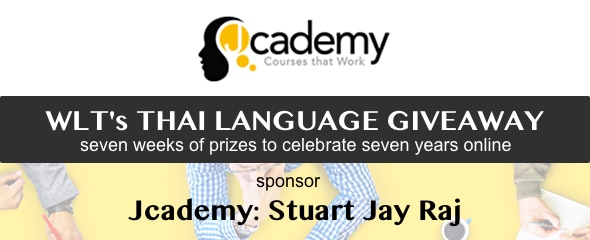 WLT's Thai Language Giveaway…
Welcome to week SEVEN of WLT's seven weeks of Thai language giveaways by top movers and shakers in the learning Thai industry.
If you are just hearing about the giveaway do read Please Vote THAI and WIN! 2015: Top 100 Language Lovers Competition to find out about the $4,500+ in prizes being given away.

Jcademy: Cracking Thai Fundamentals, Thai Bites, and Glossika Thai Fluency 1…
For Jcademy's giveaway there's FIVE Ultimate Thai Combo packages. The combo includes the Full Cracking Thai Fundamentals program, Thai Bites, and Glossika Thai Fluency 1.
If you already have the combo you can opt for their new subscription package instead (yet to be announced).

Jcademy: Cracking Thai Fundamentals…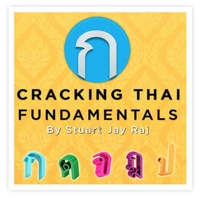 I was lucky in that I attended Stu's Cracking Thai Fundamentals in person. But as there's only so much of Stu to go around, he created an online course to reach a larger audience.
The Cracking Thai Fundamentals online course comes with: Preparing to Crack the Thai Fundamentals, Thinking in Meanings, Cracking Indic Based Scripts, Cracking the Thai Vowels, and Cracking the Thai Consonants.
The materials in Cracking Thai Fundamentals are compiled from Stu's lifetime experience with learning languages. A powerhouse of a course, it covers many aspects of learning Thai.
Tip: As you work through the course be prepared to open your mind to new and different concepts.
What to expect with Cracking Thai Fundamentals:
Learn to hear tones, consonants and vowels as Thais hear them.
Become aware of sound, and muscle memory paradigms from your mother tongue that may hinder Thais' ability to understand you when you speak Thai.
Develop a learning regime both at home and 'in the field' to help maximise learning.
Start to see and hear things around you in a much more 'Thai' fashion.
NOTE: Preparing to Crack the Thai Fundamentals is free to the public.

Jcademy: Thai Bites…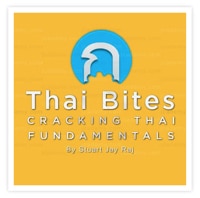 Thai Bites are just that – short, bite-sized lessons on the Thai language and Thai culture. Chock-full of all things learning Thai, they are also perfect for when you don't have a lot of time to study but still want to get Thai into your learning schedule.
Subjects covered in Thai Bites:
Speaking and Sounds.
Writing.
Grammar.
Culture.
Colloquial Thai and Slang.
To try them on for size, here's a few free Bites: สวัสดี 卍 The True Meaning of Sawatdee, Word Duplication to make you sound ไท้ยไทย Thai Thai, ขาวจั๊วะ Colour Rhymes in Thai and Develop an Adult Thai Handwriting Style Part 1.
Also free on Youtube are Stu's Thai Bites Live Webinars.

Jcademy: Thai Fluency 1 – Glossika GSR and GMS…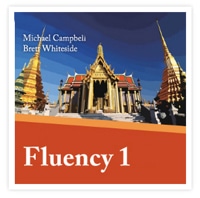 Glossika Thai is interactive. With the original Glossika materials you study phrases by listening to the audio files while reading along with the pdf files, or just by listening (up to you). On Jcademy's online interactive course there's more of a hands-on approach.
Thai Fluency 1: Sentence-based method that gradually builds sentences helping the learner acquire language naturally. Colloquial informal language that you can use with friends and family.

Gain listening comprehension and speaking skills in 30 days. For serious students or for busy people with only 20 minutes per day, it is possible to finish the course in 1 month.

Recommended for mid-high beginners with a working vocabulary of 100-200 words.
The Thai Fluency 1 includes GMS and GSR. GMS (Glossika Mass Sentences) has all of the sentences in the course. And GSR (Glossika Spaced Repetition) uses those same sentences with the proven spaced repetition method of getting the phrases into your head.
NOTE: To assure accuracy the Glossika Thai materials have been totally rewritten by the team at Jcademy. At the time of this post it's not quite ready for primetime but it will be soon.
About Stuart Jay Raj…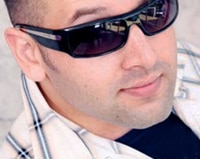 Stu Jay Raj has a lot going on: Accredited Dale Carnegie consultant and trainer; regional advisor, trainer and lecturer in cross cultural communication; IT developer; simultaneous interpreter, translator and editor; television and audio composer; TV presenter; polyglot, TV host, part of the official Miss Universe interpreting team, jazz pianist, and Dad.
And now there's the wonderful Jcademy.com.
Over the years I've had the pleasure of interviewing Stu. One important subject that often comes up is his beloved grandfather:
He taught me all different memory techniques and we would use them to remember wordlists in English and other languages, memorize lists of numbers, calculate what day of the week any given date was, convert decimal to binary to hex, send messages to each other in Morse-code, build electric circuits from schematics, listen to shortwave radio broadcasts, taught me to touch-type at the age of around four and many other things that stimulated and bridged the senses.

He would play with words with me and we would make new meanings up by making 'nonsense words' with roots and affixes that only we knew what they meant.

I believe that all of these things had an impact on my ability to learn languages.
Stu Jay Raj Interviews on WLT:
Stuart (Stu) Jay Raj: Interview Part One
Stuart (Stu) Jay Raj: Interview Part Two
Successful Thai Language Learner: Stuart (Stu) Jay Raj.
Web (business): Jcademy.com
Web (personal): stujay.com
YouTube: Stujaystujay
Facebook: Jcademy.com by Stu Jay Raj
Twitter: @JcademyOnline and @stu_jay
Rules for WLTs Thai Language Giveaway…
The rules are dead simple:
To be included in the draw, leave comments below.
Comment(s) need to add to the conversation (it really does matter).
If you don't collect your prize within a week of the announcement, it will be given away to the next person in line.
I will not be responsible for choosing the winners so even if you've known me for ages you too can win.
The draw will run from this moment until the 14th of July, 6pm Thai time. At that time I'll announce the winners in the comments below as well as create a dedicated post.
My thanks goes to Stu Jay Raj and the team at Jcademy for sponsoring such wonderful prizes, and those leaving comments below. Good luck everyone!
WLTs 2015 Thai Language Giveaway…
Here are the posts so far in WLT's Thai Language Giveaway.