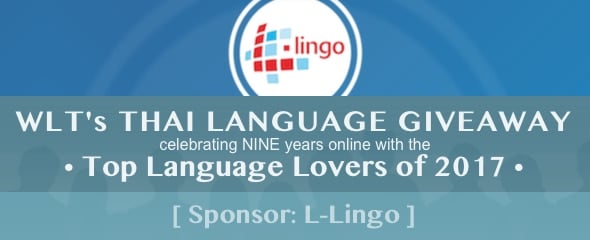 WLT's 2017 Thai Language Lovers Giveaway…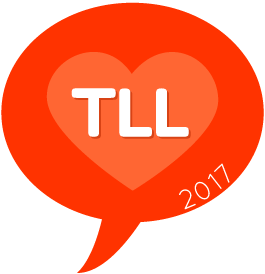 Welcome to the SIXTH and final prize in WLT's 2017 Thai Language Lovers giveaway! If you haven't yet, please read Vote THAI | 2017: Top 100 Language Lovers Competition to catch up.
Note… On June 06, 23:59 CET (5:59am Wednesday Thai time) the competition will be over. Clicking the red Top Language Lovers logo to the right will take you there … EDIT: voting is over – stay tuned! 🙂
L-lingo Thai…
To celebrate WLT's ninth year L-lingo sent the top 1000 Thai words from their brand new 5000+ words VoCab trainer. Audio included. In addition (something we all crave when learning Thai vocabulary) they've included phrases for each word.
If you've never tried L-lingo, be sure to check out the free version of their Quiz-Based Thai lessons.
L-Lingo immerses you in the sights and sounds of the Thai language, rather than just the written word. Our multi-channel teaching method gives you real and rapid results much quicker than traditional flash-card or textbook approaches. Before you know it, you'll be speaking words and longer sentences with real confidence.
The coming year will be an exciting one for L-lingo. I won't spill all the beans but here's a taster!
With the latest addition of our 5000 strong vocab bank bundled with our 105 structured lessons, we are offering enough content for people to become successful speakers of Thai, so our main focus in the near future will be to help people actually follow-through with their learning. We are changing the mission of L-Lingo from "selling language learning apps" to "make your language learning a success".
Please stay tuned for the announcement where Achim explains the mindset behind L-Lingo's future plans. I promise I won't make you wait long.
And on that note, here's what you've been waiting for – the downloads.
Audio and spreadsheet downloads:
L-lingo Top 1000 Vocab Spreadsheets: Download spreadsheets zip (1.2 MB)
L-lingo Top 1000 Vocab Audio: Download audio zip (8 MB)
Website: L-Lingo.com
Facebook: L-Lingo