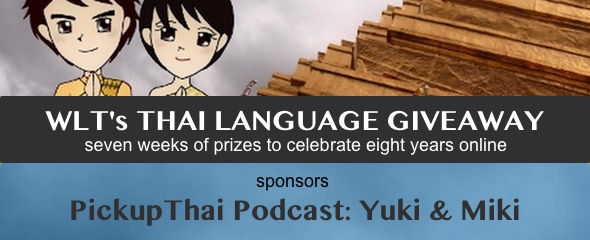 WLT's 2016 Thai Language Giveaway…
Welcome to the week ONE of WLT's seven weeks of Thai language giveaways. If you haven't already, be sure to read Vote THAI and WIN! | SEVEN Weeks of FREE Thai Giveaways to find out about the prizes.
PickupThai Podcast: Creamy Coconut…
Yuki and Miki from PickupThai Podcast are giving away SIX subscriptions to their new Creamy Coconut course for beginners.
There will be SIX winners in total: One winner – all 30 lessons. Two winners – 15 lessons. Three winners – 10 lessons.

Overview: Creamy Coconut…
This new course was created for absolute beginners to the Thai language.
The materials focus on teaching words and phrases in context.
To keep it fun, humour is sprinkled around the courses.
The audio lessons are roughly half hour long.
Both male and female voices interact in the conversations.
Each course includes an audio file, two artistically designed pdfs, and a plain text file (note: the text files are not exact copies of the pdf files).
The lesson pdf's have three sets of vocabulary, followed by the conversation, ending with additional vocabulary. The audio follows the pdfs to a degree. The audio starts out by covering one set of vocabulary at a time. Then, Pimsleur-like, you are asked to listen and repeat. And to help you remember, you are prompted for answers. After the three sets are over, up comes the conversation. To make sure you are not overwhelmed the phrases are broken up into easy chunks. As with the pdf's the additional vocabulary comes next.
Using various methods (prompts, roleplaying, quizzes), all through the lessons you are tested on what you've learned – it's an extremely powerful way to study a language.
Below are sample subjects from the first five lessons:
Creamy Coconut One:
How to greet someone.
How to introduce yourself.
How to say you like something.
How to say "Thank you" and "Sorry."
How to tell someone you're leaving.
Creamy Coconut Two:
How to say numbers.
How to ask someone's age.
How to say how old you are.
How to say what you don't like.
How to ask someone's phone number.
How to ask someone out for dinner.
Creamy Coconut Three:
How to say when you did something.
How to invite someone to do something.
How to ask and talk about someone's nationality.
How to say what you know or don't know how to do.
How to ask and say what languages someone speaks.
How to say where you were born and where you moved to.
Creamy Coconut Four:
How to give a suggestion.
How to ask for suggestions.
How to say what you're afraid of.
How to say what you have just done.
How to say what you don't want to do.
How to say names of meats and beverages.
How to ask if someone has ever done something.
Creamy Coconut Five:
How to list things.
How to say what you are happy for.
How to estimate someone's reaction.
How to say something is up to someone.
How to ask the price per unit of something.
How to ask questions expecting multiple answers.
How to say the names of colors and days of the week.
To see for yourself, the first three lessons can be downloaded for free:
Creamy Coconut 1: John & Yoko's First Encounter
Creamy Coconut 2: The Price to Pay
Creamy Coconut 3: A Language in Common
Yuki Tachaya & Miki Chidchaya / PickupThai: After many years of teaching Thai as a second language, we realized there's something missing in the market – materials that teach REAL spoken Thai.

We constantly witnessed Thai learners pick up wrong phrases and expressions from textbooks that no Thai person really uses. The learners also lacked the knowledge of how to speak naturally (like a Thai person).

We also noticed that there are hundreds of words and expressions that Thai people use all the time but for some reason, Thai learners have never heard of, let alone know how to use.

Everything we've done so far on PickupThai – our one-on-one Skype lessons, Youtube videos, and the free lessons we constantly provide on our website – have focused on REAL and PRACTICAL Thai. Unlike in textbooks, we teach non-Thais to speak like how we speak.

A lot of learners get lost when they try to apply their knowledge to the real world. They feel devastated. This is because the world of textbooks and the real world of Thai usage are drastically different. We wanted this to change. We wanted there to be new tools to help Thai learners pick up REAL and PRACTICAL Thai. We wanted to create a bridge that connects them to the real world, the actual way we, Thai people, speak.

And so we came up with "PickupThai Podcast" – innovative Thai teaching materials that not only teach you what you can't find anywhere else but also keep you entertained while learning with the humour and jokes added to every lesson. We're very proud of the effort we've put into this project and we can't be more thankful for every fan who supports and appreciates what we do."
Website: PickupThai Podcast
Youtube: Yuki Tachaya
twitter: @PickupThai
Rules for WLTs Thai Language Giveaway…
The rules are simple:
To be included in the draw, leave comments below.
Comment(s) need to add to the conversation (it really does matter).
Each relevant comment gets counted, so please leave as many as you like!
If you don't collect your prize within a week of the announcement, it will be given away to the next person in line.
Yuki and Miki will choose the winners, so don't worry if you know me intimately, you can still win.
The draw will run from this moment until 29 May (Sunday), 6pm Thai time. After the winners have been selected I'll leave a comment below as well as create a dedicated post.
Thank you Yuki and Miki for being a part of WLT's eight year celebration!