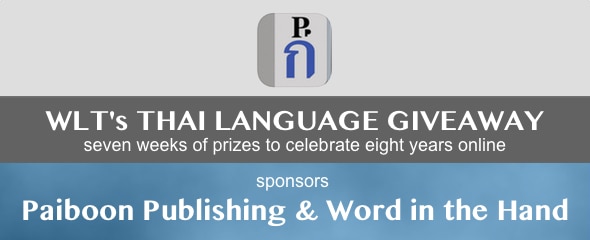 WLT's 2016 Thai Language Giveaway…
We've now reached week SEVEN (the last week) of WLT's seven weeks of Thai language giveaways. If you need a refresher of the past giveaways please read Vote THAI and WIN! | SEVEN Weeks of FREE Thai Giveaways.
This is what we've all been waiting for, the merging of Chris and Benjawan's Talking Thai–Eng–Thai Dictionary with their Talking Thai–English–Thai Phrasebook. For an overview of the dictionary (sans phrasebook) please go to Android and iPhone: Talking Thai-English-Thai Dictionary Review.
The eagerly awaited update is so humongous that I've asked Chris to please itemize the details for us. Thanks Chris!
Chris Pirazzi: Paiboon Publishing & Word in the Hand…
In this contest we will be giving away FIVE copies of your choice of Paiboon Publishing's Talking Thai–English–Thai Dictionary for iOS (iPhone, iPad, iPod Touch) or Paiboon's Thai <> English Dictionary for Android (phones and tablets).

Straight away you will be able to download the current 1.x version, which already features more than 150,000 entries, crisp sound recordings for every Thai word, ability to search by English, Thai Script or English-like Thai Sound transcription, a comprehensive guide to speaking and writing Thai, and other features to explain Thai spelling, break up Thai words into components for learning, and show Thai words in multiple sign fonts. 

You can also look forward to the massive, free 2.0 upgrade (see link for screen shots) for both iOS and Android, which is currently in the late stages of testing and which:

Increases dictionary vocabulary from 150,000+ entries to 195,000+ entries, almost all consisting of suggestions sent in by you.  2.0 will feature a Suggest button to make it even easier to add the words you want.
Adds a built-in phrasebook with more than 12,000 words and ready-to-use, customizable talking phrases organized into 250+ practical categories like "Language Difficulties," "Hotel," "Renting a Place," "Food/Drink," "Price Haggling," "Transportation," "Health," "Shopping," "Sightseeing," "Love/Romance/Sex" and even "Swearing/Insults." Many situational categories give you both sides of full conversations, such as when you are buying tickets or talking with doctors. As always, every Thai word, phrase, and sentence has a fluent high-quality sound recording (more than 29 hours of studio-recorded sound included).
Adds full-text Power Search as another option on top of the existing Alphabetical Search. Power Search finds all phrases that contain your key word(s) anywhere in the phrase, not just at the beginning. Power search searches not only the dictionary but also every single phrase and complete sentence in the phrasebook, giving you an easy way to find sample sentences for many terms, and also searches the names of categories, making the Search screen a great place to find relevant Categories as well. It's important to understand that Power Search is not Google Translate: Power Search searches the hand-edited, fluent, correct sentences in the app and does not attempt to translate every possible sentence you might type (usually into gibberish) like Google Translate.
Adds an often-requested Favorites Screen that lets you organize the words and phrases you use often into multiple folders (you can even have folders inside folders, as deep as you want).
Lets you hear any of our 60,000+ Thai word/phrase sound recordings spoken with slow motion playback, but still at the same pitch so you can hear its vowels, consonants, and tones clearly. 2x and 4x slow supported, as well as 2x fast.
Features hundreds of industry-first Super Phrases that make our phrases much more useful than any other phrasebook product out there. Super Phrases have placeholders that let you customize the phrase to meet your needs, plugging in your desired date, time, color, price, distance, or travel destination into the phrase in your native language, your home currency, and familiar units, automatically translating everything to a complete, fluent Thai sentence which you can play for a Thai person with one touch. The app even features a built-in talking, translating units and currency converter and calculator that lets you fluently haggle with a vendor or talk land area with a Thai real-estate agent with both of you working in your native language and units. It's a true communication tool that breaks past the paper paradigm and uses the unique interactive power of your mobile device.
Adds a new Explain Sound feature feature alongside our famous Explain Spelling, See Real-World Fonts, and Find Words Inside features. Explain Sound is for people who want to learn to speak a Thai word without needing to know Thai Script. It divides your chosen word(s) into syllables and explains their Thai Sound, showing you how to pronounce the consonants and vowels that make up each syllable and showing you similar sounds that are often confused for them, all annotated with convenient links into the relevant sections of our comprehensive guide to speaking Thai. A version of Explain Sound is now integrated into the app Thai Sound Power Search so you know exactly what the text you have typed sounds like.  This makes it much easier to get good results from Thai Sound search since you can quickly touch a play button to see if you are searching for the correct sound. This also makes it a snap to learn the sounds of Thai and your chosen pronunciation guide system. We believe this will resolve a lot of the difficulties people had with Thai Sound search in the past.
Makes it easier to switch sections (English, Thai Sound, Thai Script) with fewer touches. All searching is done on a unified screen with three tabs that switch keyboard, section, and clear the entry field with one touch. You can paste Thai or English words from other apps and the app will switch tabs automatically.
Further streamlines the process of looking up words from other apps with the new Auto Paste and Search option, which automatically searches for what's in the system clipboard every time you switch to the so.  So if you frequently look up words from other apps, you just copy the word and switch apps. This can be streamlined even more because we now support iOS 9's new Swipe Over and Split View multitasking feature (which Apple offers on some iOS devices; Android N multi-window support is either coming in version 2.0 or shortly after), letting you have ThaiDict and another app on the screen at the same time. Looking up a word is as easy as copying it in one app and touching ThaiDict once to begin an automatic lookup.
Expands on the External Links feature present in the 1.x versions. You can now activate up to four External Link icons that will take your selected word and search for it in Google, Wikipedia, online Thai and English dictionaries, or any website you choose. We provide a number of pre-configured links to popular websites, so you can easily activate this feature in a few seconds.
Lets you Hide Pronunciation Guides (transcription) to avoid temptation if you're learning Thai Script.
Adds even more Thai and international Place Names, all of which are now shown abbreviated to one line by default so that they do not distract from more common entries. Furthermore, for almost all place names you can now touch a map icon to see that place using your device's mapping tool (e.g. Google Maps, Apple Maps).
Adds huge improvements to the Help Screens, including the now more prominently featured guide to speaking and writing Thai, such as an often-requested section on telling times and dates, study lists of consonants color coded with class, info on Thai font differences, as well as many many new Categories showing you how to build Thai sentences with crucial idioms like "can/should/believe," "if/then," tenses, "bring/take," and forming questions.
Adds a Copy Whole Entry feature for users of Anki and other flashcard tools. This feature copies your chosen Thai/English words along with their English translation, part of speech, etc. to your device's clipboard in a CSV format that is compatible with both flashcard tools and spreadsheet tools like Excel. Great for those who like to study using these tools. Note: after the 2.0 release we plan to implement a flashcard system integrated into the app. We are interested in your thoughts about what are the most important flashcard features to support, e.g. what is on each side of the card, order of card presentation, how you report your success, what records are kept, etc. Email [email protected] with ideas.
Supports a new Custom URL Scheme that lets you launch ThaiDict to do a search from other apps such as flashcard tools or even from study sheets you write yourself in your own documents.

Plus much more—this major release has been three years in the making and we are so excited to finally get it out to customers. 

We do not know yet how long until the release finally hits the App Store/Play Store, because we have to see how many issues we find in final testing and then (in the case of iOS) we have to plow through Apple's onerous approval process, but if you would like to try out the new features now and you have a little time to provide us with feedback and help us track down any issues you find so we can fix them quickly (and hopefully some basic knowledge of the vocabulary of mobile devices so you can clearly describe any issue you find), we'd be interested in inviting you to our private pre-release beta program. For more info, see Sneak Preview.
Rules for WLTs Thai Language Giveaway…
The rules are simple:
To be included in the draw, leave comments below.
Comment(s) need to add to the conversation (it really does matter).
Each relevant comment gets counted, so please leave as many as you like!
If you don't collect your prize within a week of the announcement, it will be given away to the next person in line.
Chris and Benjawan will choose the winners for this giveaway. You can enter this competition even if you've won in the past.
The draw will run until 10 July (Sunday), 6pm Thai time. After the winners have been selected a comment will be put below and I'll create a dedicated post.
Thank you Chris and Benjawan for sponsoring WLT's eight year celebration! Good luck all!