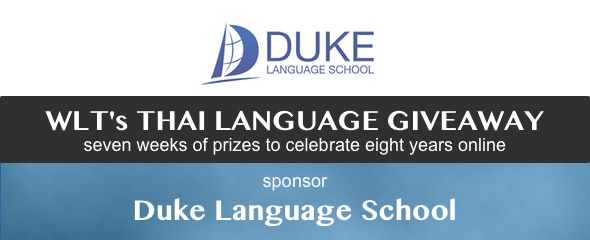 WLT's Thai Language Giveaway…
Welcome to the week TWO of WLT's seven weeks of Thai language giveaways. If you haven't already, be sure to read Vote THAI and WIN! | SEVEN Weeks of FREE Thai Giveaways to find out about the prizes.
Did you notice the Language Learning Love Button to your right? It's for clicking and voting – thanks in advance 🙂
Journey One Group Lessons – Survival: Practical Thai for everyday life…
There are TWO winners of Duke's 60 hour Journey One group lessons with course books. Exciting stuff, the winners go straight through to the end of the course.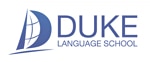 Duke's Journey One Survival lessons, created by Principal Arthit Juyaso (Bingo-Lingo), are chock-full of words and phrases that you need to know. To get you started off right, the lessons have been crafted around needed phrases, sentence patterns and structures.
Arthit Juyaso: One of the main points of the course is to recycle previously seen vocabulary as much as possible (it's my love for spaced repetition).
Duke's Survival lessons are for basic beginners. These lessons are taught at Duke Language School in Bangkok so you will need to be in Bangkok to collect your prize.
Stu Jay Raj (stujay.com): I searched for months to find Thai language schools in Bangkok that I would feel comfortable affiliating with and being able to recommend to my students of the Thai language regardless of where their level was at. They must be linguistically accurate, dynamic and have a teaching system that really engages their students.

All roads led to Duke. Their team has all the right ingredients of tech savvy, linguistically qualified experienced teachers that really know their stuff.
Duke's Journey One Breakdown:
The essential tools you need to survive in this country and go about your business independently.

764 unique words | 584 essential words

Understanding the sound system and the numbers of the Thai language.
Introducing yourself, greeting and saying goodbye.
Getting a taxi and giving simple directions.
Buying street food.
Asking for directions inside a building.
Using public transportation and talking about locations.
Ordering food and solving difficult situations at a restaurant.
Buying clothes and describing colours, shapes and sizes.
Telling time and making appointments.
etting a haircut and expressing degrees.
Buying things and using services at convenience stores.
Buying medicines and describing symptoms.
Solving communication breakdowns.
Talking about personal life.
Starting and holding a casual chit-chat in Thai.
For more, read Tod's Review: Duke Thai Language School.
Important to note: 1) you need to be in Bangkok to take the course, and 2) you do not have to take it right away.
Duke Language School
10/63, Trendy Building, 3rd floor
Sukhumvit Soi 13, Wattana
Bangkok 10110, Thailand
Tel: +66 8-2444-1595
Facebook: Duke Language BKK
Twitter: @DukeLanguageBKK
Rules for WLTs 2016 Thai Language Giveaway…
The rules are simple:
To be included in the draw, leave comments below.
Comment(s) need to add to the conversation (it really does matter).
Each relevant comment gets counted, so please do leave as many as you like!
You do have to live in Bangkok to enter the contest for Duke's course.
If you don't collect your prize within a week of the announcement, it will be given away to the next person in line.
And remember, even if you've won in past giveaways, you can win in this one too.
The draw will run from this moment until the 5th of June, 6pm Thai time. I'll then announce the winners in the comments below as well as create a dedicated post. Good luck!
Again, my thanks goes to Duke Language School for gifting these wonderful materials!
WLTs 2016 Thai Language Giveaway…
Here are the posts so far in WLT's Thai Language Giveaway.
After this there's still FIVE more weeks of prizes to be given out to celebrate WLT turning eight. Good luck everyone!