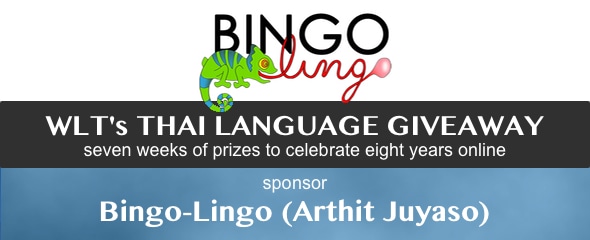 WLT's 2016 Thai Language Giveaway…
Here we are at week THREE of WLT's seven weeks of Thai language giveaways! If you don't know what's going on be sure to read Vote THAI and WIN! | SEVEN Weeks of FREE Thai Giveaways. There are prizes galore.
Bingo-Lingo: Read Thai in 10 Days…
Bingo-Lingo (Arthit Juyaso), is giving away FOUR copies of his detailed book and CD, Read Thai in 10 Days.
Thai national Bingo is an author, linguist, translator, and popular guest writer at WLT. Not only is he the principal of Duke Language School, he's also responsible for the fantastic course materials at Duke. Dissatisfied with how the Thai alphabet is being taught to expats, and influenced by his studies in linguistics, he came up with the method taught in his well written book, Read Thai in Ten Days.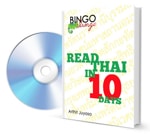 Read Thai in 10 Days
Author: Arthit Juyaso (Bingo-Lingo)
Price: $17.99 (orig $49.99)
Paperback + audio files: 170 pages

I wrote an overview in Learn to Read the Thai Alphabet in 2 Weeks, 10 Days, 60 Minutes, but here are the main selling points from Arthit:
Simplification: Many Thai script teaching courses don't handle rules well. For example, the tone rules. Instead of using bloated tables or cumbersome-looking tone flow charts, RTITD organises tone rules into one principle (plus the default tone for each tone mark) and three exceptions. The course also has a different take on Thai vowels. RTITD simplifies the 'traditional' number of vowels from 32 vowels (plus 10 vowel changes) to 22 vowels (4 of which have two forms), and treats vowel shortening and vowel-less words as separate.
Understanding: People may forget what they remember, but they will never forget what they understand! RTITD doesn't rely on sheer effort to purely memorise individual character's sounds when at initial and final position, it tells you WHY they are the way they are. The course also explains the nature of the Thai phonological system, that there are no unreleased finals, and which initial sound will become which final sounds, and much more.
Organisation: By prioritising what's essential, the entire course is carefully structured in such a way that makes sense. Lesson by lesson, what learners have previously studied is repeated and combined with the new materials being introduced.

For reading skill reinforcement, the approach draws from the principles of spaced repetition. Words chosen for the reading practice exercises are not random, but appropriately distributed throughout the course. Using this method, students quickly gain confidence in their ability to read Thai.
Website: Read Thai in 10 Days
YouTube: Read Thai in 10 Days
Twitter: @readthai
Rules for WLTs Thai Language Giveaway…
The rules are simple:
To be included in the draw, leave comments below.
Comment(s) need to add to the conversation (it really does matter).
Each relevant comment gets counted, so please leave as many as you like!
If you don't collect your prize within a week of the announcement, it will be given away to the next person in line.
Arthit will choose the winners, so don't worry if you've known me for yaks ages, you can still win. And it doesn't matter if you've won before, you can keep entering.
The draw will run from now until 12 June (Sunday), 6pm Thai time. After the winners have been selected I'll leave a comment below as well as create a dedicated post.
Thank you Arthit for sponsoring WLT's eight year celebration!