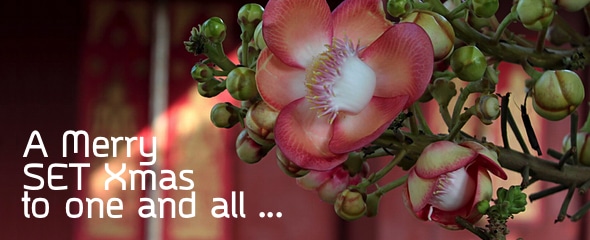 Here's wishing you all a very Merry SET Christmas…
It's now been six years since I discovered The SET Foundation, and five years since I turned over WLT's ad revenue to SET as well.
What's the SET Foundation?
The SET Foundation has a very specific aim: to make a difference. That difference is between a youngster being able to study at a vocational college or university, or instead having to labor in the rice paddies, on a Bangkok building site, or in some other mundane, dead-end job.

By giving scholarships and other practical support, SET is making the difference for an increasing number of disadvantaged Thai students. We do it voluntarily, enthusiastically and very cost-effectively.
Have you noticed that each year there's a shocking charity scandal? After discovering SET I've been confident that WLT's donations go direct to the Thai students in need. So there's been no more worries about supporting fancy skyrise offices, big fat black cars, or expensive vacations to tropical places.
And nothing makes me happier than when I receive an email about a WLT reader donating to the SET Foundation. And as this is the season of giving, I wanted to give my thanks to those donating in WLT's name (or just plain donating).
Who's donating to the SET Foundation?…
Since 2010, instead of sending money for sidebar ads, Benjawan (Talking Thai-English-Thai Dictionary) and Achim (L-lingo) have been donating direct to SET. Can you just imagine how many Thai students have benefitted from their generosity? Megga thanks to both of you!
Learn Thai Podcast is an intermittent sponsor of both SET and WLT (LTP recently helped get WLT back in shape). Recent affiliate donors are Glossika and Jcademy. And a onetime donation came from HelloTalk. Thank you Jay and Jo, Mike, Stu, and Zachary!
Many individuals have donated to SET in WLT's name but have requested to remain anonymous. Many thanks to all of you as well!
As each donation arrives, Peter Robinson (Director of SET) sends me an email of thanks. I guess you could say that it's like Xmas for everyone, but all year around.
Peter Robinson: SET receives terrific financial support from many members and sponsors of WLT. That increasing and generous support enables the foundation to help many more impoverished Thai youngsters every year.

In 2015, SET will be awarding long-term scholarships to 1,500 students at school, college or university and an additional 1,000+ one-off welfare grants to those with unexpected financial difficulties. That's quite an achievement which is made possible only because of the generosity of our friends around the world, including followers of WLT.

We at SET – and our students – offer you our sincere thanks and best wishes for a happy 2015.
Donating to the SET Foundation via Paypal is dead easy. On their sidebar select a number from the paypal dropdown, or type a different number in the box below.
Other posts about the SET Foundation…
The SET Foundation: A Season for Giving Back
Inciting Acts of Kindness: The SET Foundation
Feel Like Donating? Give to the SET Foundation Instead
In WLT's Sidebar: Feel Like Donating?
Ho ho ho everyone. Merry Xmas and Happy New Year. I thank you all for your support.